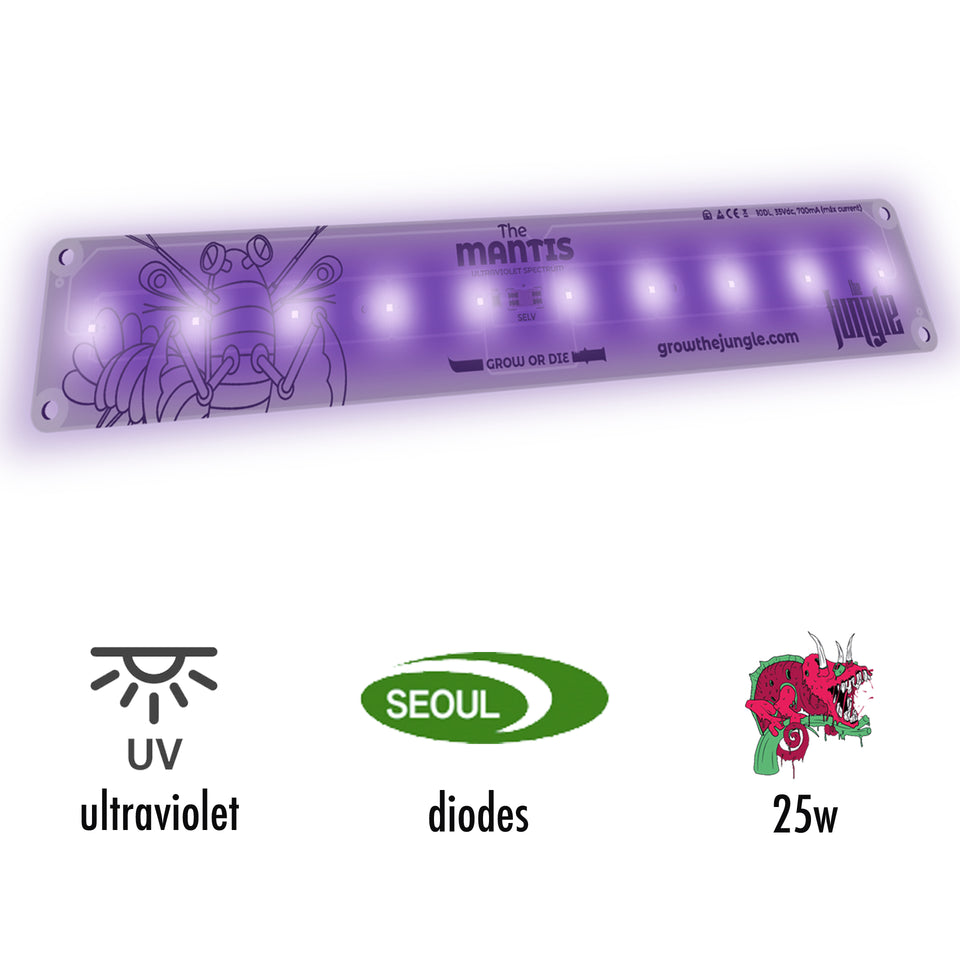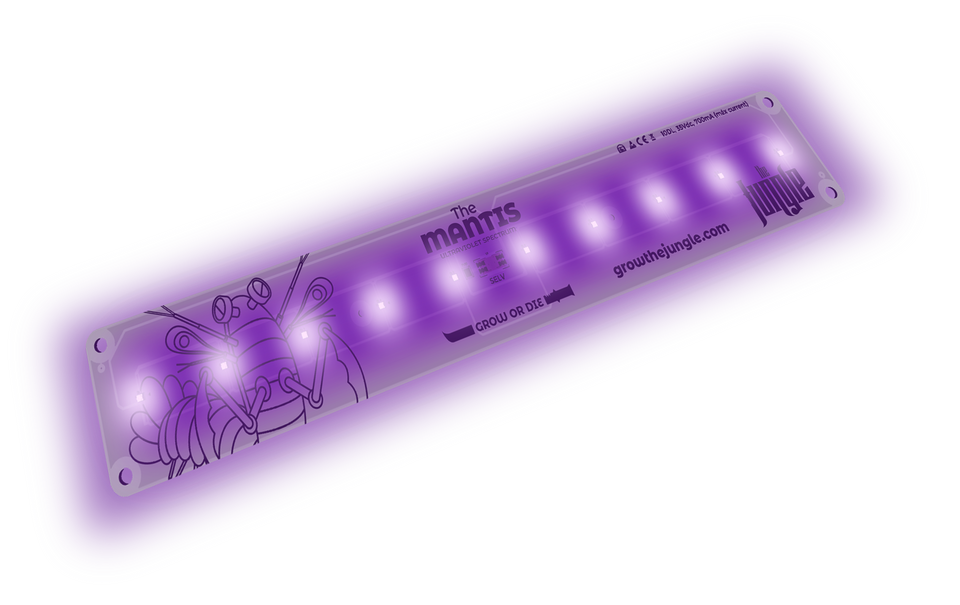 The Mantis 25w Ultraviolet LED Grow Light
Sometimes LED Grow Light companies push the boundaries. And sometimes they completely f*cking smash them. Behold the incredible Mantis UV from The Jungle!

 
Top Quality Seoul Viosys Diodes
365nm + 405nm Ultraviolet Output 
Unique Design

Enhance Flavours 
Boost Resins
For Expert & Craft Growers
2 Year Warranty
Made in Spain

60000 Hours Life
Free Next Day UK Delivery
Pay in 3 instalments with Klarna

We love this company and we love this light. The guys at Grow The Jungle have completely re written the book on how LED Grow Lights should be made and what can be expected from them.

The Jungle range laughs in the face of convention. And the results are awesome.  
The Mantis is the definitely the most
 odd specimen from The Jungle labs in Spain. This really is one for the connoisseurs and craft growers out there.


The Mantis is an LED Grow Light with a unique deep purple spectrum especially designed to enhance botanicals & flavours in resin producing plants.

It is small and slender in size but it packs a heavy punch with its stunning deep purple output. It uses a tiny 25w of electricity from the wall so it's incredibly energy efficient too. 

This light is the first of its kind and really is for the expert growers out there who are looking for that something a little extra.
Best used when side by side with its sister light 
The Jackson Nemesis
- this LED Grow Light and its pals will raise the bar of what can be expected in terms of smell and flavour. 
This is no mass produced cheap and cheerful LED Grow Light. They are made in small batches and each unit is made with love in Spain.

This is an expert LED Grow Light for expert growers and we expect to see it pop up in Growers Cups and Championships worldwide over 2022 and beyond.

The Mantis and the entire Grow The Jungle series have quickly earned their reputation as "the secret weapon" amongst connoisseur and craft growers. And now here it is in the UK for you to try for yourself.   


This isn't a full spectrum LED Grow Light. The Mantis is designed to run along side an existing full spectrum fixture and is recommended for a maximum of 4 hours each day for the last 4 weeks of the flowering process.
Test have shown that this enhances resin production, flavour and adds density to your flowers. Check out what Shane from Migro has to say about it
here
. 

The team at Grow The Jungle use high-quality parts and premium components meaning the light lasts much longer than competitors. It even comes with a 2 year warranty for complete peace of mind. 

The Mantis ships in stealthy plain packaging. Ready to use out of the box in just a few minutes with minimal assembly. No trailing wires and no messy ballasts. Just pure performance. 
The Mantis UV LED Grow Light Technical Specification
| | |
| --- | --- |
| Power | 26W |
| HPS Equivalence | N/A |
| Weight | <1kg |
| Lifetime Hours | 60,000 |
| Diodes | Seoul Viosys SMD  |
| Size | L60cm x W10cm x H8cm |
| Spectrum | 365nm Ultraviolet, 405nm Ultraviolet |
Product includes:
The Mantis UV Grow light
UK Plug (wiring required)
User Manual