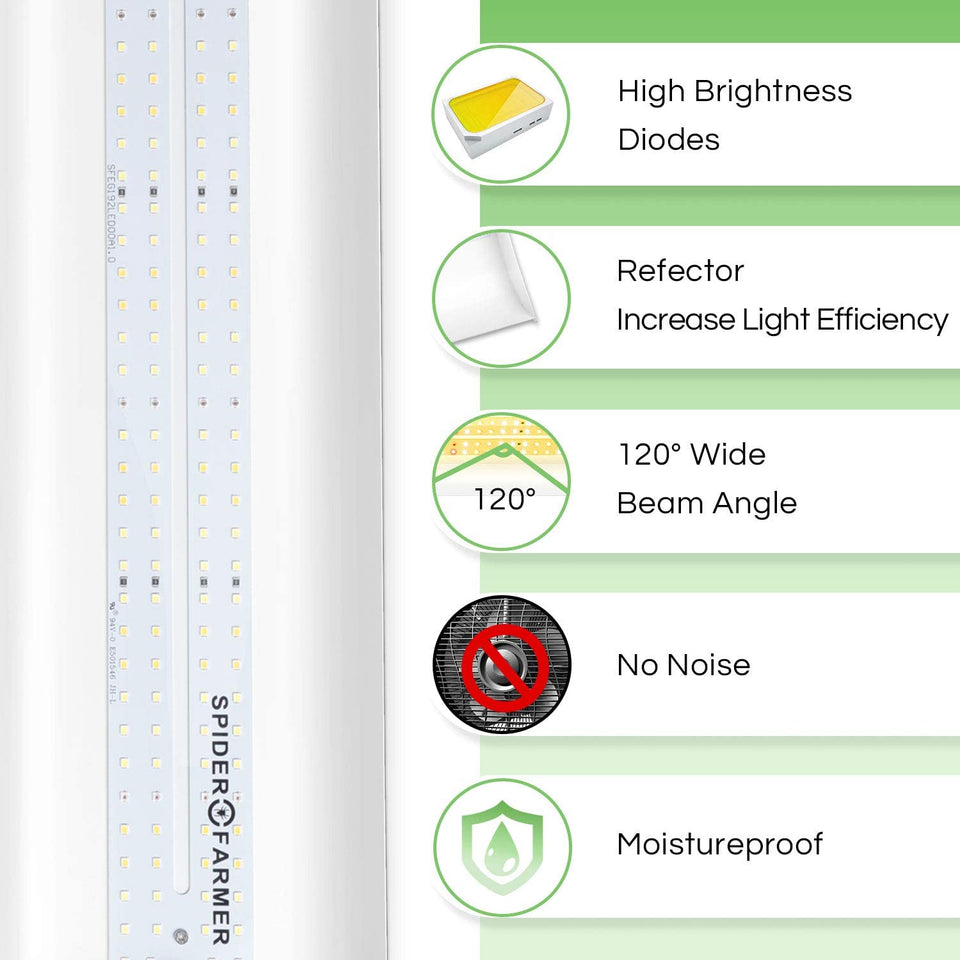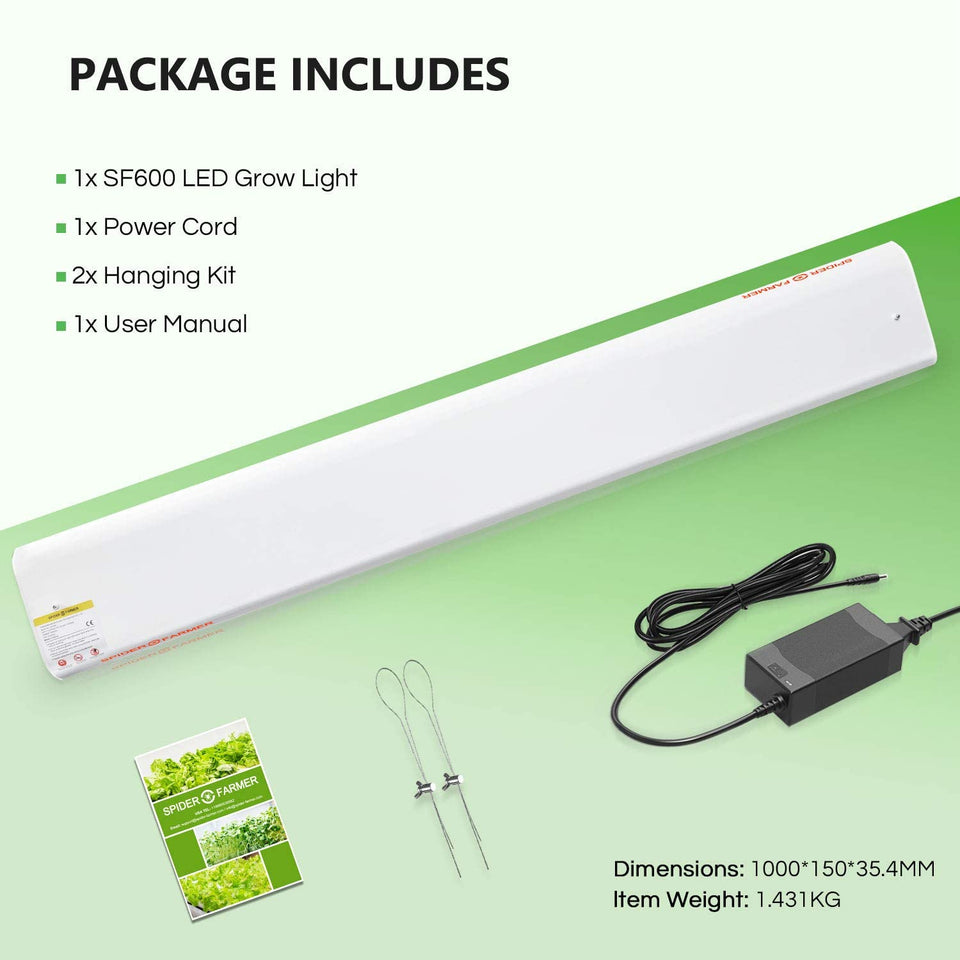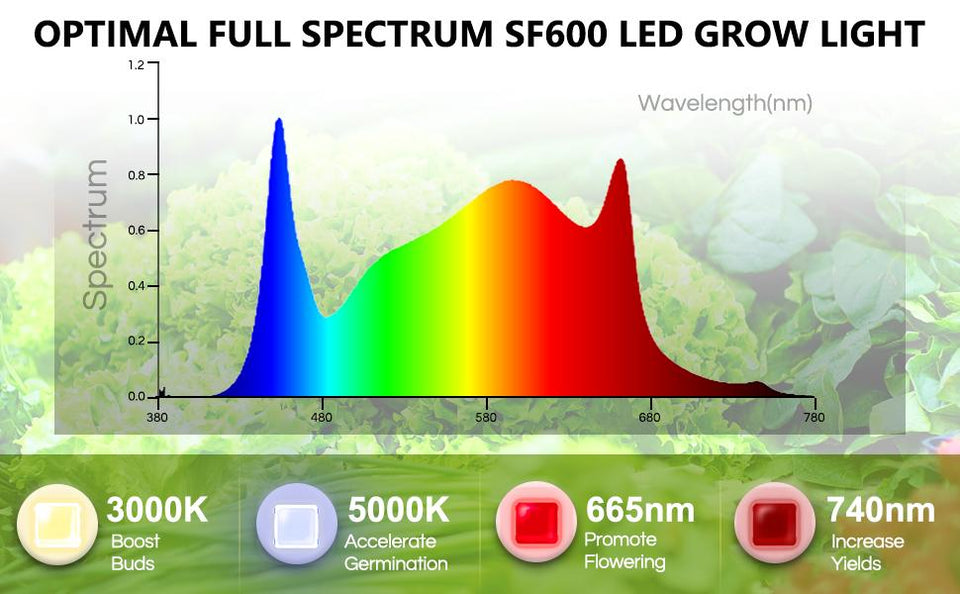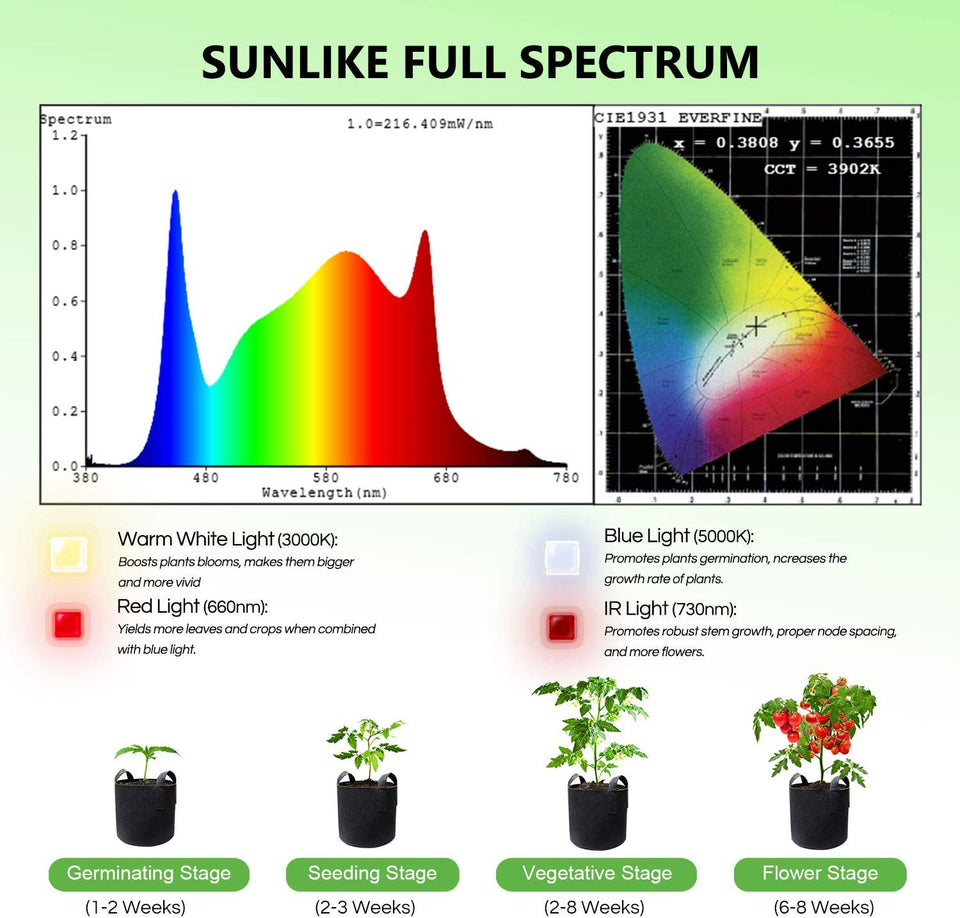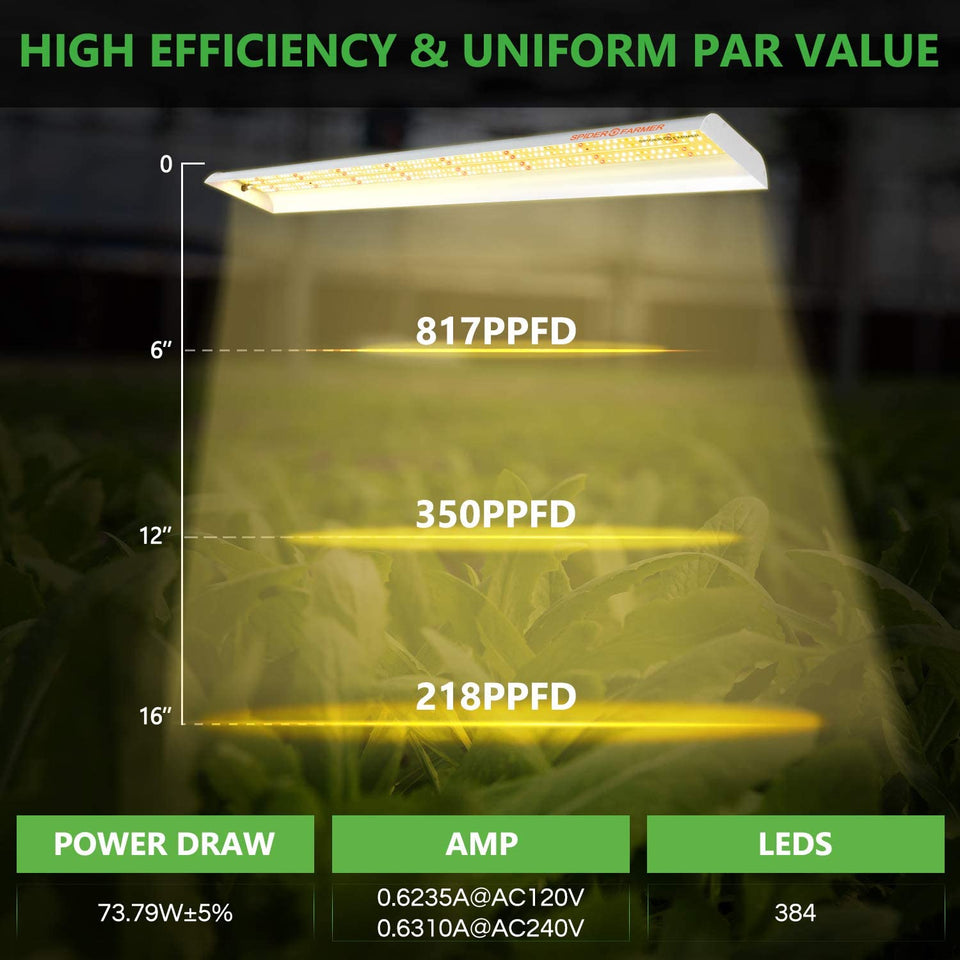 Spider Farmer SF600 LED Grow Light
A powerful & efficient LED Grow Light that brings your veg room into the 21st century. Say goodbye to horrible fluorescent & stupid t5 bulbs. Give your plants the best possible start in life with the Spider Farmer SF600.

 
Top Quality Osram Diodes
Free Next Day UK Delivery
Full Spectrum
New 2023 version
Perfect for Seedlings & Propagation
Super Stealthy
Ultra Low Power Consumption
Zero Noise
3 Year Warranty
72w Power Output
50000 Hours Life
Free UK Delivery
Pay As You Grow in 3 instalments with Klarna
Boasting 384 Osram LEDs chips this compact LED Grow Light packs a real punch, with a full spectrum array & 5000 lumen output, this compact LED Grow Light offers 2 times the output of older tube style bulbs. Pulling only 72 watts of power from the wall, it uses considerably less energy than fluorescent or t5 units while at the same time offering a vast improvement in the spectrum that it offers your plants. 
The full spectrum diodes create a uniform spread of light at a short distance from the crop enabling an even penetration of canopy without hotspots and excessive heat like other lights. This makes the Spider Farmer SF600 a perfect LED Grow Light for seedlings right through until vegetative stages of growth. The Spider Farmer SF600 is also a fantastic LED Grow Light option for micro greens or salad growers with users claiming a 40% increase in yields vs fluorescent units. 
The Spider Farmer SF600 LED Grow Light has a sunlike full spectrum output with an impressively wide 120° beam of 660-665nm (RED), 730-740nm (IR), 2800K-3000K (WARM-WHITE), 4800-5000K (BLUE) diodes create an array of optimal spectrum to give your plants the very best start in life. 
With its natural looking light spectrum and zero noise operation, the Spider Farmer SF600 is versatile and can be used just about anywhere. Don't let the compact size fool you though. This packs some real power and should not be underestimated. Its a huge leap forward for vegetative LED Grow Lighting and it just makes older style tubes feel all clunky and stupid.
These new style LED Grow Lights from the experts at Spider Farmer provide an impressively simple, impressively powerful vegetative lighting solution for all types of food & herb cultivation.  
The Spider Farmer SF600 is lightweight, well designed and highly energy efficient and it doesn't omit a lot of heat. The LED shell is coated with protection for anti-moisture and anti-vulcanization
 keeping it safe from rust or corrosion like older style units. 
The Spider Farmer SF600 LED Grow Light ships in stealthy plain packaging with high quality hanging kit included. This very impressive LED Grow Light is ready to use out of the box in less than 1 minute. No self assembly, no trailing wires and no messy ballasts. 
Spider Farmer SF600 Technical Specification
Power

72W

Input Voltage

AC 100-240V

Weight

1.95 kg

Lifetime Hours

50,000

Diodes

Osram


Size

113cm x 210cm x 9cm

Spectrum

660-665nm, 2800-3000K,

4800-5000K & IR 740-730nm

Efficiency

2.3 umols/J
Product includes:
Spider Farmer SF600 LED Grow light
Power Cord
Hanging Kit

User Manual