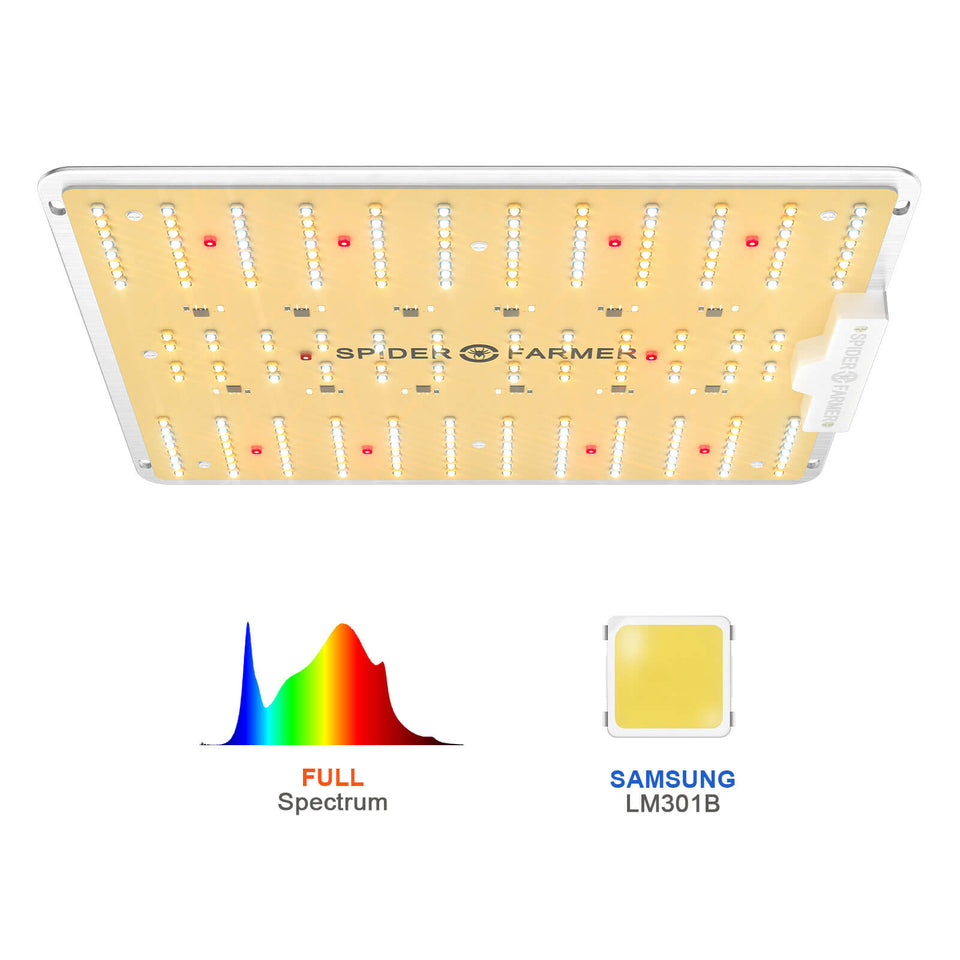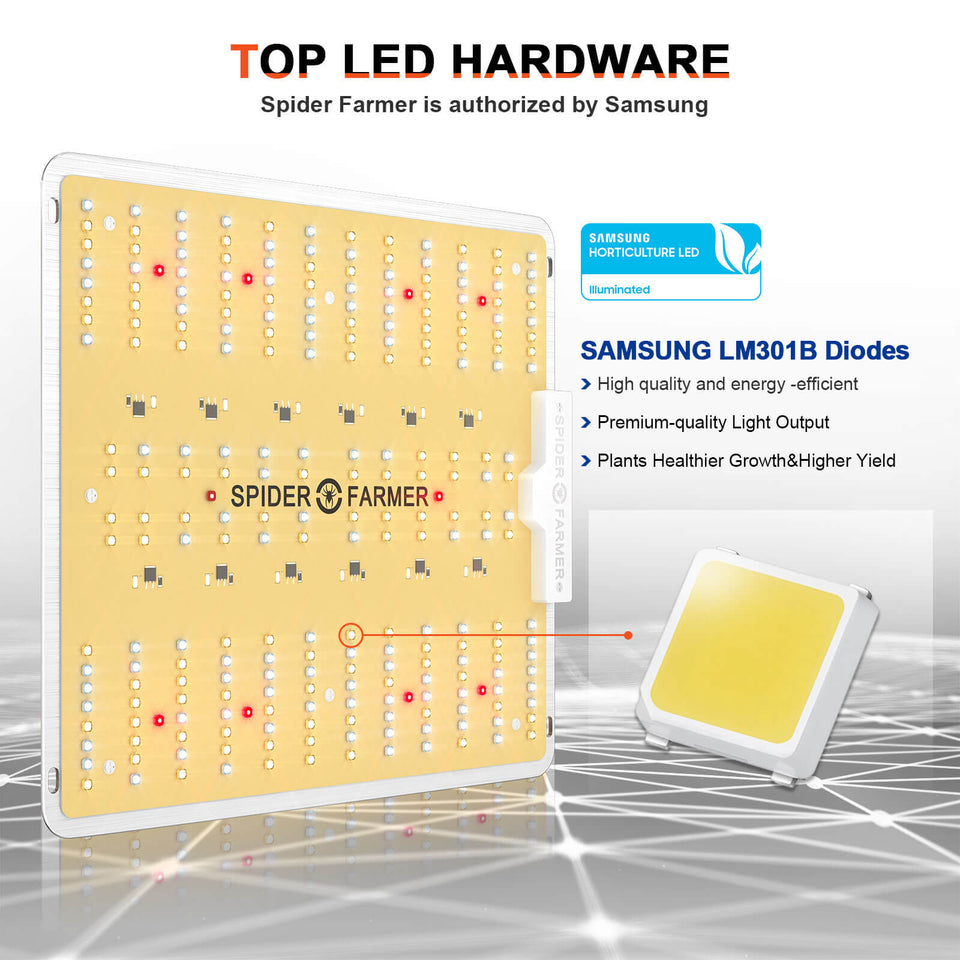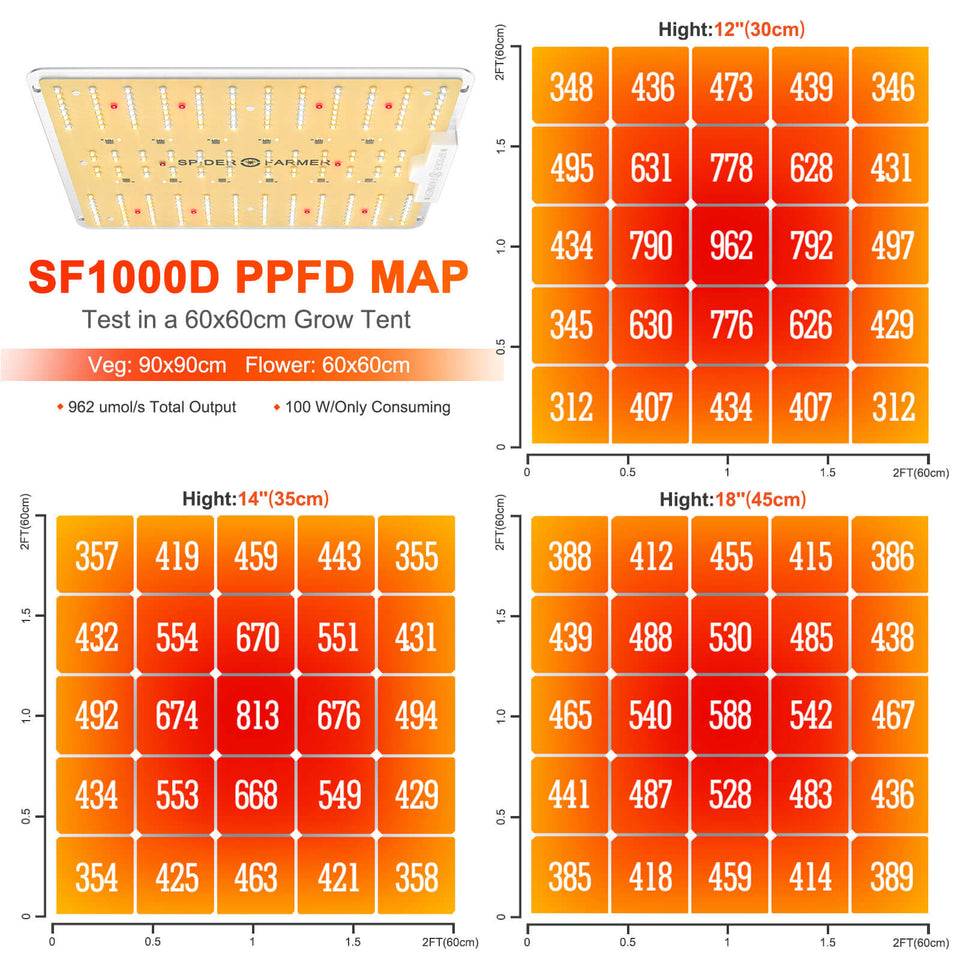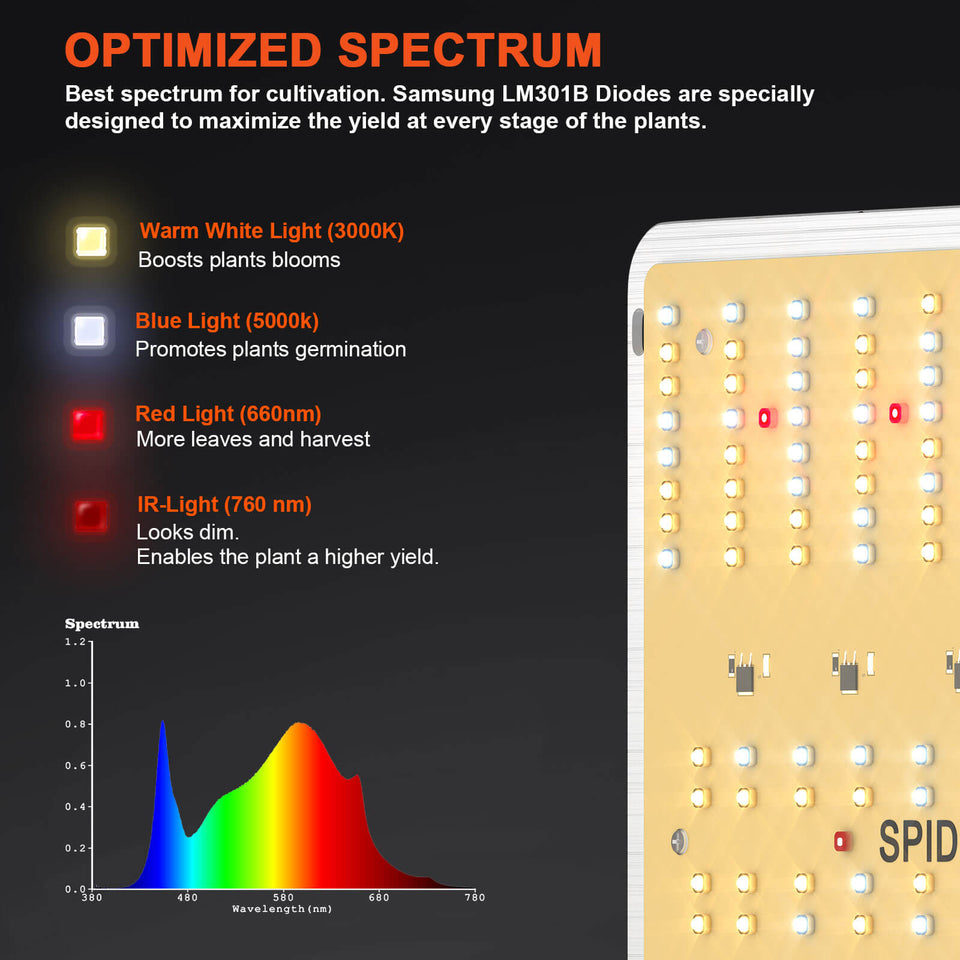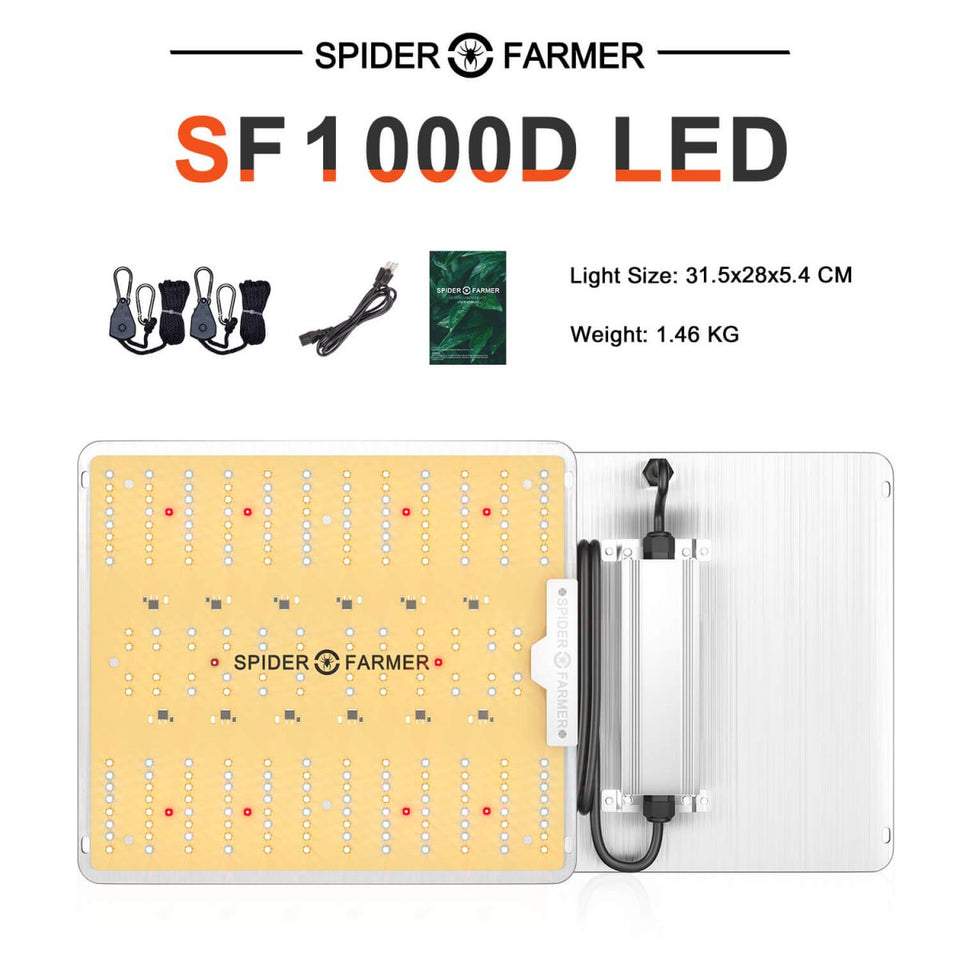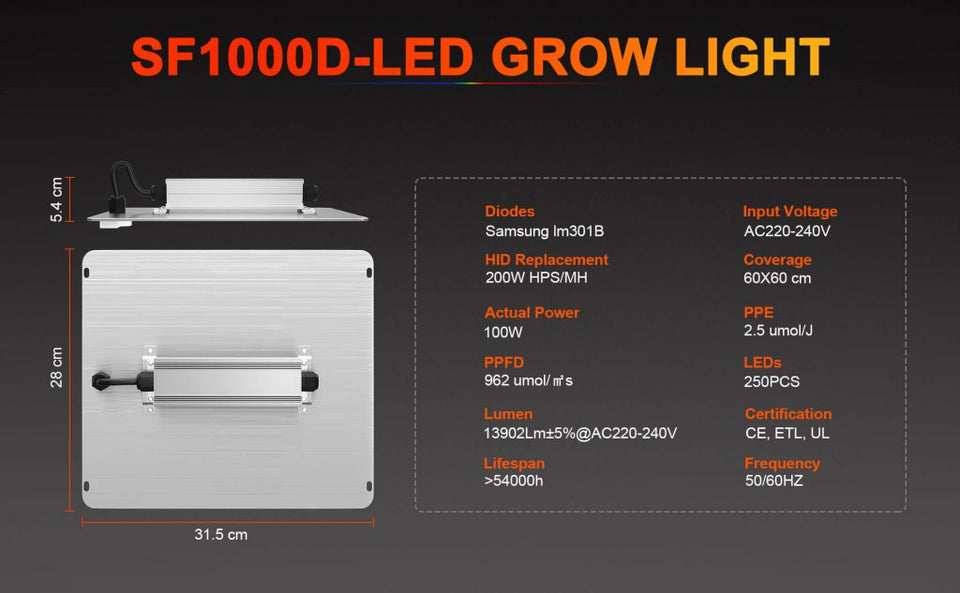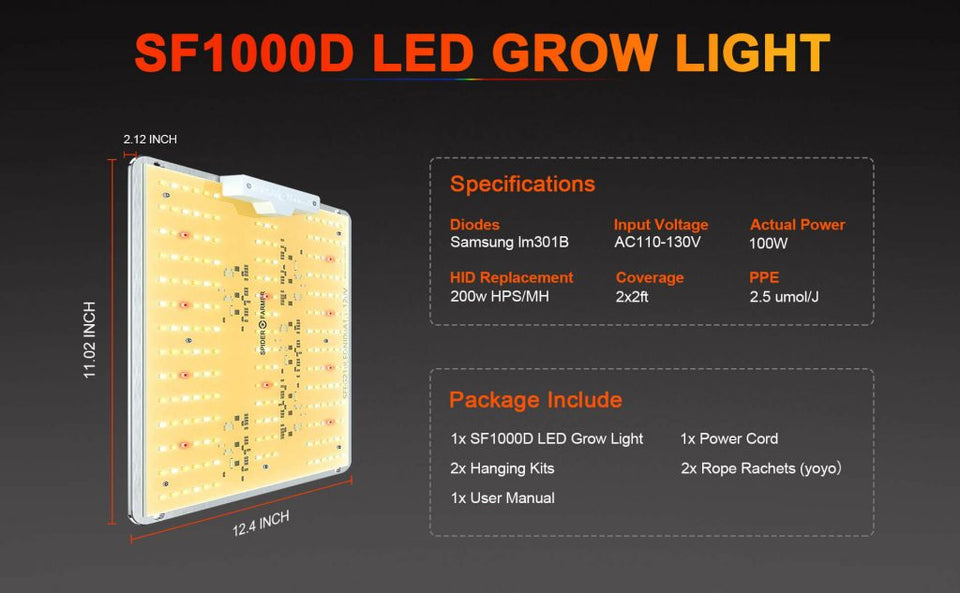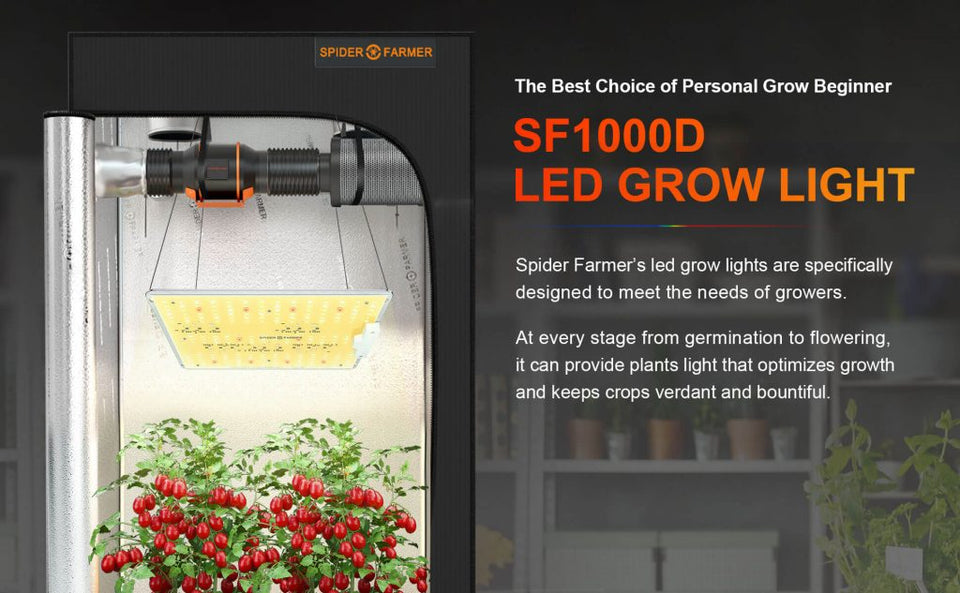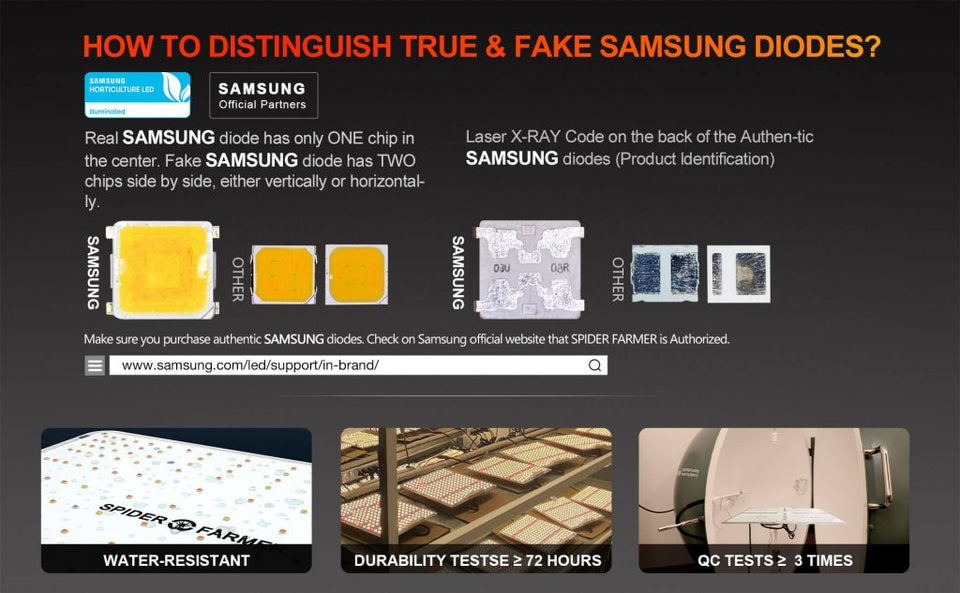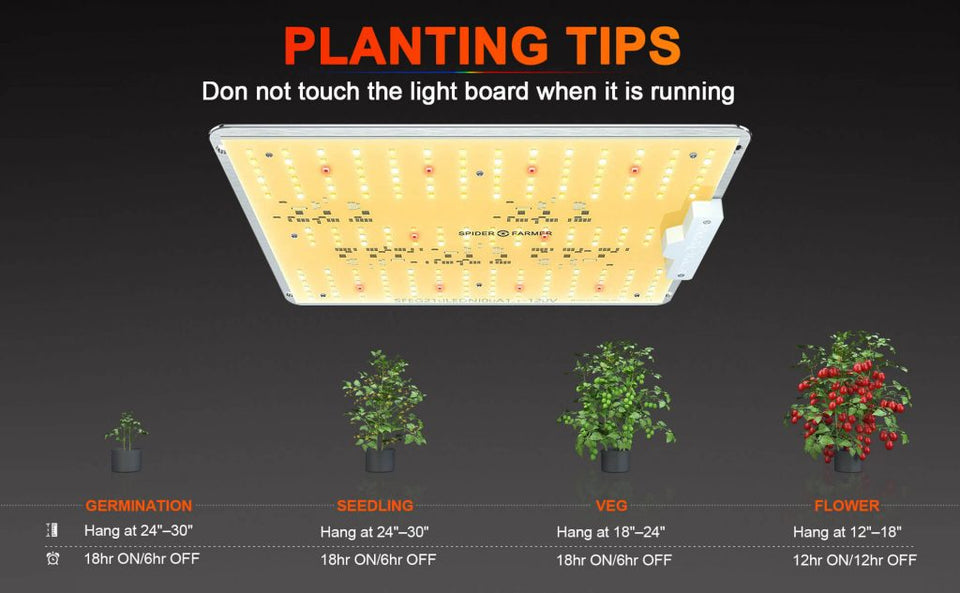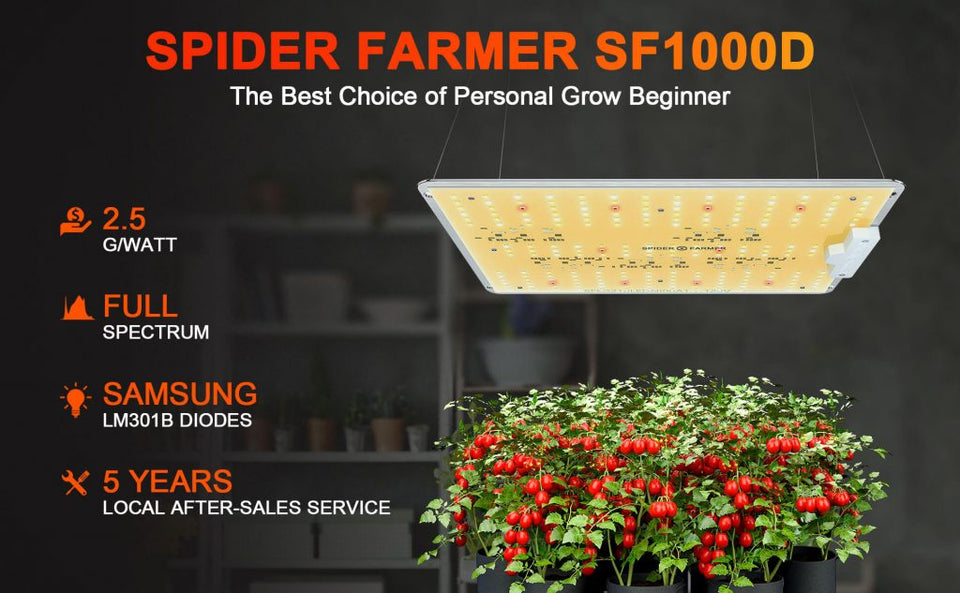 Spider Farmer SF1000D LED Grow Light
Brand new from the LED Grow Light pioneers at Spider Farmer comes the SF1000D. Featuring Samsung diodes, ultra low electricity costs and a full spectrum output, the Spider Farmer is an unbeatable value LED Grow Light solution for cultivators who demand high performance while keeping their overheads to an absolute minimum.
Top Quality Samsung Diodes
Waterproof Board

Full Spectrum
New 2023 version
Super Stealthy
IR Diodes for Improved Bud Density 
Massively Reduced Electricity Costs
Zero Noise
New Improved Diode Layout
100w Power Output
50000 Hours Life
Free UK Delivery
Pay As You Grow in 3 instalments with Klarna
Daily Electricity Cost of £0.45
With the insane spikes in electricity costs, many growers out there may be watching their budget like never before. If you watch the pennies, the pounds look after themselves. And this mentality is embodied with the exciting new SF1000D LED Grow Light from the experts over at Spider Farmer.
Spider Farmer have done a fantastic job stripping back all the features that many growers don't need and leaving us with all functions that we do. This results in the super value represented by the Spider Farmer SF1000D.    
In spite of its rock bottom price, the Spider Farmer SF1000D is top end piece of equipment that has found many fans within the LED Grow Light world. 
This new, recently upgraded 2023 version of the Spider Farmer SF1000D boasts a new, cleverly streamlined LED Grow Light system. But don't be fooled. With the SF1000D, Spider Farmer are not cutting corners with build quality. The Spider Farmer SF1000D is strong, well built and features only premium quality components. 
At the core of the Spider Farmer SF1000D is a 100w driver which powers the array of Samsung & Osram diodes with rigid reliability. The driver has recently been updated to a new 2023 version to offer vastly improved power efficiency and a significantly longer life than other LED Grow Light brands. 
The Spider Farmer SF1000D offers a 4 coloured array of 660-665nm, 3000K, 5000K and IR diodes to ensure that your plants are bathed in precise and even full spectrum luminescence over its generous footprint. 

From a distance the Spider Farmer SF1000D may look like many other LED Grow Light. But if you look a little closer you'll notice that these are all super premium materials. No cheap & cheerful plastic here. The Spider Farmer SF1000D is built with quality as paramount and the SF1000D is an LED Grow Light that is built to last. 

The Spider Farmer SF1000D features a generous array of top quality diodes over its patented diode layout to enable the LED Grow Light cultivator to produce plentiful perpetual harvests of premium quality flowers - without breaking the bank. 
The board is waterproof to an IP65 level making it the perfect LED Grow Light for small, humid environments like grow tents and cupboards. 
With its full spectrum light output, the Spider Farmer SF1000D LED Grow Light consumes just a tiny trickle of electricity from the wall yet has been known to outperform 300w of old style HPS light in side by side tests. 

With an average daily electricity cost of around £0.45, the Spider Farmer SF1000D enables LED Grow Light cultivators to complete an 8 week grow cycle at a cost of around £30 making the Spider Farmer SF1000D an awesome LED Grow Light for fans of autoflowering plants.    
This new generation LED Grow Light technology means no more stupid electricity bills, no more wasted energy and definitely no more disappointing yields.  

The energy efficiency and ultra low cost of the Spider Farmer SF1000D means that this very special LED Grow Light pays for itself very quickly. 

A array of super bright Samsung LEDs combine to achieve a massive 2.7umol/j over its output. A simply breathtaking achievement which rivals the output of similar LED Grow Lights at over twice the price.
Weighing in at just under 2.5 kilos, the Spider Farmer SF1000D is strong, sturdy and feels like a very high quality piece of kit. Its well balanced aluminium body disperses its weight evenly without buckling or destabilising your grow tent at all. 

Measuring roughly 28cm x 32cm x 6cm, the Spider Farmer SF1000D is compact,slim and super stealthy making it the best solution out there for LED Grow Light cultivators who value low key and secretive operation.

The clever work from the team at Spider Farmer has produced a high powered LED Grow Light that runs much cooler than its competitors.  

Spider Farmer achieve this by utilising the passive convection properties of the heavyweight premium materials. All excess heat is vented upwards and away from your grow area. 

This results in 100% fanless, self cooling system which makes the fixture extremely robust with a longevity that is pretty much impossible to beat.     
Spider Farmer are so confident in the SF1000D LED Grow Light that it comes with their 3 year manufacturers guarantee for ultimate peace of mind.

As with all lights from ledgrowstore.co.uk the unit ships in 100% stealthy shrink wrapped packaging with high quality hanging kit included.  

No noisy ballasts and no trailing cables. This very special LED Grow Light is ready to use out of the box in just minutes. Upgrade your grow game in less than 120 seconds. 
Spider Farmer SF1000D Technical Specifications
Power

100W

Input Voltage

AC 220-240V

Weight

1.95 kg

HPS Equivalent
250w

Veg Footprint

0.8m x 0.8m 


Flower Footprint
1.0m x 1.0m

Diodes

Samsung Lm301b, Osram

Reds & IR 

Diode Count
250

Size

28cm x 32cm x 6cm

Spectrum

660nm, 3000K, 5000K &

IR 760nm

Efficiency

2.7 umols/j

PAR Value
259 umol/s
Daily Electricity Cost
£0.45
Product includes:
Spider Farmer SF1000D LED Grow Light
Power Cord
User Manual
Wire Hangers
Ratchet Hangers

Approximate costs of use based on 100% power for a 12 / 12 flowering cycle. 

*Calculated using the UK: Energy Price Guarantee (October 2022) electricity rate of 34.00 pence per kWh.