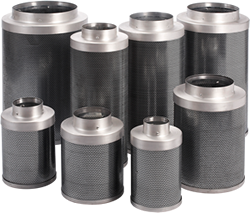 Rhino Pro Carbon Filter
From Rhino, the world's premier carbon filter manufacturer, this is the best you can get. This premium Carbon Filter uses RC-412 Australian carbon to collect and neutralise odour particles before they escape your grow room. 

The Rhino Pro features a patented vortex hurricane cone at its core to spin & evenly distribute air flow - removing 100% of unwanted odours. Quite simply the most effective and long lasting Carbon Filter known to man.
Kills 100% of bad smells on contact
Rhino premium activated carbon has the unique ability to collect & neutralise unwanted odours. Carbon filters work by pulling contaminated or odorous air through them. The carbon traps the smell particles & removes impurities leaving the air clean, pure and 100% odourless.
Removes VOCs
VOCs (Volatile Organic Compounds) are a cluster of hazardous chemicals that can be dangerous if inhaled, especially if inhaled over a long period of time. Many household products like air fresheners, cleaning chemicals and paint can contain VOCs - not dissimilar to cigarette smoke or noxious gasses. 
Many plants and organic matter such as fungus and mould can can also emit VOCs - so it's incredibly important to keep your grow room well-ventilated and carbon treated.
The Rhino Pro traps, neutralises and eliminates VOCs from your grow space, keeping your grow room and plants fresher & safer. 
Uses premium RC-412 Australian carbon
The more (and larger) pores a piece of carbon has, the more small particles it can trap within its core. The Rhino Hobby filter is made from RC-412 carbon - the purest and most porous on the market making it the very best that money can buy.
Each carbon pore in the Rhino Pro Carbon Filter is 0.02 microns in size. While this may sound insignificant, it's pretty bloody impressive when it comes to odour and VOC neutralisation! 
"Vortex" base cone
Rhino filters feature a patented "vortex" cone at their core. This creates a tornado spinning effect as air enters, pushing it evenly through the inside of the filter. Genius.
This simple but incredibly clever process ensures that stale & odorous air is evenly circulated and all smells and impurities are 100% removed. 
For the Professionals
The Rhino Pro Carbon Filter works with all fans up to 3600m³/h, making it the ideal choice for larger, professional grow rooms. 
Why choose Rhino Pro Filters?
Removes 100% of grow room smells & VOCs;

Lightweight high quality aluminium body;

50mm RC-412 carbon bed;

51% open area custom mesh for superior air flow;

2-year lifespan;

Suitable for air volumes up to 3250m³/h.