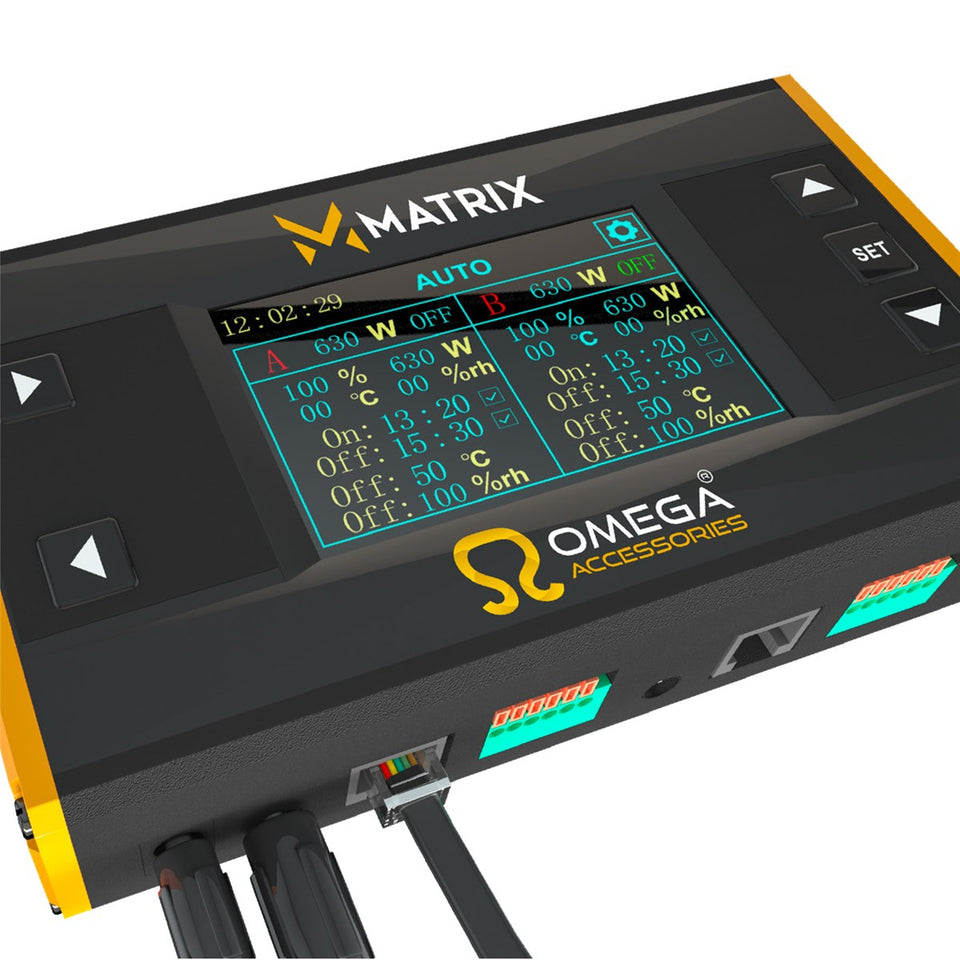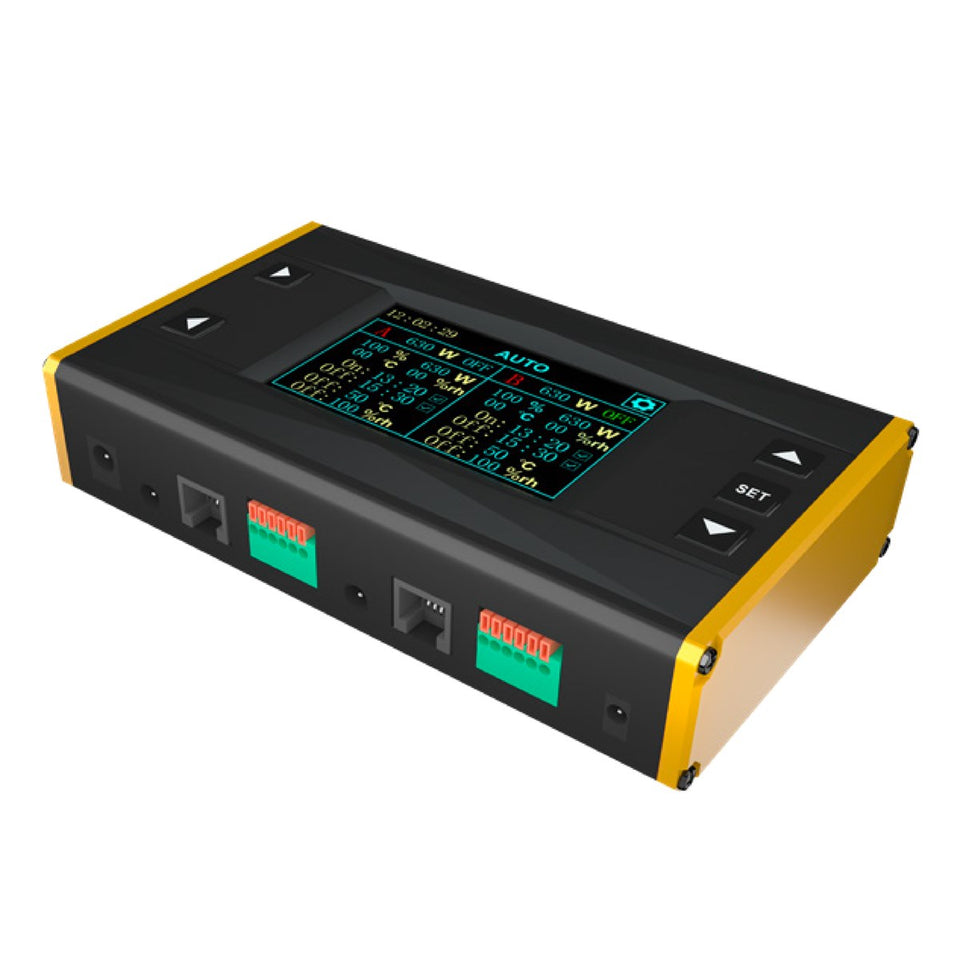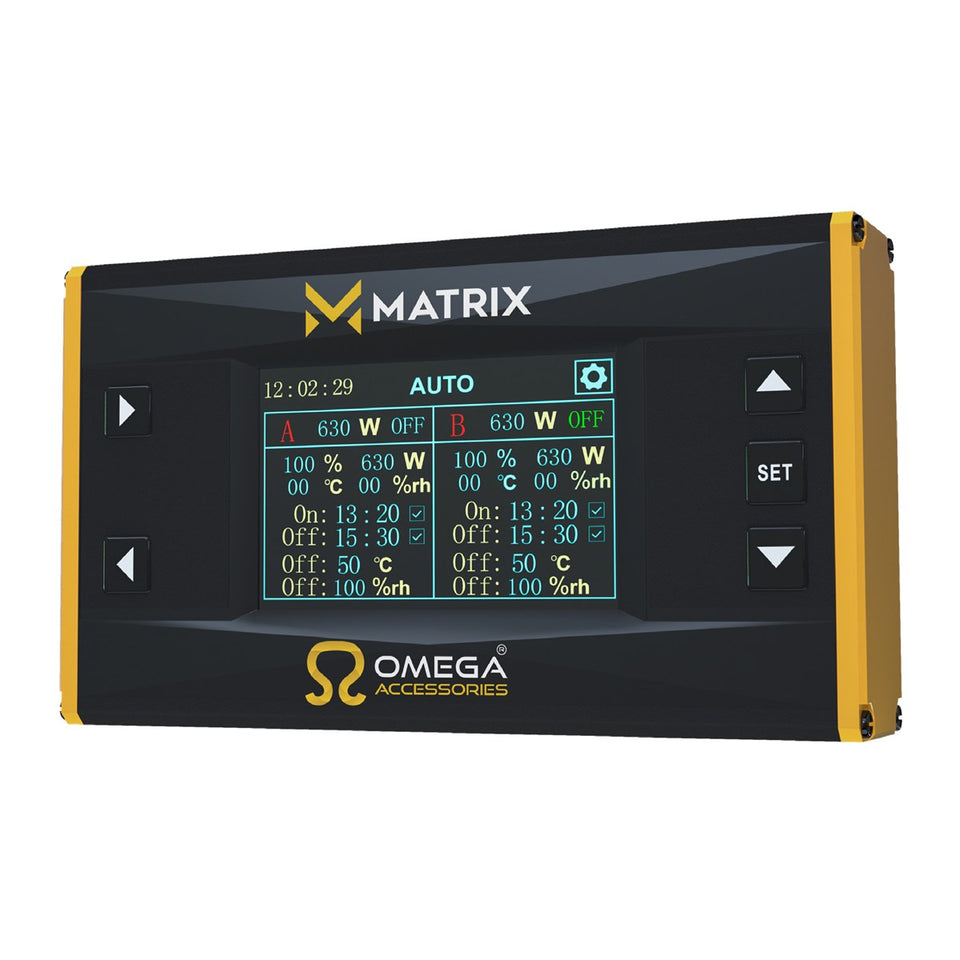 Omega LED Lighting Controller - Intelligent Grow Room Controller
Omega LED Lighting Controller - Intelligent Grow Room Controller
The Omega Matrix is a top-tier lighting controller, renowned for its compact size and powerful capabilities. It is designed to seamlessly connect and manage various pieces of lighting equipment, creating a cohesive and efficient lighting system for all hydroponic, indoor and soil growers.
Massively Reduced Electricity Costs

Temperature Sensor Monitor & Control

Dimming Control in 1% Increments 

Simulates Sunrise & Sunset to Reduce Plant Stress

2 Outputs (main and aux)
Show output as as W or %

Light Intensity Automation

Control Up To 200 LED Grow Light

Comprehensive Warranty 

Auto-Dim At Set Temperature

Free Next Day UK Delivery

Pay As You Grow With Paypal
The Omega Matrix Grow Lighting Controller is a versatile and powerful device, designed to efficiently manage your lighting setup. Whether you're a seasoned grower or just starting, this compact controller can drastically simplify your lighting needs.
24-Hour Timer
The Matrix Controller features a built-in 24-hour timer that allows you to program your lights according to your plant's light cycle needs.
Output Display
The Matrix Controller displays the output in both Watts and Percentages, giving you a clear and precise understanding of the power being utilized.
Ballast Selection
You can choose the ballast type, ranging from 315 to 1000W, making it compatible with a broad range of lighting systems.
Auto-Dim Feature
It includes an auto-dim feature that reduces light intensity when a set temperature is reached, thereby protecting your plants from overheating.
Sunrise/Sunset Period
Simulate the natural environment with the sunrise/sunset period function, gradually increasing or decreasing light intensity to match the transition times of the day.
Two Outputs
Equipped with two outputs (main and auxiliary), it provides the flexibility to manage more than one light source.
Two Temperature Sensors
It comes with two temperature sensors to accurately measure and control the environment's heat levels.
Supports Large Setups
The Matrix Controller can support a total number of 200 ballasts, making it suitable for large-scale indoor gardens.
The Omega Matrix Grow Lighting Controller is the ideal tool to optimize your indoor growing environment and make the most out of your lighting setup. It's not just a controller, but a complete solution for your indoor farming needs.