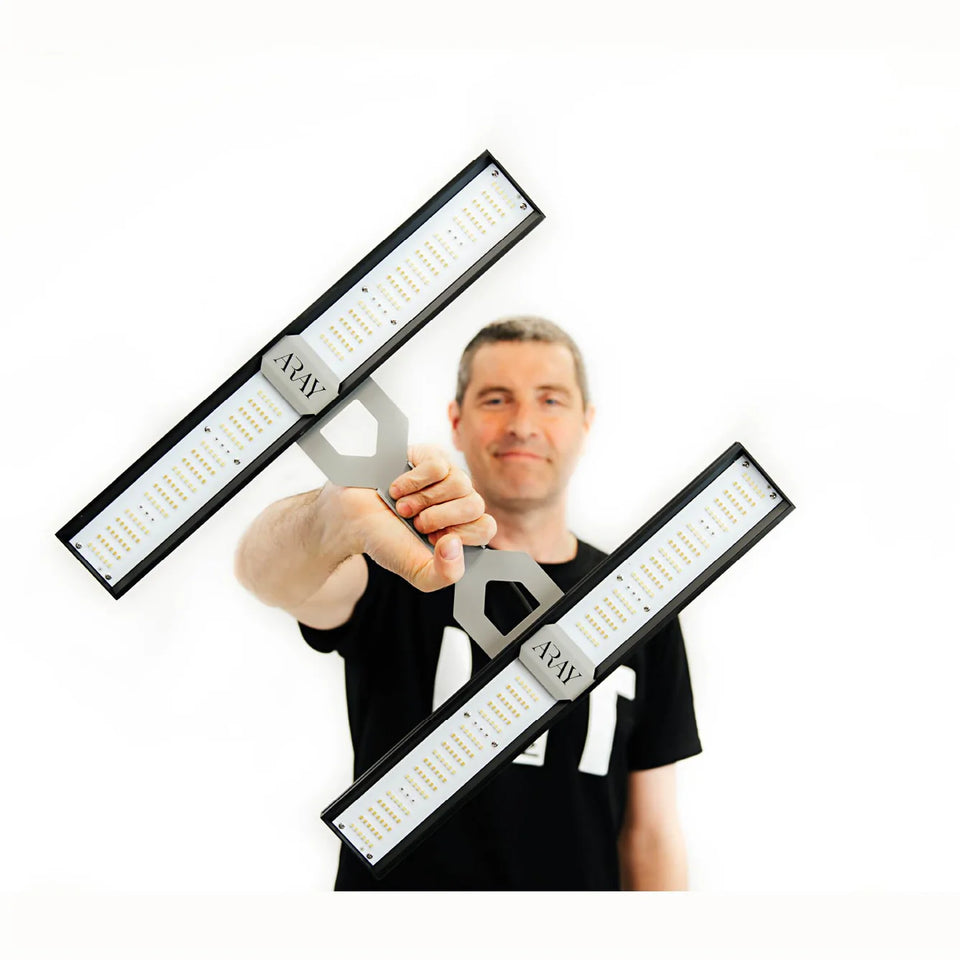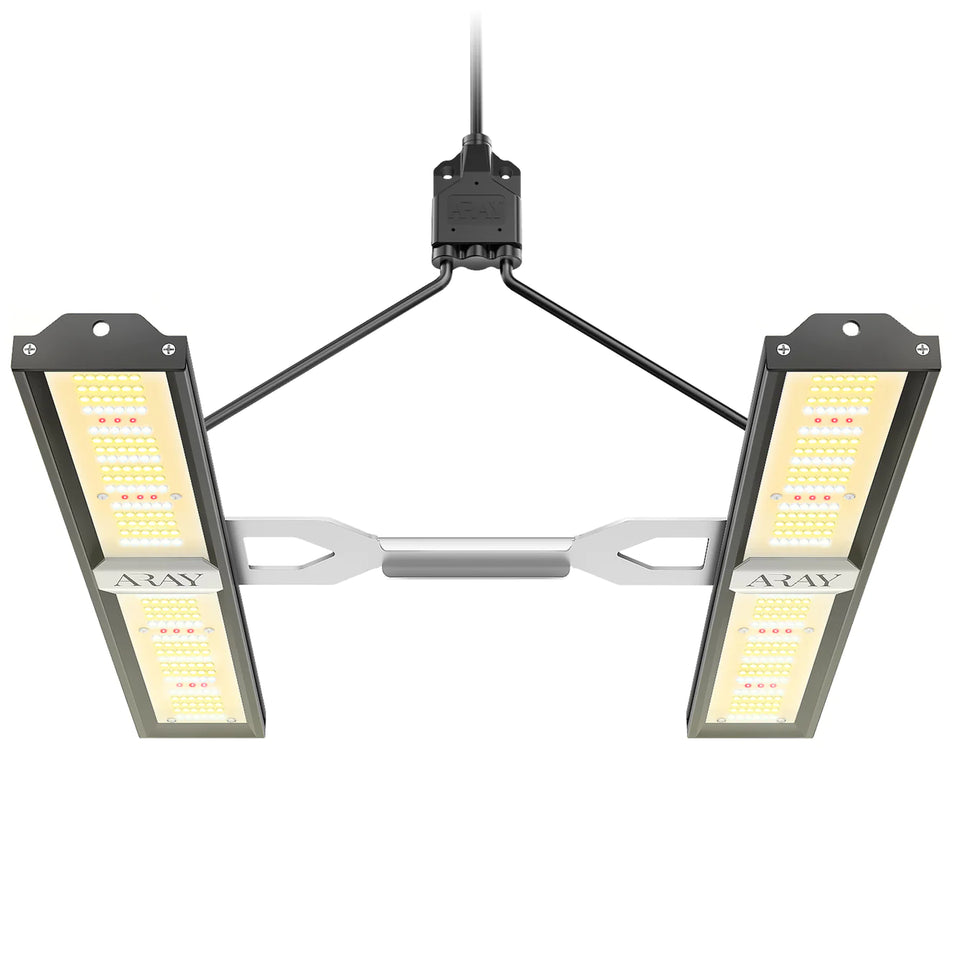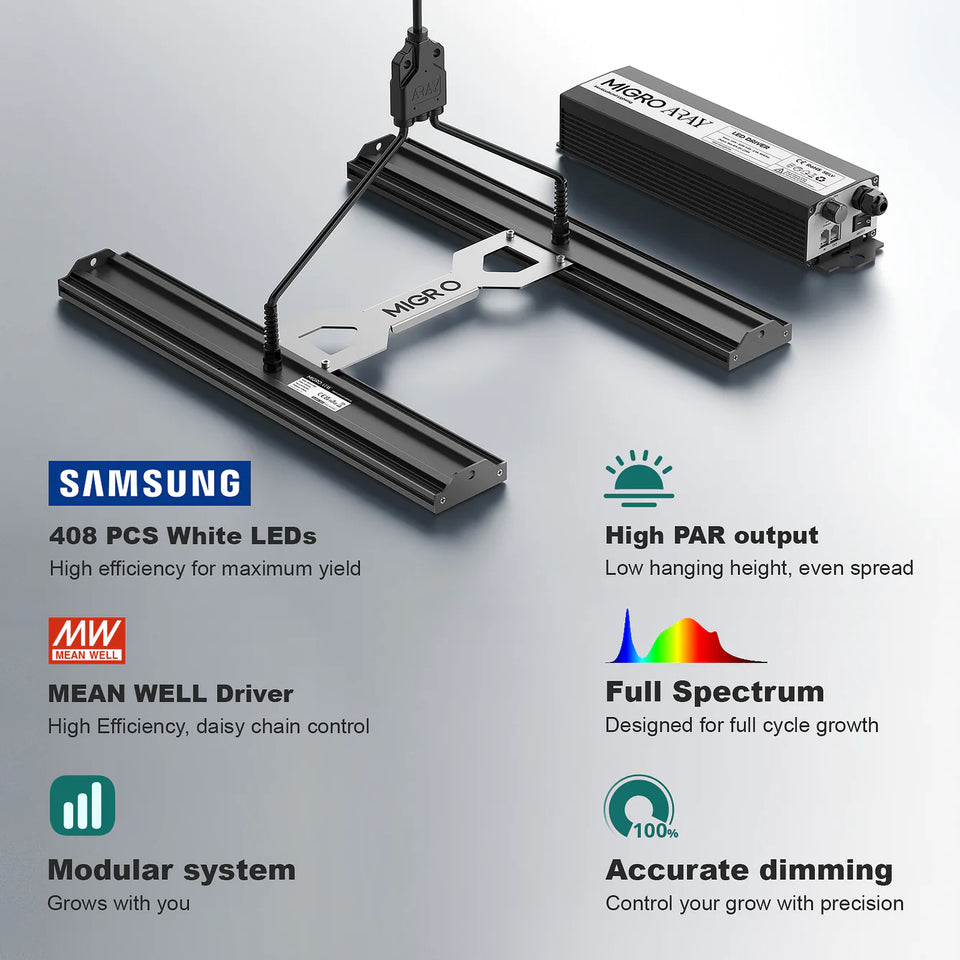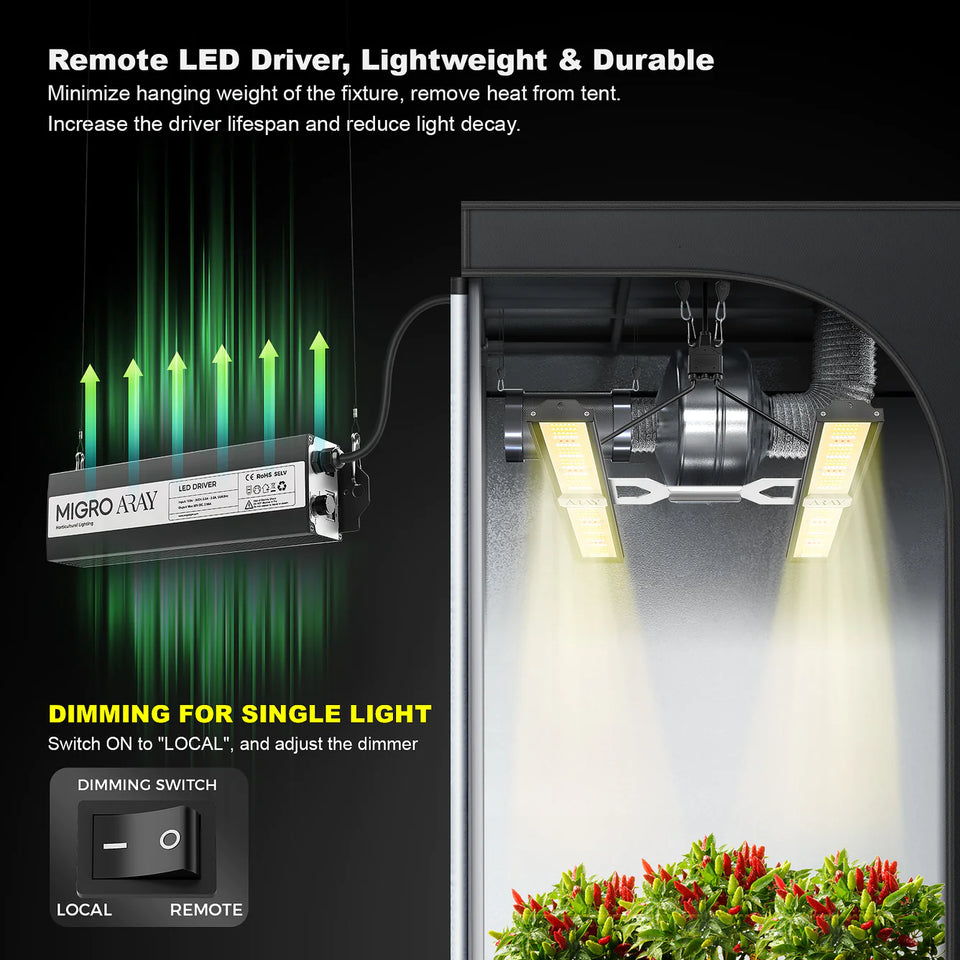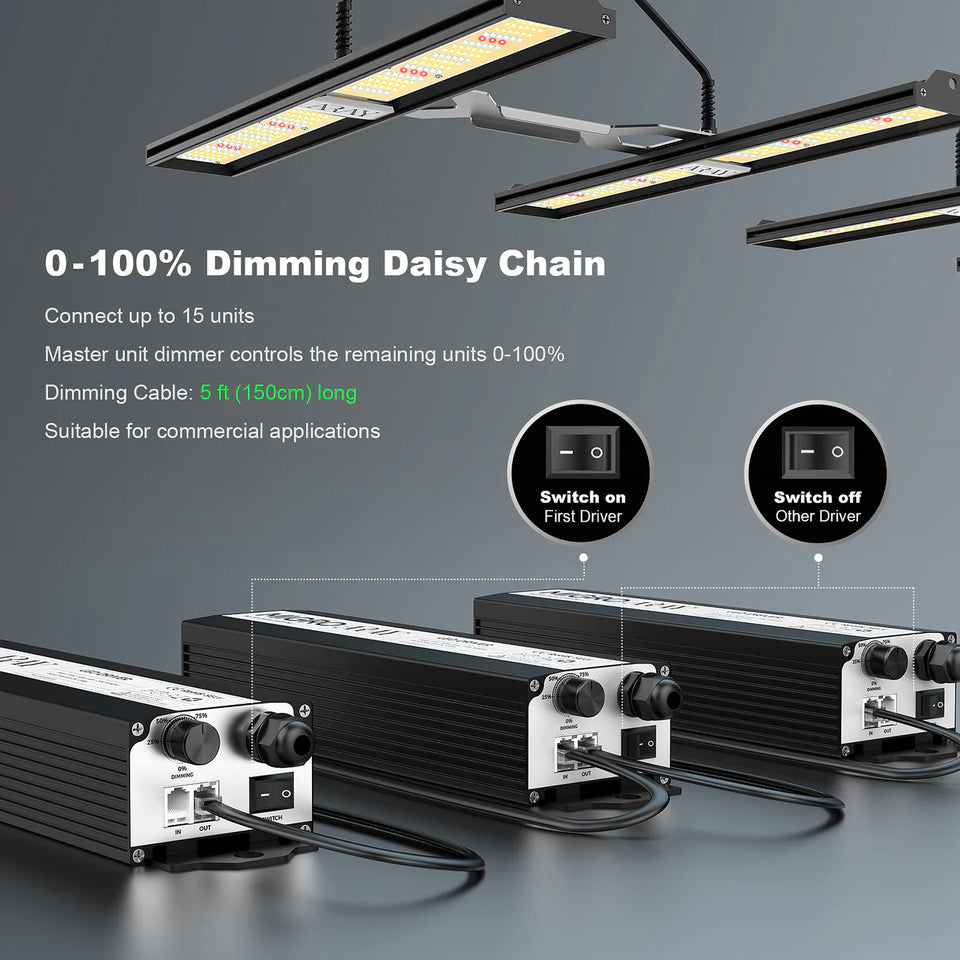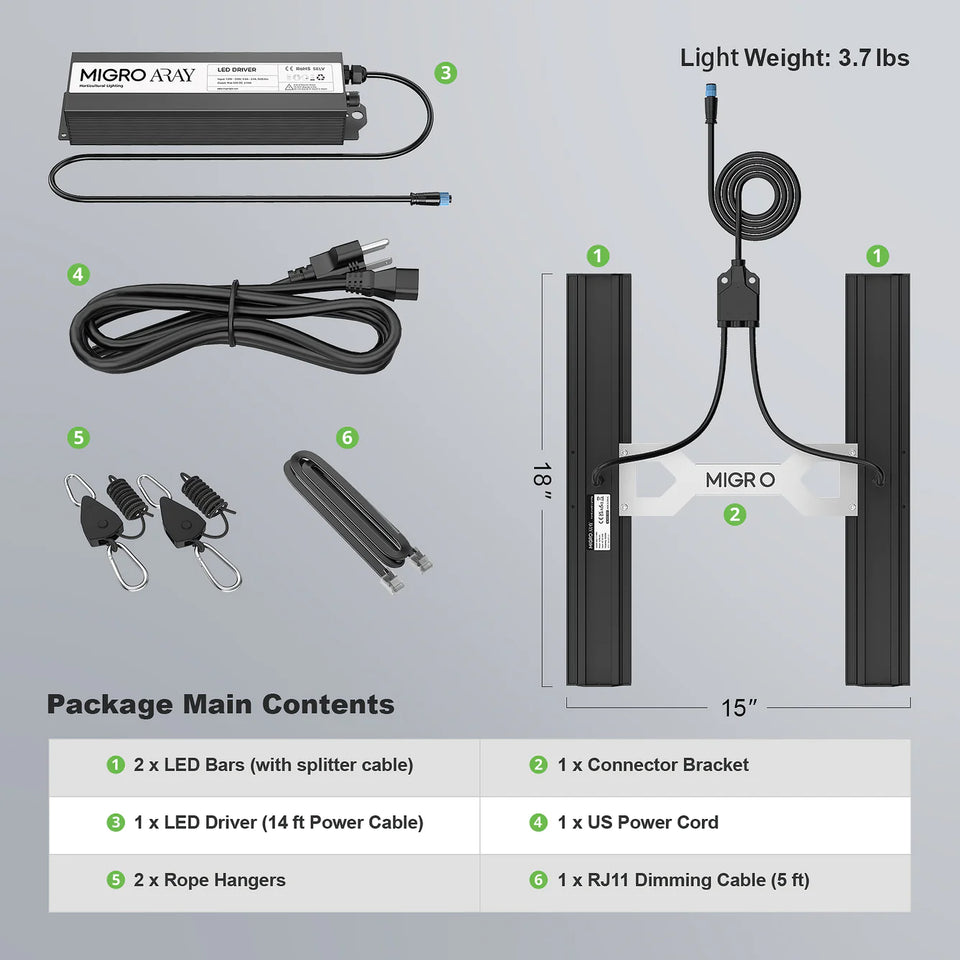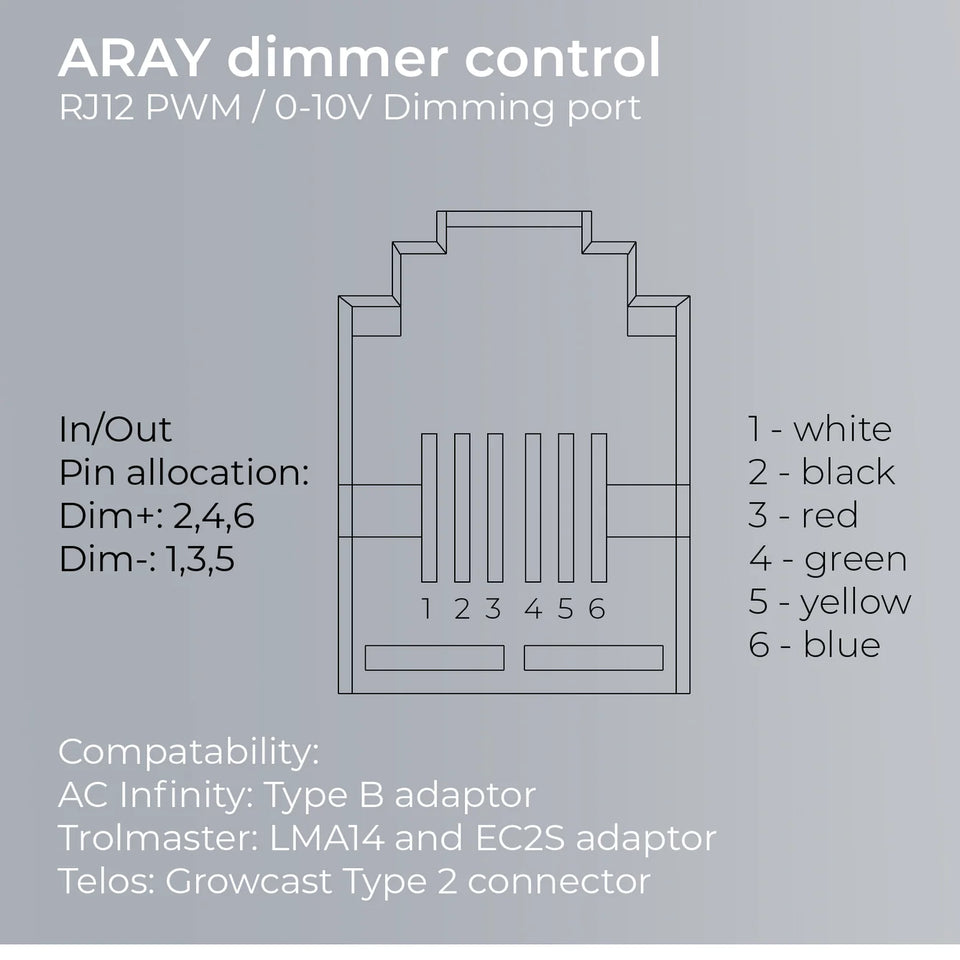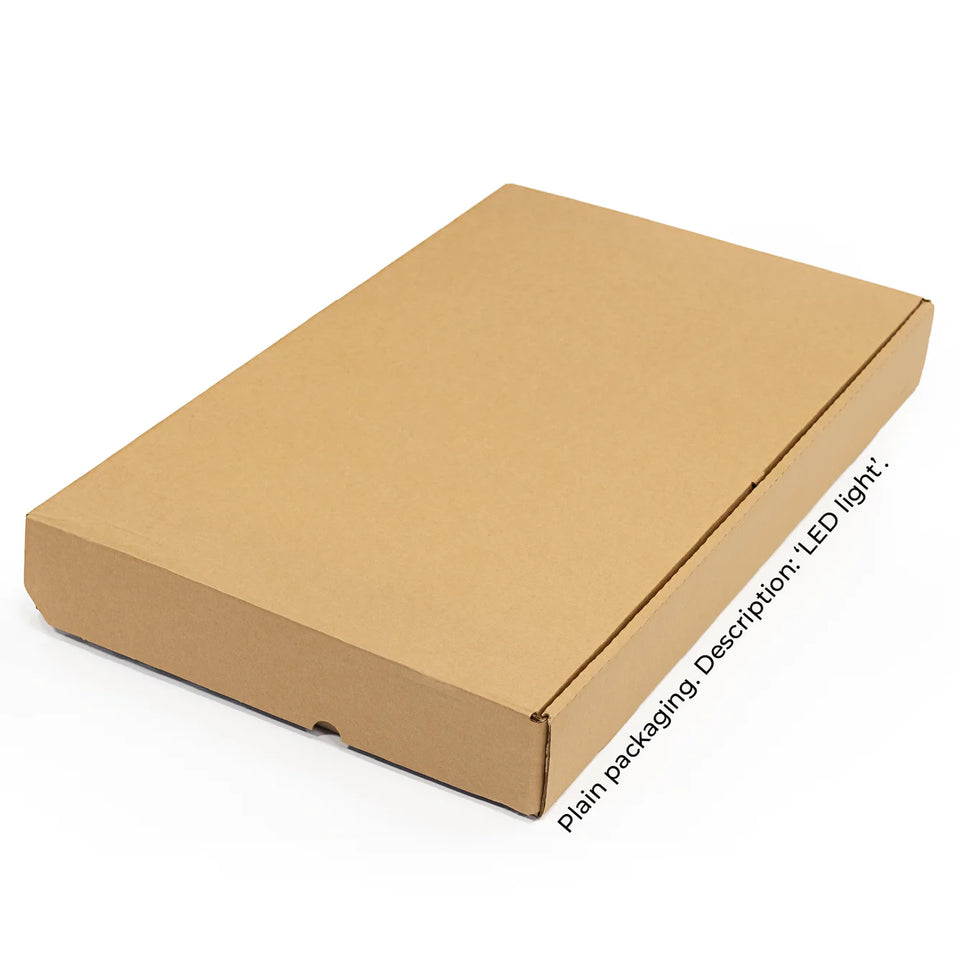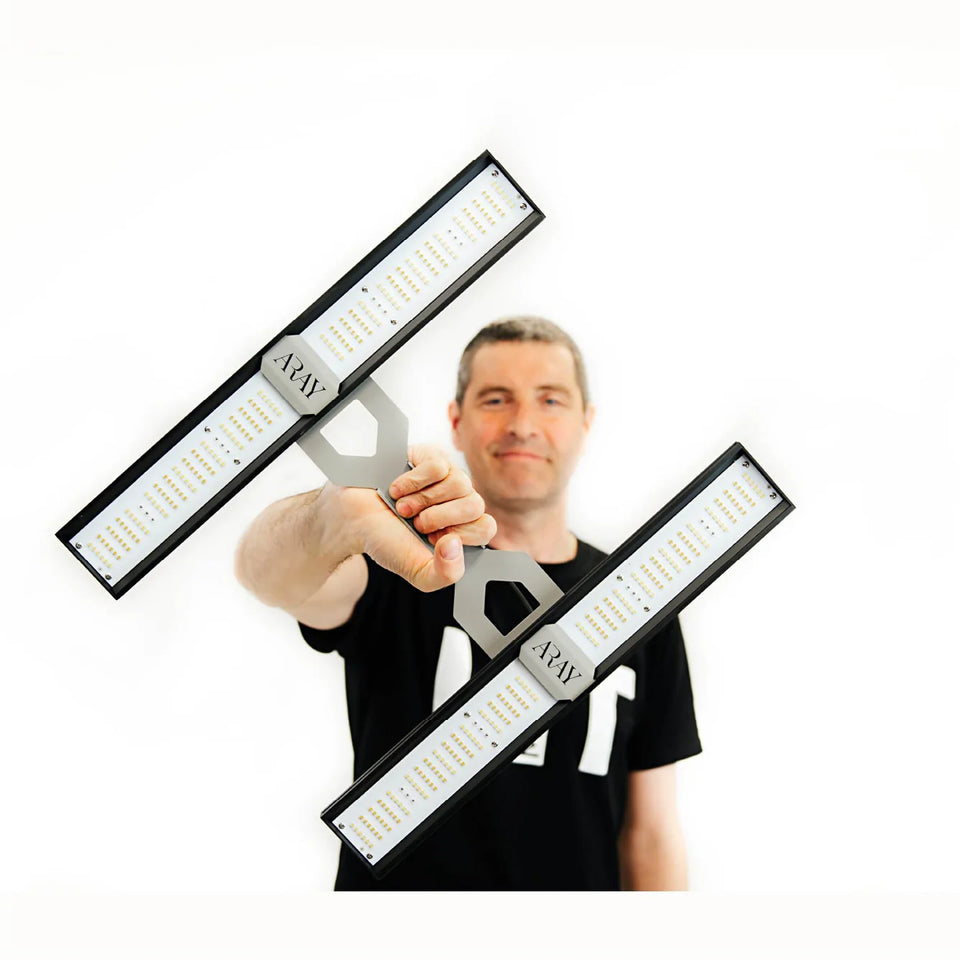 Migro Aray 2 LED Grow Light 125w
Featuring premium Samsung & Osram diodes and a fully dimmable Lifud driver, the Migro Aray 2 is the absolute gold standard in LED Grow Lights. With an ever growing legion of loyal fans, the Migro Aray 2 makes all other LED Grow Lights look stupid. This is quite simply the best LED Grow Light available today. 


 
Incredibly High Efficacy 2.7µmol/j

Free Next Day UK Delivery
High PPF Output for High Intensity 532 µmol/s
High Quality Lufid LED drivers
Irish Company with 3 Year Warranty
Fully Dimmable
Modular. Grows With You.
Low Heat Output

Massively Reduced Electricity Costs

Balanced Full Spectrum

Discreet Packaging

Pay As You Grow in 3 instalments with Klarna

Daily Electricity Costs of £0.34

Available For Pre Order Only
Back In Stock 15 November 2023
The MIGRO ARAY 2 is a state-of-the-art LED grow light designed to optimise your growing efficiency. We love this company and we love this light. Developed by Shane at Migro HQ in Dublin, this really is a premium light for professional cultivators. The MIGRO ARAY range is designed by growers, for growers - with no shortcuts taken. This is the very best LED Grow Light you can get. 
Ultra Efficiency & Performance
The MIGRO ARAY 2 LED Grow Light is a high efficiency full spectrum light, offering a massive output of 2.7 µmols/joule, which means it emits more light per watt which means it increases your yield while also minimises your power usage. Even with today's insane electricity costs, the MIGRO Aray 2 costs just £0.34 a day to run. That equates to less than £30 per 8 week flowering cycle.
With a yield potential of around 2g per watt of light, this means that even novice cultivators can expect to produce around 500g of premium, resin rich flowers every single flowering cycle. It doesn't take a mathematician to figure out that with numbers like this, the MIGRO ARAY 2 LED Grow Light pays for itself very quickly indeed. 
The spectrum is finely tuned by experts to generate tight, dense growth in the early vegetative stage and to enable vigorous growth with high concentration of flavonoids  in the flowering stage.
Premium Samsung LEDs & Lufid Driver
As you'd expect from Shane at MIGRO, only the very best will do. The MIGRO ARAY 2 LED Grow Light utilises only premium components. Featuring an array of Samsung LM281B white and Osram 660nm diodes and a premium Lufid driver at its core, the MIGRO Aray is built to perform and the MIGRO Aray is built to last. With a total of over 400 premium quality LED's over its plentiful footprint, growers can expect superb quality, resin rich produce from the MIGRO ARAY 2 every single time.
Modular Design. Grows As You Do.
When we first saw the MIGRO ARAY we were left scratching our heads. How has no one thought of this before? The modular design of the MIGRO ARAY 2 allows the grower to join multiple light modules either end to end or side by side to cover any sized grow space. No other LED Grow Light does this. This modular system makes the MIGRO Aray a perfect option for those who are looking to expand their grow operation over time. Absolute genius. Bravo Shane! The MIGRO ARAY is daisy chain ready too, so users can connect up to 15 MIGRO LED units together using the first one in line as a master control. Excellent.  
Uniform PAR Distribution
Measuring in at a generous 38cm x 46cm with a height of just 5cm, the MIGRO Aray 2 is at home in pretty much any location. Unlike many LED Grow Lights, the MIGRO ARAY 2 ensures uniform, corner to corner light distribution over its entire footprint.
And with its market leading PPFD over a 90cm x 90cm and a 110cm x 110cm area, the MIGRO ARAY 2 is perfect for small grow tents and stealthy or secretive set ups.
Fully Dimmable Remote Driver.
These days growers demand control. And the The MIGRO ARAY 2 LED Grow Light offers control like no other. With its Lufid driver dimming from 20 to 100%, cultivators can adjust the light intensity as their plants need it. Not only does this allow total fingertip control to the grower, but it also keeps electricity costs down too. Excellent.
We know summer is coming up and temperatures can be an issue, but fear not! Migro have got you covered! The MIGRO ARAY 2 features a detachable driver so the driver can be stored externally, outside your Grow Tent. In addition to massively reducing temperatures - the external driver enables growers to control your LED Grow Light without disturbing the grow room environment and placing needless wear and tear on zips and fastenings. MIGRO really have thought of everything with this little beauty.
Long Lifetime & Warranty
The ARAY 2 LED Grow Light has an enormous lifetime of 50,000 hours. Thats a whopping 8.5 years operating at 16 hours a day. With the long-term reliability and market leading performance of the MIGRO ARAY 2, you an be confident that this LED Grow Light will go on to last for a long time.
This is no budget or B grade LED Grow Light. The MIGRO ARAY is the very best you can get. But don't just take our word for it. The MIGRO ARAY 2 LED Grow Light comes with a 3-year warranty, assuring you of its quality and durability.
The MIGRO ARAY 2 is a highly efficient LED grow light that promotes dense, healthy growth throughout all stages of plant growth while operating with minimal electricity consumption and very low heat levels. Designed for simplicity and effectiveness, the MIGRO ARAY takes the guesswork out of selecting the right LED Grow Light for the needs of all cultivators that are serious about their flowers.
Whether you're an experienced grower or just starting, the MIGRO ARAY 2 LED Grow Light is a fantastic choice for maximising the yields of all hydroponic, soil and indoor gardeners.
Unlike many other brands, the Migro Array LED Grow Light is CE, RoHS2, UKCA EMC, EN 55015 certified, providing an assurance of its safety and performance standards.

Migro Aray 2 LED Grow Light 

| | |
| --- | --- |
| Power | 125W |
| HPS Equivalence | 300w |
| Weight | 5 kg |
| Lifetime Hours | 60,000 (8.5 years @16hrs per day |
| Diodes | Samsung & Osram Red |
| Size | 38cm x 46cm x 5.0cm |
| Flower Footprint | 0.75m x 0.75m |
| Veg Footprint | 0.9m x 0.9m |
| Spectrum | Full Spectrum |
| Efficiency | 2.7 umols/J |
| Daily Electricity Cost | £0.34 |
Consumed Power Watts
125

Efficiency PPF/Watt
2.7
µmols/joule
Flowering Coverage
Photoperiod 
Up to 60cm x 60cm (2ft x 2ft)
Average PPFD (usable PPF) 800 µmols/m2/sec
Flowering Coverage Autoflowers
 Up to 75cm x 75cm (2.5ft x 2.5ft)
Average PPFD (usable PPF) 532 µmols/m2/sec
Vegging Coverage
 Up to 90cm x 90cm (3ft x 3ft)
Driver Dimming 
 20 to 100% PWM
LEDs
 Samsung LM281B white LEDS + Osram 660nm Reds
LED Driver
 Meanwell high Efficiency
Lifetime
 50,000 hours (8.5 years @ 16hour/day)
Warranty
 3 years
Certification
 CE, RoHS2, UKCA EMC, EN 55015
Approximate costs of use based on 75% power for a 12 / 12 flowering cycle. 


*Calculated using the UK: Energy Price Guarantee (October 2022) electricity rate of 34.00 pence per kWh.