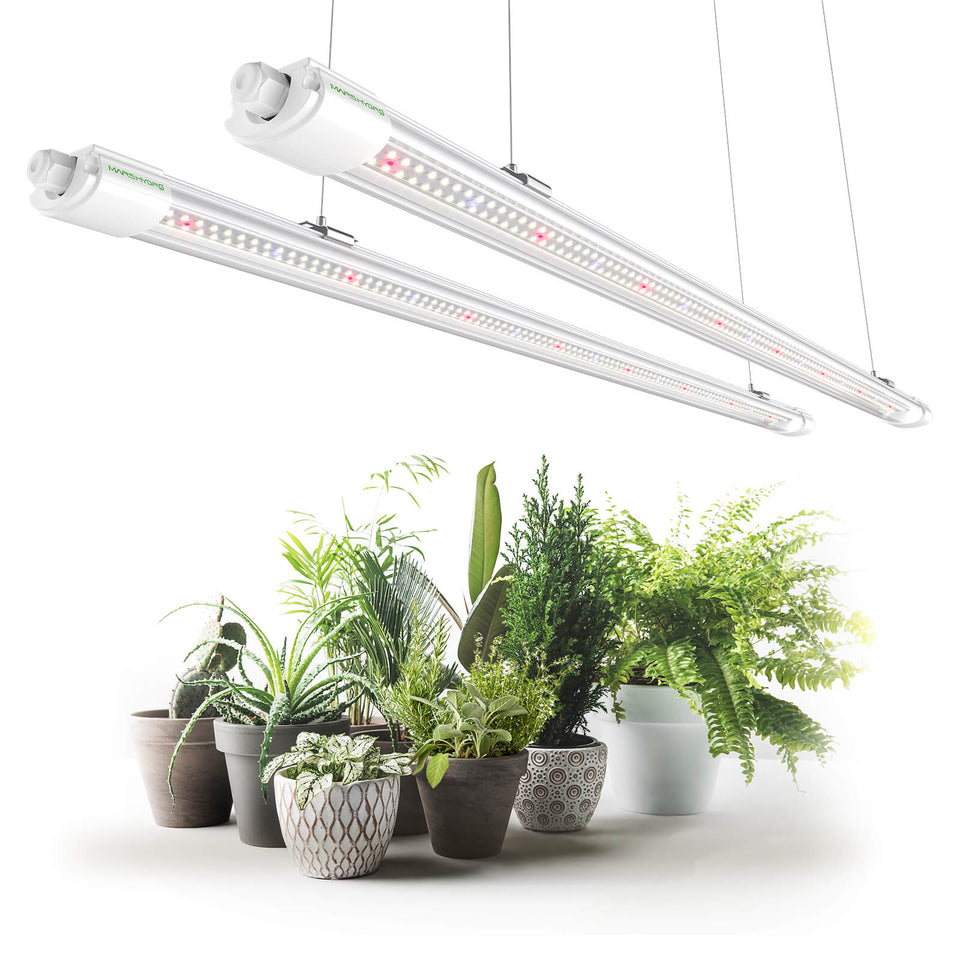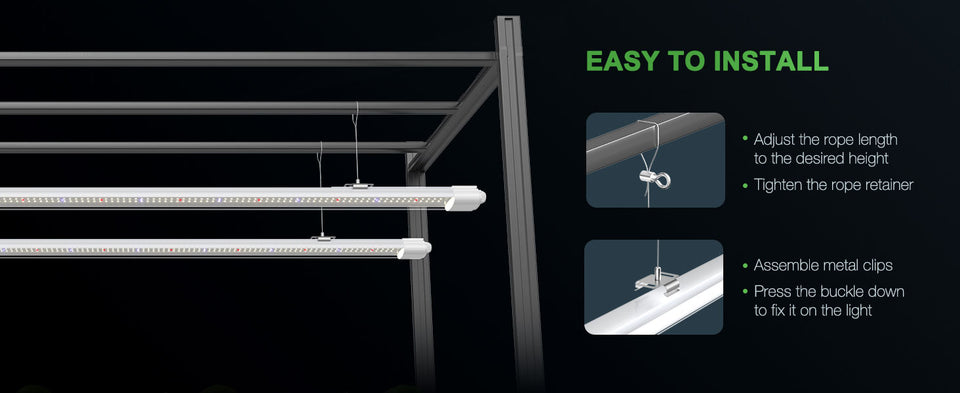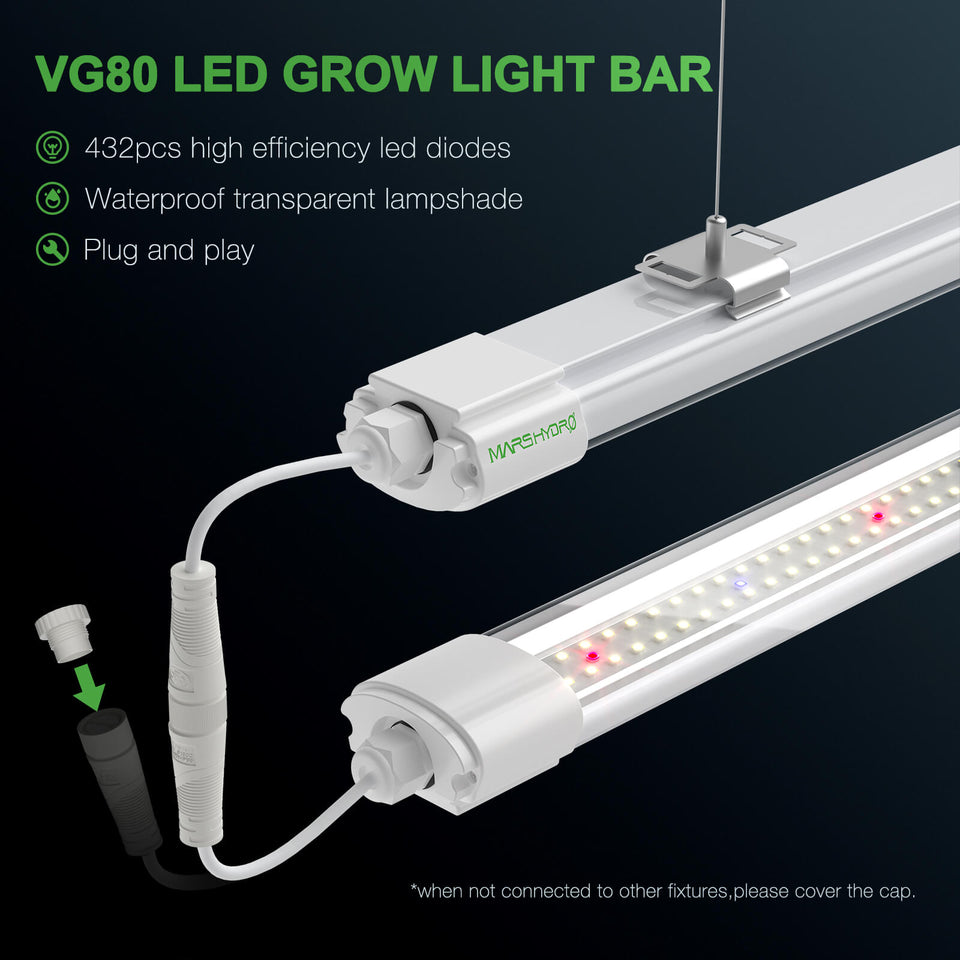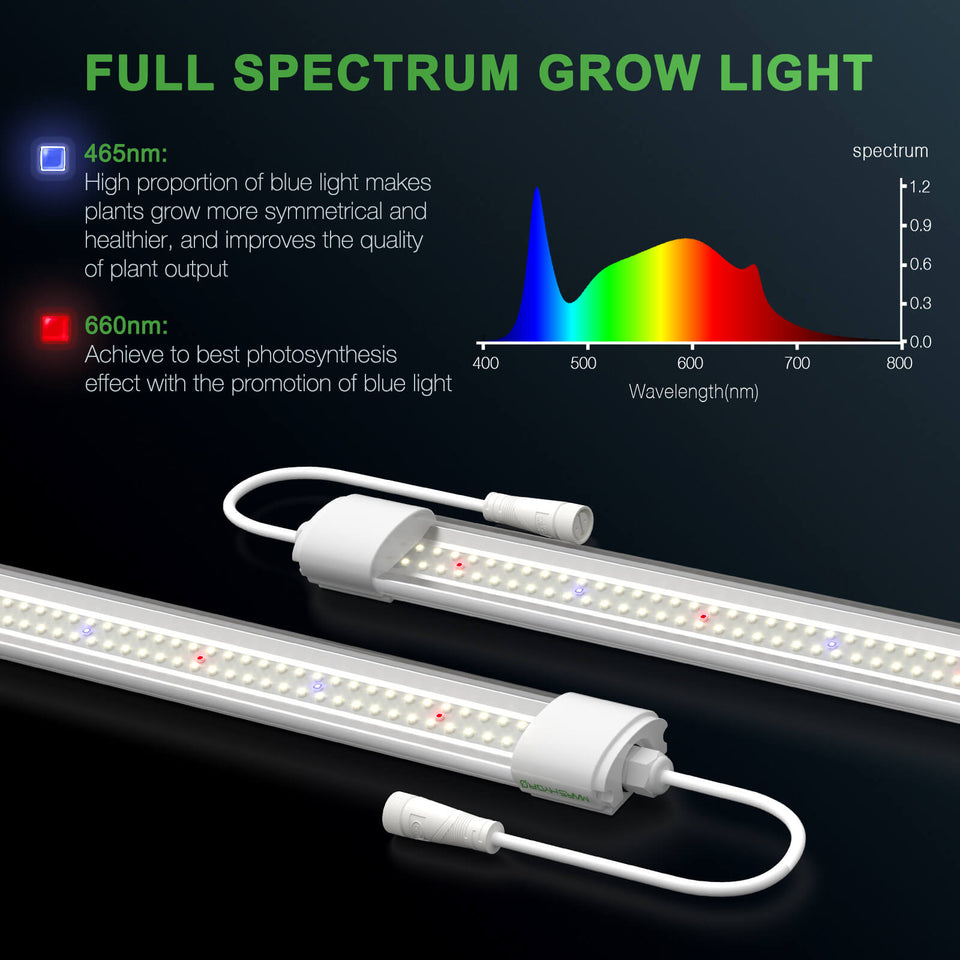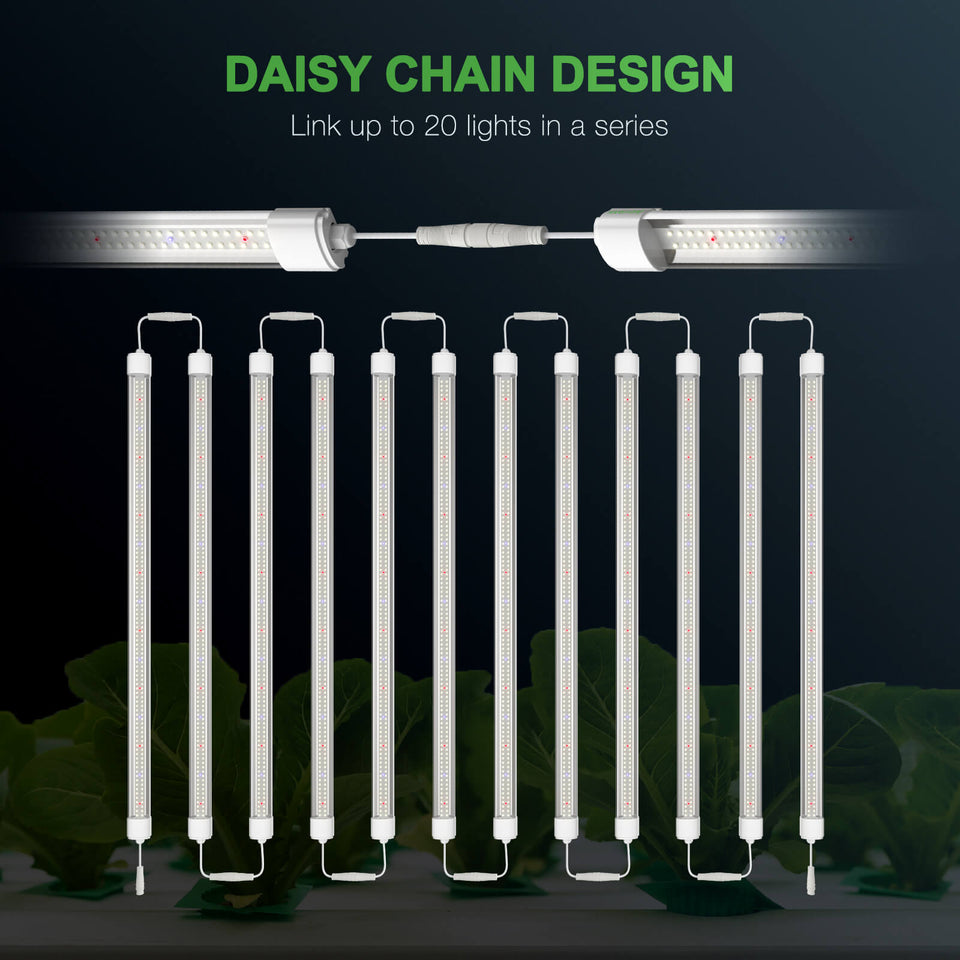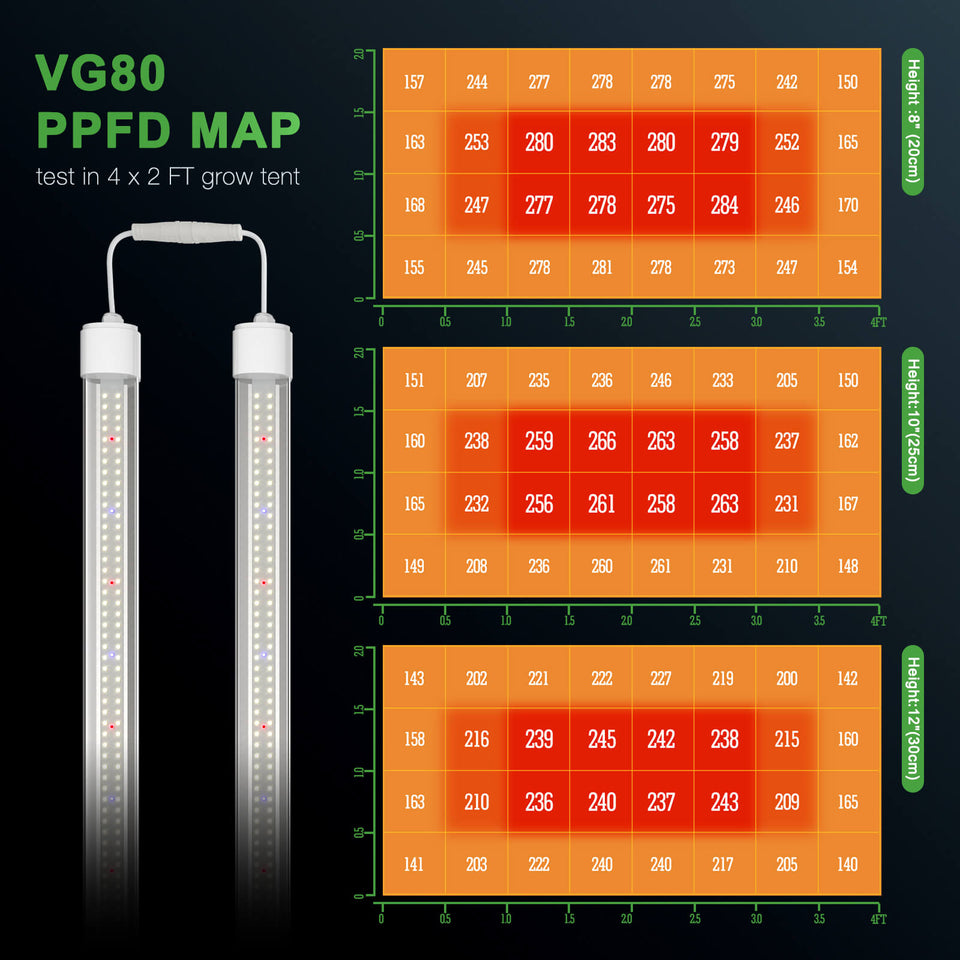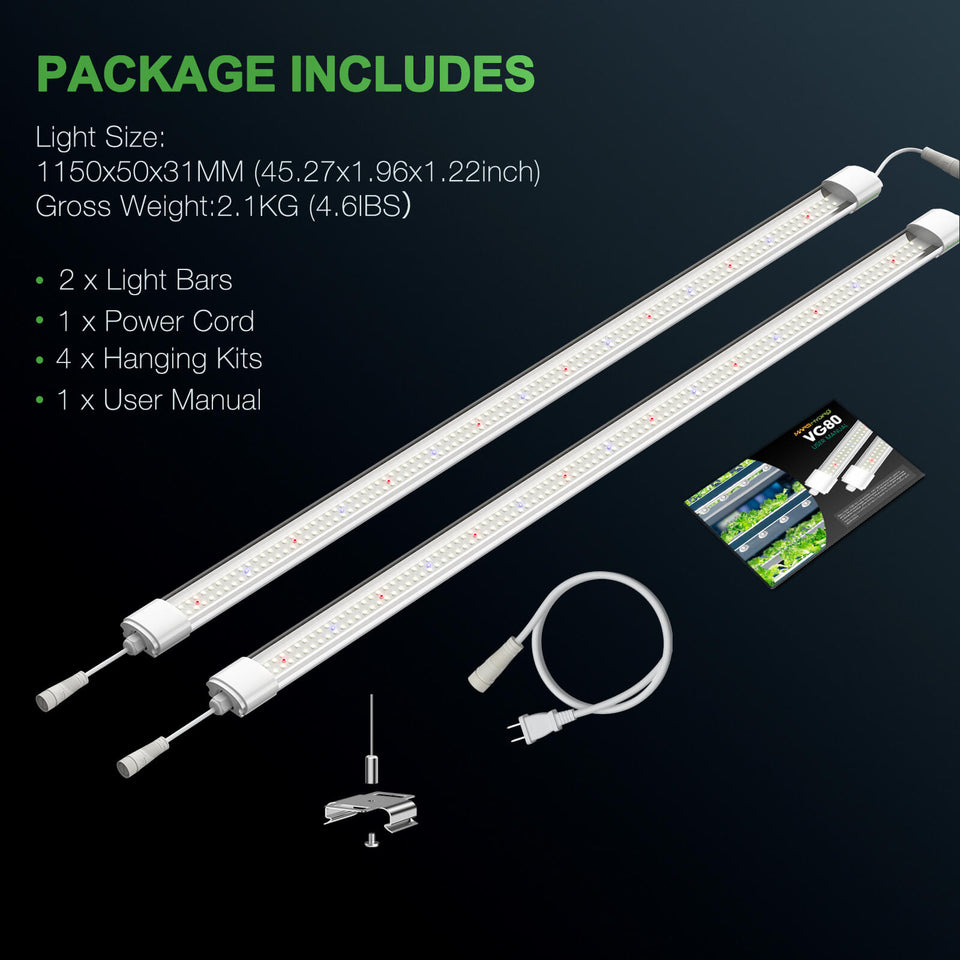 Mars Hydro VG80 Propagation & Vegetation Light Bar
New from Mars Hydro, the VG80 LED Grow Light makes it more affordable than ever to have a 2 light set up. Maximise your productivity and increase your harvest turnover with this incredible value twin pack of propagation LED Grow Lights at an amazing price. 

 
A Total of 216 Top Quality UV & IR LED Diodes

3 Year Manufacturers Warranty
Set of 2 Light Bars
Plug & Play Simplicity
Super Stealthy
Massively Reduced Electricity Costs
IR Diodes For Faster Photosynthesis
Passive Cooling
40w Power Output (per bar)
Zero Noise
50000 Hours Life
Pay As You Grow in 3 instalments with Klarna
Daily Electricity Cost £0.18
AVAILABLE FOR PRE ORDER ONLY
IN STOCK EARLY 2024

The Mars Hydro VG80 Propagation LED Grow Light Bar
Boasting a finely tuned full spectrum output, the Mars Hydro VG80 offer your seedlings and cuttings all they need to thrive in the early stages of life. Achieving a delicate balance of blue light and far red from the experts at Osram, the Mars Hydro VG80 promotes rapid, healthy growth and leaf development to prepare your plants for flowering. 

High Output. Low Electricity Cost  
With an electricity output of only 80w (40w per bar), the Mars Hydro VG80 cost just pennies a day to operate. But don't let that fool you! This twin pack of LED Grow Strip Lights pack one hell of a punch. A lighting output of 1000 lumens over their 120cm x 60cm footprint means that the days of power hungry and clumsy fluorescents are gone. This is a new generation of grow technology. No more stupid T5 bulbs and no more sky high electricity bills. This is next generation LED Grow Light technology.
The Mars Hydro VG80 LED Grow Light is a huge leap forward in propagation lighting that make it affordable for all cultivators to maintain a multi light grow set up. This significantly speeds up grow times and means that growers can have many more harvest per year. This together with their operating cost of just a few pounds a week mean that the Mars Hydro VG80 pays for itself very quickly indeed.

Full Spectrum. Finely Tuned for Vegetation & Leaf Growth
The spectrum is boosted with high performing 465nm (blue), 665nm (red) diodes offering a wide and uniform PPFD distribution. This blue spectrum promotes chlorophyll production to vastly speed up the leafy growth of plants. The better ratio of red and blue light offered by the Mars Hydro VG80 LED Grow Light enables plants to perform more efficient & broad spectrum photosynthesis to prepare plants for higher yields during their final flowering phase.

Slim Profile. Daisy Chain Ready
The Mars Hydro VG80 LED Grow Light has a super slim profile and comes with a complete high quality hanging kit for easy installation in multiple scenarios such as grow shelves, grow tents, greenhouses, hydroponic systems and benches.
Its daisy chain ready so cultivators can connect up to 20 LED Grow Light strips together with plug and play simplicity. The Mars Hydro VG80 provides industry-leading performance for vegetables and ornamental plants and is the premier choice for multi use indoor commercial growth.  
As with all products from Mars Hydro, the VG80 ships in stealthy plain packaging with high quality hanging kit included. No messy ballasts, buzzing boxes and no trailing cables.

Ready to use out of the box in just a few minutes, the Mars Hydro VG80 is a no fuss LED Grow Light solution that is finely tuned to produce flowering ready vegetation ready to explode into beautiful, resin rich plants with an effect that growers will notice immediately. 


Note - High intensity light can be damaging to eyesight. Do not look directly at the light and always use eye protection. 
Mars Hydro VG80 Technical Specification
| | |
| --- | --- |
| Power | 40W |
| Input Voltage | 100-277V |
| Weight | 0.9 kg |
| T5 Equivalent | 200w |
| Flower Footprint | N/A |
| Veg Footprint | 1.5m x 1.5m |
| Diodes | Samsung & Osram IR |
| Diode Count | 216 |
| Size | 115cm x 5cm x 3cm |
| Spectrum | 4800k-5000k, 465nm, 650nm  |
| Efficiency | AAA+ |
| Daily Electricity Cost | £0.18 |
Product includes:
Mars Hydro VG80 LED Grow Light
Power Cord
Power Supply
IR / UV Toggle Switch
Wire Hangers

Approximate costs of use based on 100% power for a 12 / 12 flowering cycle. 

*Calculated using the UK: Energy Price Guarantee (October 2022) electricity rate of 34.00 pence per kWh.