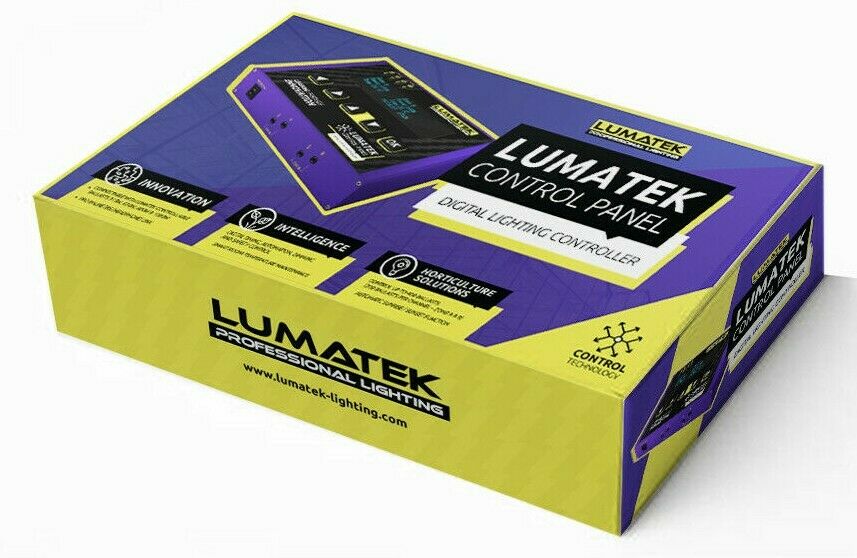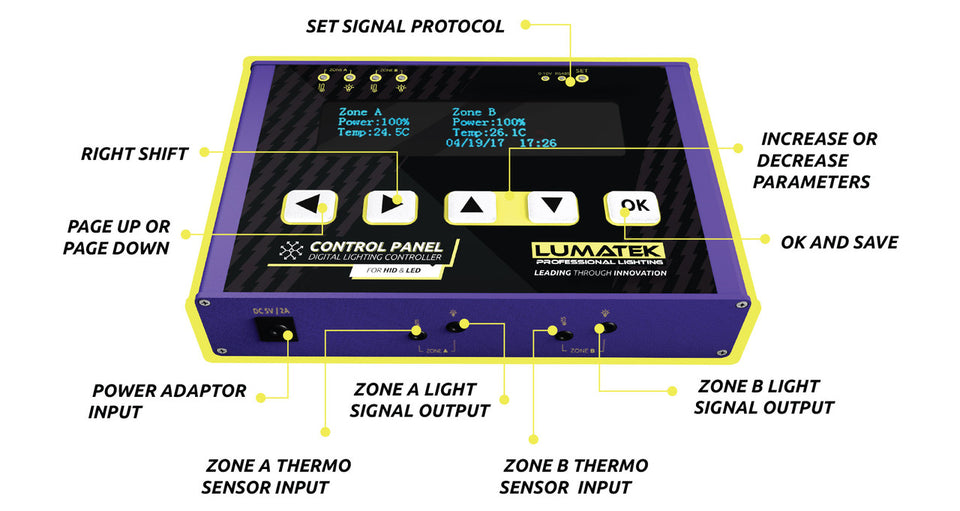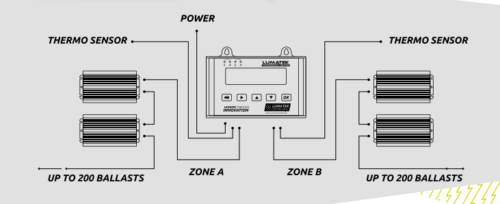 Lumatek Control Panel Plus 2.0 - Intelligent Grow Room Controller
T

he LUMATEK Control Panel plus is a multi signal digital lighting controller that offers precise external control of your LED Grow Lights.

 
Intelligent Control of up to 200 lights

Double Output for 2 Separate Grow Rooms

Massively Reduced Electricity Costs

Temperature Sensor Monitor & Control

Dimming Control in 1% Increments 

Simulates Sunrise & Sunset to Reduce Plant Stress

Light Intensity Automation

Comprehensive Warranty 

British Design

Free Next Day UK Delivery

Pay As You Grow in 3 instalments with Klarna
With its next generation technology, the Lumatek Control Panel Plus accurately monitors and controls grow room temperatures, light timing & intensity, with safety-controlled dimming & switching.
With its plug and play simplicity, its a doddle to connect your Lumatek fixtures, drivers and ballasts to accurately regulate your grow. No more stumbling around in the dark or fiddling with dodgy times. This is next level growing.
Control up to 200 Lumatek LED Grow Light products with this incredible multi channel control panel. 
This is for the grower who wants absolute control over their garden. 
The Lumatek Digital Lighting Controller enables accurate control over not just one, but two Lumatek Digital lighting filled grow rooms containing up to 200 lighting systems in each. Thats a massive 400 in total. Truly industrial levels of control. Bravo Lumatek!
This fully digital Lumatek control panel presents a huge step forwards in grow room management. And the advanced Digital Lumatek Lighting Control Panel, enable the control over a multitude of parameters. 
With two separate photo-period cycles available, you can run two grow rooms completely independently. And with the touch of a button, set timings, switch photo-periods, adjust heat levels and fine tune power consumption levels too. Amazing. 
Lumatek Control Panel Plus - Items included:
1 x Lumatek Control Panel Plus
1 x Power adaptor and cable
2 x Temperature sensor 5m cable
2 x HID control link cable 5m
2 x LED control link cable