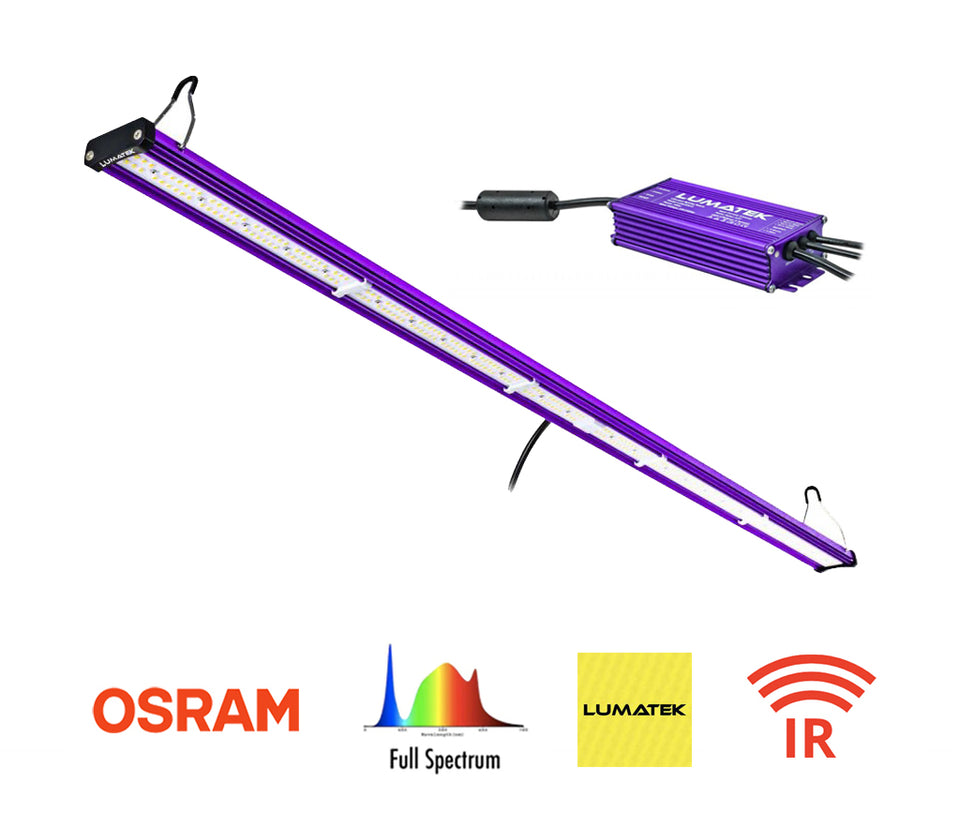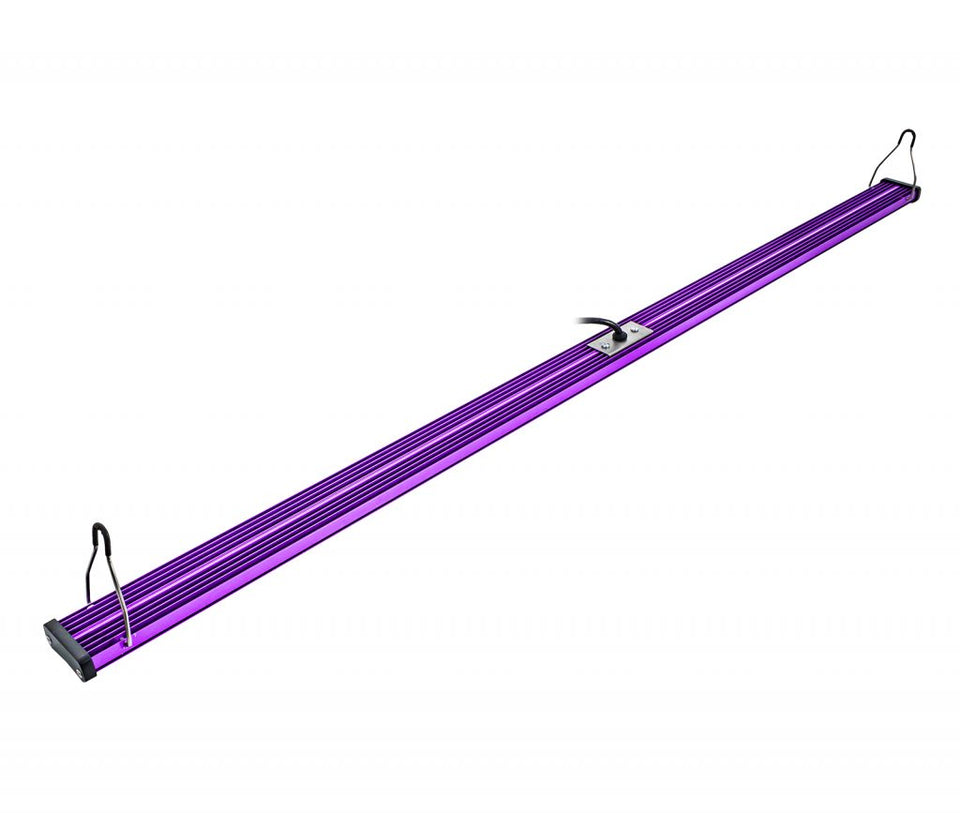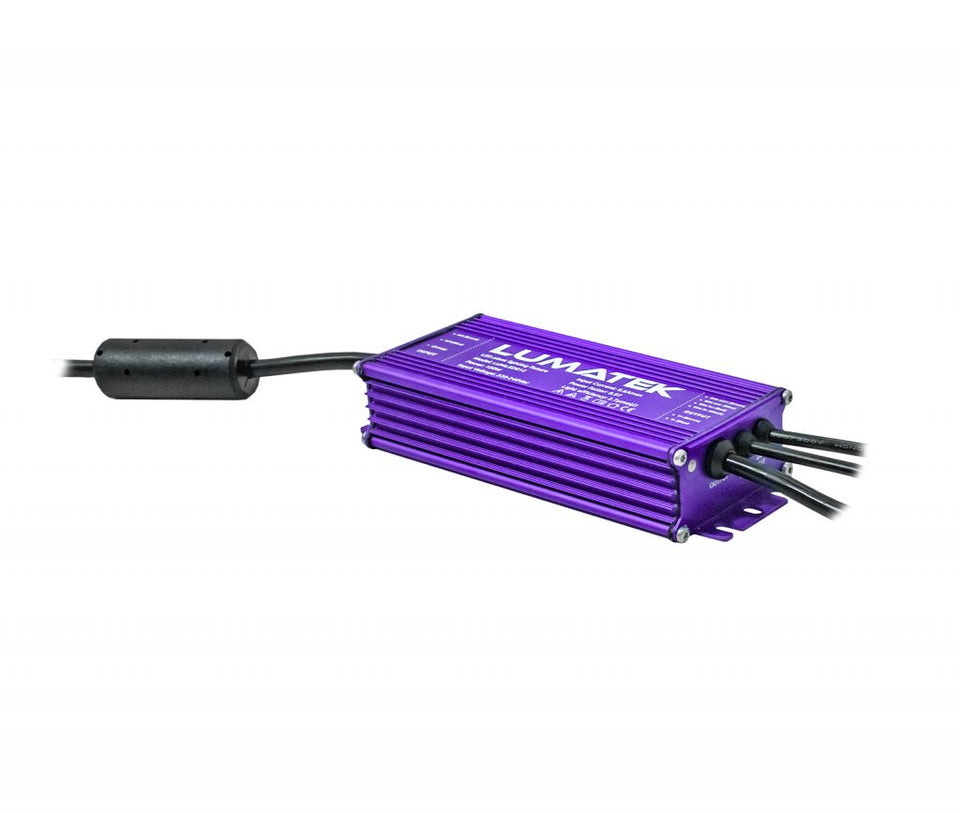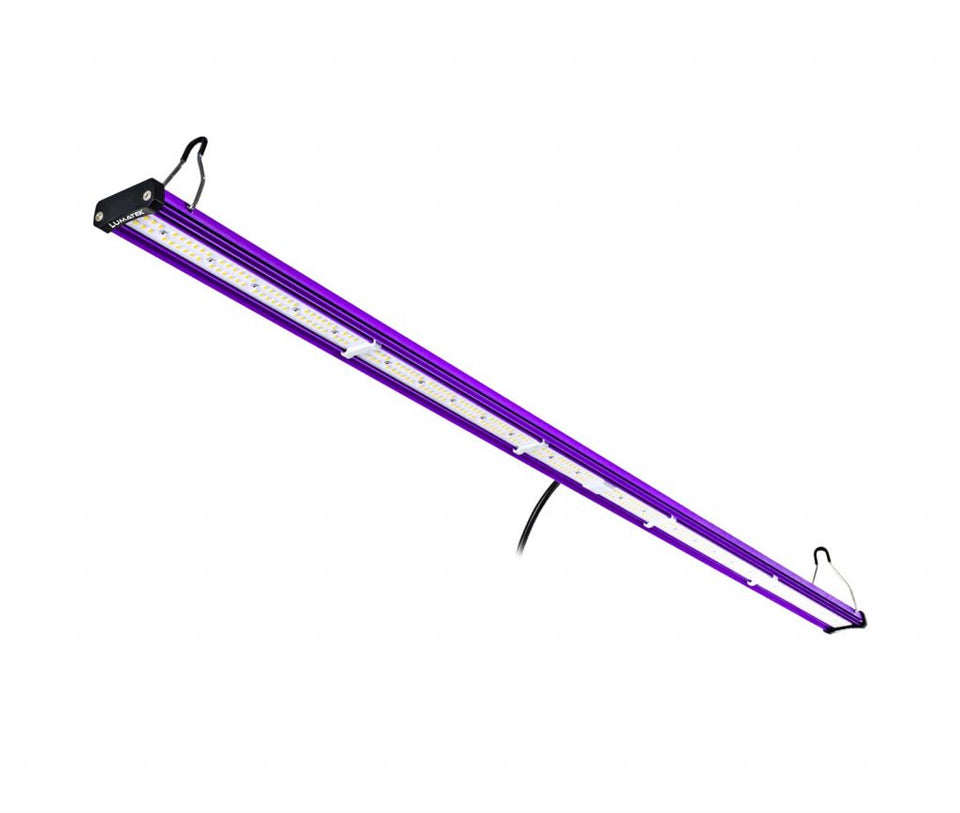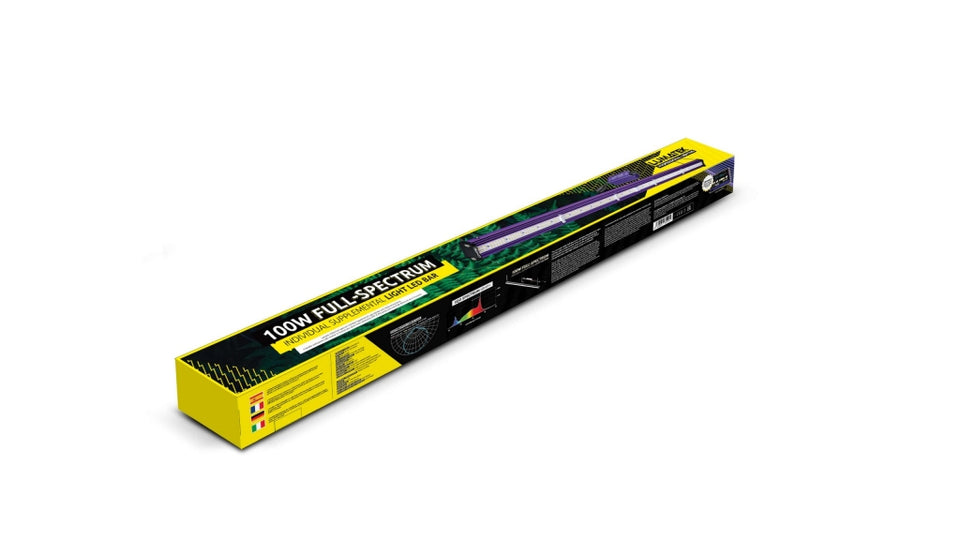 Lumatek 100w Full Spectrum Supplemental Light Bar
New from Lumatek - the 100w Full Spectrum LED Grow Bar improves your flavours, aromas & resin production with plug and play simplicity. Simple to install, cheap to run and with an efficiency of 2.9µmol/j, the Lumatek 100w light bar makes a perfect standalone clone light or a beastly upgrade to your flowering set up.  

 
Very high PPF output for high intensity 295 µmol/s

5 Year Manufacturers Warranty

High quality Lumatek 100W LED remote driver included

Very high efficacy of up to 2.9 µmol/J

Free Next Day Delivery
Plug & Play Simplicity
Super Stealthy
Massively Reduced Electricity Costs
IR Diodes For Huge Buds & Flowers
Passive Cooling
100w Power Output
Zero Noise

5 Year Warranty

Premium Quality LEDs

60000 Hours Life
Pay As You Grow in 3 instalments with Klarna
Daily Electricity Cost £0.35
The Lumatek 100w Supplemental LED Grow Light bar
Introducing The Lumatek 100W Full-Spectrum Individual Supplemental LED Light Bar. With its rock solid 100W remote driver, the Lumatek 100w is a flexible and dynamic LED solution to improve your grow results in one simple, affordable step. Producing a PPF of 295 µmol/s and a very high efficacy of up to 2.9 µmol/J, there is no more powerful LED Light Bar on the market today.
Supercharge Your Grow Light
The Lumatek 100w Supplemental LED Light Bar is no one trick pony. You can either use it as an add-on to supercharge your grow current space or simply use it as a stand alone unit as a high efficiency LED Light source for seedlings and cuttings. 
Cultivators can vastly optimise plant growth with this hugely versatile LED Grow Light and its wide variety of applications. The Lumatek 100w Supplemental LED Light Bar produces the exact same light quantity and light spectral quality as each LED Light bar from their latest Zeus Pro 2.9 range, but with the difference of being a totally independent fixture with its own 100W premium efficiency driver.
With the advances in technology and fixture performance, high quality LED horticultural lighting is now a credible option for all growers by offering significant return on investment to cultivators. Lumatek full spectrum horticultural LED Grow Lighting solutions balance light quality (spectra) with light quantity (intensity and duration) ensuring an accurate, even light distribution and uniform spread over its plentiful footprint.
The increased biomass induced by the Lumatek 100w Supplemental LED Light Bar output will also vastly increase the nutritional quality of your plants resulting in significant "bulking" and added weight. 
Full Spectrum Output. Slimline Design. 
The new Lumatek LED line is developed using high quality Lumatek drivers and latest generation top bin LEDs from Lumileds and Osram to generate a full-spectrum light source ideal for both veg and flowering cycles.
Another new feature of this Lumatek Series is the Clear Glue protection cover technology on the LED bars; resulting in higher light transmittance of 99% without light loss, extended lifetime of diodes, extra corrosion resistance and high waterproof rating of IP65. For basic maintenance, simply clean the bars with wet cotton. Simple as that.
Control is Everything
For different cultivars, propagation and vegetative growth periods this LED Grow Light bar may be dimmed without losing efficiency by pairing it with the Lumatek Digital Control Panel Plus. This high efficiency and low powered configuration with its outstanding passive cooling thermal management, reduces the temperature of the LEDs increasing the output and improving light maintenance.
The Lumatek 100w Supplemental LED Light Bar really is an essential for flavour hunters who like demand the absolute best from their plants. The Full Spectrum output of the Lumatek 100w Supplemental LED Light Bar gives growers the opportunity to supercharge their grow like never before. With control like this, growing isn't just about pouring nutrients and hoping for the best. The Lumatek 100w Supplemental LED Light Bar allows the cultivator to have full control to push the boundaries of what is possible from a plant. 
Plug & Play. Unbox & Grow
As you'd expect from all Lumatek products, the Lumatek 100w Supplemental LED Light Bar comes with everything you need. Complete with hanging brackets, the Lumatek 100w LED Light Bar is hugely versatile and can be used alongside all LED Grow Lighting solutions. 
In summary, the Lumatek 100w Supplemental LED Light Bar is a piece of equipment that no doubt has the biggest positive influence on the quality and yield of your harvest.  Gone are the days of horrible chemical boosters and flavour enhancers. Lumatek use nothing but light spectra to make your plants burst with flavour and drip with botanical resins. 
There is NOTHING that will improve your plants quite like a quality light bar. With its tiny, one time price tag, the Lumatek 100w Supplemental Light Bar is an LED Grow light that is almost too good to be true. The pioneers over at Lumatek have created an incredible LED Grow Light fixture so growers can get a little bit of Lumatek quality at an astonishingly low price. The Lumatek 100w Supplemental LED Light Bar comes incredibly highly recommended by our in house grow nerds at ledgrowstore.co.uk 
As with all products from Lumatek, this ships in stealthy plain packaging with high quality hanging kit included. No messy ballasts, buzzing boxes and no trailing cables.
Ready to use out of the box in just a few minutes, the Lumatek 100w Supplemental LED Light Bar is a no fuss flavour solution that is finely tuned to produce beautiful, resin rich plants with an effect that growers will notice immediately. 

Note - 
The fixture efficacy will vary depending on the Input Voltage used.
Lumatek Supplemental LED Light Bar Technical Specification
| | |
| --- | --- |
| Power | 45W |
| Input Voltage | 100-277V |
| Weight | 0.9 kg |
| HPS Equivalent | N/A |
| Flower Footprint | 1.2m x 1.2m  |
| Veg Footprint | 1.5m x 1.5m |
| Diodes | Bridgelux & Osram IR |
| Diode Count | 192 |
| Size | 108cm x 4cm x 3cm |
| Spectrum | 384-410nm, 730-740nm,   |
| Efficiency | AAA+ |
| Daily Electricity Cost | £0.18 |
Product includes:
Lumatek 100w Supplemental LED Grow Light
Lumatek Driver
Power cord
Wire hangers

Approximate costs of use based on 75% power for a 12 / 12 flowering cycle. 

*Calculated using the UK: Energy Price Guarantee (October 2022) electricity rate of 34.00 pence per kWh.