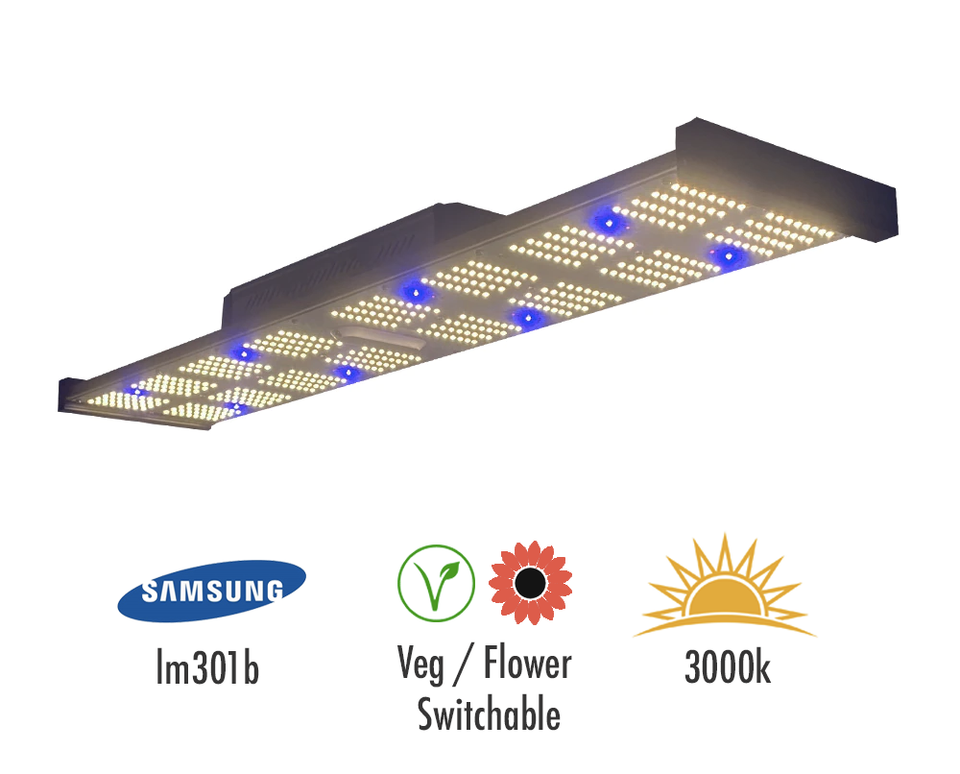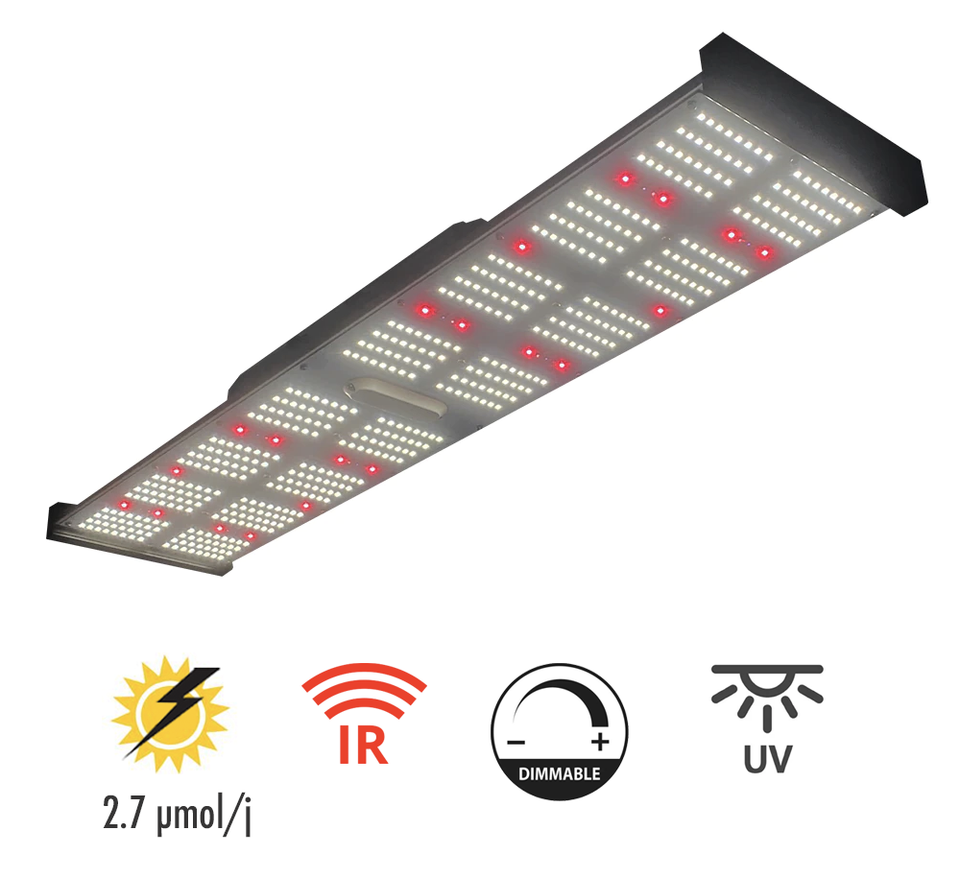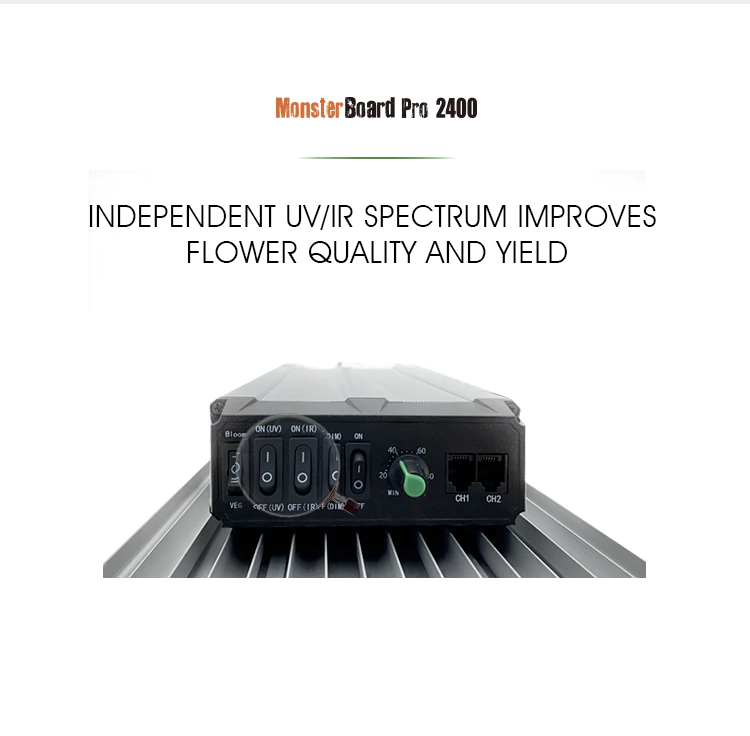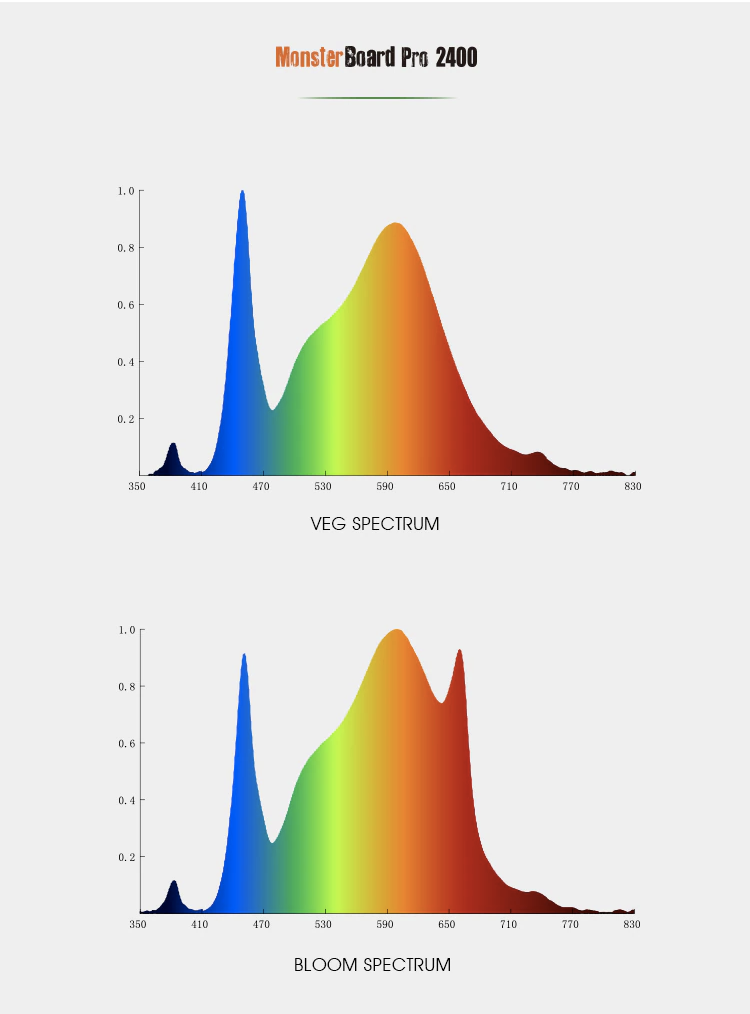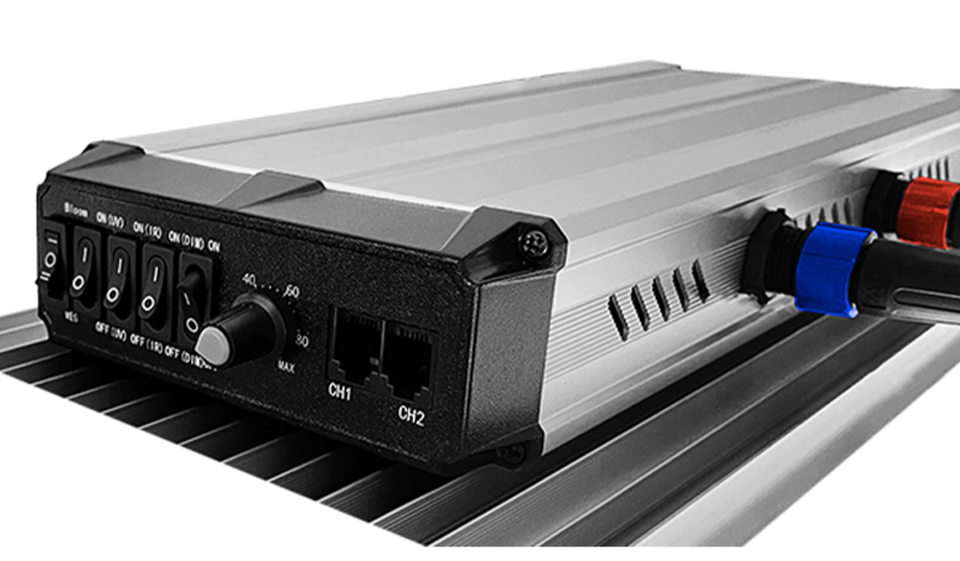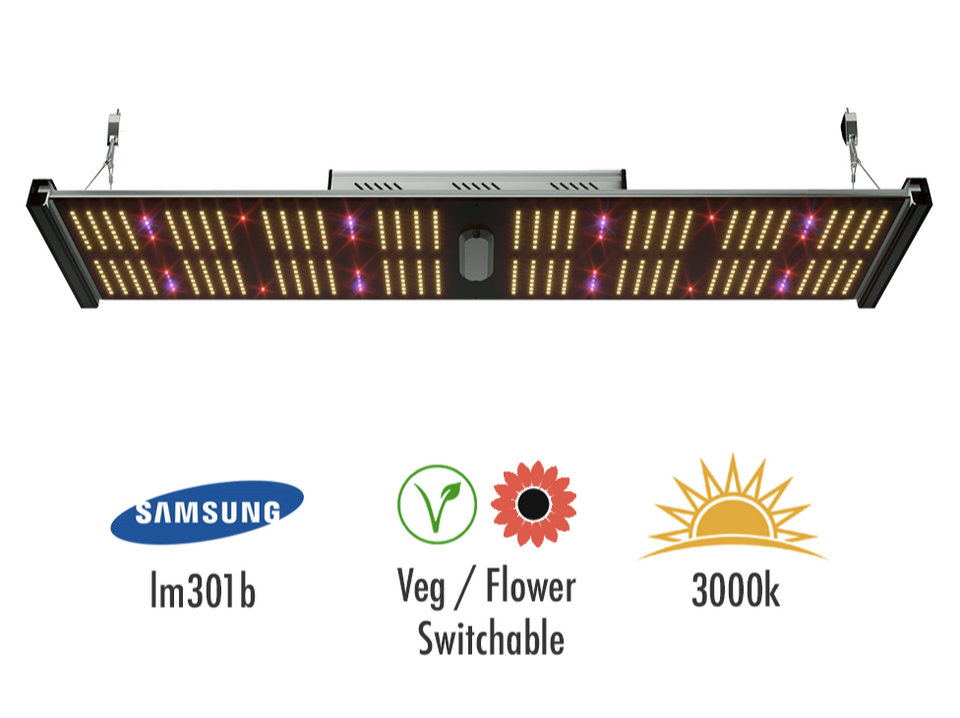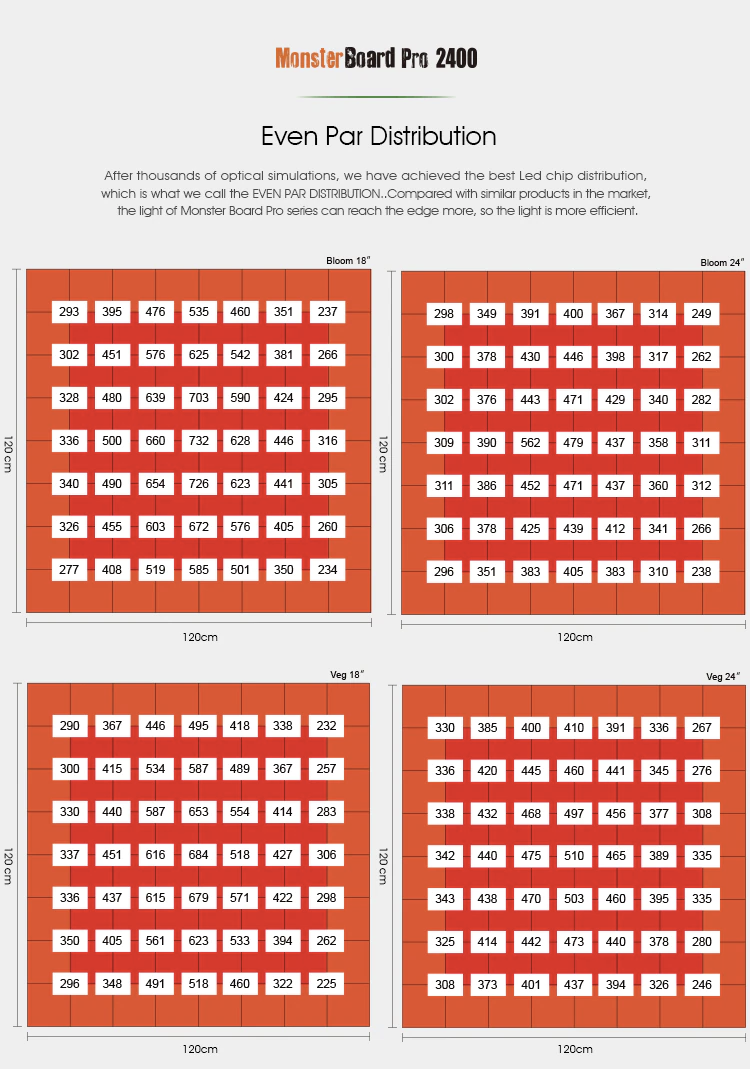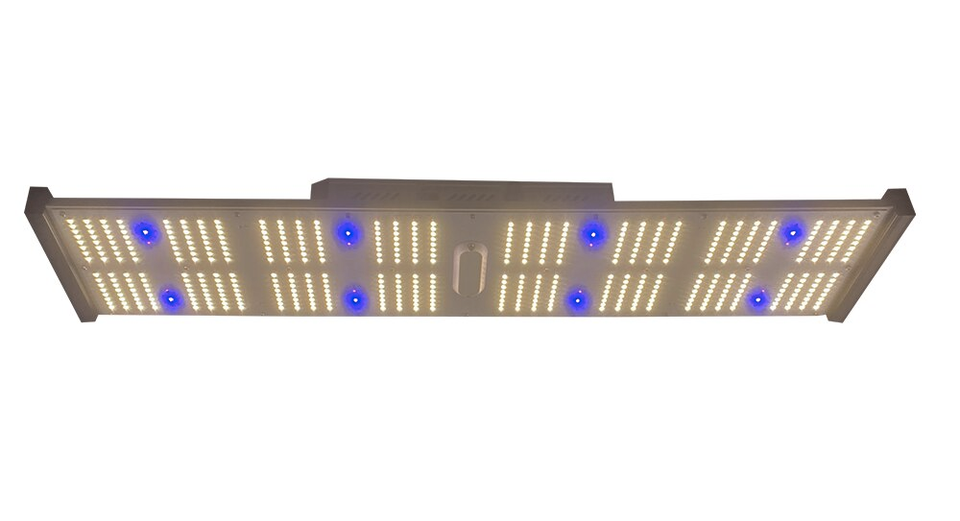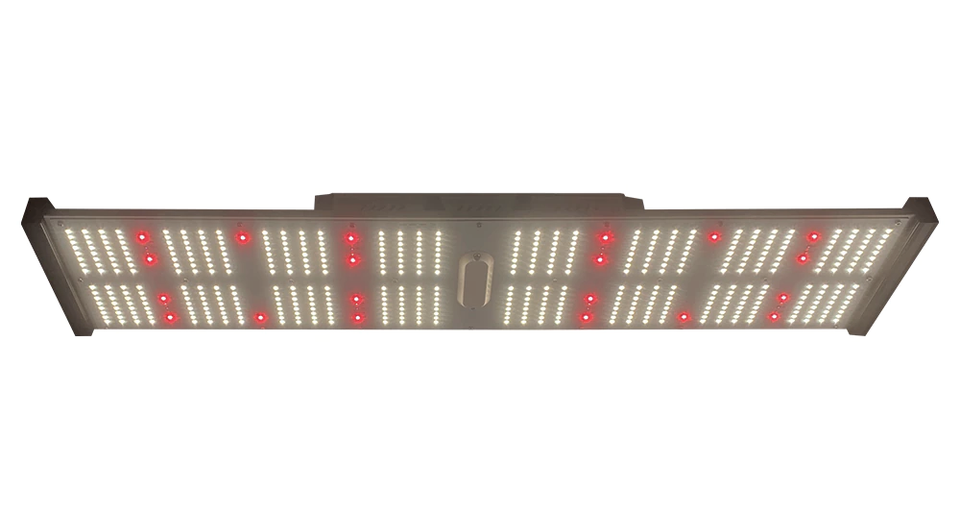 Geeklight Monster Board Pro 2400 LED Grow Light
GeekLight offer a stunning range of LED Grow Light solutions for the expert grower. With its 5 diode colours, switchable spectrum and UV / IR independence, the Monster Board Pro raises the bar for all LED Grow Light manufacturers.  
Samsung, Osram & Seoul LED chips

Free & Fast

UK Delivery
Fully Dimmable

3 Year Warranty
Massively Reduced Electricity Costs
Switch From Veg / Bloom Spectrums
Independent IR & UV Diode Control 

Enhanced Canopy Penetration 

Fully Dimmable 
Zero Noise
240w Power Output
30000 Hours Life
Pay As You Grow in 3 instalments with Klarna
Daily Electricity Cost of £0.74
With all the exciting new developments of large LED Grow Lights recently, it could be easy for smaller hobby growers to feel a little left out - but not anymore. The geniuses over at Geek Light have got us all excited by dropping this little beauty. And, as you'd expect - it's enough to bring out the inner Geek in us all. 

This LED Grow Light is beautifully designed, packed with industry firsts & with its massive 2.7μmol output -  it is incredibly powerful.

It's the first LED Grow Light in its class to offer a duel spectrum operation which allows growers to switch between a red spectrum (flowering) and a blue spectrum (veg) at the touch of a button. No other LED Grow Light on the planet does this. 

There really is no other LED Grow Light out there with quite such a buffet of features to play with. The incredible array of 512 x Samsung lm301B/H, 20 x Osram 660nm, 8 x Osram deep red, 8pcs x 730nm Osram IR, 8 x Osram blue and 8 x Seoul UV's offer growers control like never before.

Ever wondered how growers get those Cali flavours? This is how.

The Monster Board 2400 consumes a tiny 240w from the wall yet has been known to outperform a 400w HPS in side-by-side tests. It truly is a giant leap forward in LED Grow Technology. With energy efficiency like this and an electricity cost of less than £0.75 per day, the Monsterboard LED Grow Light pays for itself very quickly. 
The guys at Geek Light utilise 556 super-bright LEDs achieving an amazing 2.67umol/J over a 1m x 1m tent. Weighing in at around 5 kilos it is light, sleek & as stealthy as a ninja making it a fantastic option for small spaces and tents.

GeekLight's clever design team has produced an ultra powerful LED Grow Light with passive convection cooling resulting in this fantastic fanless design with zero moving parts. This makes the Monster Board 24000 extremely robust with whisper silent operation & an incredible life span of over 30,000 hours with zero loss in performance.

As with all products from GeekLight, it is strong, super well built and it doesn't put out much heat at all. They use high-quality components and ultra premium parts meaning that these lights last much longer than competitors.

This is no mass-produced cheap and cheerful LED Grow Light, this really is one for the experts. There aren't many of these in the UK either, so you'll be part of a very exclusive UK / Cali growers club too. 
The Monsterboard pro LED Grow Light ships in stealthy plain packaging with high-quality hanging kit included. Ready to use out of the box in just a few minutes. 
| | |
| --- | --- |
| Power | 240W |
| Input Voltage | 120-277V |
| Weight | 5.0 kg |
| Lifetime Hours | 30,000 |
| Diodes | Samsung LM301 & Osram IR Osram 660nm & Seoul UV |
| Diode Count | 556 |
| Flower Footprint | 1.0m x 0.8m |
| Veg Footprint  | 1.2m x 0.8m |
| Size | 89cm x 19cm x 8cm |
| PPF | PPF 642umols/m2s |
| Efficiency | 2.67 umols/J |
| Daily Running Cost | £0.74 |
Product includes:
MonsterBoard 2400 LED Grow light
Power Cord
User Guide
Wire Hangers
Ratchet Hangers
Approximate costs of use based on 75% power for a 12 / 12 flowering cycle. 
*Calculated using the UK: Energy Price Guarantee (October 2022) electricity rate of 34.00 pence per kWh.