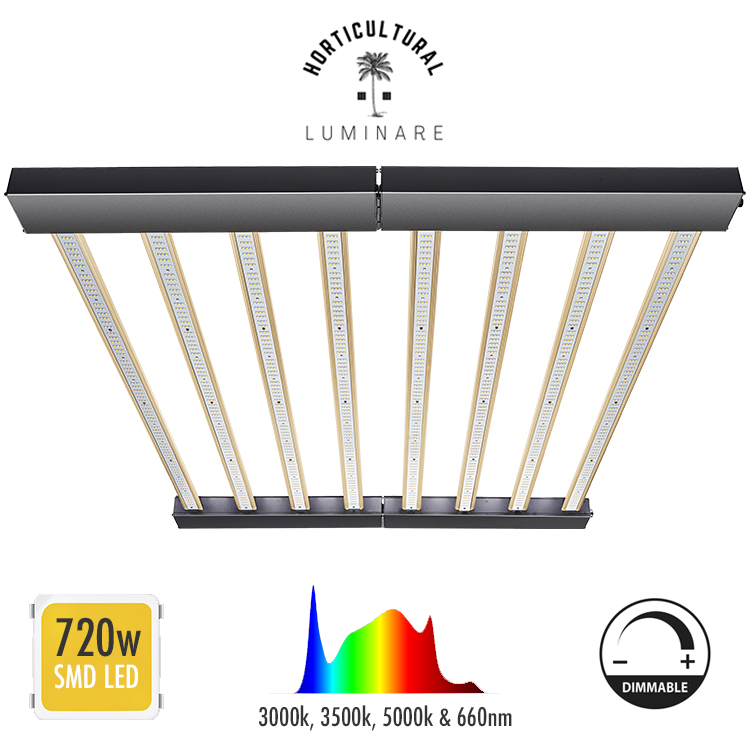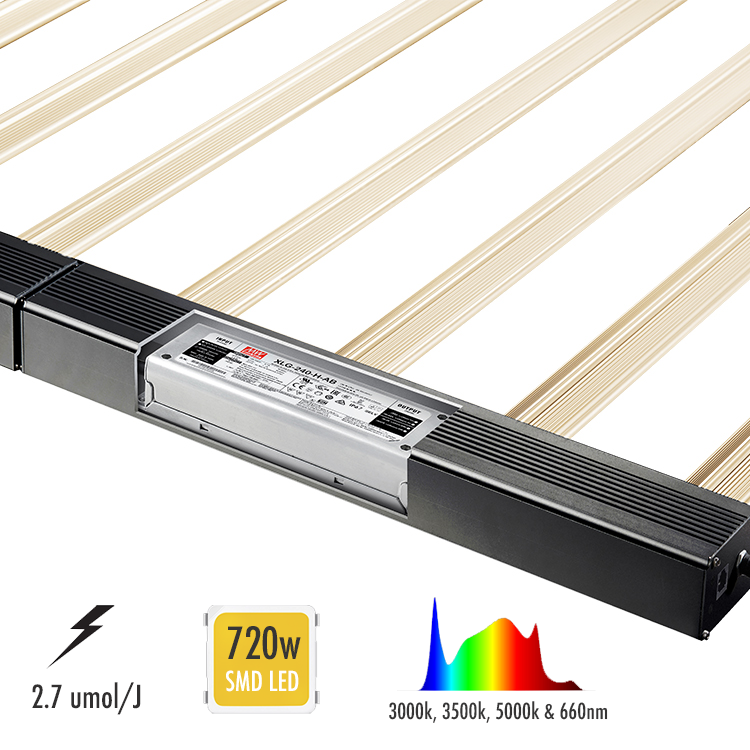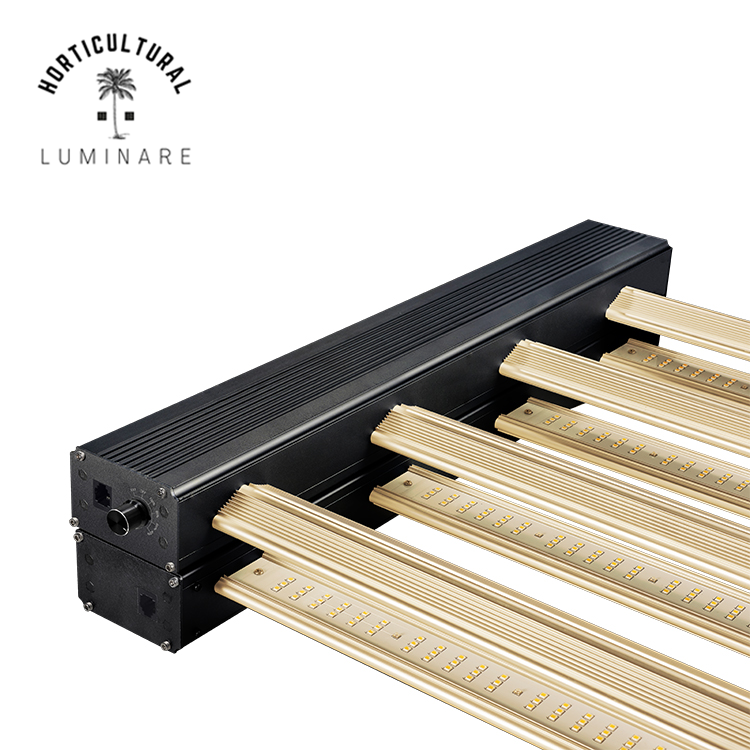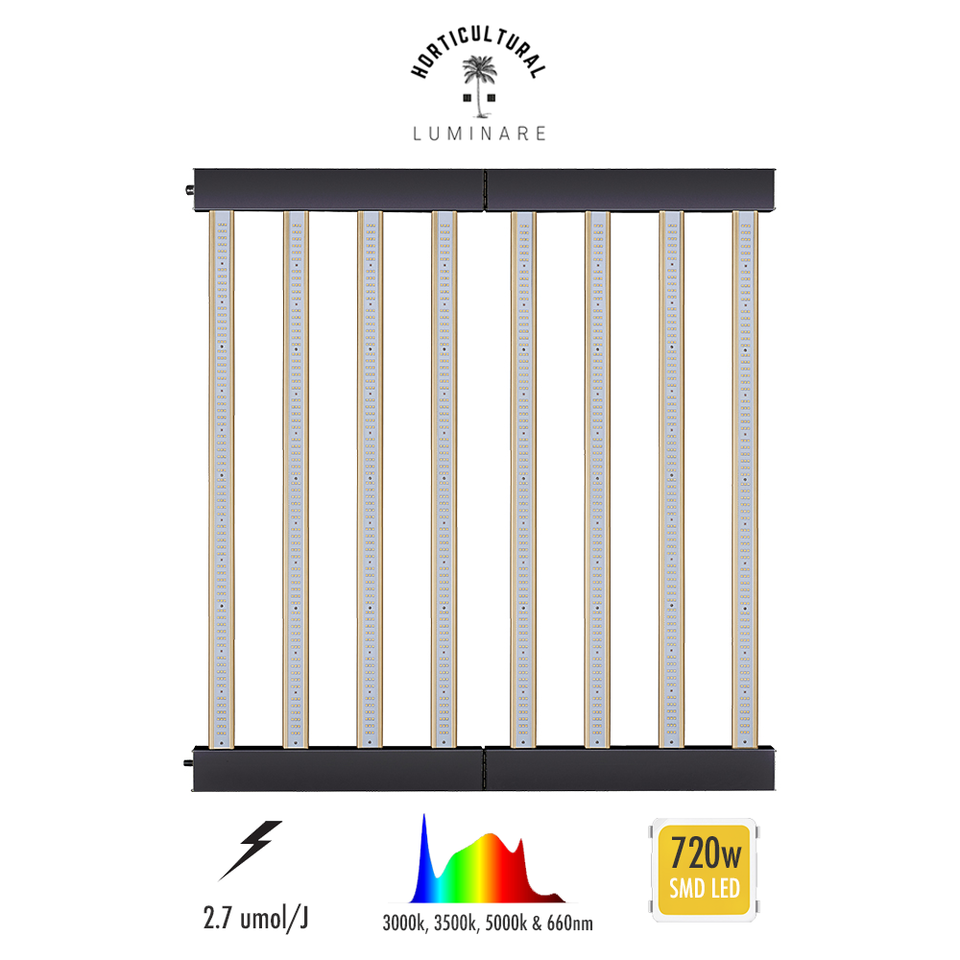 Horticultural Luminare - Model 2.7 LED Grow Light 720w
The Model 2.7 is a well built, fully featured LED Grow Light with a massive power output - but without the massive price tag. 
This incredibly powerful LED Grow Light marks a real milestone in horticultural lighting. The engineers over at Horticultural Luminare have done an exquisite job in stripping back all the unnecessaries & focusing on just the parts that matter. And the result is the hugely impressive Model 2.7. 
Full Spectrum Output 

High 2.7umol/j Efficacy 
Fully Dimmable

Super Stealthy

Top Bin SMD3030 Diodes
Daisy Chain Ready

Free & Fast

UK Delivery
Passive Cooling
Massive 720w Power Output
Zero Noise
30000 Hours Life
Pay As You Grow in 3 instalments with Klarna
Daily Electricity Cost of £2.20
Don't be fooled by the budget price tag, the Model 2.7 LED Grow Light is full of clever little features.
The driver is hidden within the fixture itself. This doesn't only save space but it also means that the driver cools passively - taking heat away from the grow space.
Fully dimmable & daisy chain ready as soon as the Model 2.7 is out of the box, old style HPS lights just seem stupid.

The HL Model 2.7 is the perfect LED Grow Light for professional growers wanting to make the upgrade from HPS lighting to LED Grow Lighting without breaking the bank, and costing just £2.20 a day to run - it's a no brainer upgrade that pays for itself within a single grow cycle. 

This light features a 4 colour array of SMD diodes which bathe your plants in nourishing LED light spectrums.

This array of 3000k, 3500k, 5000k & 660nm light makes this LED Grow Light suitable throughout the entirety of the grow cycle from seed to flower.

This powerful LED Grow Light enables growers to push the boundaries of what can be expected from a plant at an affordable price. A true marvel of horticultural technology. 

The Horticultural Luminare Model 2.7 consumes just 720w from the wall yet has been shown to outperform 1200w of old style HPS light in side by side tests. 

No more stupid electricity bills. No more wasted energy. Just pure performance. The incredible energy efficiency of the Model 2.7 means that this LED Grow Light pays for itself very quickly. 
Horticultural Luminare utilise super bright LEDs achieving over 2.7umol/j over a medium tent - thats equal to some lights that are almost twice the price!

Weighing in at around 12 kilos it is light, sleek and as stealthy as a ninja making it a fantastic option for small spaces and tents from 120cm x 120cm.

The innovative work from the design team has produced a high powered LED Grow Light with passive convection cooling resulting in a fan less, folding fixture with no moving parts at all. This makes the Model 2.7 extremely robust with whisper quiet operation & a massive life span of over 30,000 hours without any loss in performance. 
The Model 2.7 is strong, well built & considering is high power -  it doesn't put out much heat at all making it a great light for those who have struggled with high temperatures in the past. 
As with all lights from ledgrowstore.co.uk the unit ships in stealthy plain and is covered by our 30 day no questions asked guarantee.

No messy ballasts and no trailing cables. The light is ready to use out of the box in just 2 minutes. Change your grow game in less than 120 seconds. 
| | |
| --- | --- |
| Power | 720W |
| Input Voltage | 100-277V |
| Weight | 13 kg |
| HPS Equivalent | 1200w |
| Lifetime Hours | 30000 |
| Diodes | SMD 3030 |
| Size | 111cm x 111cm x 10cm |
| PPF | PPFD 1944umol/s |
| Efficiency | 2.7 umols/J |
| Daily Running Cost | £2.20 |
Product includes:
Horticultural Luminare 720w LED Grow light
Power cord
User Guide

Hanging Kit

Approximate costs of use based on 75% power for a 12 / 12 flowering cycle. 
*Calculated using the UK: Energy Price Guarantee (October 2022) electricity rate of 34.00 pence per kWh.