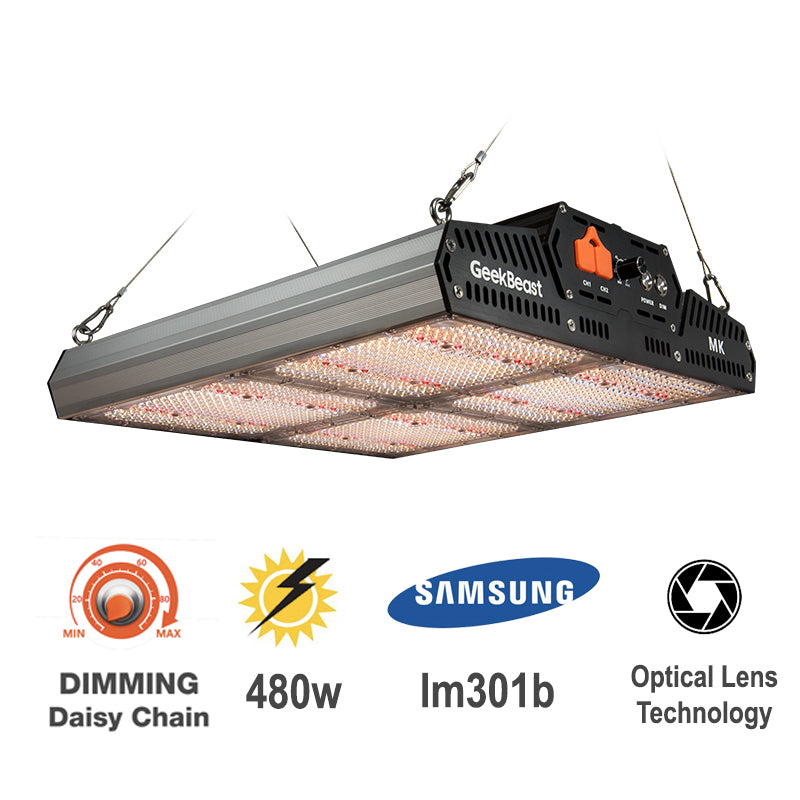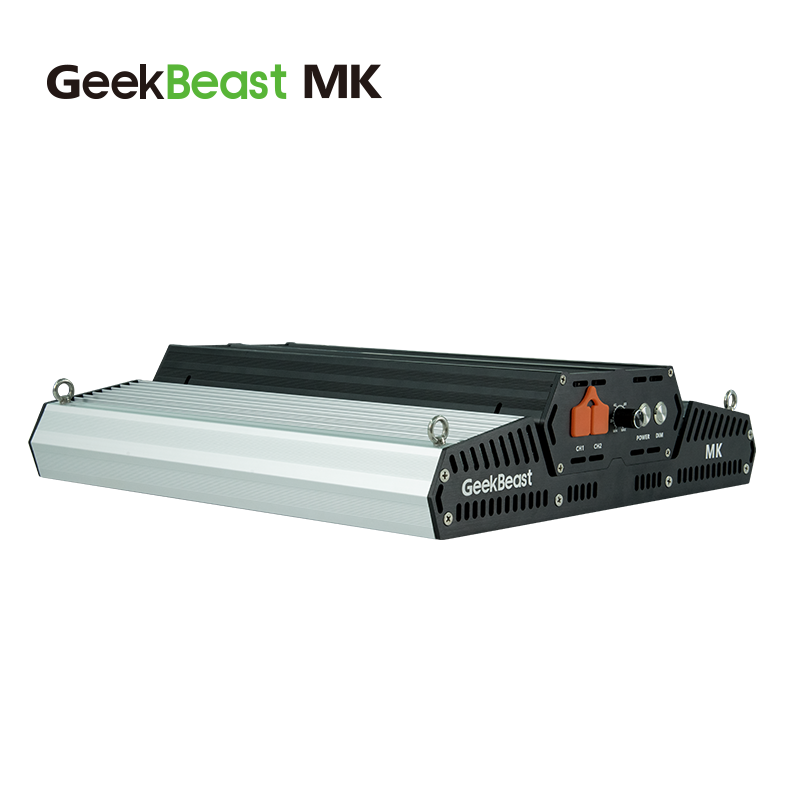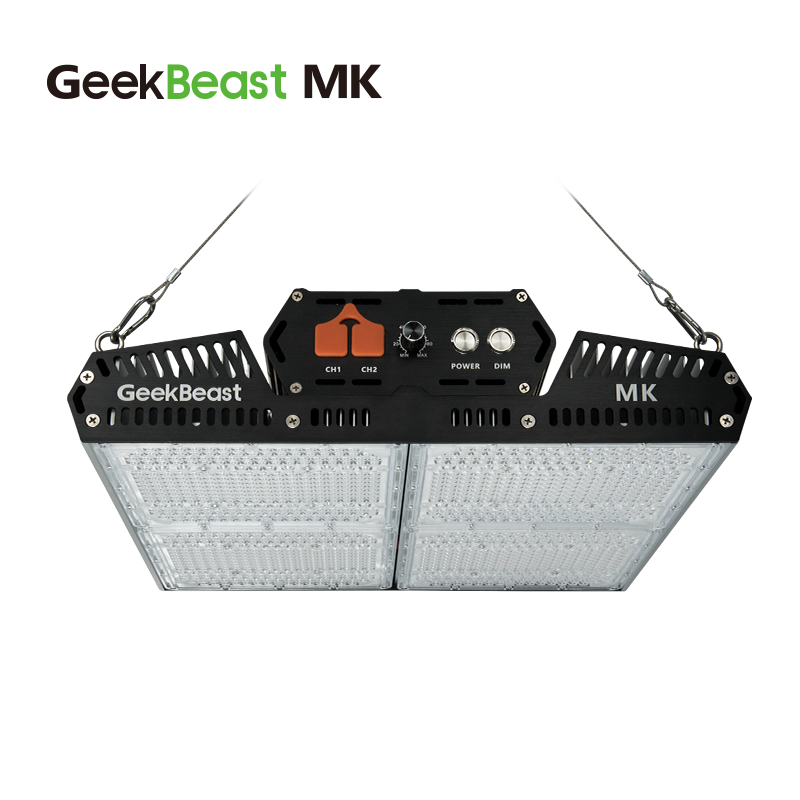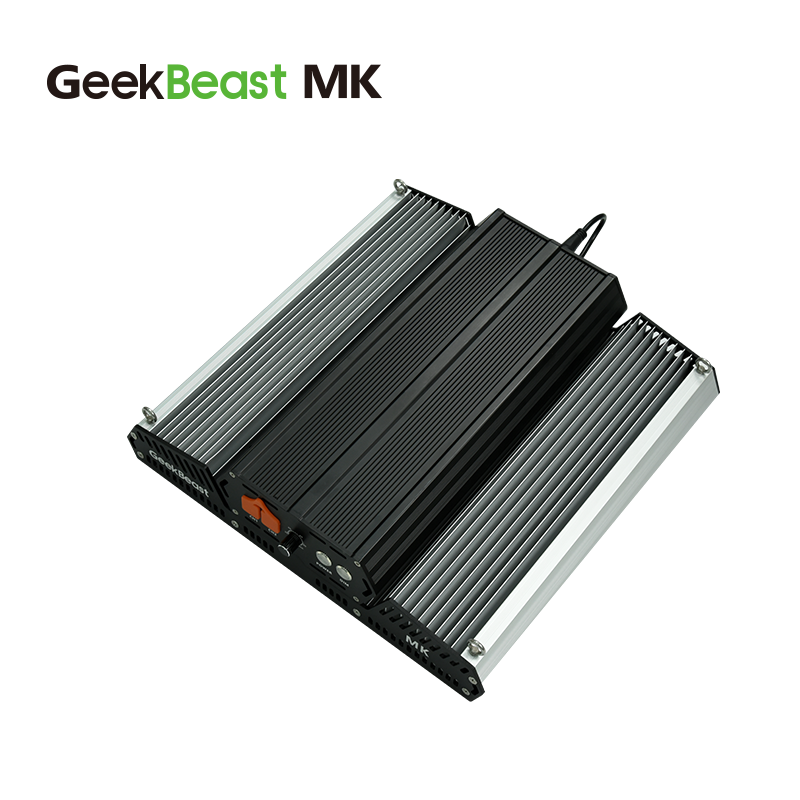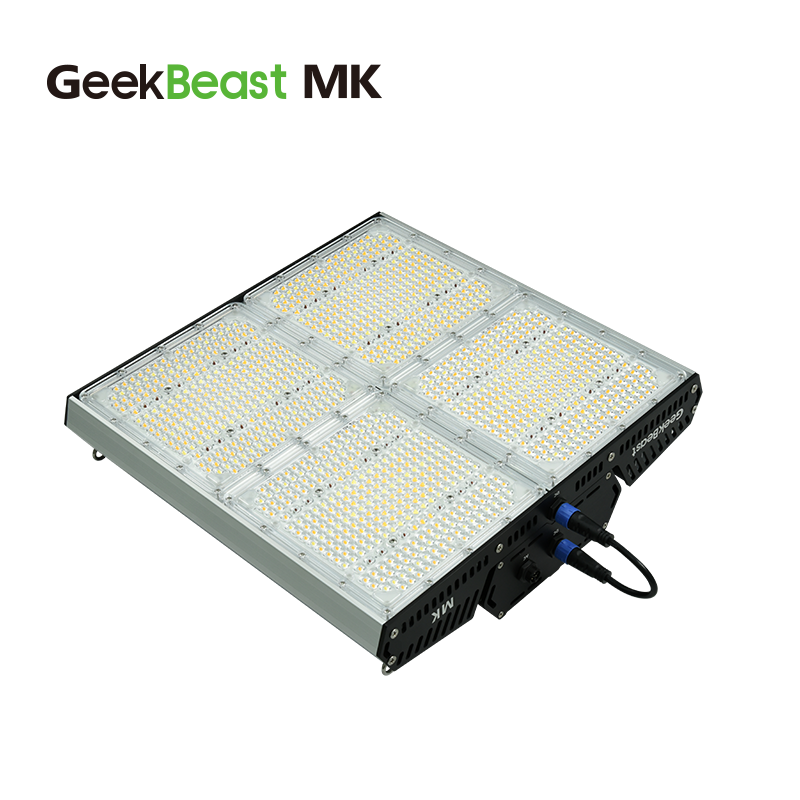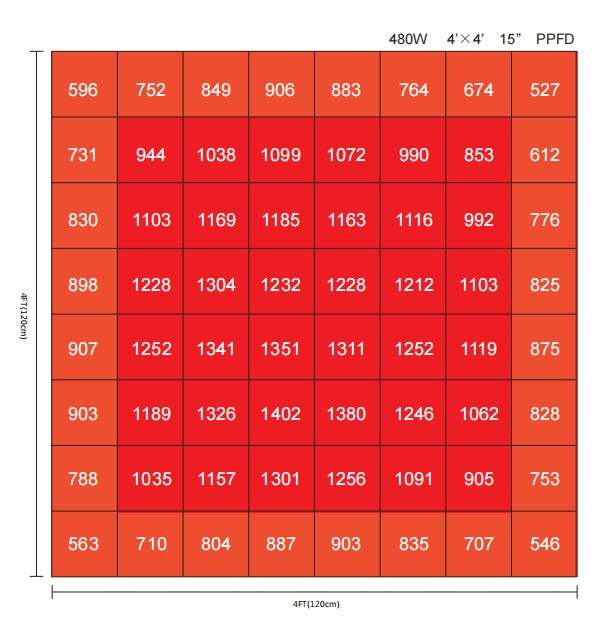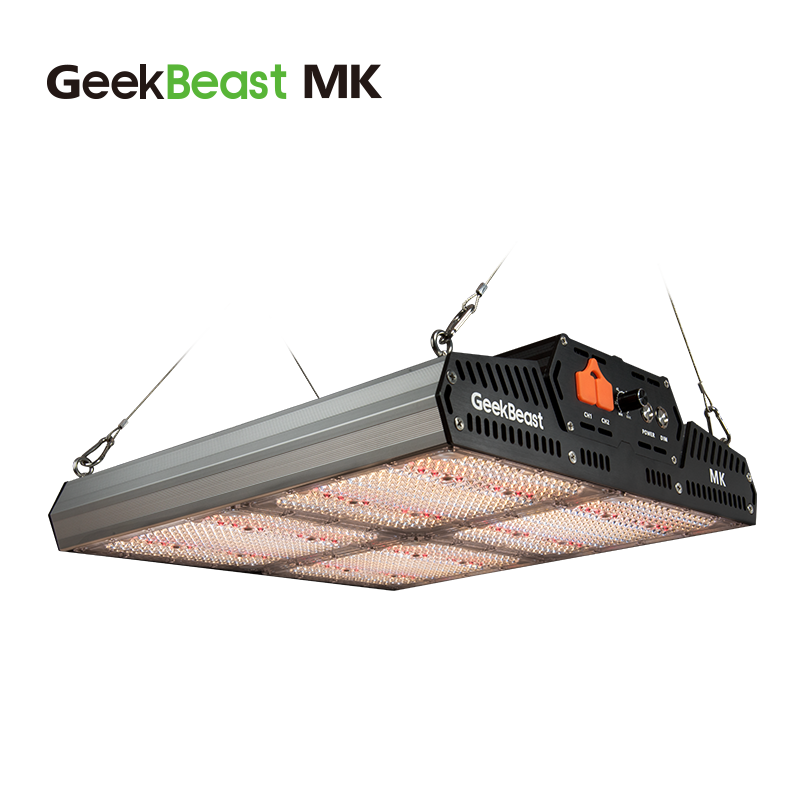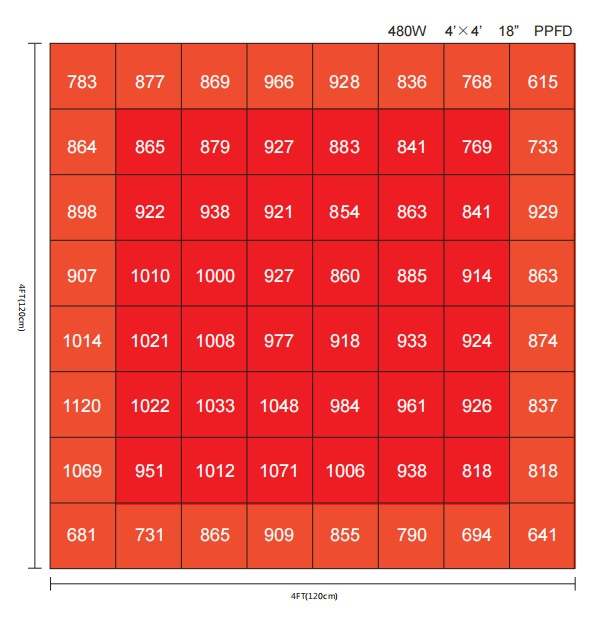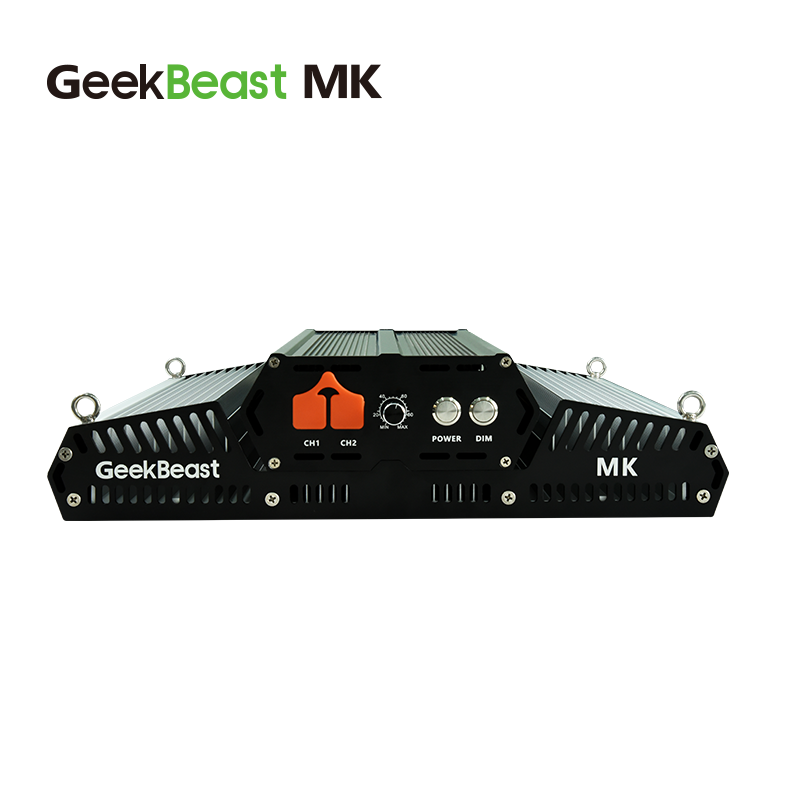 GeekBeast MK 480w Professional LED Grow Light
Small in size. MASSIVE in power. Introducing the incredible Geekbeast MK. Featuring top quality diodes & patented optical lens technology, this LED Grow Light doesn't just raise the bar... it smashes right through it.

 
Top Quality Samsung Diodes
Full Spectrum
The Absolute Most Powerful In Its Class
Fully Dimmable
Daisy Chain Ready
Massively Reduced Electricity Costs
2.6umol/j Efficiency
Optical Lens Technology
Corner to Corner Light Penetration
For Expert & Craft Growers
3 Year Warranty
54000 Hours Life

Free & Fast

UK Delivery
Pay As You Grow in 3 instalments with Klarna
Daily Electricity Cost of £1.47

Geek Light have always been known as the Rolls Royce of LED Grow Lights. They are beautifully made, immensely powerful & jam packed full of exclusive features making them a clear favourite amongst professional & craft growers alike. 

With a spectacular 480w array of Samsung diodes & fully controllable IR and UV spectrums - the GeekLight MK LED Grow Light leads the market with an incredible 2.6umol/ efficiency.

The GeekBeast is the first LED Grow Light in its class to offer Optical Lens Technology. This enables a breathtaking light spread and canopy penetration like never before. 

Its huge array of premium diodes cuts through your grow space to reach a stunning full spectrum output of 1280 umol/ with even coverage from corner to corner and no hot spots at all. 
The light is tuned to 3000k output so it is suitable throughout the entirety of the grow cycle with a little extra push towards flowering plants. Just how us geeks like it!

The GeekBeast MK is fully dimmable and daisy chaining is a doddle with the ability to link up to 100 units together in just minutes and with a daily electricity cost of less than £1.50 - this LED Grow Light pays for itself very quickly indeed.
As soon as you unbox the Geek Light MK you can tell you are dealing with a serious piece of equipment. The fixture is robust, strong and incredibly well made. This LED Grow Light will last years and years without any degradation in performance. 

It features a top of the range Mean Well Driver for ultimate control and its adjustable power will afford growers control over their spectrum like never before.
The MK from GeekLight is passively cooled and has no moving parts which means that it is silent in operation and has a much longer lifespan than older style lights.

Don't be fooled by its compact size. The Geek Light MK has an enormous footprint of 5' x 5' so this is no hobby LED Grow Light. This is one for the geeks! 
This is no mass produced cheap and cheerful LED Grow Light. They are made in small batches and each unit is made with love.

An exceptional LED Grow Light light for exceptional plants, The GeekBeast from Geek Light has quickly earned its reputation amongst connoisseur and craft growers. Its the best of the best.   

The team at Geek Light use high-quality protective cable covers and premium components meaning the light lasts much longer than competitors. It even comes with a 3 year warranty for complete peace of mind. 
The Geek Light MK LED Grow Light ships in stealthy plain packaging. Ready to use out of the box in just a few minutes with minimal assembly. No trailing wires and no messy ballasts. Just pure performance. 
GeekBeast MK Technical Specification
| | |
| --- | --- |
| Power | 480W |
| HPS Equivalence | 700w |
| Weight | 13 kg |
| Lifetime Hours | 54,000 |
| Diodes | Samsung LM301b, Osram IR  |
| Size | 45cm x 43cm x 11cm |
| Flower Footprint | 1.2m x 1.2m |
| Veg Footprint | 1.6m x 1.6m |
| Spectrum | Full Spectrum |
| Efficiency | 2.6 umols/J |
| Running Cost Per Day | £1.47 |
Product includes:
Geek Light MK Professional LED Grow light
UK Plug
User Manual
Approximate costs of use based on 75% power for a 12 / 12 flowering cycle. 
*Calculated using the UK: Energy Price Guarantee (October 2022) electricity rate of 34.00 pence per kWh.