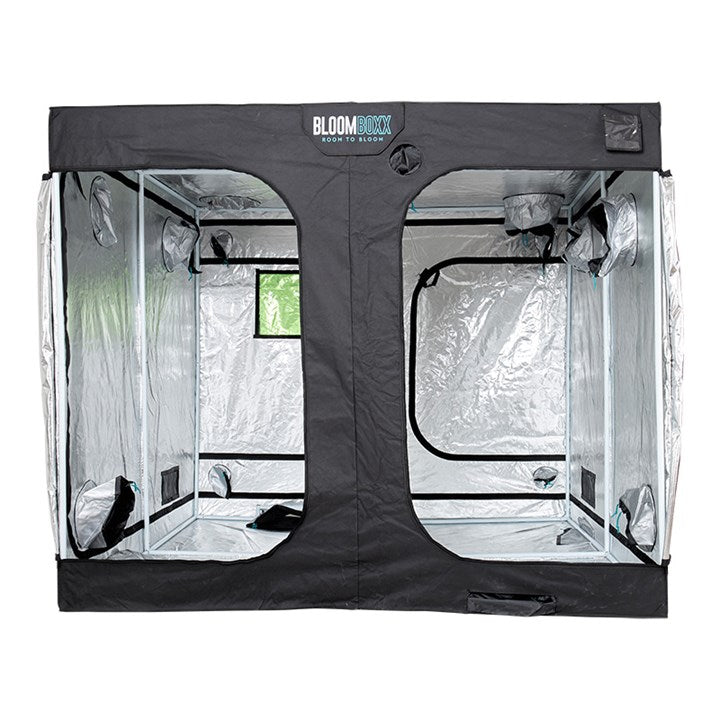 Bloomboxx Grow Tent - 240cm x 240cm x 200cm
Set up & grow with this incredible new range of Premium LED Grow Tents from the experts at Bloomboxx. This large grow room is spacious enough for multiple LED Grow Lights and strong enough to outlast all other LED Grow Tents available today making it a worthy investment for any professional grower. 

Spacious 2.4m x 2.4m x 2.0m Design

Strong 22mm Framework

Robust Reinforced Corners

Ultra Tough 1650 Denier Black Exterior  

High Quality Mylar Interior

Conserves Light To Reduce Running Costs

Perfect Reflectivity for LED Grow Lights

Double Stitched for Ultimate Durability

Green Viewing Window

Complete with Storage Bag
Pay As You Grow with Klarna
Featuring Bloomboxx's super durable 22mm metal framework and metal corners provides, the Bloomboxx range of LED Grow Tents provide the highest quality space for all growers. See the results with noticeably stronger, healthier plants & vastly increased yields. 
Robust 22mm frame
These ultra premium LED Grow Tents from Bloombloxx are strong, tough and built to last. Featuring a 22mm steel structure and uber tough exterior, the Bloombloxx LED Grow Tent is one of the thickest and most resilient designs available. With its steel frame being over 6mm wider in diameter than standard tents, this LED Grow Tent is incredibly durable and will withstand heavy loads of even the chunkiest lights, fans and filters without warping or bending. 
Reinforced metal corners
Unlike most LED Grow Tents, the Bloomboxx does not use use plastic corners.  With Bloomboxx, only the very best will do so they insist on only ever using super reinforced metal corners which means this tent retains its strength and integrity for a long, long time. No snapping, leaning or bending like some other LED Grow Tents. This thing is built to last.  
Premium Quality
The exterior of the Bloomboxx is tough. Very tough. The Bloomboxx is double-stitched for extra strength and durability, meaning unlike some Grow Tent brands, warping and sagging are no issue at all. Bloomboxx's ultra reflective silver Mylar inner walls conserve all light within the tent & regulate its ambient temperature. This maximises your yield and reducing running costs.
Plant-safe Green viewing window

The green translucent window on the side of the BloomBoxx allows growers to check up on their plants without putting unnecessary wear and tear on the zips or disturbing the ambient conditions by needlessly opening the door. 
Plants cannot absorb green light, so they will not be affected by the window and their photoperiod will not be disturbed, but the viewing hole can also be covered by the light-proof Velcro curtain on the tent's exterior.
How to use BloomBoxx Grow Tent?
Assembling and disassembling the Bloomboxx is an absolute doddle. All poles feature "push and click" fastenings for ultra fast and super safe construction. Each is labelled to indicate which poles fit together, so no fumbling with instruction manuals and no incorrect construction. 
Why choose BloomBoxx Grow Tent?
When it comes to important features like strength and stability, the BloomBoxx outperforms its market competitors. The ultra strong reinforced metal corners keep the tent securely in place & weighted down correctly - they're a simple difference often overlooked by rival, cheaper brands. 
The attention to detail of the Bloomboxx is absolutely unrivalled: zips are covered with flaps to prevent even the smallest amount of light leakage. The tent comes with multiple drawstring sealed ports to hold all of your ducting safely in place, and an extra zip flange to keep cables safely out of the way. 
A professional grade tent for LED Grow Light users who demand the best for their plants.