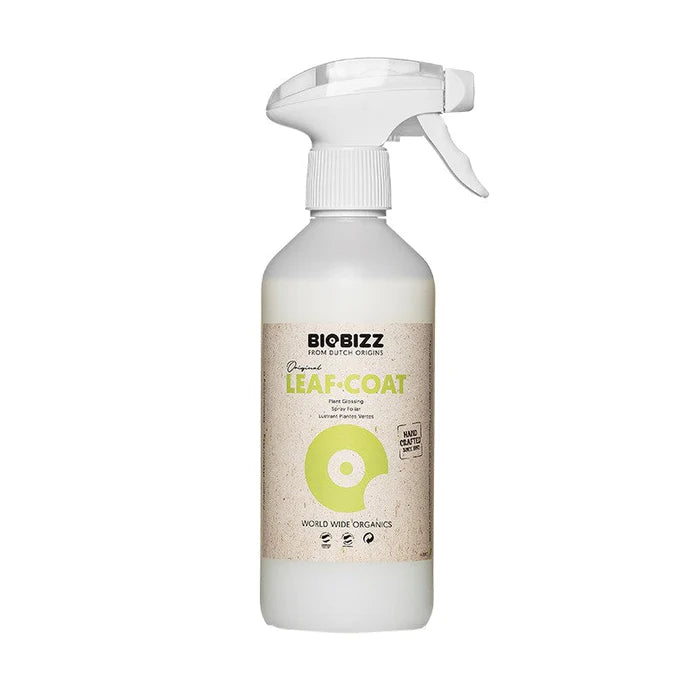 Biobizz - Leafcoat
Biobizz Leafcoat
Biobizz Leaf Coat is a ready-to-use product designed to strengthen and protect plants against insects and leaf fungi. It is made from natural latex, originally developed to prevent evaporation, which creates a permeable and self-degradable barrier on the leaves. This barrier allows air and light to reach the plant while providing protection.
Essential Plant Protection

Next Day UK Delivery

For Bigger Harvests

500ml Foliar Spray Bottle 
For Soil & Hydroponics 
Exclusive Ingredient Blend
From The Experts At Biobizz
Optimum Nutrient Absorption
Pay As You Grow With Klarna
Ultimate Plant Protection
One of the advantages of Leaf Coat is its ability to offer better protection in various environmental conditions. In hot and humid conditions, it helps prevent excessive water loss through evaporation and allows the plant to breathe without "sweating." In colder temperatures, it helps maintain leaf temperature and provides protection against the cold.
100% Natural & Organic
Leaf Coat is an environmentally friendly alternative to pesticides and is safe to use. It eliminates the need for synthetic and toxic products, saving money and reducing the risk of harm to plants and the environment. It has a pleasant smell and does not irritate. Additionally, since Leaf Coat is not absorbed by the leaves, it does not affect the taste of fruits.
Naturally Decomposing
Using Biobizz Leaf Coat is simple. It does not require dilution with water and can be applied directly from the bottle, preferably using an atomizer. Spray the leaves and flowers thoroughly, repeating the application about two times a week until two weeks before the end of the flowering period. Within a few hours, a thin elastic layer forms on the leaves, providing protection for up to two weeks before naturally decomposing under light or sunlight.