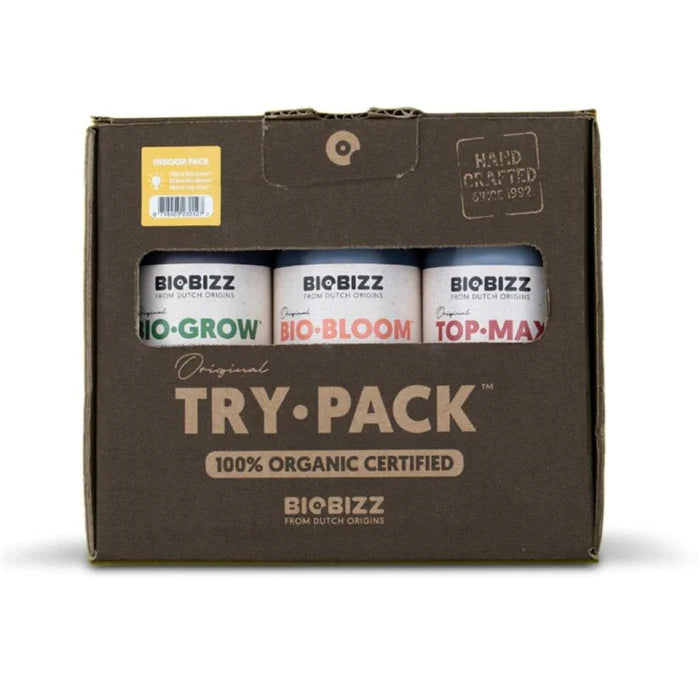 BioBizz Indoor Try Pack
BioBizz Indoor Try Pack
The BioBizz Indoor Try Pack is a starter kit specifically designed for indoor gardeners. It includes a selection of organic plant nutrients and additives that are formulated to meet the specific needs of indoor plants.

Everything You Need To Grow

Free Next Day UK Delivery
100% Organic Certified

Hand Made Since 1992
Higher Resin Production
Tried & Tested
Incredible Flavour Booster
The UK's Favorite Nutrient Brand
Suitable For Soil & Hydroponics
Pay As You Grow With Klarna 
Bio-Grow (250ml)
A liquid fertilizer rich in nutrients, including nitrogen, phosphorus, and potassium, along with trace elements and enzymes. Bio-Grow promotes healthy vegetative growth and strong root development.
Bio-Bloom (250ml)
A liquid fertilizer specifically formulated for the flowering and fruiting stages of plant growth. It provides the necessary nutrients and minerals to support abundant flower and fruit production.
Top-Max (250ml)
A bloom stimulator that enhances flower formation and improves the quality of fruits and flowers. Top-Max contains organic ingredients that stimulate the plant's natural processes, resulting in increased yields and improved flavor.
The BioBizz Indoor Try Pack is designed to provide a complete nutrient program for indoor plants, from the vegetative stage to flowering and fruiting. It is suitable for use in a variety of indoor growing mediums, including soil, coco coir, and hydroponics.
The pack is an ideal choice for beginners or those looking to try out the BioBizz range of products for their indoor garden. It offers a convenient and cost-effective way to experience the benefits of organic plant nutrients and additives in an indoor growing environment.
Please note that the specific product sizes and quantities may vary depending on the supplier or package variant. It's always recommended to follow the manufacturer's instructions for proper usage and dosage.