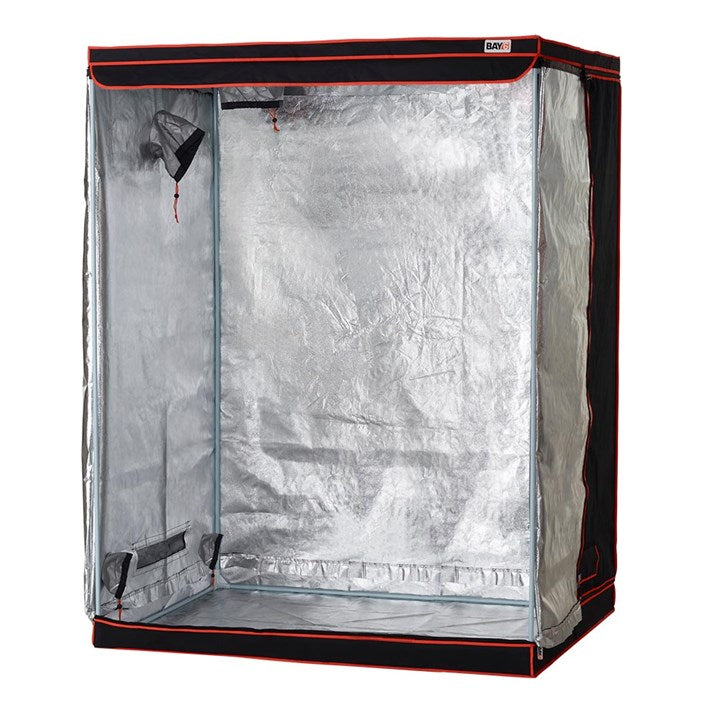 Bay 6 LED Grow Tent - 1.0m x 1.5m x 2.0m
If you are looking to maximise your grow space without breaking the bank then the Bay 6 LED Grow Tent is the ideal place to start.
The Bay 6 LED Grow tent has been cleverly designed to be strong, tough and incredibly versatile without the unreasonable price tag of some other Grow Tent Brands. It's British designed, fantastically well made and packed full of all the features that you'd expect from a Premium LED Grow Tent.
Ultra Stealthy 1.0m x 1.5m x 2.0m Size

Free UK Delivery

British Design

Drawstring Ducting Ports

Especially Designed for LED Grow Light Users

Perfect for 200w LED Grow Lights
With its super stealthy slim profile and at 200cm tall, the Bay 6 LED Grow Tent the perfect option for a super stealthy grow in previously impossible places. Easy enough to hide, yet plenty of space for a super stealthy crop of Autoflowering plants. The Bay 6 LED Grow Tent the ultimate in low key, secret growing.
Its slimline design makes it an absolutely perfect home for slim LED Grow lights such as the Karma Horticulture K2000uv, K2000 IR Pro or the Spider Farmer SF2000. 
These simple-to-assemble Grow Tents come with easy to follow instructions for a quick and easy set up with no tools are required!
30% Increased Reflectivity
This Grow Tent offers a 30% increased reflectivity, meaning bigger yields. The tent is 100% PVC free. Featuring a 95% ultra-reflective Mylar 600D x 600D, it eliminates hot spots and ensures complete light coverage too. 
Maximised light retention
The complete range of grow tents from the experts at Bay 6 feature X-RIB technology and reinforced polypropylene corner pieces to reduce vibrations from fans and improve overall strength, this is something that you won't find in conventional grow tents. All in all, this is a superb tent that is feature-packed, tough, well made and built to last.