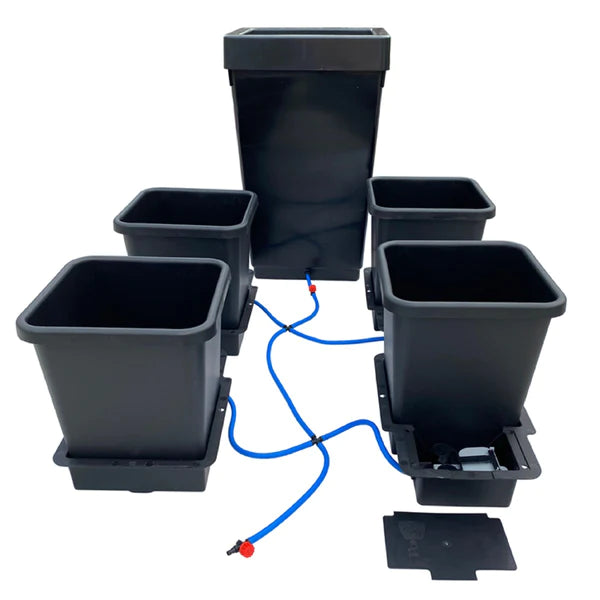 AutoPot 4 Pot Complete System
AutoPot 4 Pot Complete System
The AutoPot 4 Pot Complete System is a comprehensive and efficient irrigation system designed for small to medium-sized gardens.
Automated Watering System

Free Next Day UK Delivery
Easy To Install
Excellent Use Of Space
Exceptional Value For Money
Strong & Long Lasting
Efficient Watering
For Soil, Hydroponics & Coco
Easy To Clean
From the Experts At Autopot
Pay As You Grow With Klarna
Complete Irrigation System
The 4 Pot Complete System includes everything you need to set up an automated irrigation system for four plants. It comes with four 15L square pots, a 47L FlexiTank for water storage, an AQUAvalve for automatic watering, and all the necessary fittings and accessories.
Efficient Watering
The AQUAvalve regulates the water supply to each pot, ensuring that plants receive the right amount of water and nutrients. It utilizes an ingenious gravity-fed system, eliminating the need for pumps or electricity. This efficient watering method reduces water waste and promotes healthy plant growth.
Versatile Growing Mediums
The system is compatible with various growing mediums, including soil, coco coir, clay pebbles, and rockwool. You can choose the medium that suits your plants' needs and preferences.
Expandable and Customizable
The AutoPot system is modular and expandable, allowing you to add more pots and extend your irrigation system as your garden grows. You can easily connect additional pots and trays to the existing system, providing flexibility and scalability.
Low Maintenance and Easy to Use
The AutoPot system is designed for simplicity and convenience. Once set up, it operates on a "set and forget" basis, requiring minimal maintenance. The self-watering system takes care of your plants' watering needs, allowing you to focus on other gardening tasks.
Watering Control and Adjustability
The system includes a timer that allows you to set specific watering intervals, ensuring consistent and controlled irrigation. You can customize the watering schedule based on your plants' requirements and environmental conditions.
Suitable for Indoor and Outdoor Gardens
The AutoPot 4 Pot Complete System is suitable for use in both indoor and outdoor gardens, including grow tents, greenhouses, and outdoor planting areas. Its versatility makes it a popular choice for growers of all levels.
By choosing the AutoPot 4 Pot Complete System, you can enjoy the benefits of automated irrigation, efficient water usage, and hassle-free plant care. It provides a reliable and effective solution for maintaining healthy plants and maximizing your gardening success.