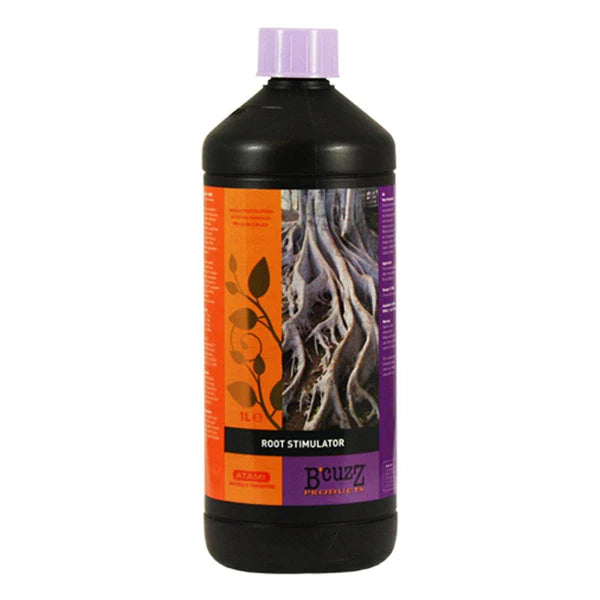 Atami B'cuzz Root Stimulator
Atami B'cuzz Root Stimulator

Atami B'cuzz Root Stimulator is a product designed to promote the development and health of plant roots. By providing essential nutrients and stimulating root growth, it enhances the plant's ability to absorb nutrients from the substrate.
For Massive Harvests

Next Day UK Delivery

Increased Flower Size & Density

Organic Nutrients & Minerals

For Soil & Hydroponics 
Exclusive Ingredient Blend
Optimum Nutrient Absorption
From The Experts At Atami
Pay As You Grow With Klarna
Rapid Expansion Of The Root System
When applied to the soil or growing medium, B'cuzz Root Stimulator activates the soil microorganisms, improving the overall soil ecosystem and nutrient availability for the plant. This leads to the rapid expansion of the root system, increasing the plant's ability to absorb water and nutrients efficiently.
Increased Root Volume. Increased Yields
With a well-developed root system, the plant becomes more stable and can support larger amounts of foliage and flower production. The increased root volume also helps in nutrient uptake, resulting in improved overall plant growth and higher yields.
B'cuzz Root Stimulator is suitable for use in hydroponic systems, coco coir, and soil-based cultivation. It is recommended to start using the product from the first week of the plant's growth and continue throughout the entire cultivation cycle.
By incorporating Atami B'cuzz Root Stimulator into your feeding regimen, you can promote healthy root development, improve nutrient absorption, and enhance the overall performance and productivity of your plants.