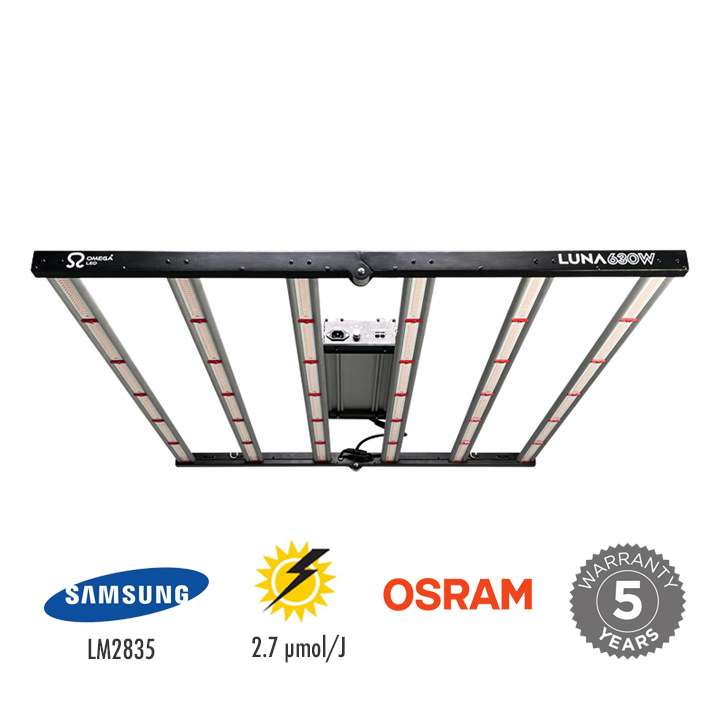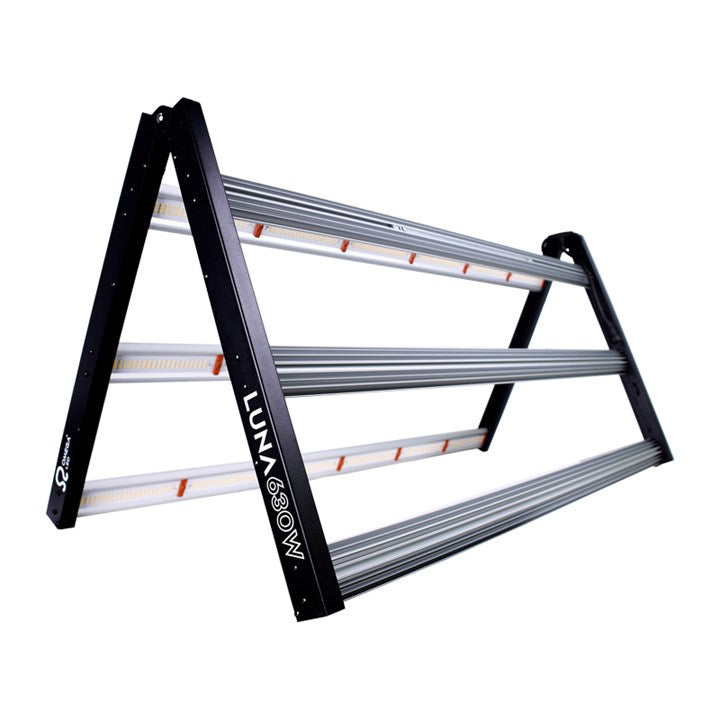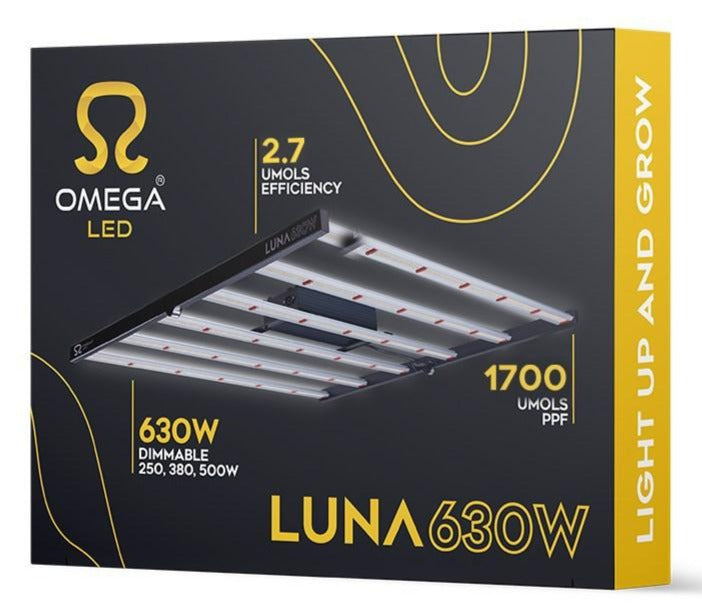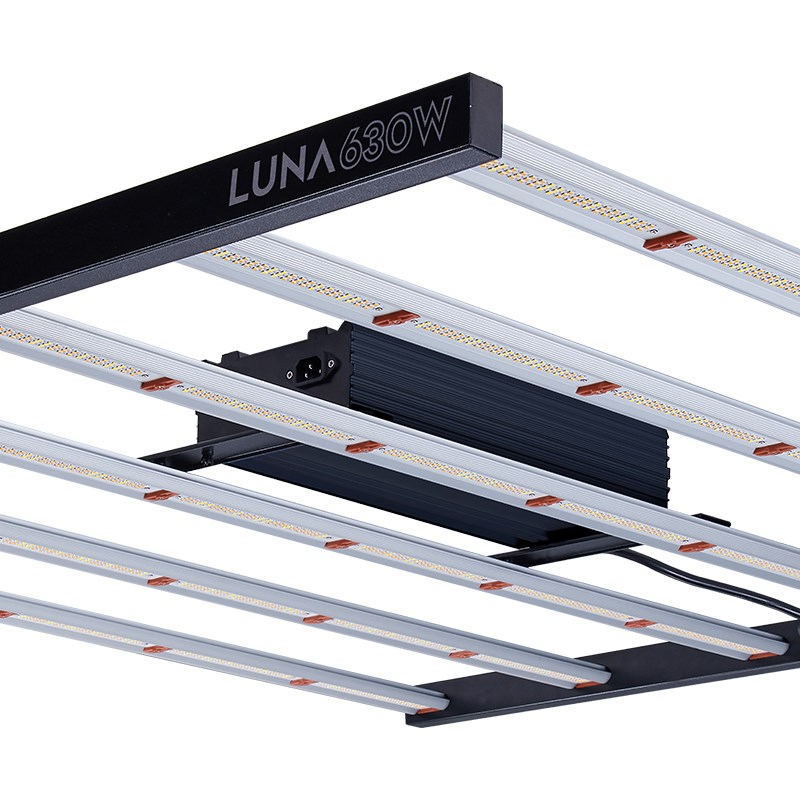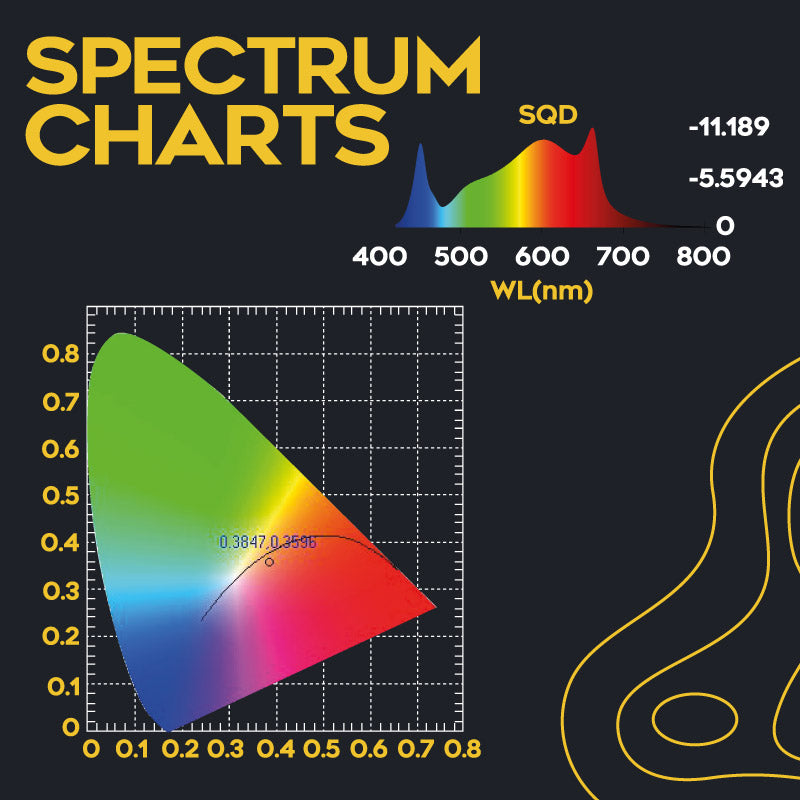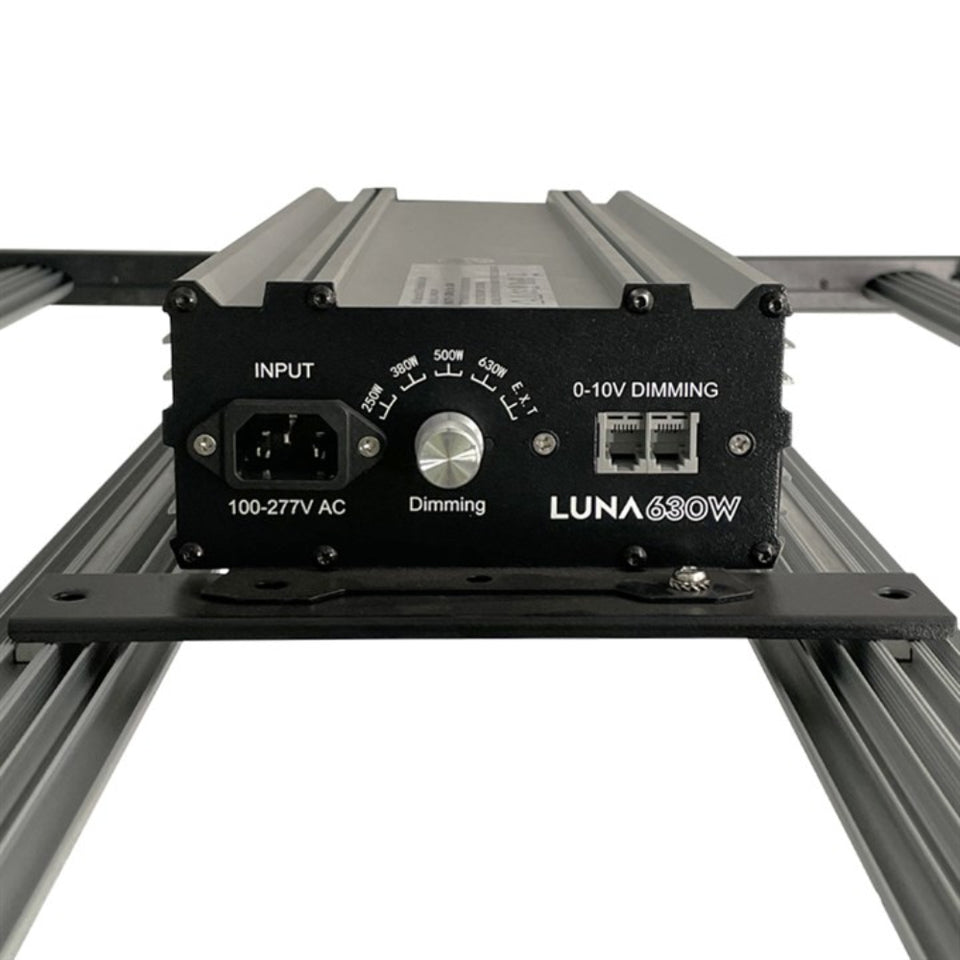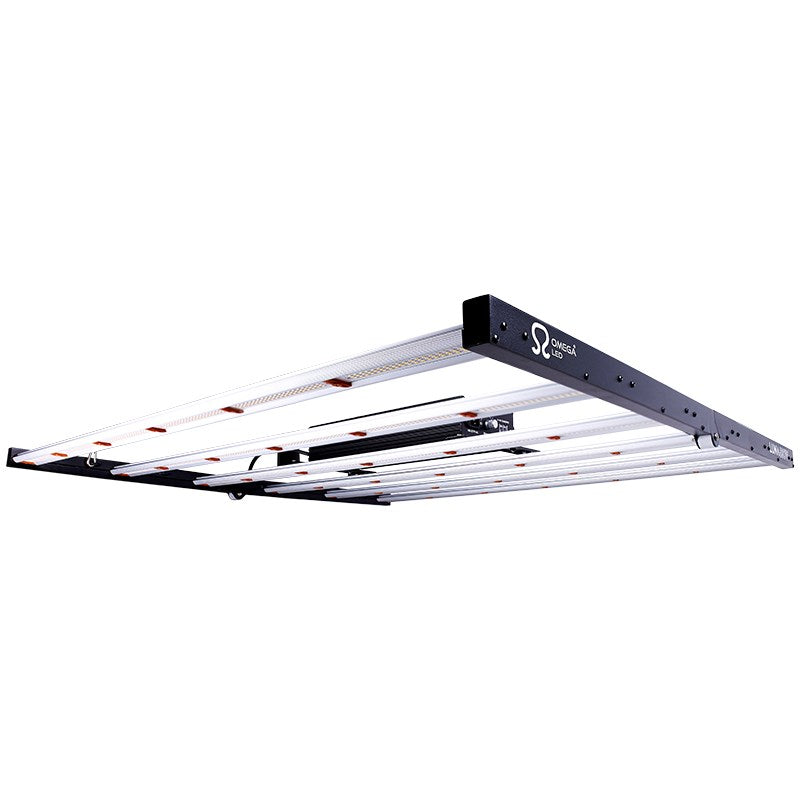 Omega Luna 630w LED Grow Light
The Omega LUNA 630W is a high-performance yet affordable lighting solution for horticulture. 
Full Spectrum Output 

High 2.7umol/j Efficacy 
Fully Dimmable
Improved Thermal Dissipation 
Osram Red 660nm Diodes

Improved Resin Production
Free Next Day UK Delivery
Runs Up Uo 50% Cooler Than Similar Lights
650w Power Output
Bigger Yields
Outperforms 1200w of HPS
Samsung & Osram Diodes

50000 Hours Life
Pay As You Grow in 3 instalments with Klarna
Daily Electricity Cost £1.96

The development in LED Grow Light technology is moving so fast that sometimes its hard to keep up. But every now and then a new light arrives on the scene that forces you to stop, look and pay attention.


So stop, look and behold the Luna from Omega. 
 
The moment you take the Omega Luna out of the box you can tell you are dealing with a quality piece of equipment. 


At its heart is an incredible 630w dimmable driver which powers the array of over 2000 diodes with rock solid reliability.

This state of the art LED Grow Light Fixture enables growers to push the limits of what can be expected from a plant. A genuine landmark of horticultural technology. 
From a distance it may look like any other LED Grow Light. But look again and you'll notice that the light bars are made of quality materials, not cheap plastic like some other units. 
In addition to this, the bars are equipped with a protective coating over the LEDs making them waterproof to an IP65 level. Its details like this that make the Omega Luna one of the best lights available today.
The Omega Luna consumes just over 600w from the wall yet has been known to outperform 1100w of old style HPS light in side by side tests.

So no more stupid electricity bills, no more wasted energy and definitely no more disappointing yields. This amazing LED Grow Light is at the cutting edge of electrical efficiency costing under £2 per day to operate. This means that the Omega Luna pays for itself very quickly indeed. 

The incredible energy efficiency of the Omega Luna means that this fixture pays for itself very quickly. 
A total of over 2000 super bright LEDs combine to achieve a massive 2.8umol/j over a 1.2m x 1.2m tent.

A simply breathtaking achievement which rivals the output of similar LED Grow Light fixtures over twice the price.

Weighing in at around 16 kilos it is strong, sturdy and feels like it will last for years.
It measures roughly 112cm x 112cm so it's a superb fixture for medium sized grow tents with optimum performance in a 1.2m x 1.2m or 1.5m x 1.5m environment. 
The clever work from the team at Omega has produced a high powered LED grow light that runs much cooler than its competitors.


This is achieved by utilising the passive convection properties of the heavyweight premium materials. 

This results in 100% fanless, self cooling operation which makes the fixture extremely robust.


It is silent in operation and boasts an incredibly long life span of over 50000 hours without any loss in performance. 

This fixture is incredibly strong, very well built and doesn't put out much heat at all. 


This, combined with the high-quality protective cables means that these lights lasts much longer than competitors. And nothing says confidence like the 5 year warranty offered by Omega. Bravo.

As with all lights from ledgrowstore.co.uk the unit ships in stealthy plain packaging with high quality hanging kit included.


No noisy ballasts and no trailing cables. Ready to use out of the box in just minutes. Change your grow game in less than 120 seconds. 



Omega Luna 630w Technical Specification
| | |
| --- | --- |
| Power | 630W |
| Input Voltage | 120-277V |
| Weight | 12.5 kg |
| HPS Equivalent | 1100w |
| Flower Footprint | 1.4m x 1.4m |
| Veg Footprint  | 1.75m x 1.75m |
| Diodes | Samsung 2835 & Osram IR |
| Diode Count | 2000 |
| Size | 1.1m x 1.1m x 7.5cm |
| PPF | 1704 umols/s |
| Spectrum | 660nm, 730nm, 3000k, 6000-6500k |
| Efficiency | 2.7 umols/J |
| Daily Electricity Cost | £1.96 |
Product includes:
Omega Luna 630w LED Grow Light
Power Cord
User Manual
Wire Hangers
Ratchet Hangers

Approximate costs of use based on 75% power for a 12 / 12 flowering cycle. 

*Calculated using theUK: Energy Price Guarantee (October 2022) electricity rate of 34.00 pence per kWh.