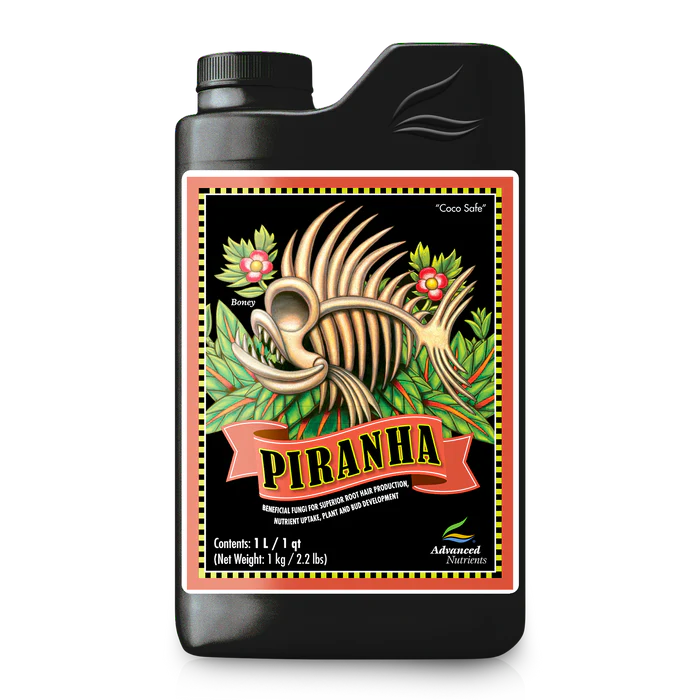 Advanced Nutrients - Piranha
Advanced Nutrients Piranha
Advanced Nutrients Piranha is a concentrated blend of beneficial fungi that offers a range of benefits for plants from the early stages of rooting cuttings to the second week of flowering. These beneficial fungi establish a symbiotic relationship with plant roots, forming a network of mycelium that enhances nutrient availability and provides protection against root diseases.

Blend Of Beneficial Fungi

Next Day UK Delivery
Greater Stronger & More Robust Plants
Enhance Nutrient Availability

Improved Yields
Exceptional Quality Flowers

Better Flavour & Aroma
Forumated For Hydroponic Cultivators
From The Experts At Advanced Nutrients
Pay As You Grow With Klarna
Mycorrhizal & Trichoderma Fungi
Manufactured to the highest standards by Advanced Nutrients, Piranha contains specific strains of mycorrhizal and Trichoderma fungi. These fungi work in harmony with plant roots, forming a web-like structure of mycelium that extends the root system and improves nutrient uptake. By colonizing the root zone, Piranha helps to optimize nutrient absorption, leading to healthier plants and increased yields.
Supporting Larger Yields
One of the key benefits of Piranha is its ability to strengthen the plant's natural defenses against root diseases. The presence of beneficial fungi helps to suppress harmful pathogens, reducing the risk of root infections and promoting overall plant health. Additionally, Piranha promotes root branching and mass, resulting in a more robust root system capable of supporting larger yields.
Vigorous Plants & Improved Crop Yields
By incorporating Advanced Nutrients Piranha into your cultivation routine, you can harness the power of beneficial fungi to enhance root health, nutrient uptake, and plant immunity. This can ultimately lead to healthier, more vigorous plants and improved crop yields.