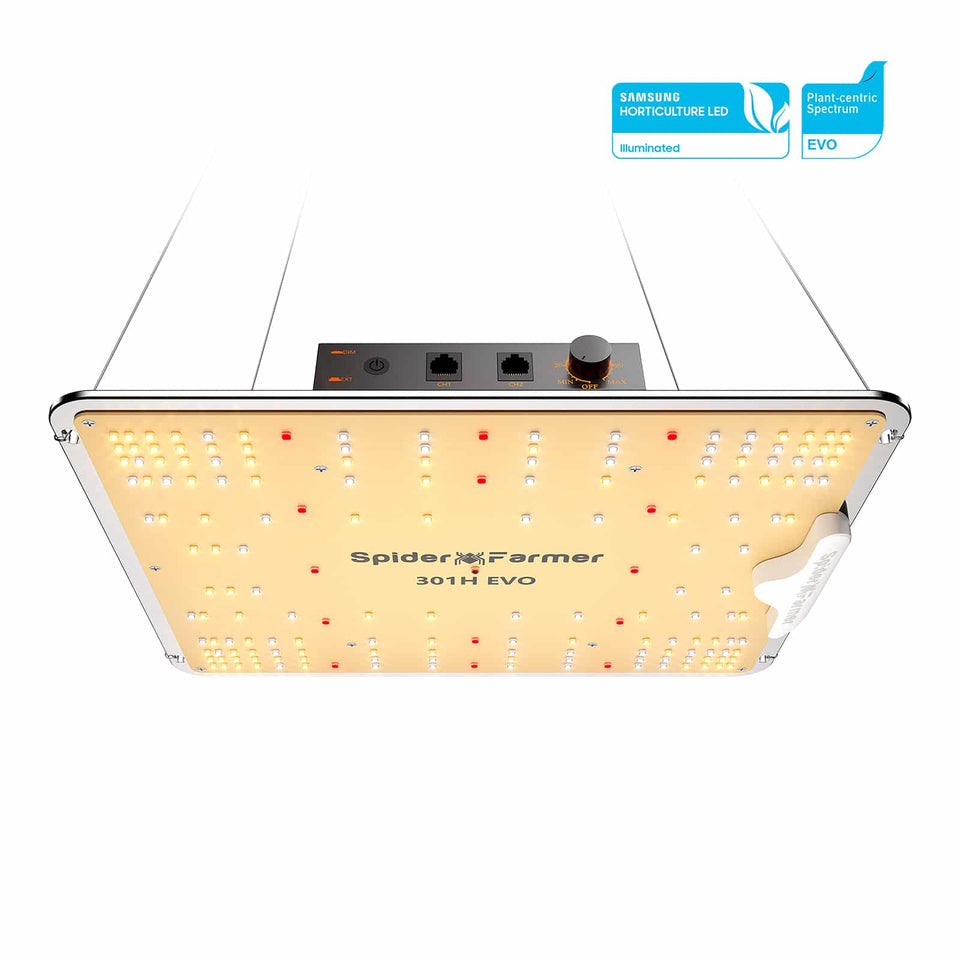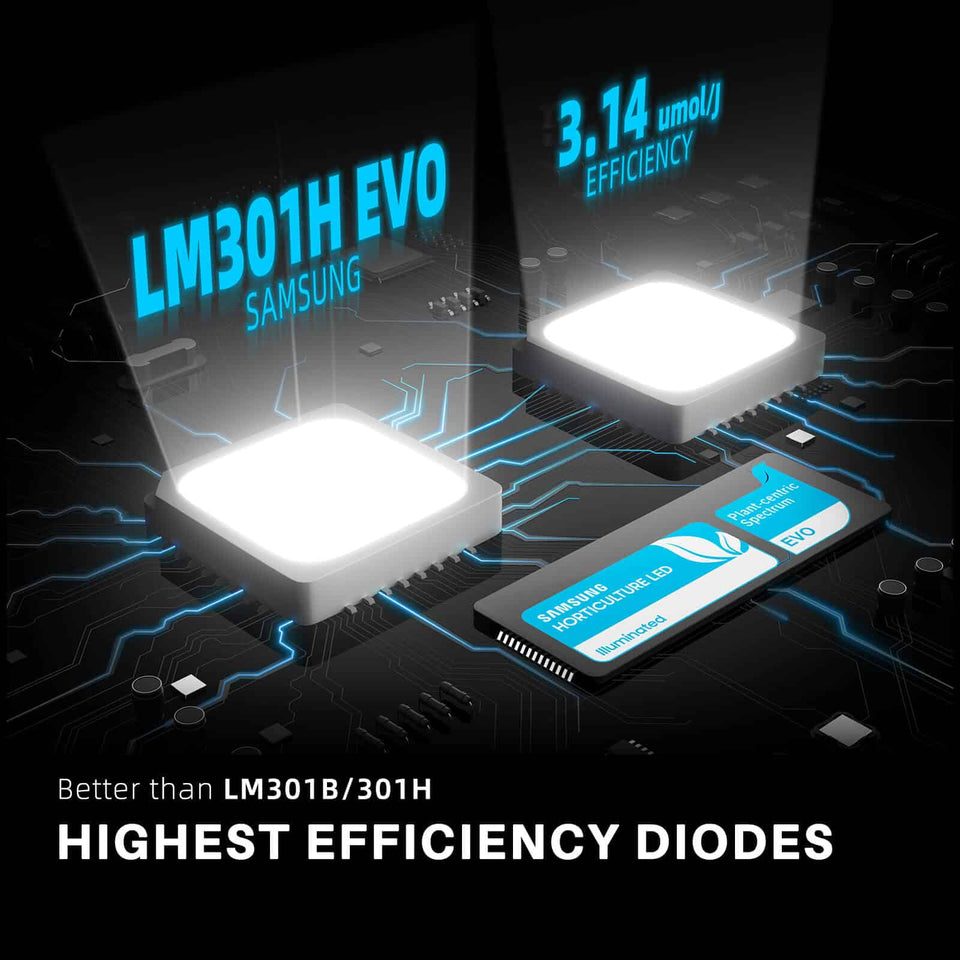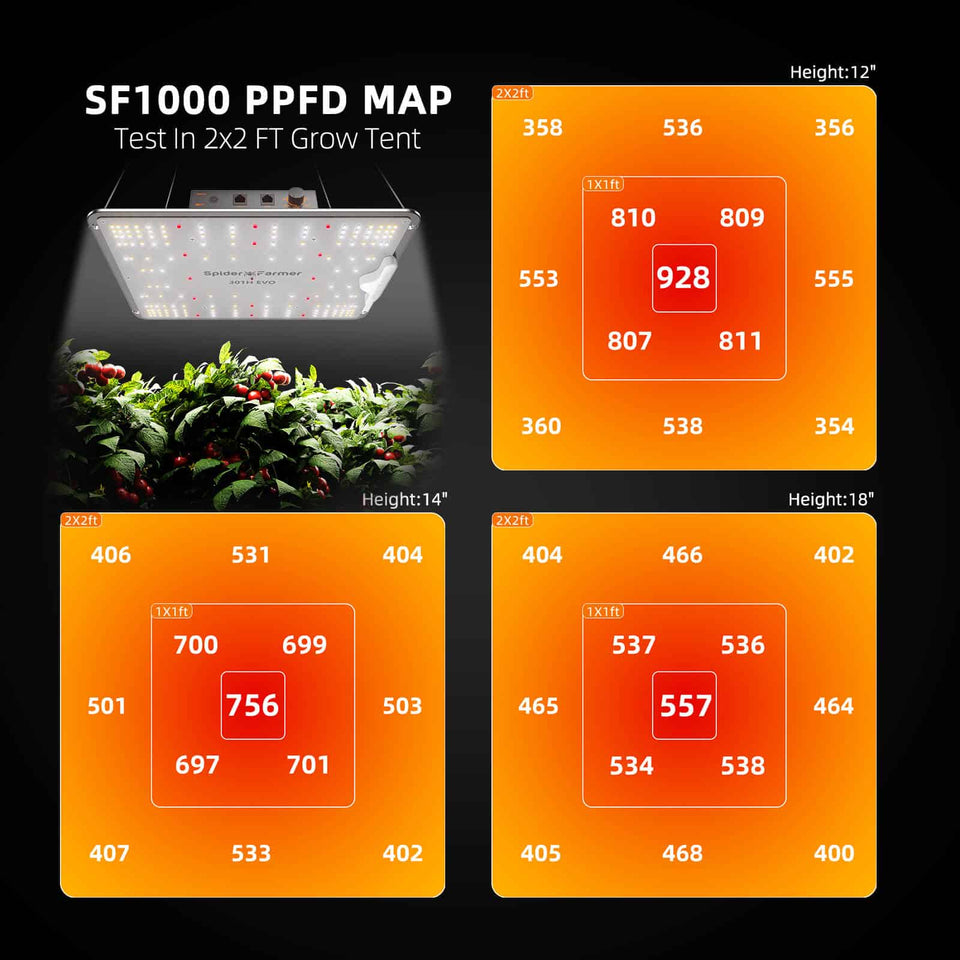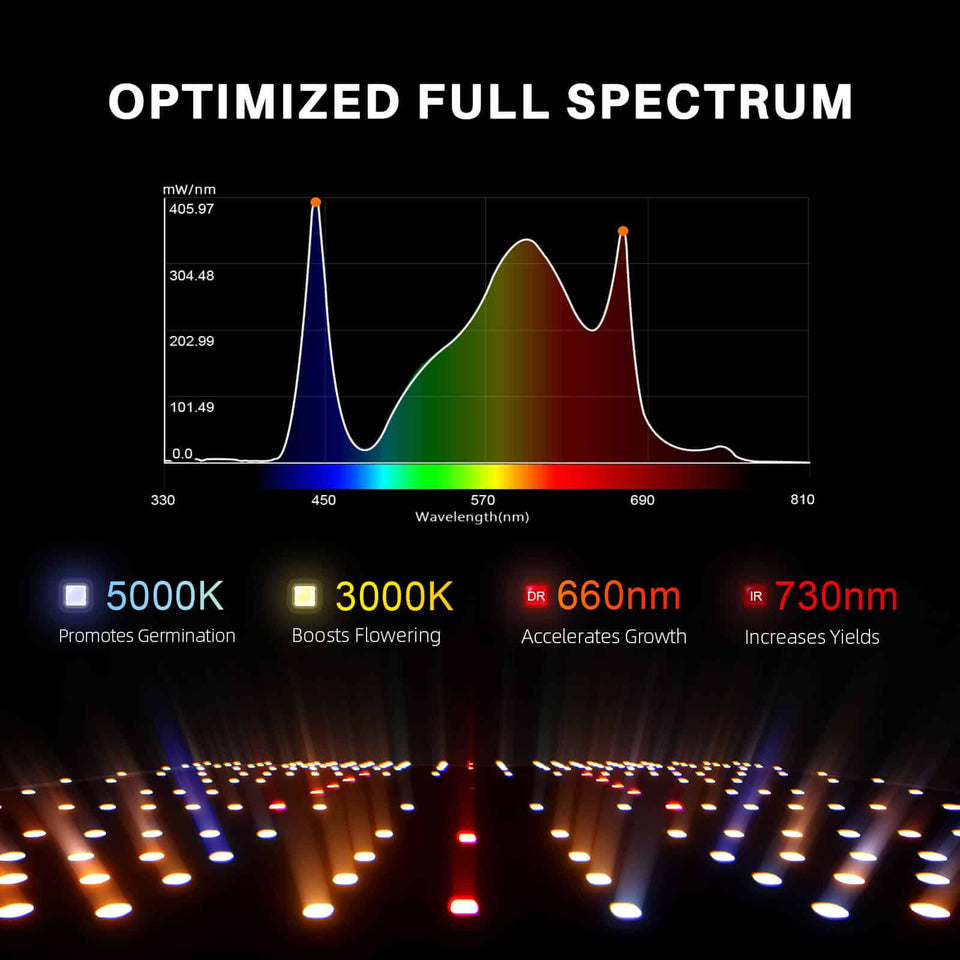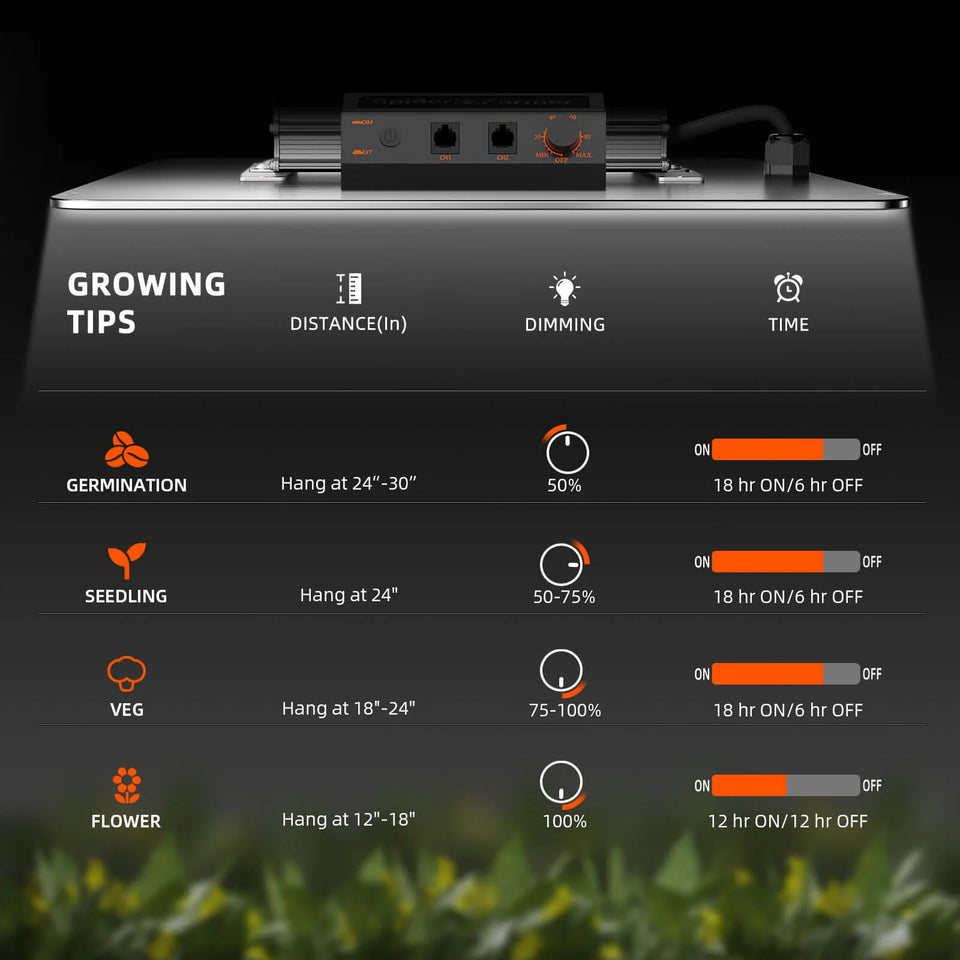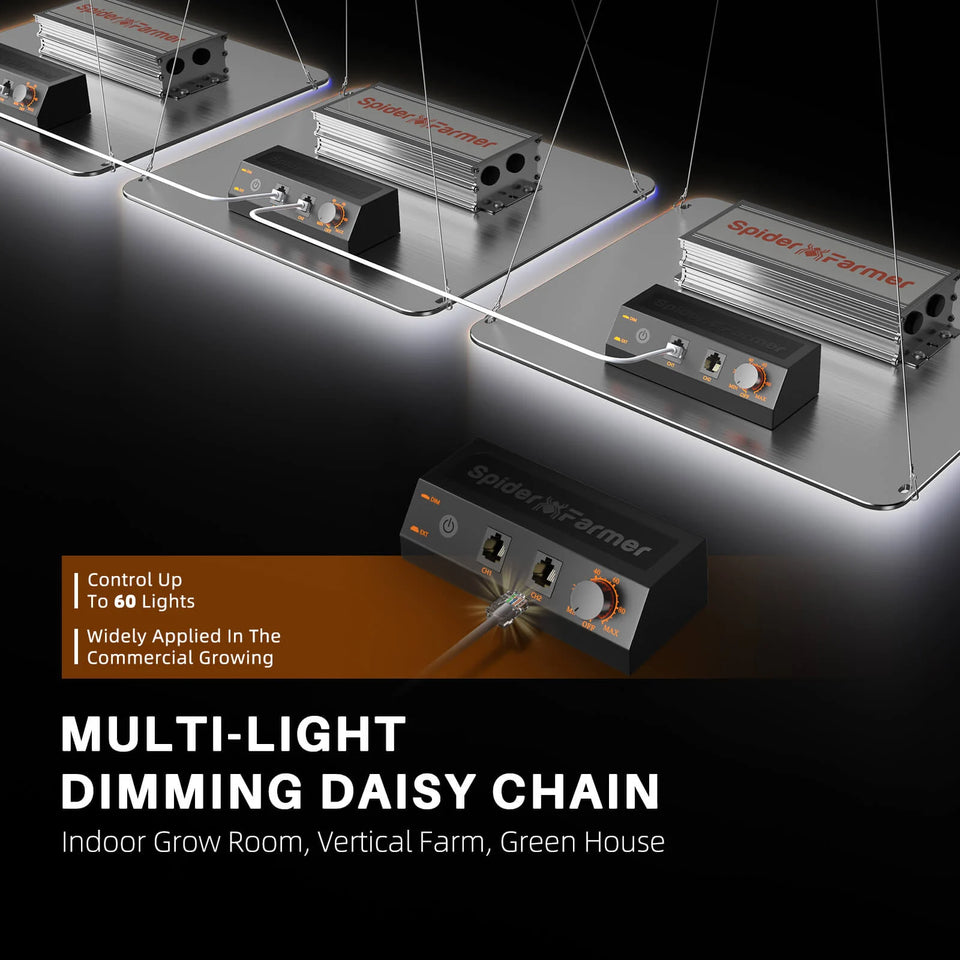 Spider Farmer SF1000 LM301H EVO LED Grow Light
The Spider Farmer SF1000 EVO changes the game once again. Massive  performance, low electricity costs and as stealthy as a ninja. Now featuring the brand new Samsung LM301h EVO chip, Spider Farmer raise the bar by making the EVO chip available for small tent and stealth growers.  
Brand New Samsung LM301H EVO Diodes
Waterproof Board

Free Next Day Delivery
Full Spectrum
New 2023 version
Super Stealthy
IR Diodes for Improved Bud Density 
Massively Reduced Electricity Costs
Fully Dimmable

Daisy Chain Ready
Zero Noise
New Improved Diode Layout
100w Power Output
50000 Hours Life
Pay As You Grow in 3 instalments with Klarna
Daily Electricity Cost of £0.30
Brand New Samsung LM301H Diodes
Introducing the Samsung LM301H EVO LEDs. Boasting an impressive efficiency rating of 3.14 µmol/J PPE per diode , these LEDs outshine even the renowned LM301B, LM301H, and Bridgelux 3030 chips in terms of sheer effectiveness.
Representing the pinnacle of horticulture lighting technology, they radiate unparalleled brilliance while operating at heightened efficiency levels. Surpassing the capabilities of both the Samsung LM301H and LM301B LEDs, these EVO LEDs redefine plant growth enhancement. With superior light quality and an increased light output per LED, they harness a more potent blue spectrum, all while achieving a level of efficiency unattainable by non-EVO LEDs.
Big Power. Low Electricity Costs

High energy efficiency, SF1000 consumes only 100W to achieve better or equivalent results than 200W HID, while reducing heat and power consumption by 50%. Ideal for small grow tents and stealth growers.
Vastly Improved Spectrum
Full spectrum 660-665nm, 3000K, 5000K and IR, perfect for all growth stages (germination, cloning or cuttings, maternal, asexual propagation and flowering applications), turn your seeds into your own supply and produce beautiful, high-yielding plants.
Rock Solid Reliability
No fan, zero noise. The whole plant grow light is made of large solid aluminium heat sink, with special protective cover for cables and waterproof LED board. 50% longer life span compared to other brands of plant lights. Let you have to plant healthy growth.
Spider Farmer SF1000 LED grow lights are often copied, but never with the quality or commitment they offer. We offer 5 years of after sales service from our UK repair centre. Make sure you are buying an authentic Spider Farmer grow light that will really give you the quality light you need – at a price you can afford. If you have any questions, please feel free to email us and we will help you out.
Spider Farmer SF1000 EVO Technical Specifications
Power

100W

Input Voltage

AC 220-240V

Weight

1.95 kg

HPS Equivalent
250w

Veg Footprint

0.8m x 0.8m 


Flower Footprint
1.0m x 1.0m

Diodes

Samsung Lm301h, Osram

Reds & IR 

Diode Count
218

Size

30cm x 27cm x 6cm

Spectrum

660nm, 3000K, 5000K &

IR 760nm

Efficiency

2.7 umols/j

PAR Value
259 umol/s
Daily Electricity Cost
£0.31
Product includes:
Spider Farmer SF1000 EVO LED Grow light
Power Cord
User Manual
Wire Hangers
Ratchet Hangers

Approximate costs of use based on 75% power for a 12 / 12 flowering cycle. 

*Calculated using the UK: Energy Price Guarantee (October 2022) electricity rate of 34.00 pence per kWh.