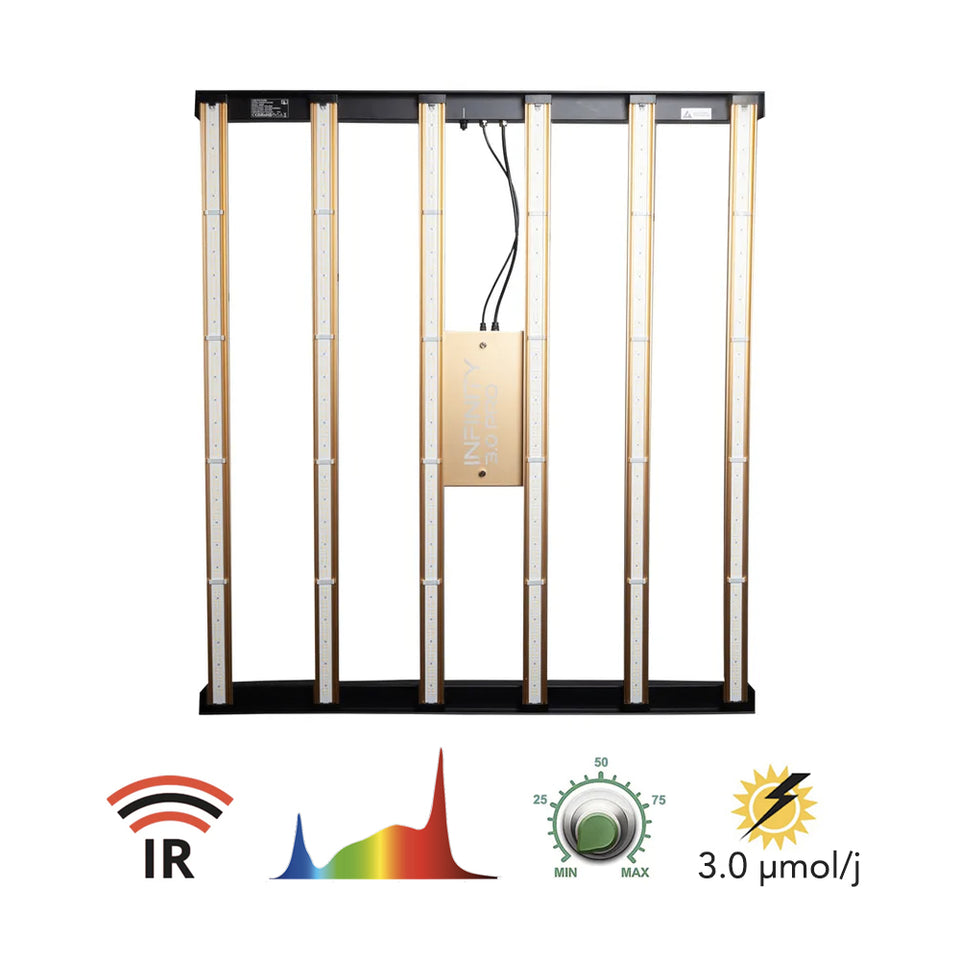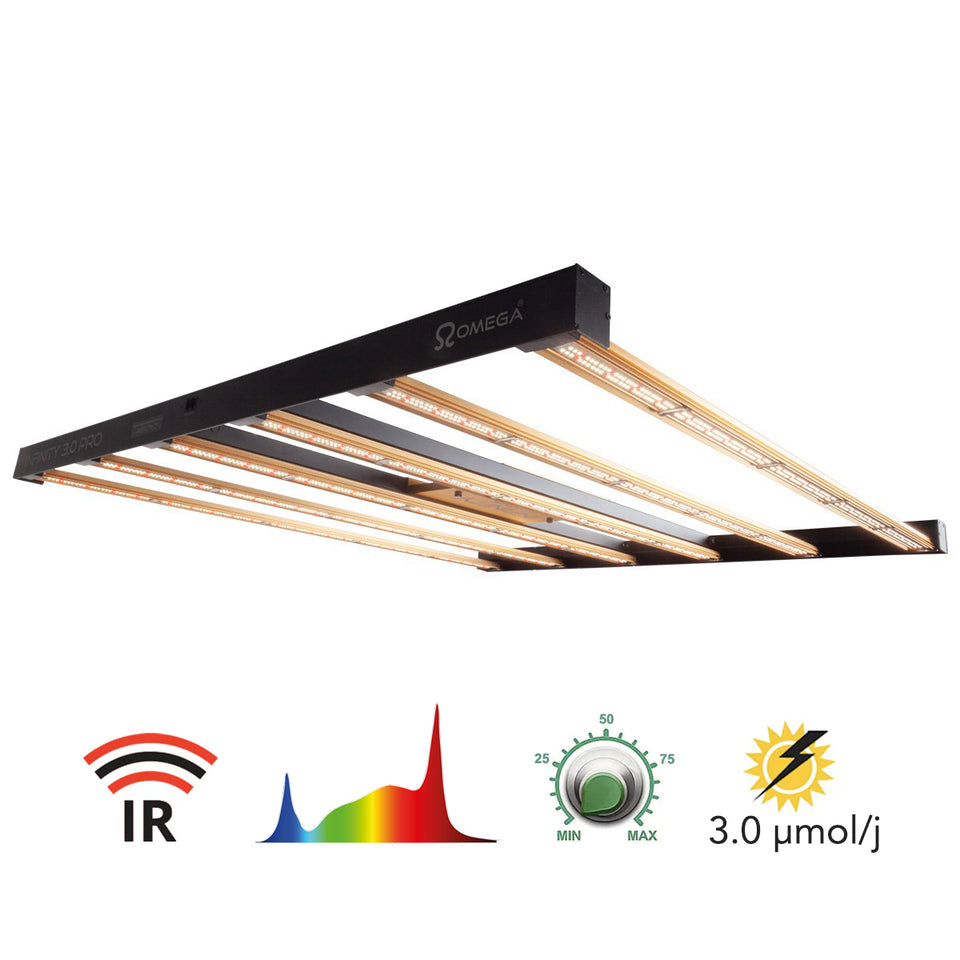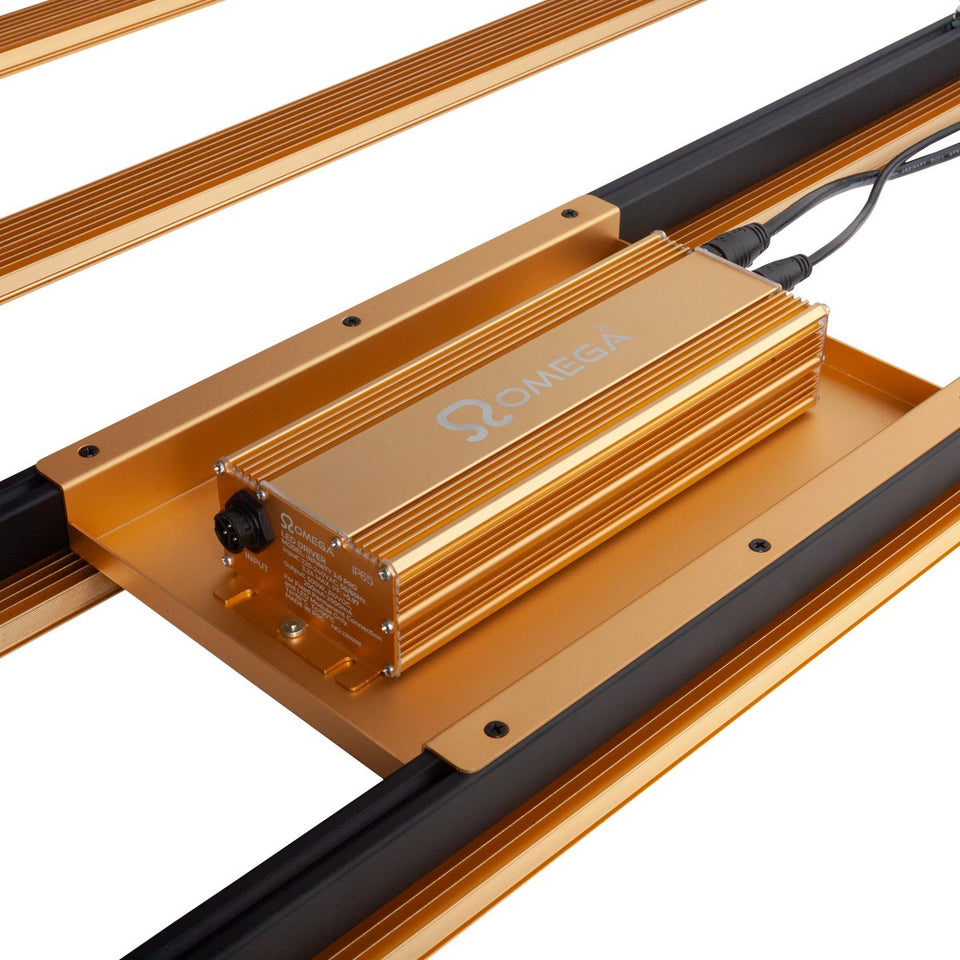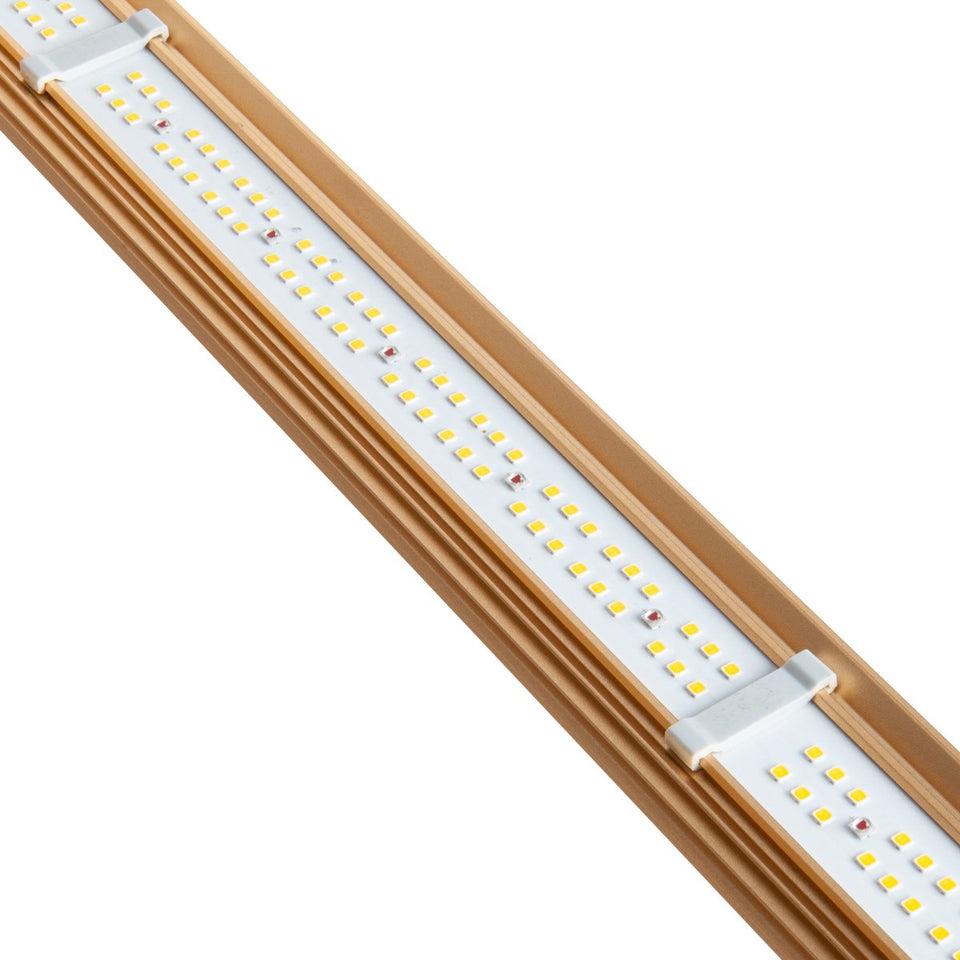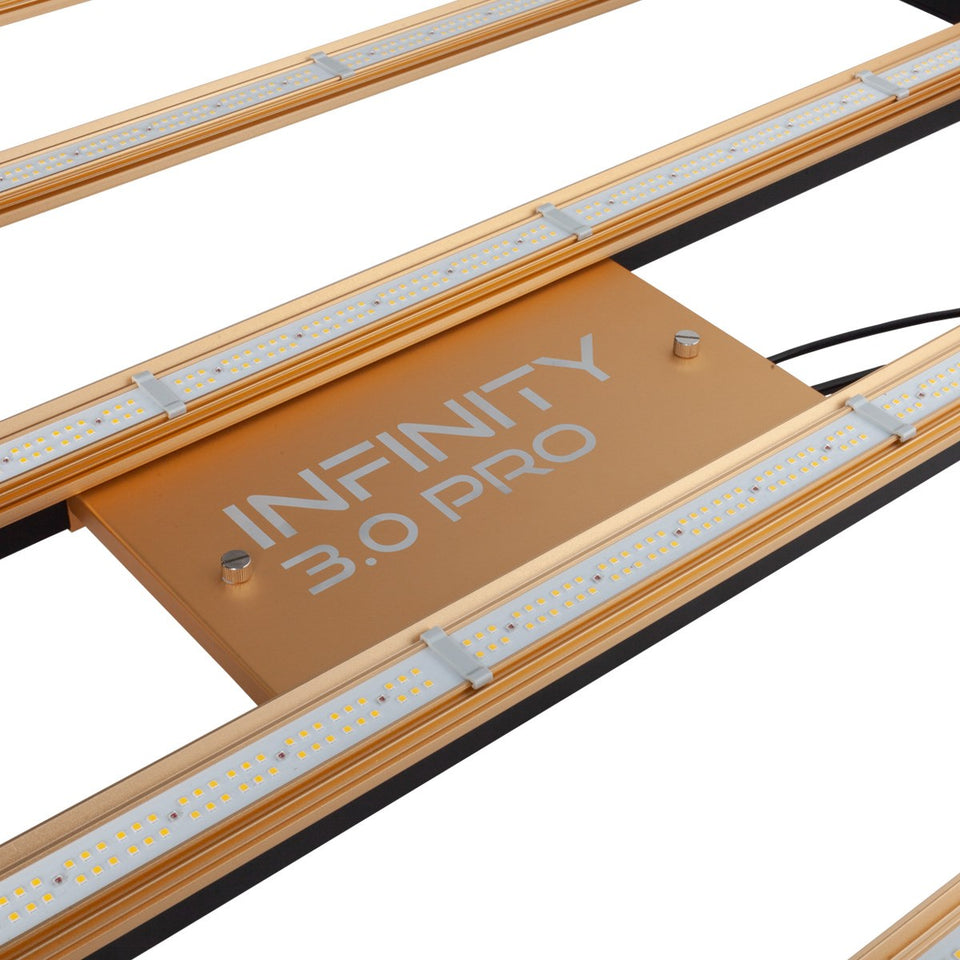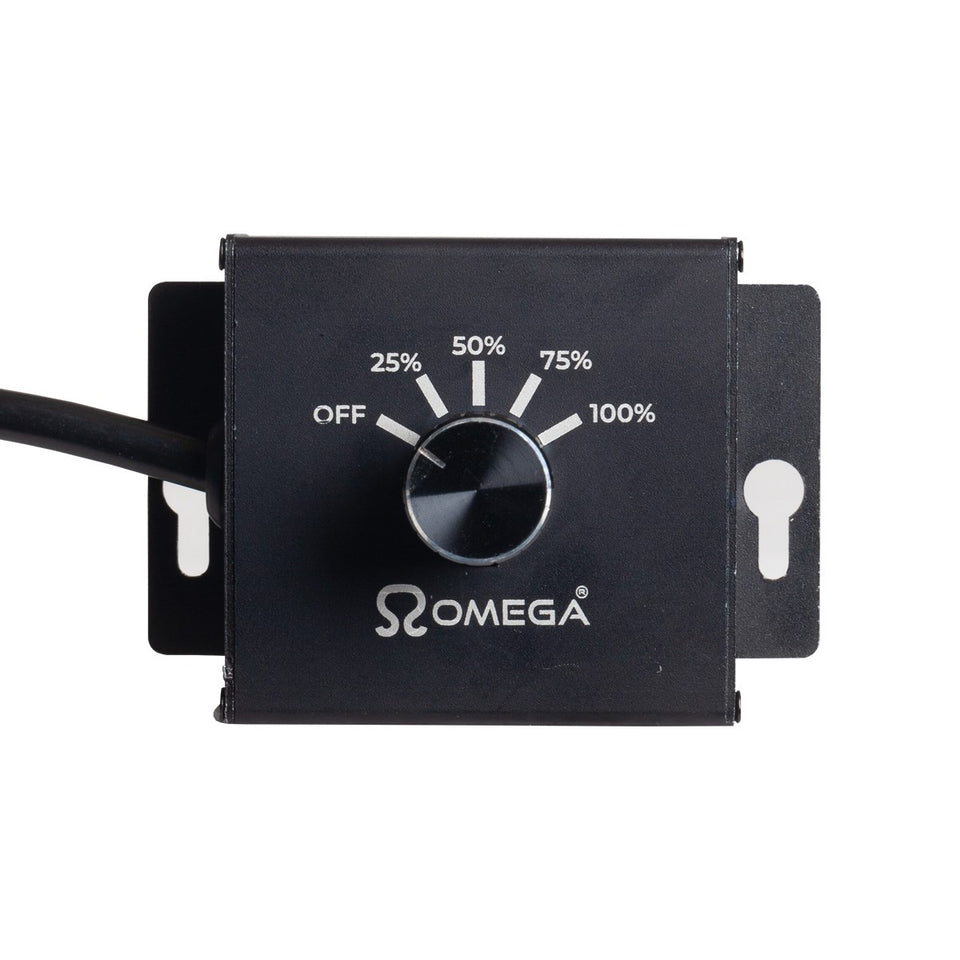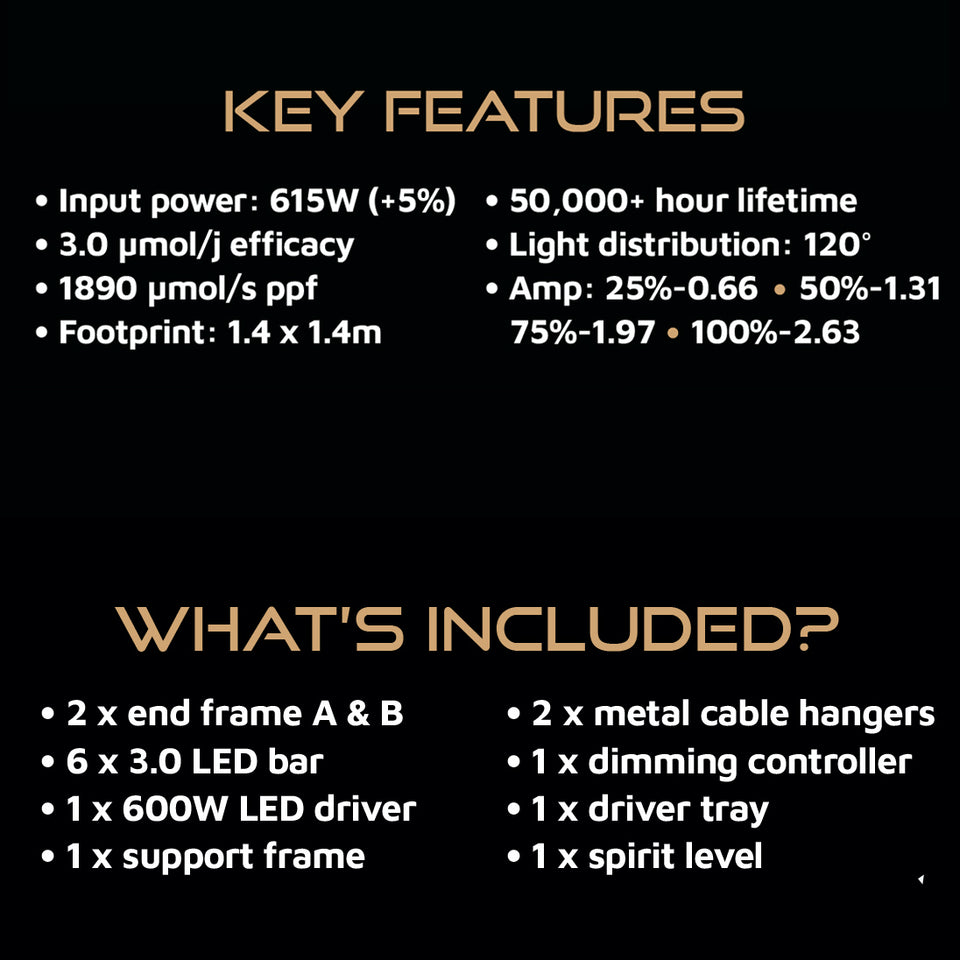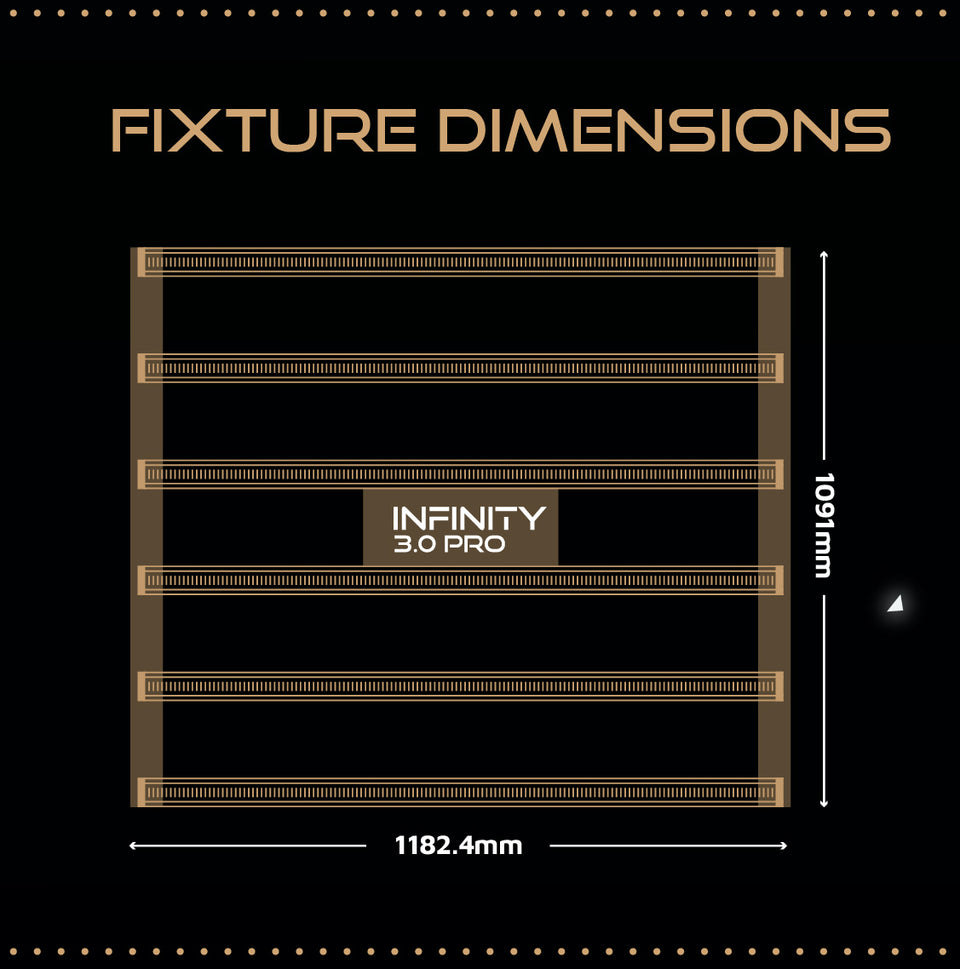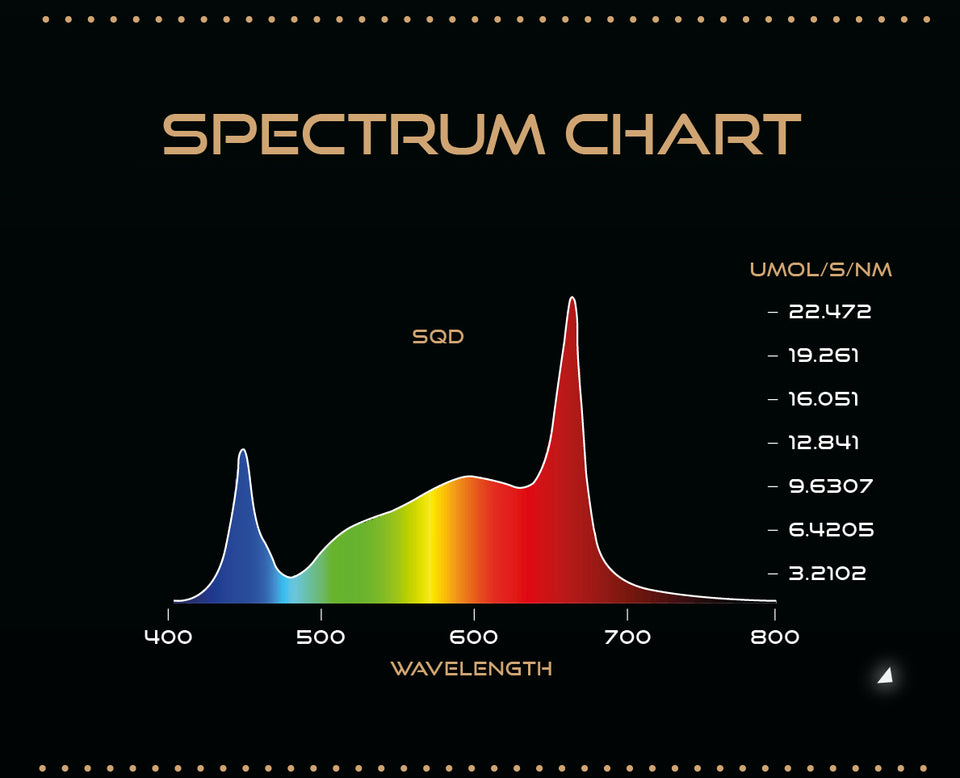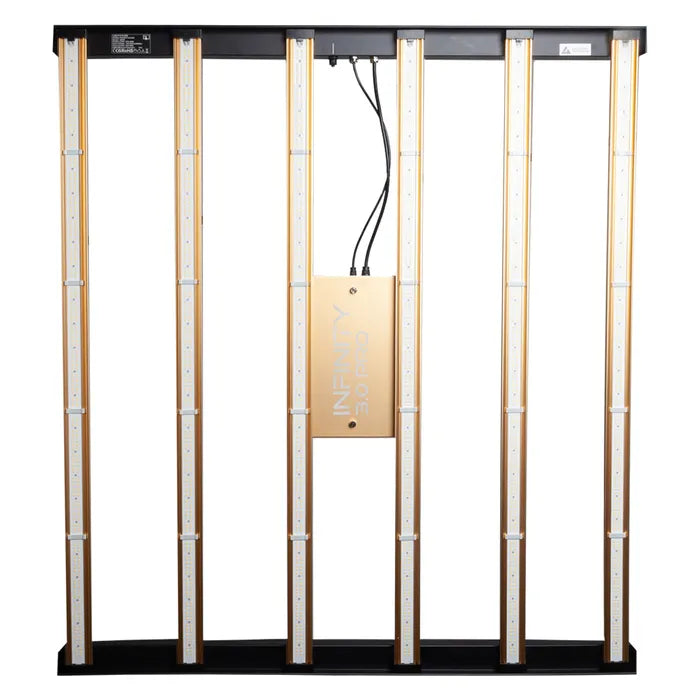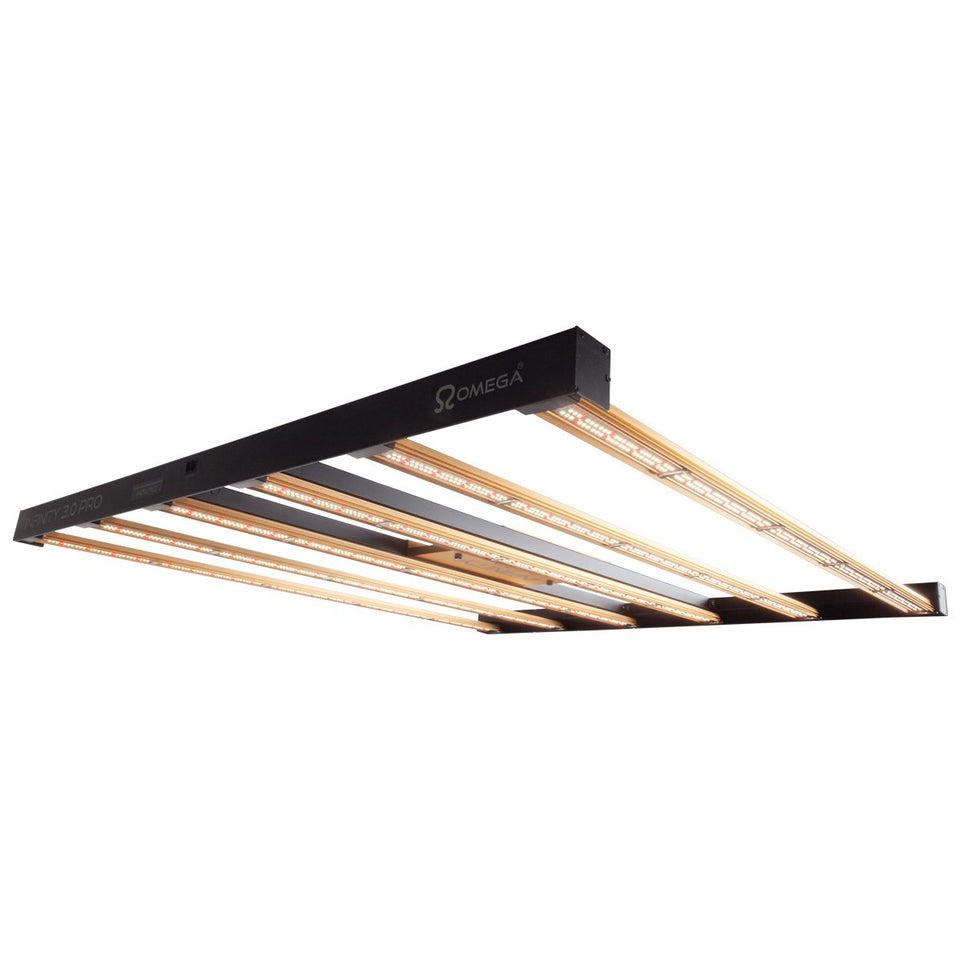 Omega Infinity 3.0 Pro 600w LED Grow Light
The breathtaking Omega Infinity Pro new LED Grow Light boasts a massive 3.0 umol/j output at an unbeliveable low price. With its 600w Full Spectrum Output, the Omega Infinity 3.0 is a true industry disruptor. 

Massive 3.0 

umol/j Efficacy 

Free Next Day UK Delivery
Ultra High Intensity 1890 μmol/s PPF output.

Fully Dimmable with 4 Way Click Points.
Improved Thermal Dissipation 
Clear Glue Diode Protection for Enhanced Lifespan

Improved Flower Production
Runs Up to 50% Cooler Than Similar Lights
Bigger Yields
Detachable Driver for Space & Heat Efficiency
3 Year Manufacturers Warranty
Outperforms 1200w of HPS
50000 Hours Life
Pay As You Grow in 3 instalments with Klarna
Daily Electricity Cost £1.84

Hot out of the Omega labs comes the breathtaking new Omega Infinity Pro 3.0 LED Grow Light. This highly innovative and powerful LED Grow Light is the first in the UK to offer an immensely powerful 3.0 umol output over its 6 bars full-spectrum LED Grow Lighting bars. 

With high precision and uniform levels of PPFD over its massive footprint, the newest addition to the Omega LED Grow Light family is a premium lighting solution for indoor growers looking for a high quality LED Grow Light at an affordable price. 
 
Quickly claiming its place at the top of the tree with its 3.0 umol output, the Omega Infinity Pro is sure to disrupt the LED Grow Light industry making it a credible option for hobby and professional growers alike.
The Omega Luna Pro+ operates at approximately half the cost of its HPS equivalents making it a top choice for cultivators who demand a high light output with an affordable electricity spend.
Don't
 be fooled by the low price tag. This is no cheap and cheerful solution at all. This is one very well made LED Grow Light with a super impressive lifespan of over 50000 hours. Thats over 11 years on a 12/12 cycle. Amazing. 

In spite of its high power, The Omega Infinity Pro 3.0 has a surprisingly low running cost when compared to other lights in the market. 
At its core is a highly efficient, fully dimmable driver offering rock solid fully reliability over its 6 passively cooled light bars. 
As with all lights from Omega, the Infinity Pro LED Grow Light is designed with user friendly operation and power efficiency in mind! The Infinity Pro 3.0 is dimmable and controller compatible allowing growers to accurately manage their plants' environment and to adjust the light accordingly keeping plants in optimum health in full control of electricity costs. 
The Omega Infinity Pro 3.0 is a well proportioned LED Grow Light measuring in at just under 119cm x 109cm. This makes it perfectly at home in a 1.2m x 1.2m tent or and certainly more than efficient in a mammoth sizes 1.5m x 1.5m tent. Its magnetic light bars are perfectly positioned to provide corner to corner light penetration over every inch of your plants canopy.
So no more weak and sickly plants in tent corners or no burnt plants in the centre. Cultivators can expect even and precise coverage over the entirety of their grow space.  
In addition to this, the 6 LED Grow Light bars are equipped with a protective coating over the LEDs making them waterproof to an IP65 level. not only does this adequately protect the diodes from splashes and sprays, but it also ensures a long life span too. 
Being lower priced than than similar lights in the market. We were expecting certain compromises. But we don't find any at all. The Omega Infinity Pro 3.0 packs just as much punch as its more expensive cousins. The components are all high quality and the spectrum is very comprehensive indeed. 
The Omega Infinity Pro 3.0 features a higher number of Red and Bright White diodes than it counterparts. Red and white lights are superior when it comes to penetrating thick leaf canopies. Less advanced technology used only royal blue and deep red LEDs, which were designed to optimise peaks in chlorophyll absorption but fail to reach smaller plants in lush canopies. The Omega Infinity Pro 3.0 LED Grow Light ensures that all plants receive light equally for prime growth everywhere. 
Upon testing, the Omega Infinity Pro 3.0 consumes just over 605w from the wall yet it  has been shown to easily outperform 1100w of old style HPS light in side by side tests.
So say goodbye to stupid electricity bills, wasted energy and disappointing yields. This amazing LED Grow Light is standing right at the cutting edge of electrical efficiency. On average, the Omega Infinity Pro 3.0 costs under £2 per day to operate. This means that it pays for itself very quickly indeed. 

With its efficacy of 3.0, this very impressive LED Grow Light can easily produce 2.5g of high quality produce per watt of light consumed. This means that even beginner cultivators can expect a harvest of around 1500g every single grow cycle. That is a very, very impressive return in investment.

Weighing in at around 10 kilos it is strong, sturdy and feels like it will last for years. The clever work from the team at Omega has produced a high powered LED Grow Light that runs much cooler than its competitors.

This is achieved by utilising the passive convection properties of the heavyweight premium materials. 
This results in 100% fanless, self cooling operation which makes the fixture extremely robust.

It is silent in operation and boasts an incredibly long life span of over 50000 hours without any loss in performance. 
This, combined with the high-quality protective cables means that these lights lasts much longer than competitors. And nothing says confidence like the 3 year warranty offered by Omega. Bravo.
The Infinity Pro+ is designed to make a professional setup affordable to growers of all levels. Its precise and uniform distribution of PPFD keeps plants in stable conditions, and the full-spectrum light means that multiple types of plants can grow together in one space. Cultivators can expect strong, healthy growth and high yields of fruits and flowers with the Infinity Pro 3.0, at a lower running cost than its competitors.  
No noisy ballasts and no trailing cables. Ready to use out of the box in just minutes. Change your grow game in less than 120 seconds. 



Omega Infinity Pro 3.0 LED Grow Light Technical Specification
| | |
| --- | --- |
| Power | 600W |
| Input Voltage | 120-277V |
| Weight | 10.0 kg |
| HPS Equivalent | 1200w |
| Flower Footprint | 1.4m x 1.4m |
| Veg Footprint  | 1.75m x 1.75m |
| Light Distribution | 120° |
| PPF | 1890 μmol/s |
| Size | 109cm x 118cm x 8cm |
| PPF | 1830 umols/s |
| Spectrum | 660nm, 3000k, 5000k |
| Efficiency | 3.0 umols/J |
| Daily Electricity Cost | £1.84 |
Product includes:
2 x LED Grow Light End Frames 

6 x 3.0 LED Grow Light Bars

1 x 600w LED Grow Light Driver

1 x Support Frame

2 x Metal Hangers

1 x LED Grow Light Dimming Controller
1 x LED Grow Light Driver Tray
1 x Spirit Level
1 x 4 Meter Power Cable

Approximate costs of use based on 75% power for a 12 / 12 flowering cycle. 

*Calculated using theUK: Energy Price Guarantee (October 2022) electricity rate of 34.00 pence per kWh.