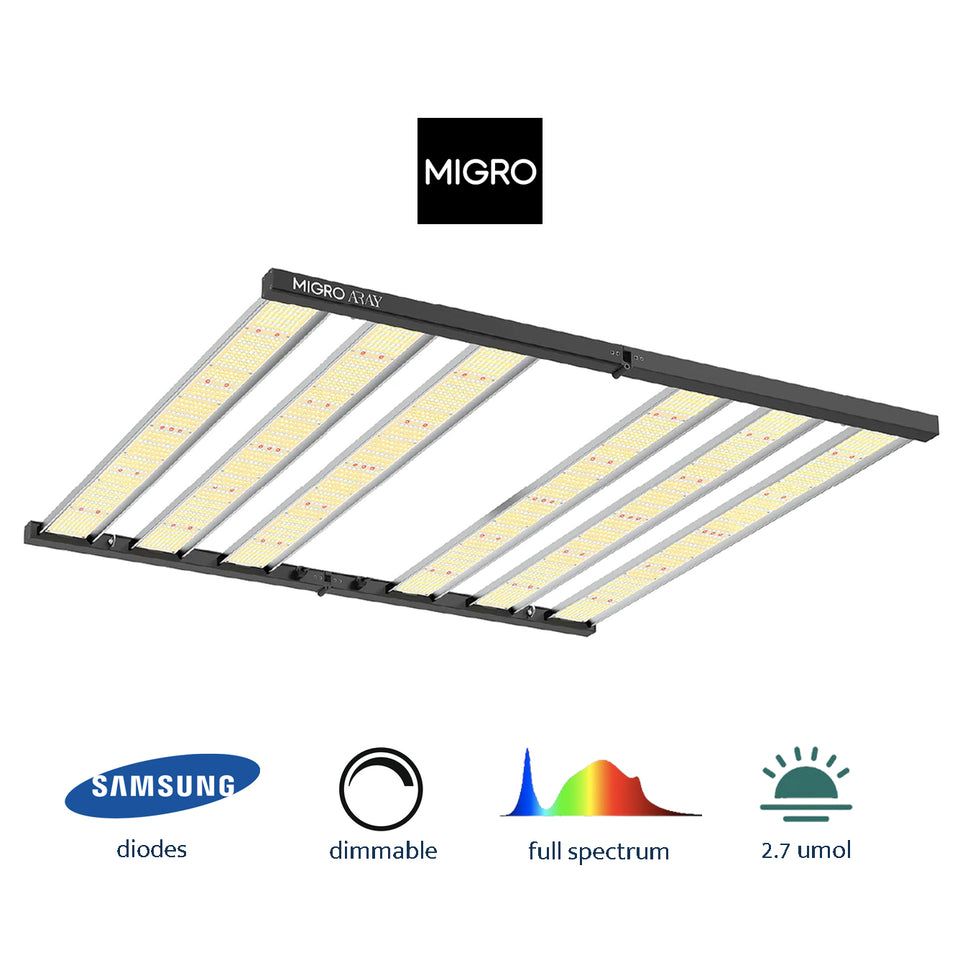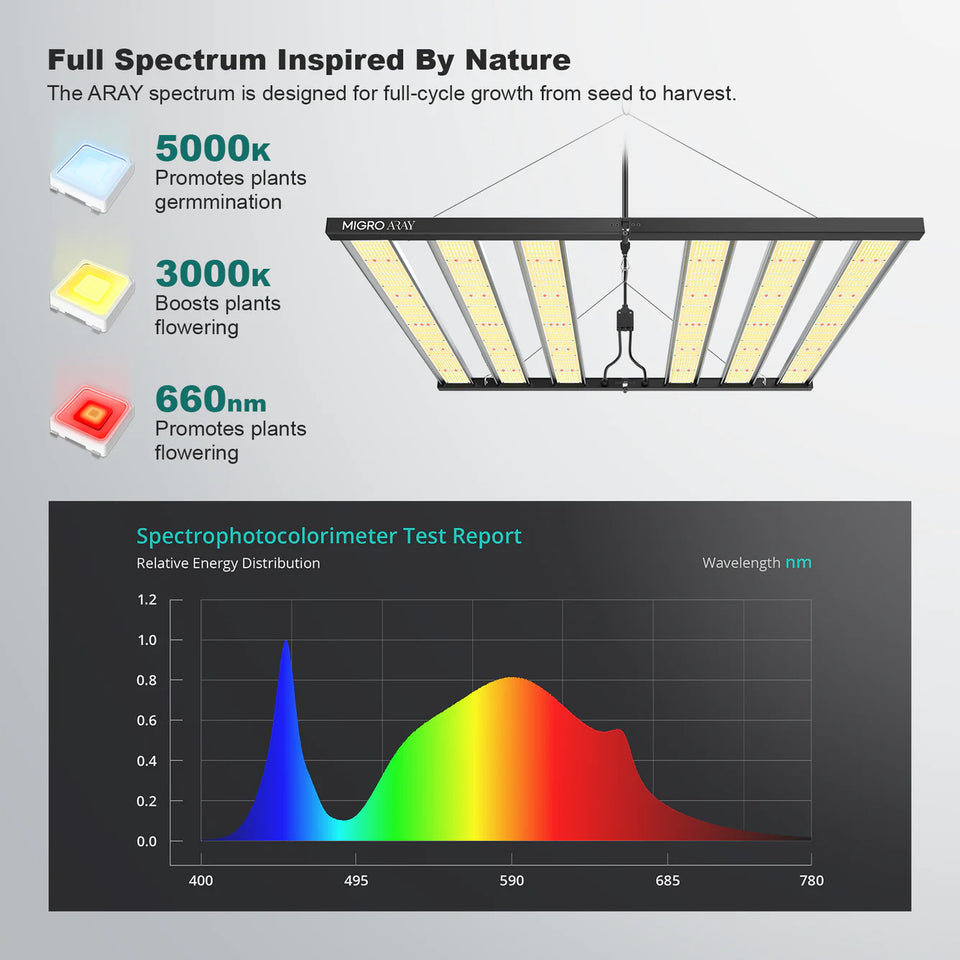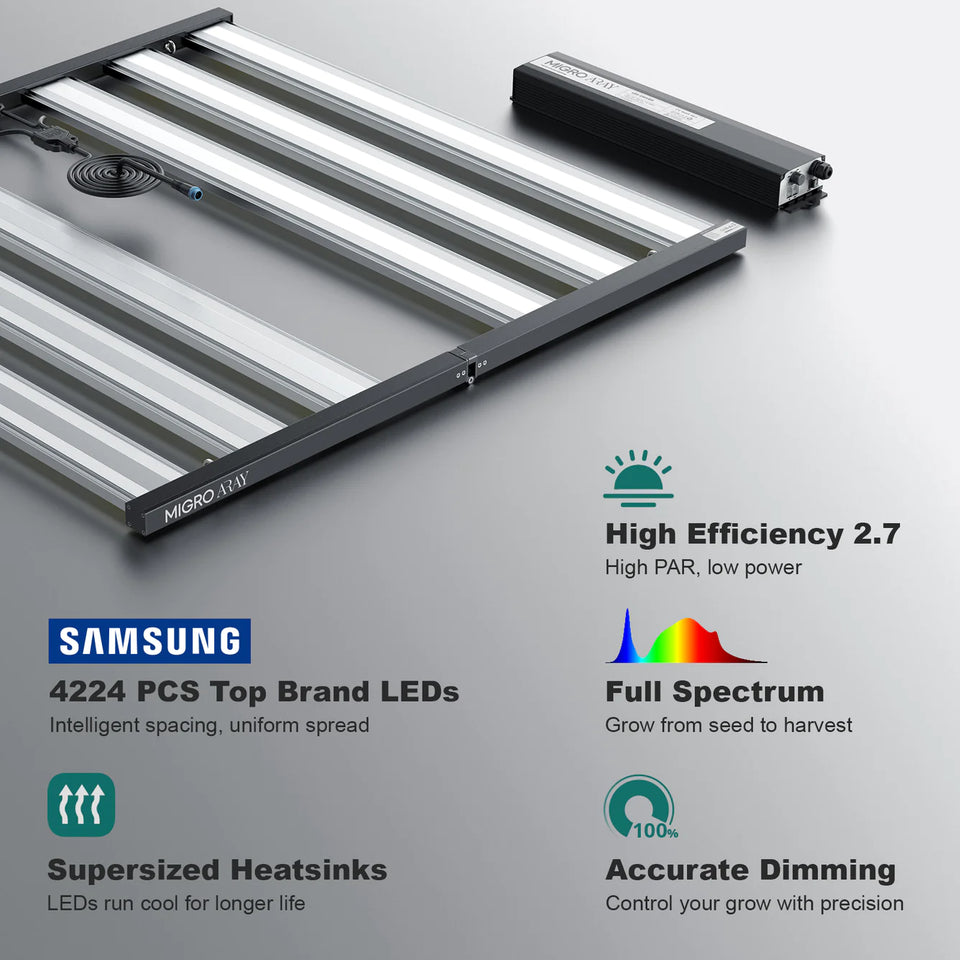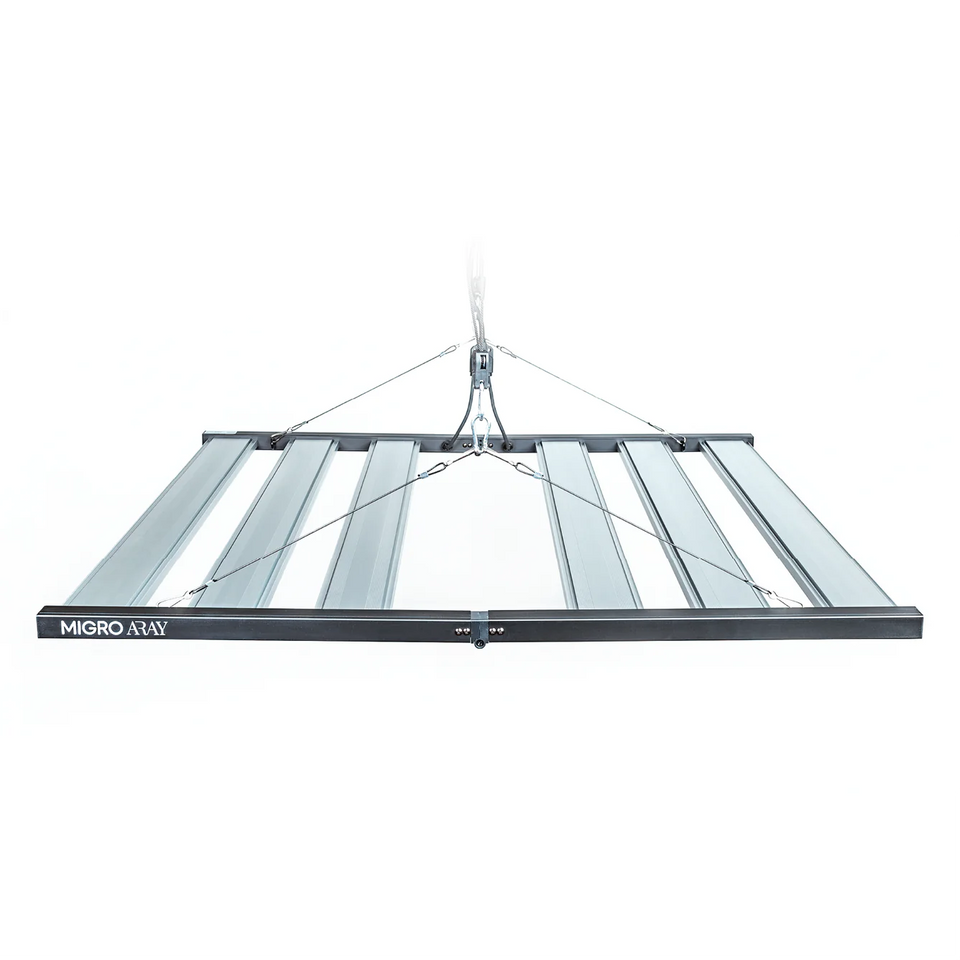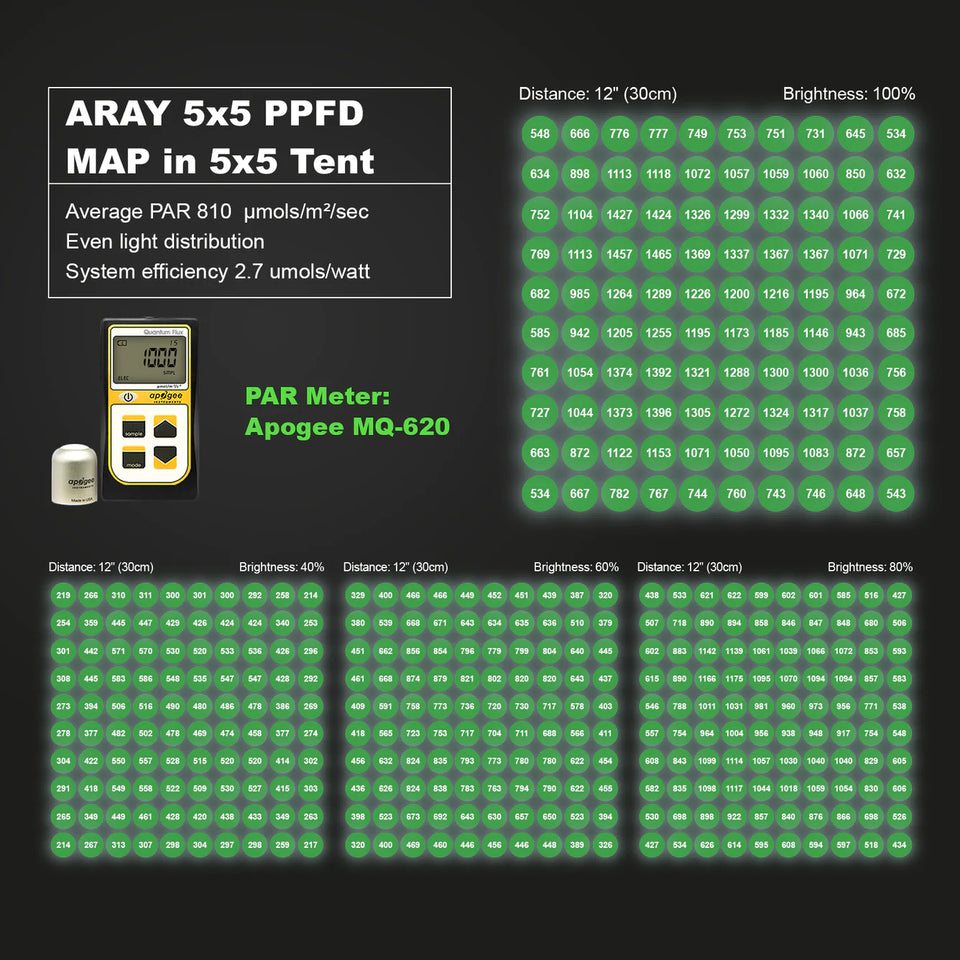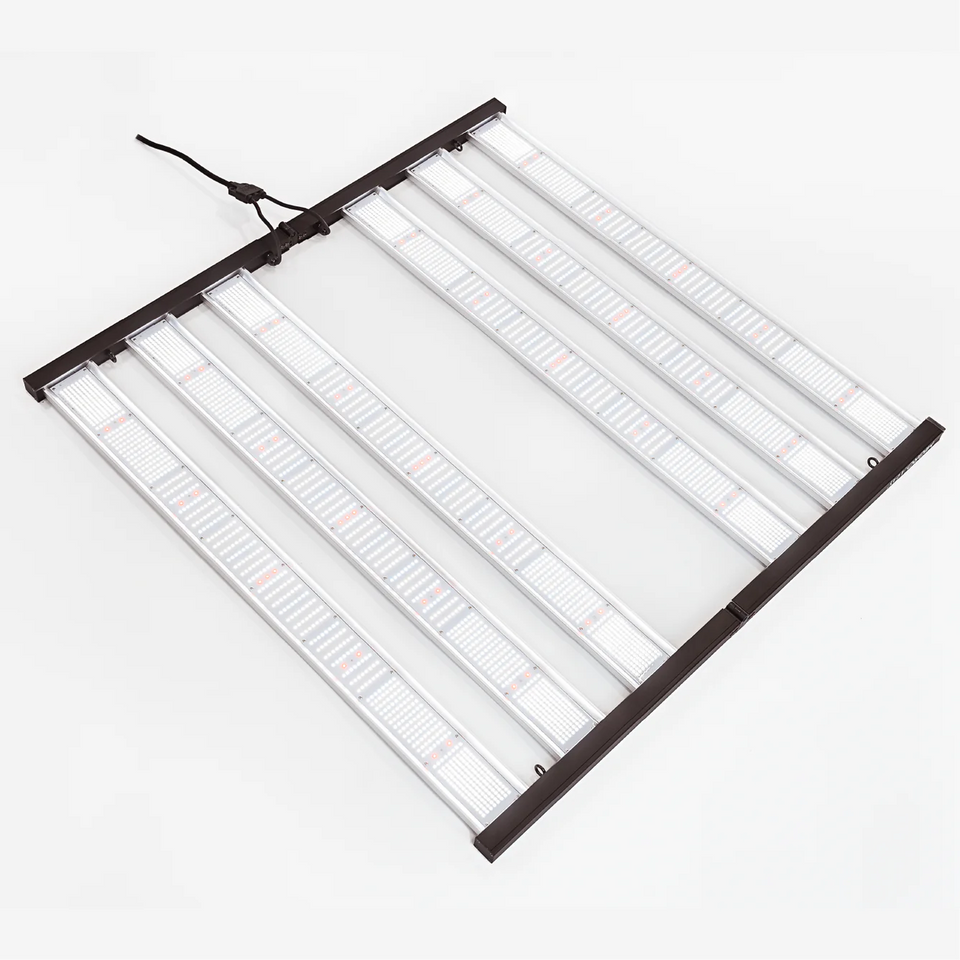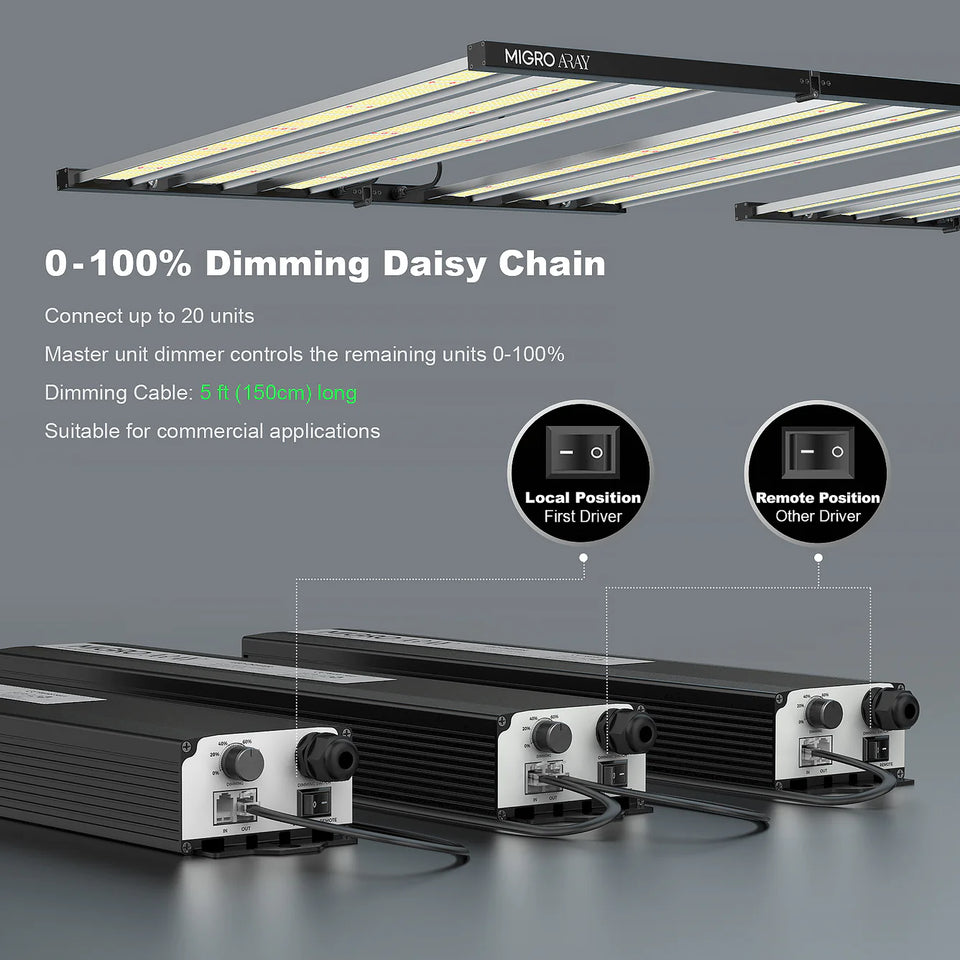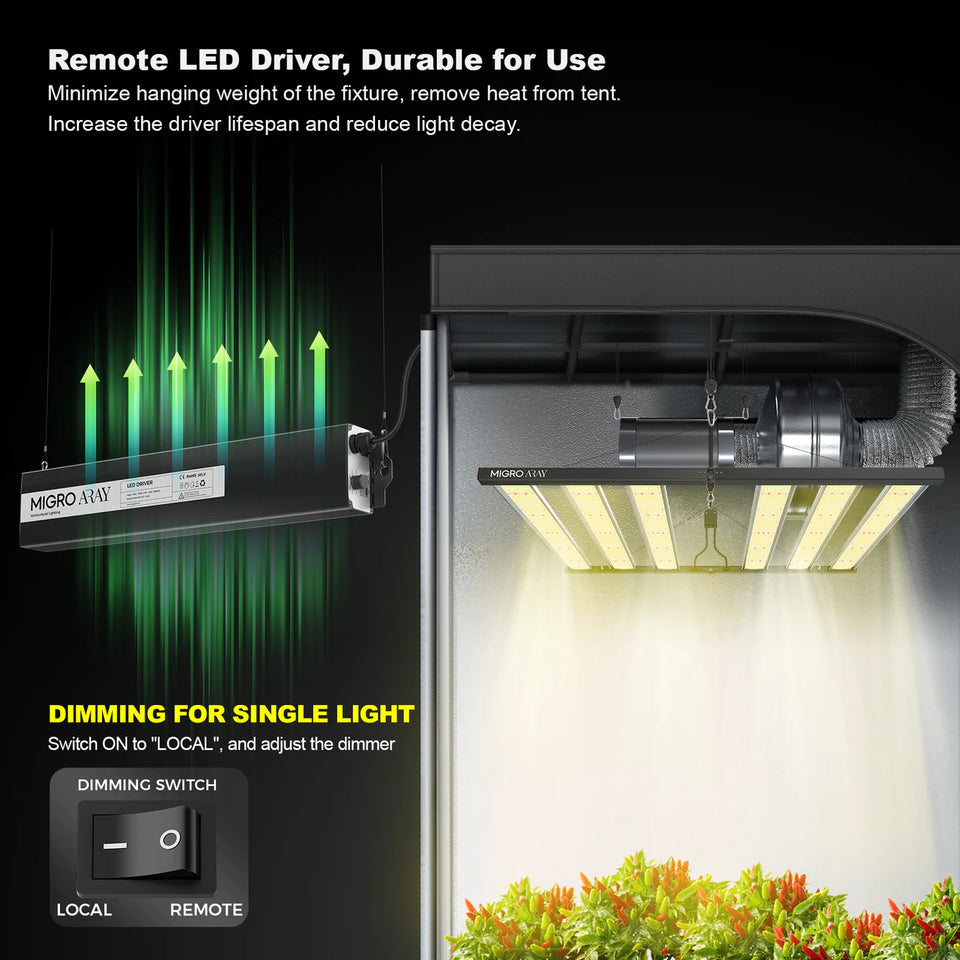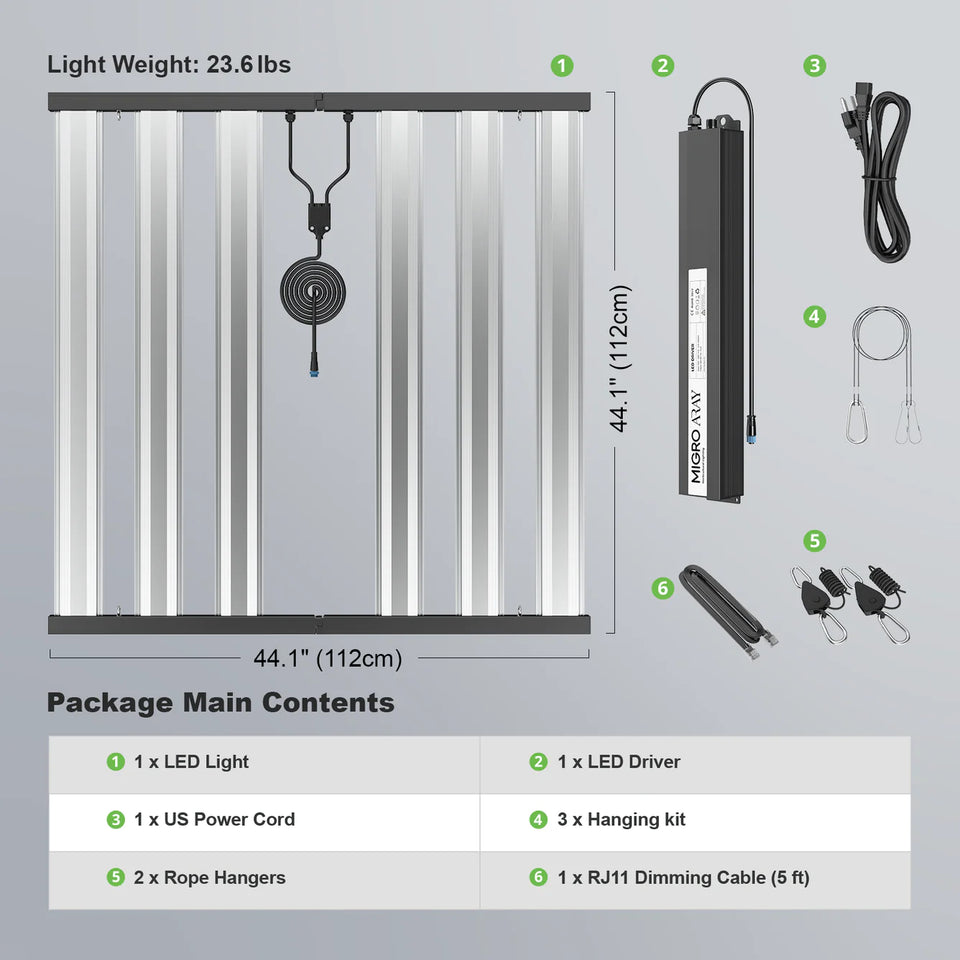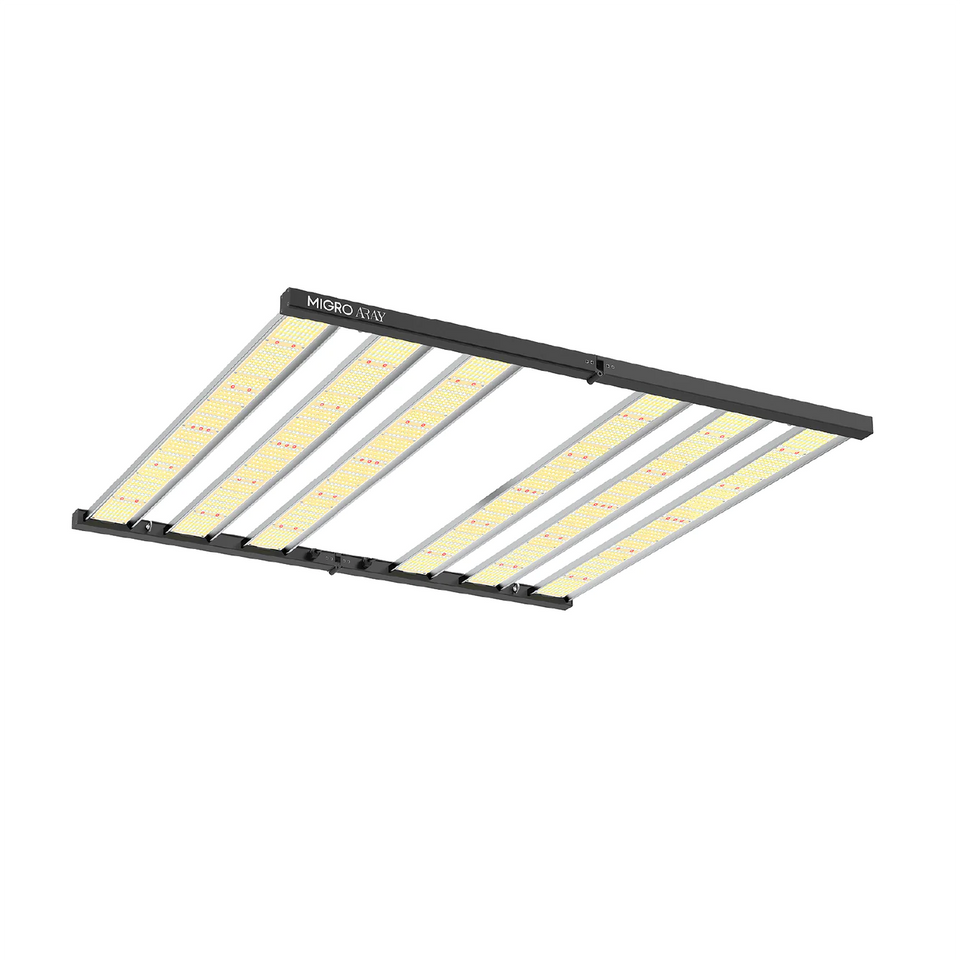 Migro Aray 5X5 LED Grow Light 750w
Introducing the fantastic new MIGRO Aray 5X5 LED Grow Light. Featuring an innovative new diode layout, a super uniform 2.7 umol output and a massive 750w driver, this newest addition to the MIGRO family offers premium build quality and a massive output. 
Top Quality Samsung Diodes
Full Spectrum Output
Free & Fast UK Delivery
New 2023 version
Super Stealthy
Massively Reduced Electricity Costs
Detachable Driver
Fully Dimmable

Osram Reds For Thick & Heavy Flowers
Daisy Chain Ready
Zero Noise
750w Power Output
50000 Hours Life
Pay As You Grow in 3 instalments with Klarna
Daily Electricity Cost £2.30

It seems like only yesterday that shane & Migro sent ripples through the LED Grow Light world with the awesome new Aray series. Well... they're are back and this time with the fantastic new MIGRO Aray 5X5. Featuring 4224 Samsung & Osram diodes over its 6 intelligently spaced light bars with all new supersized heatsinks, the MIGRO Aray 5X5 steps in as the big brother in the Aray line from Migro. And it's made quite an impression .    

Over the past few years, the MIGRO channel on Youtube has become the "go to" place for honest and impartial reviews in the murky world of LED Grow Lights. With years of experience and literally hundreds of hands on grow light reviews, Shane at MIGRO has taken his decades of expertise to develop the Aray Series, and trust us... it shows. Every little detail has been thought of. As soon as you take the Aray 5X5 out of the box, you can see why the MIGRO have quickly developed such a cult following. 

The MIGRO Aray 5X5 is strong, well made and impressively powerful. It comes compete with a fully dimmable, externally mountable 750w driver at its heart and as you'd expect from MIGRO, it's all rock solid. It weighs in at just under 11 kilos and with a body size of 112cm x 112m, the MIGRO Aray 5X5 utilises its generous 750w driver to its absolute fullest resulting in a massive, well balanced output over the entirety of its giant footprint with no light wasted whatsoever. 

Premium Components. Samsung & Osram Diodes
The MIGRO Aray 5X5 is made with only top-of-the-range parts & components and it is packed full of clever features. The first thing you'll notice is that the light bars that are much thicker than those found on most other brands. Not only does this mean that the Migro Aray 5X5 can achieve spectrum balances that other brands cannot, but it also means that the Migro Aray 5X5 runs significantly cooler too! 

Its foldable for easy storage and at the core of the MIGRO Aray 5X5 is a super efficient dimmable and controllable 750w driver which is built like a tank and looks like it will last for years. The build quality and attention to detail that has gone into developing certainly does not go unnoticed by us.  
Unlike most LED Grow Light brands, MIGRO don't shout and make bold claims about potential harvest capabilities of their lights because as we all know, so much comes down to the skills of the grower. But you can take it from us, this is a fantastic LED Grow Light that will impress even the most discerning cultivator or grow nerd. This is one for the connessiers. 

Edge To Edge Light Coverage.
The Aray 5X5 offers edge to edge coverage and its clever passive cooling technology with detachable driver means that it runs much cooler than most other brands. With a daily electricity cost of just £2.30, it's incredibly energy efficient too. 
The MIGRO Aray 5X5 utilises thicker light bars and larger heatsinks to direct unwanted heat upwards and away from your plants. This helps to maintain optimum conditions in your grow space while also avoiding heat burn to your plants. Furthermore, this lower running temperature means that growers can run their fans and extraction on much a lower setting for a quieter, more energy efficient grow. 

Full Spectrum. High PAR

The Migro Aray boasts an average PAR of 815 over a 150cm x 150cm tent and a system efficiency of 2.7 umols / watt. The spectrum has been finely tuned with a generous helping of red and a nice spike of blue for all us cultivators who demand a full spectrum, high performing LED Grow Light light that doesn't cut corners.
Detachable Driver. Cool Running & Maximum Headroom
One of our favorite features of the MIGRO Aray is the detachable driver system. Cultivators can detach the driver from the LED Grow Light itself and store it outside of the grow room. The driver has a massive 4.5 meter cable so it really can go just about anywhere. By storing the driver outside of the grow tent, growers can massively reduce grow room temperatures while also gaining the ability to control your light without entering the growspace or tent. 
So no more unneeded wear and tear on tent zips and no more disturbing your grow environment just to adjust your lights. You can do it all from outside. Easy. 
Control Is Everything
In 2023, growers want control, and the MIGRO Aray 5X5 is one of the most versatile LED Grow Lights out there. It is fully dimmable and fully controllable with fingertip precision from its premium quality control box. 
The easy access dimmer enables the cultivator to select their light output from 0% to 100% power with pinpoint accuracy. Control like this makes the MIGRO Aray 5X5 suitable throughout the entire grow cycle from tiny seedlings all the way up to juicy, heavy & dense flowers. This accurate control allows users to grow as efficiently as possible with no wasted light or excessive electricity use at all. 

The MIGRO Aray 5X5 operates with an average daily electricity cost (per 12 hour period) of around £2.30 making it one of the most cost efficient LED Grow Light solutions in the world today. With electricity efficiency like this, growers can expect to complete an 8 week flowering cycle at a cost of around £130. That's very impressive. 

 
Daisy Chain Ready. Plug & Play. Ready To Go. 
The MIGRO Aray 5X5 has a super to use simple daisy chain function too. The more keen growers amongst you can connect up to 20 fixtures together using the first in line as a master control. This is fantastic for cultivators who look to build their grow space as they go with no additional cables or equipment needed at all. Everything you need is included in the box and it all clicks together simply. And for those real grow nerds out there, its controller compatible too.

 
 
MIGRO Aray 5X5 Technical Specification
| | |
| --- | --- |
| Power | 750W |
| Input Voltage | AC 110-277V |
| Weight | 11.0 kg |
| HPS Equivalent | 1000w |
| Flower Footprint | 1.5m x 1.5m |
| Veg Footprint | 1.8m x 1.8m |
| Diodes | Samsung & Osram |
| Diode Count | 4224 |
| Size | 112cm x 112cm x 8cm |
| Spectrum | 660nm, 3000K, 5000K |
| Efficiency | 2.7 umols/J |
| Daily Electricity Cost | £2.30 |
Product includes:
MIGRO Aray 5X5 LED Grow Light
Power Cord
Detachable Driver 
Ratchet Hangers

Approximate costs of use based on 75% power for a 12 / 12 flowering cycle. 
*Calculated using the UK: Energy Price Guarantee (October 2022) electricity rate of 34.00 pence per kWh.