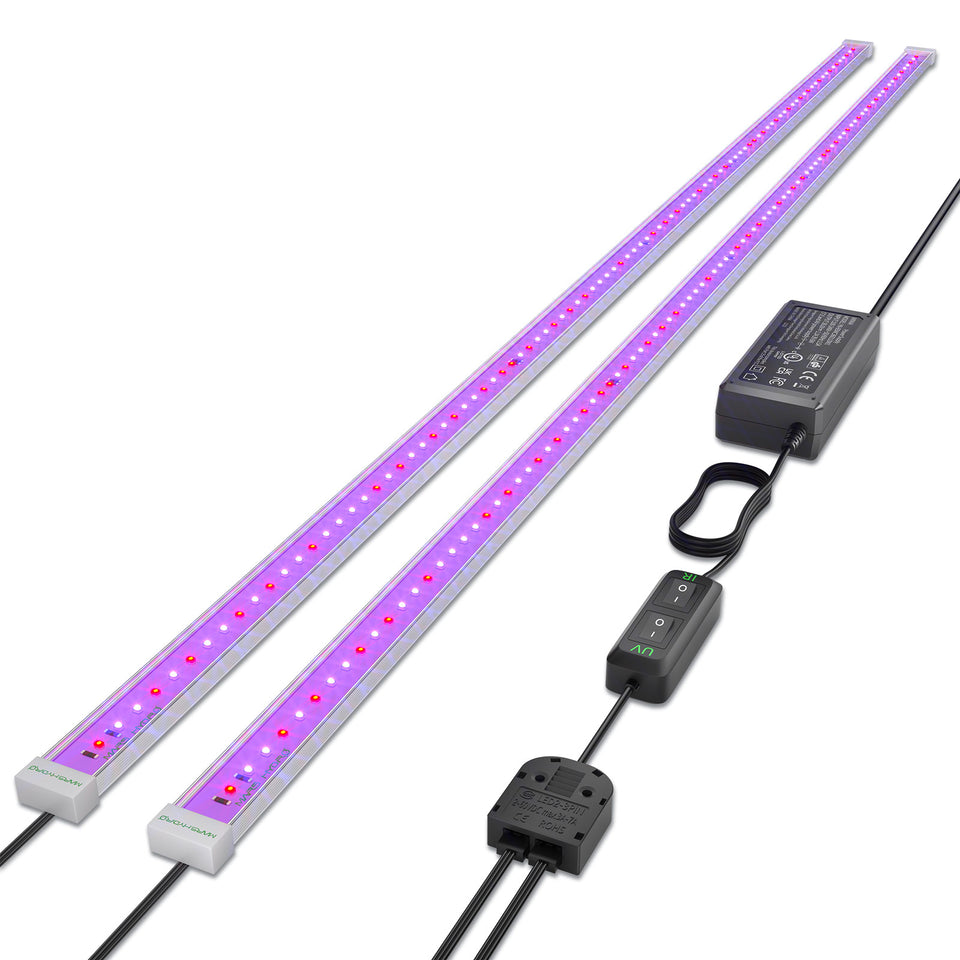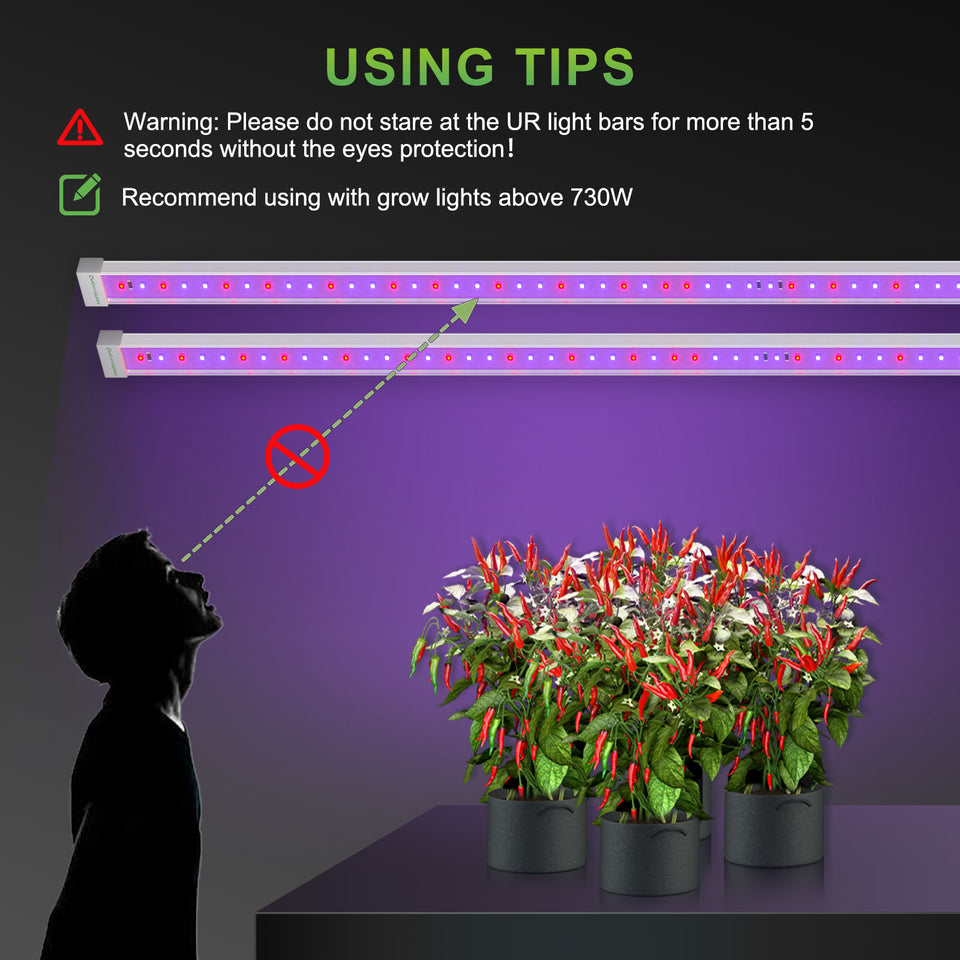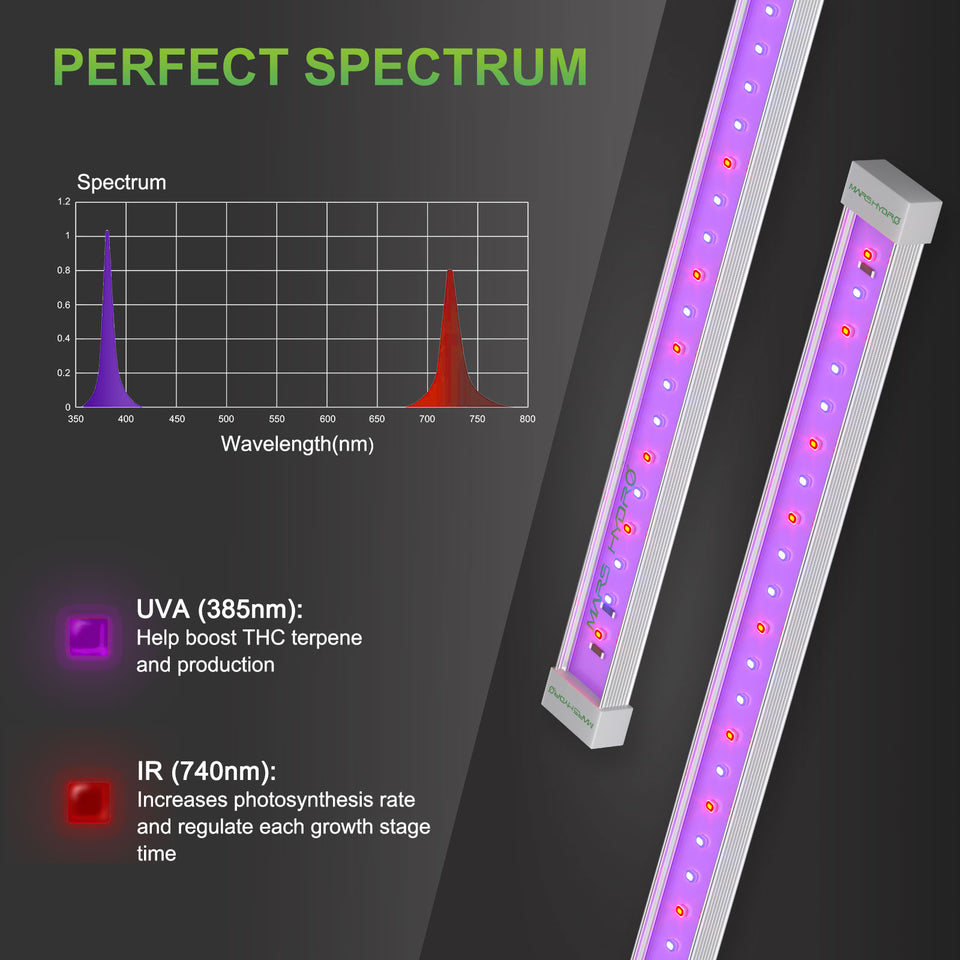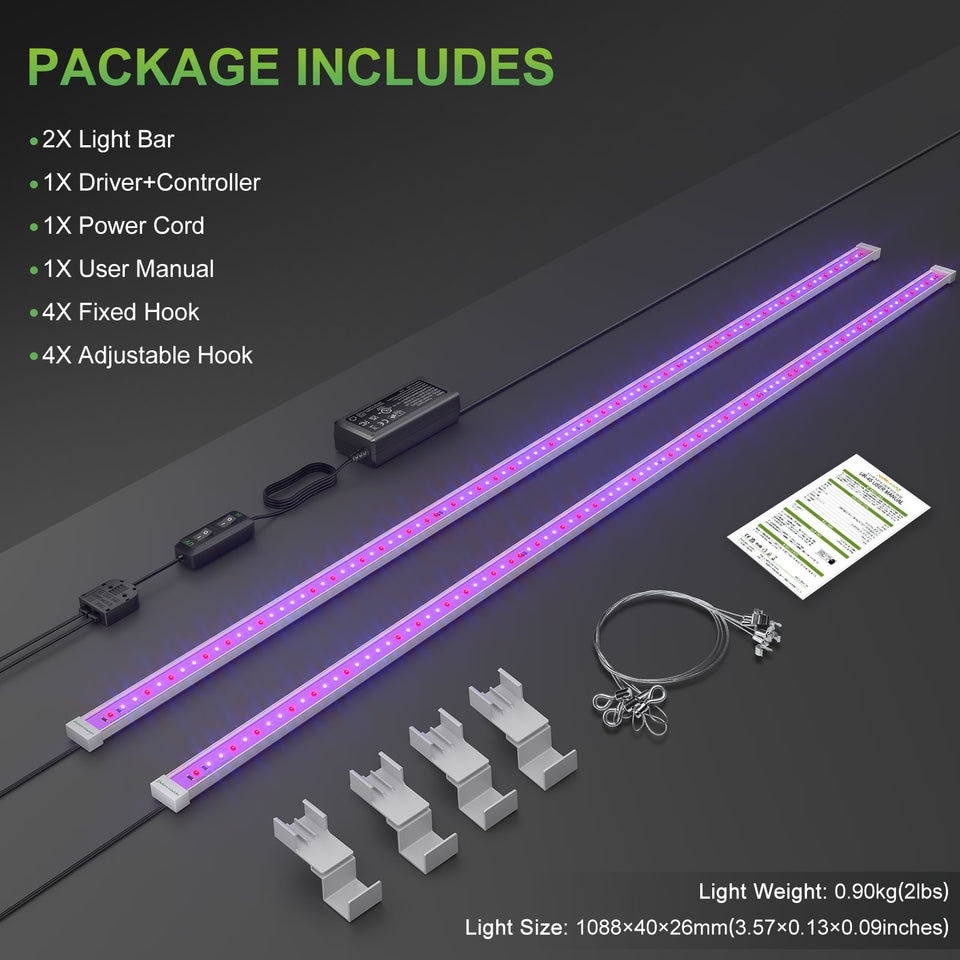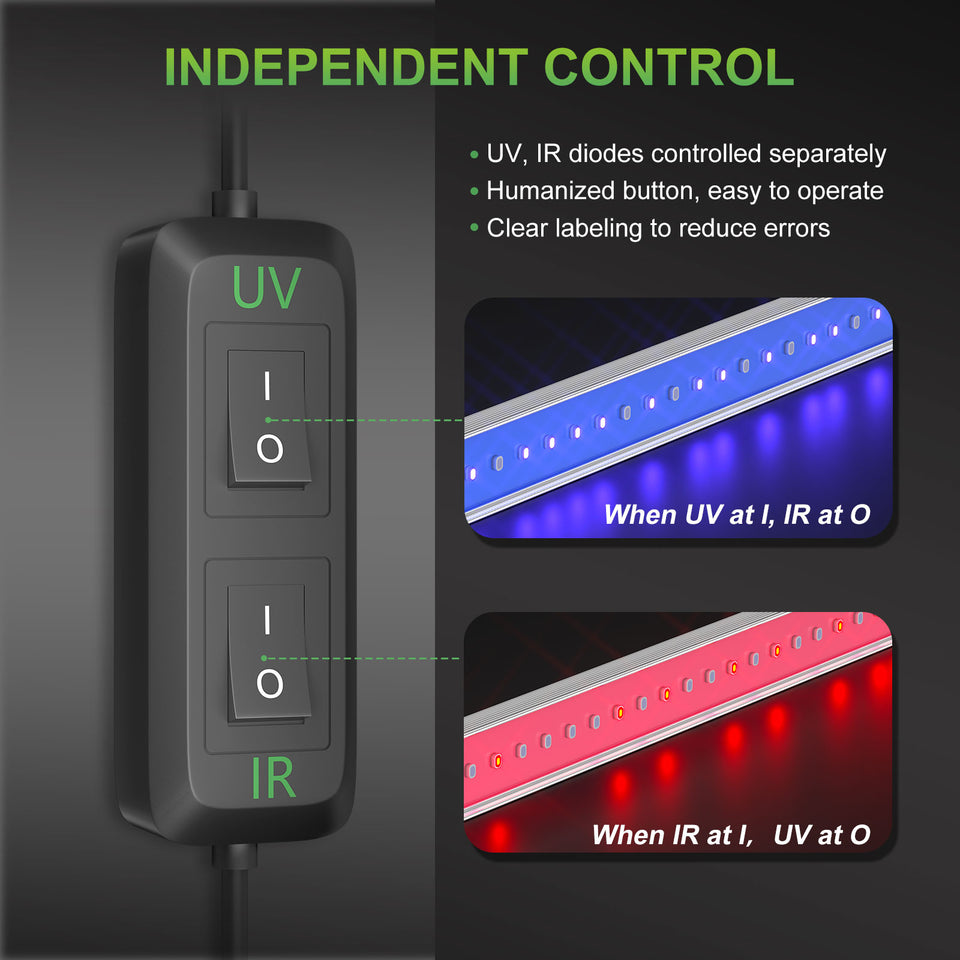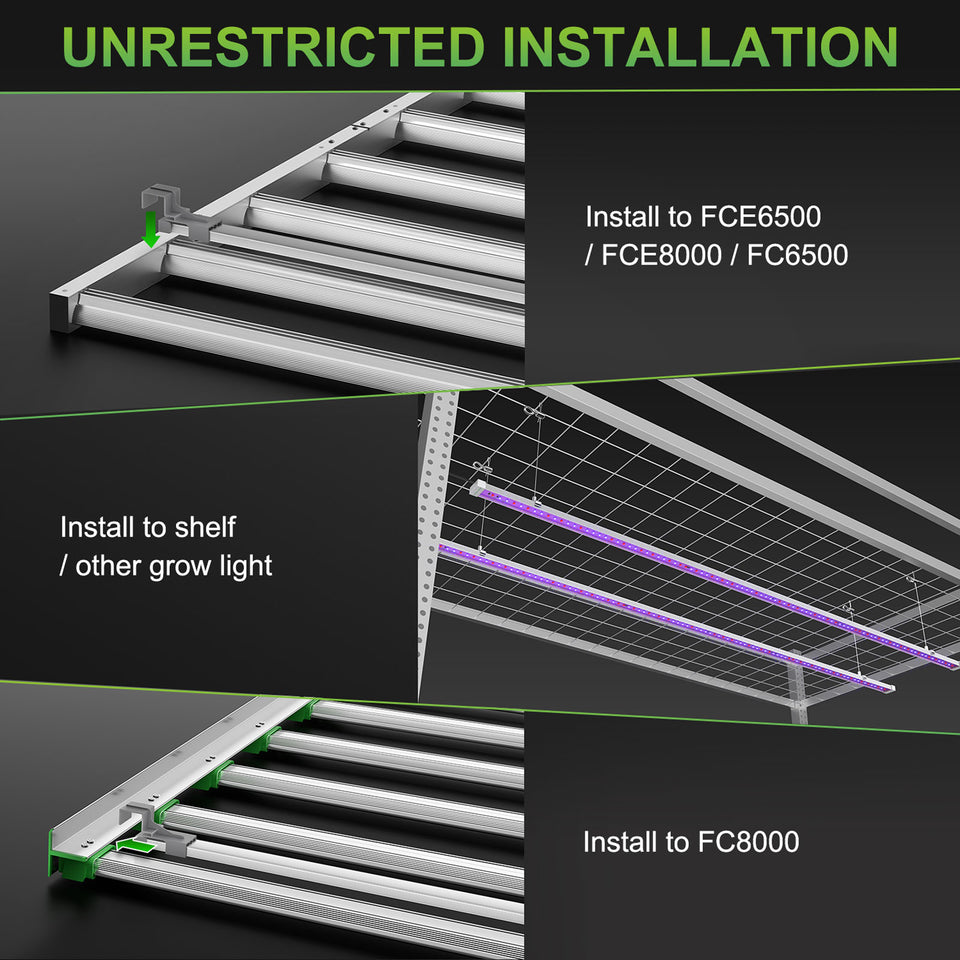 Mars Hydro UR45 UV & IR Supplemental Light Bar
New from Mars Hydro - the UR45 improves your flavours, aromas & resin production with plug and play simplicity. Easy to install, and super cheap to run - the Mars Hydro UR 45 LED Grow Light is a must have for all connoisseurs and cali flavour hunters. 
A Total of 192 Top Quality UV & IR LED Diodes

3 Year Manufacturers Warranty
Free & Fast UK Delivery
Set of 2 Light Bars
UV for Enhanced Flavours 
Plug & Play Simplicity
Super Stealthy
Massively Reduced Electricity Costs
IR Diodes For Huge Buds & Flowers
Passive Cooling
45w Power Output
Zero Noise
50000 Hours Life
Pay As You Grow in 3 instalments with Klarna
Daily Electricity Cost £0.18
The Mars Hydro UR45 supplemental LED Grow Light bar
With 192 LED diodes over its 2 bar set, the Mars Hydro UR45 boasts an impressive 45w output with an electricity cost of just a few pennies a day.  Its UV & IR array compliment any full spectrum LED Grow Light output allowing the cultivator to introduce a flavour & resin enhancing IR & UV spectra to their output. 
UV Grow Light – Ultraviolet. Ultra Yield.  
When used in combination with a full spectrum LED Grow Light, the Mars Hydro UR45 UV output will significantly increase leaf area and light interception during your plant's vegetation period. This increase in plant volume and production will enable a massive increase in your plants potential once they reach their all important flowering phase. 
Once they reach their flowering phase, the UV spectrum of the Mars Hydro UR45 really shows its worth. Once your plants receive the UV light, they will react by producing resins and oils as a natural sunblock. This results in notably more flavourful, heavy and flavourful plants without the use of nasty chemicals or boosters.
The increased biomass induced by the Mars Hydro's UR45 UV output will also vastly increase the nutritional quality of your plants resulting in significant "bulking" and added weight. 
IR Grow Light – Infrared To Regulate Plant Growth 
With 60 UV diodes and an impressive 36 IR diodes per bar, the Mars Hydro UR45 LED Grow Light does more than just enhance flavours and oils. Its deep red IR spectrum accelerates stem growth and flower density as your plants absorb its rich 730-745nm array. This makes it popular with growers of all flowering plants as the Mars Hydro UR45 IR spectrum can induce early flowering allowing bigger, stronger & heavier buds over a shorter period. Not only does this increase overall yield, but it also reduces flowering times meaning a lower electricity spend for the grower. This means that the Mars Hydro UR45 LED Grow Light pays for itself very quickly indeed.  
Control is Everything
The Mars Hydro UR45 is cleverly equipped with a switchable IR & UV control. This allows the grower to select between either UV, IR or both simultaneous arrays to suit the individual needs or their plants. This makes it hugely exciting for growers who like to experiment and to develop their flavours in a way that has previously been impossible. It is features like this that make the Mars Hydro UR45 incredibly fun to use, and it is features like this that enable flavours and resin content that have previously been impossible. This is a very special LED Grow Light for very special plants.
The Mars Hydro UR45 really is an essential for flavour hunters who like to get involved with their plants. The switchable spectrum output of the UR45 give growers control like never before. With control like this, growing isn't just about pouring nutrients and hoping for the best. The Mars Hydro UR45 allows the cultivator to have full control to push the boundaries of what is possible from a plant. 
Plug & Play. Unbox & Grow
As you'd expect from all Mars Hydro products, the Mars Hydro UR45 comes with everything you need. Complete with hanging brackets, the UR45 is hugely versatile and can be used alongside all LED Grow Light solutions. 
In summary, the Mars Hydro UR45 is a piece of equipment that no doubt has the biggest positive influence on the quality and yield of your harvest.  Gone are the days of horrible chemical boosters and flavour enhancers. The Mars Hydro uses nothing but light spectra to make your plants burst with flavour and drip with botanical resins. 

There is NOTHING that will improve your plants quite like a quality UV & IR array. With its tiny, one time price tag, the Mars Hydro UR45 is an LED Grow Light that is almost too good to be true. The pioneers over at Mars Hydro have created an incredible fixture at an astonishingly low price. The Mars Hydro UR45 comes incredibly highly recommended by our in house grow nerds at ledgrowstore.co.uk 
As with all LED Grow Lights from Mars Hydro, the UR45 ships in stealthy plain packaging with high quality hanging kit included. No messy ballasts, buzzing boxes and no trailing cables.
Ready to use out of the box in just a few minutes, the Mars Hydro UR45 is a no fuss flavour solution that is finely tuned to produce beautiful, resin rich plants with an effect that growers will notice immediately. 


Note - UV & IR light can be damaging to eyesight. Do not look directly at the light and always use eye protection. 
Mars Hydro UR45 UV & IR Technical Specification
| | |
| --- | --- |
| Power | 45W |
| Input Voltage | 100-277V |
| Weight | 0.9 kg |
| HPS Equivalent | N/A |
| Flower Footprint | 1.2m x 1.2m  |
| Veg Footprint | 1.5m x 1.5m |
| Diodes | Bridgelux & Osram IR |
| Diode Count | 192 |
| Size | 108cm x 4cm x 3cm |
| Spectrum | 384-410nm, 730-740nm,   |
| Efficiency | AAA+ |
| Daily Electricity Cost | £0.18 |
Product includes:
Mars Hydro UR45 LED Grow Light
Power Cord
Power Supply
IR / UV Toggle Switch
Wire Hangers

Approximate costs of use based on 100% power for a 12 / 12 flowering cycle. 

*Calculated using the UK: Energy Price Guarantee (October 2022) electricity rate of 34.00 pence per kWh.