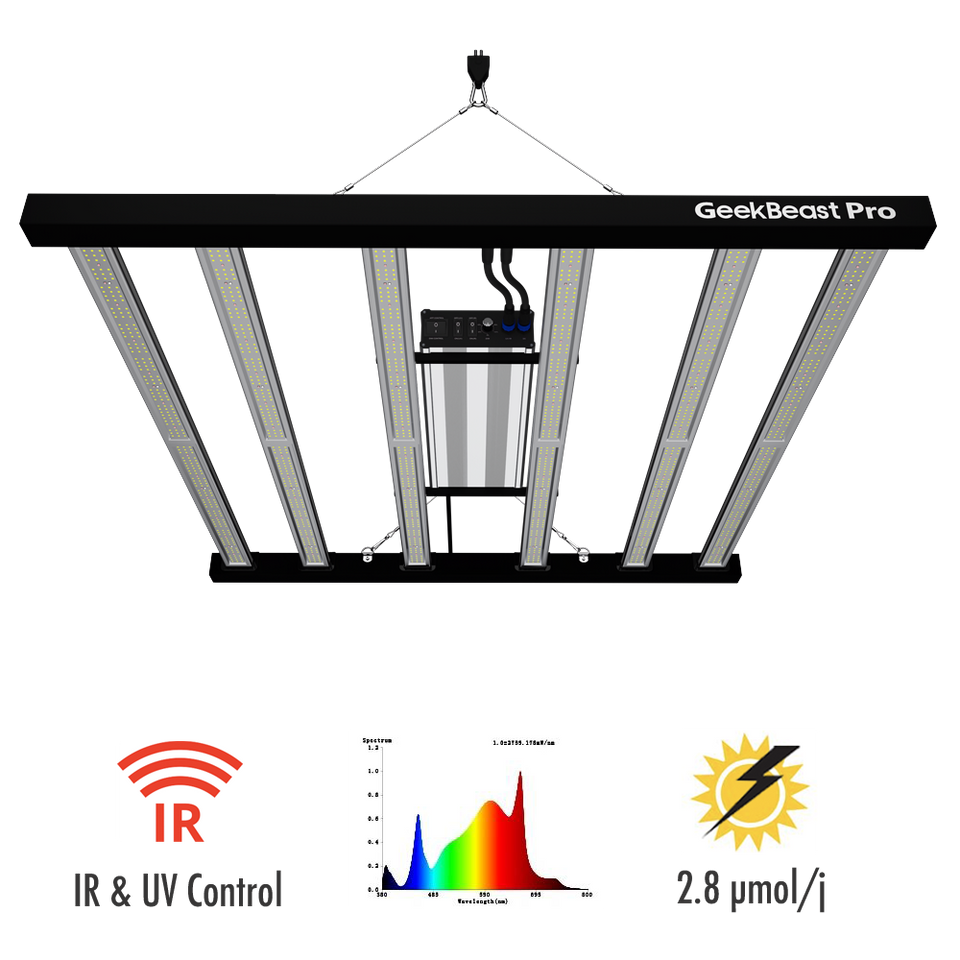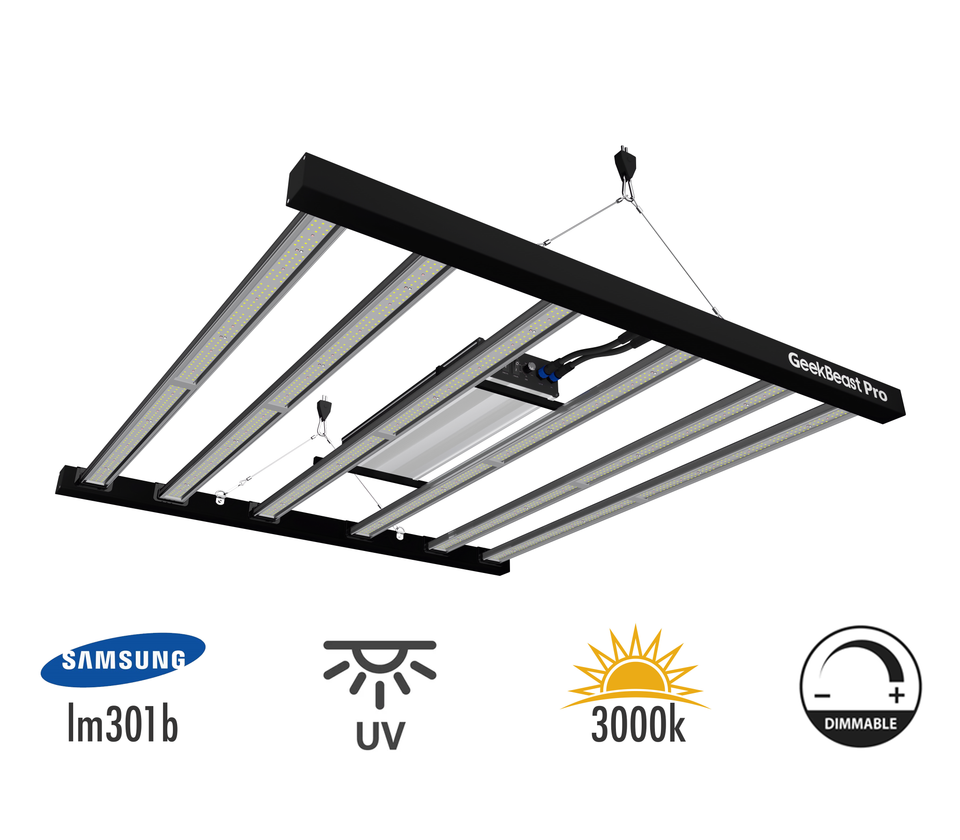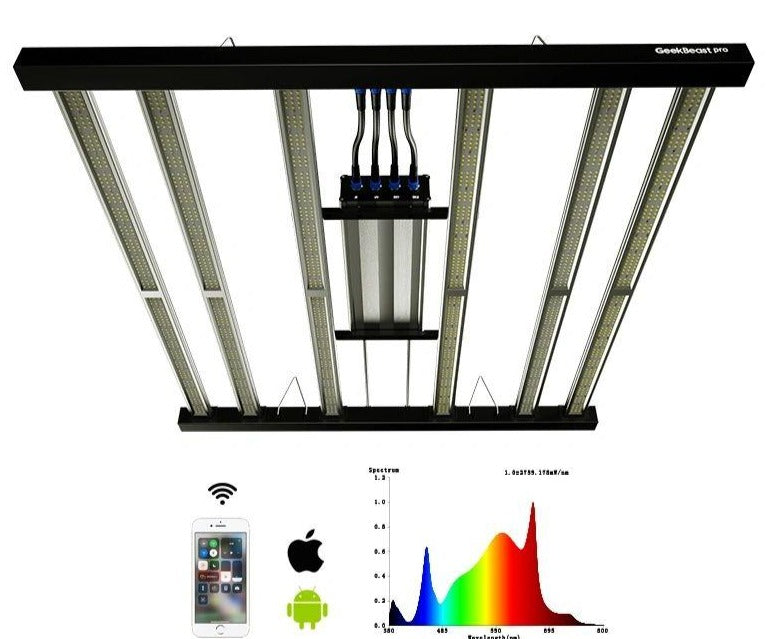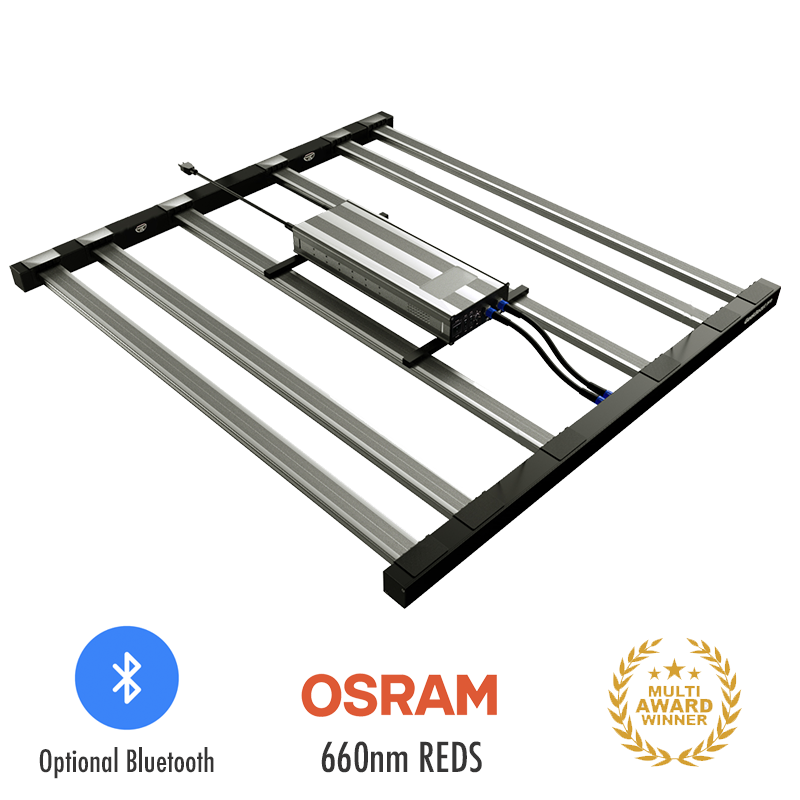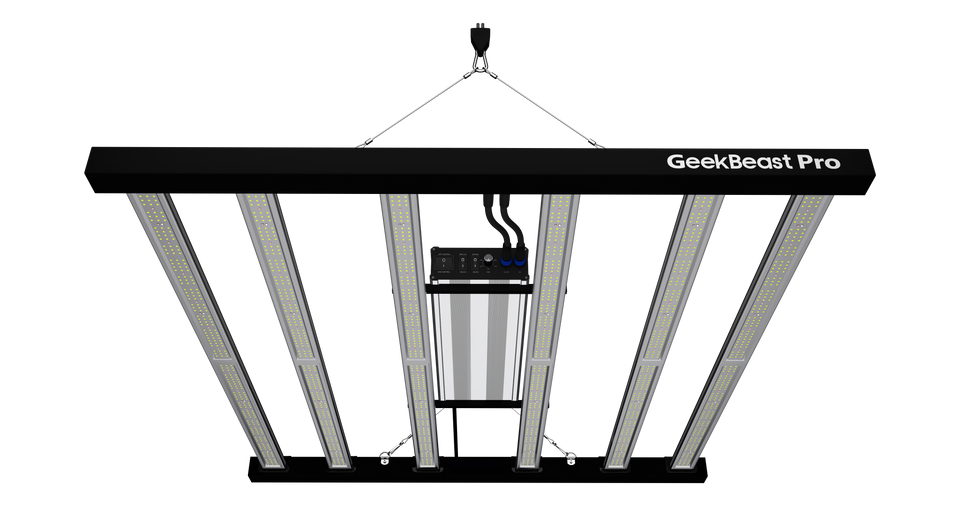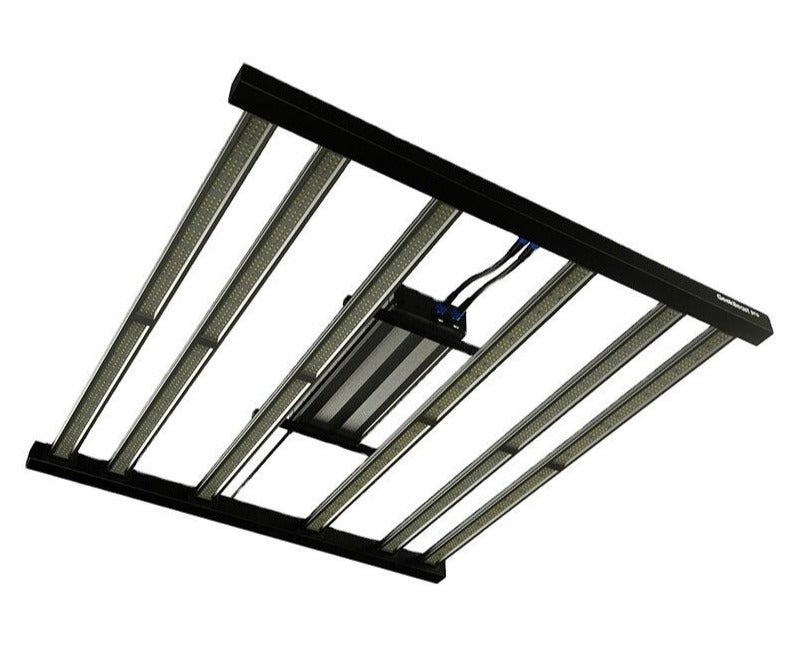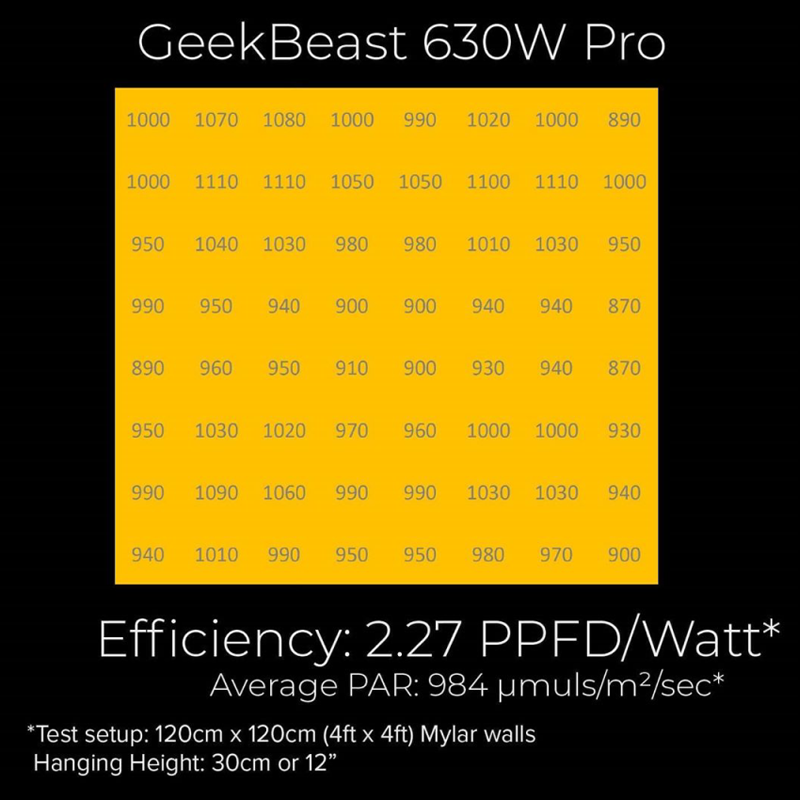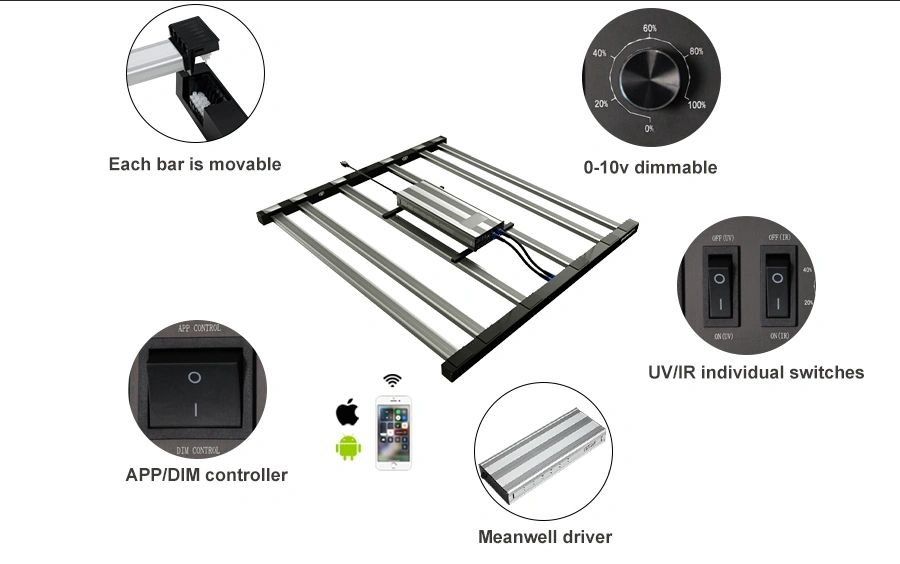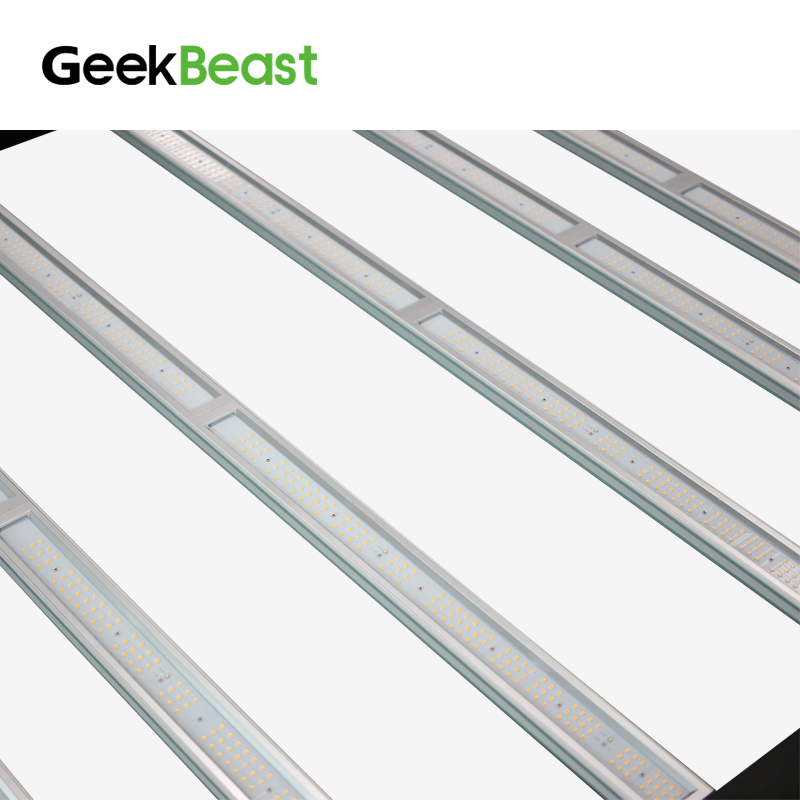 GeekBeast Pro 630w LED Grow Light
Sometimes companies push the boundaries. And sometimes they absolutely f*cking smash them. Behold the incredible Geekbeast Pro 630w from Geeklight! Our favorite LED Grow Light.
Top Quality Diodes
Full Spectrum
Free Next Day UK Delivery
The Absolute Most Powerful In Its Class
Fully Dimmable
Massively Reduced Electricity Costs
Bluetooth Controllable (sold separately) 
2.8umol/j Efficiency
Independent IR & UV switches

Osram Reds for enhanced Chlorophyll a & b
For Expert & Craft Growers
5 Year Warranty
60000 Hours Life
Pay As You Grow in 3 instalments with Klarna
Daily Electricity Cost of £1.93

The GeekBeast truly is the Rolls Royce of LED Grow Lights. Its beautifully made, incredibly powerful & packed full of innovative features making it a clear favourite amongst professional & craft growers alike. 
With a spectacular 630w array of Samsung diodes & fully controllable IR and UV spectrums - the Geekbeast LED Grow Light leads the market with an incredible 2.8umol/ efficiency.
The GeekBeast is the only LED Grow light in its class to offer independent control of IR and UV Light. This gives the grower control like never before and opens new doors to perfect the flavour and aroma of your favourite plants. 
Its vast mixture of diodes is a unique array of premium LED chips from Samsung, Seoul and Osram result in a breathtaking full spectrum output of 174.74 umols PPF.
This very special LED Grow Light is tuned to 3500k output so it is suitable throughout the entirety of the grow cycle, and its duel independent UV & IR switches mean that growers can give it a little dose of UV towards the end of flower. Just how us geeks like it!

A little UV goes a long way. Under our tests we've noticed a significant increase in flower size, flavour, aroma and botanical development with just 1 hour of UV during week 6 to 8 of flower. This really is a masterpiece of a light for advanced growers who like to push the boundaries of what can be expect from a plant. 
With each of its passively cooled light bars are equipped with 252 x Samsung LM301h Diodes, 12 x Osram 66nm Red Diodes, 4 x Osram 73nm IR Diodes and 4 x LG 385nm UV diodes combining to make a whopping 1632 premium quality diodes over its massive footprint. 
The light can be controlled by Bluetooth (control box sold separately) and daisy chaining is a doddle with the ability to link up to 100 units. The fixture is robust and incredibly well made.
The Geekbeast from GeekLight is passively cooled and has no moving parts which means that it is silent in operation and has a much longer lifespan than older style lights and with an electricity cost of less than £2 per day - this LED Grow Light pays for itself very quickly indeed. 
The driver is removable and can be stored outside of the grow area to really keep those temperatures low. It has an enormous footprint of 5' x 5' so this is no hobby light. This is one for the geeks! 
It features a fully dimmable Mean Well Driver for ultimate control and its adjustable spectrum is a market first to afford growers control over their spectrum like never before.

This is no mass produced cheap and cheerful LED Grow Light. They are made in small batches and each unit is made with love.
An exceptional light for exceptional plants, The GeekBeast from Geek Light has quickly earned its reputation amongst connoisseur and craft growers. Its the best of the best.   
The Geek Beast boasts 6 high quality LED Light Bars with passive heatsink so its remarkably cool and doesn't put out any hotspots.


The team at Geek Light use high-quality protective cable covers and premium components meaning the light lasts much longer than competitors. It even comes with a 5 year warranty for complete peace of mind. 
The Geek Beast ships in stealthy plain packaging. Ready to use out of the box in just a few minutes with minimal assembly. No trailing wires and no messy ballasts. Just pure performance. 
| | |
| --- | --- |
| Power | 630W |
| HPS Equivalence | 1200w |
| Weight | 17 kg |
| Lifetime Hours | 60,000 |
| Diodes | Samsung LM301b, LG UV, Osram IR  |
| Size | 120cm x 110cm x 10cm |
| Flower Footprint | 1.6m x 1.6m |
| Veg Footprint | 1.9m x 1.9m |
| Spectrum | Full Spectrum |
| Efficiency | 2.8 umols/J |
| Running Cost Per Day | £1.93 |
Product includes:
Geek Light GeekBeast LED Grow light
UK Plug
User Manual
Approximate costs of use based on 75% power for a 12 / 12 flowering cycle. 
*Calculated using the UK: Energy Price Guarantee (October 2022) electricity rate of 34.00 pence per kWh.