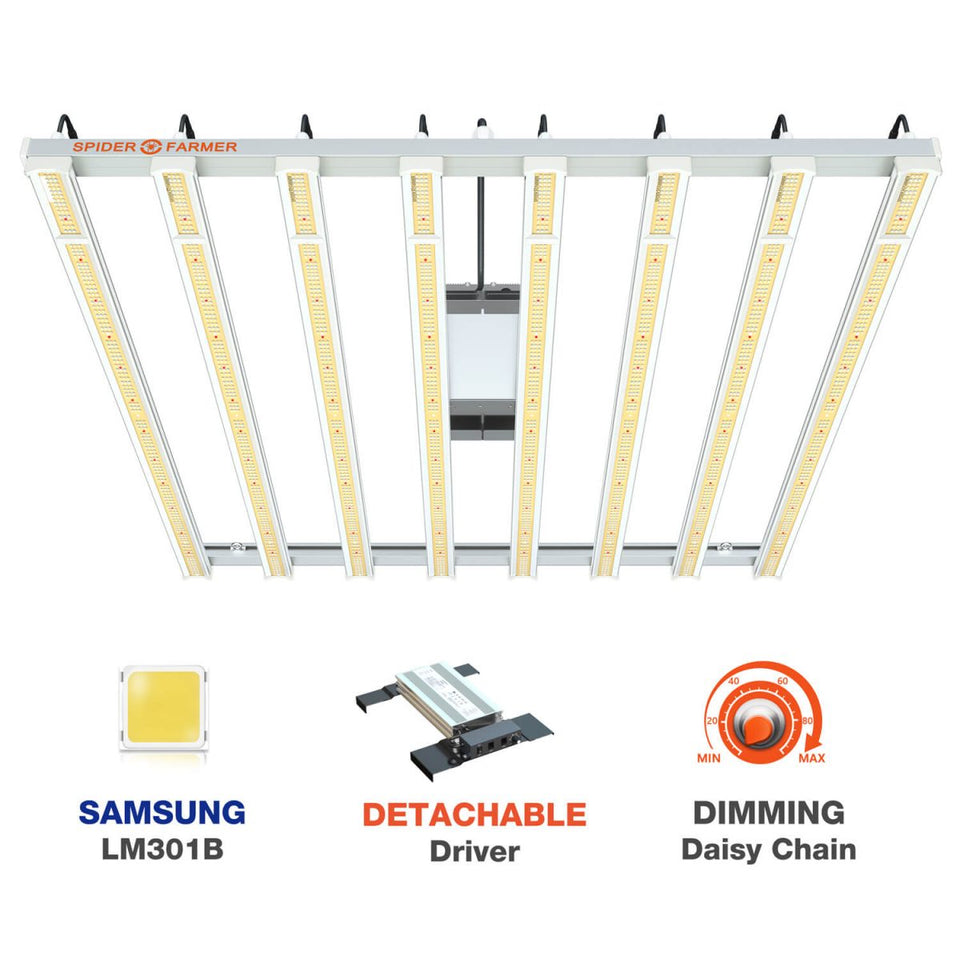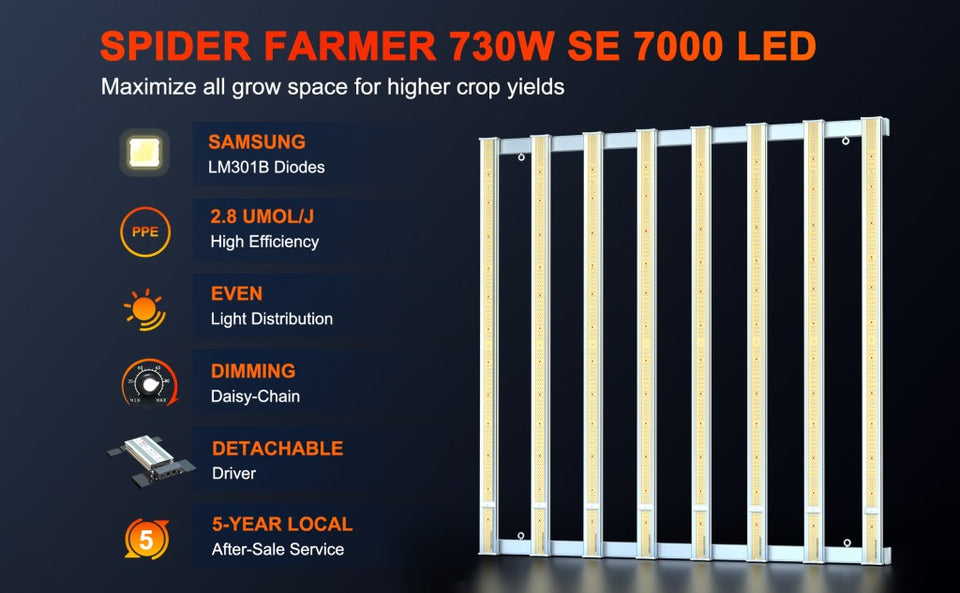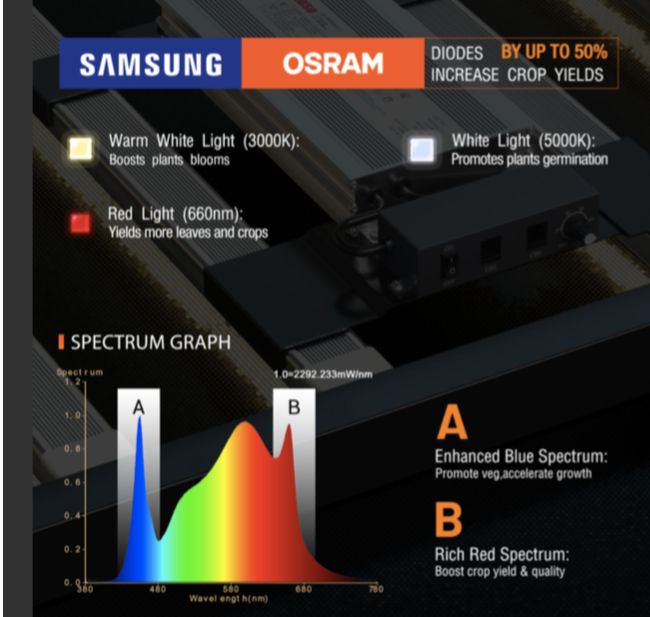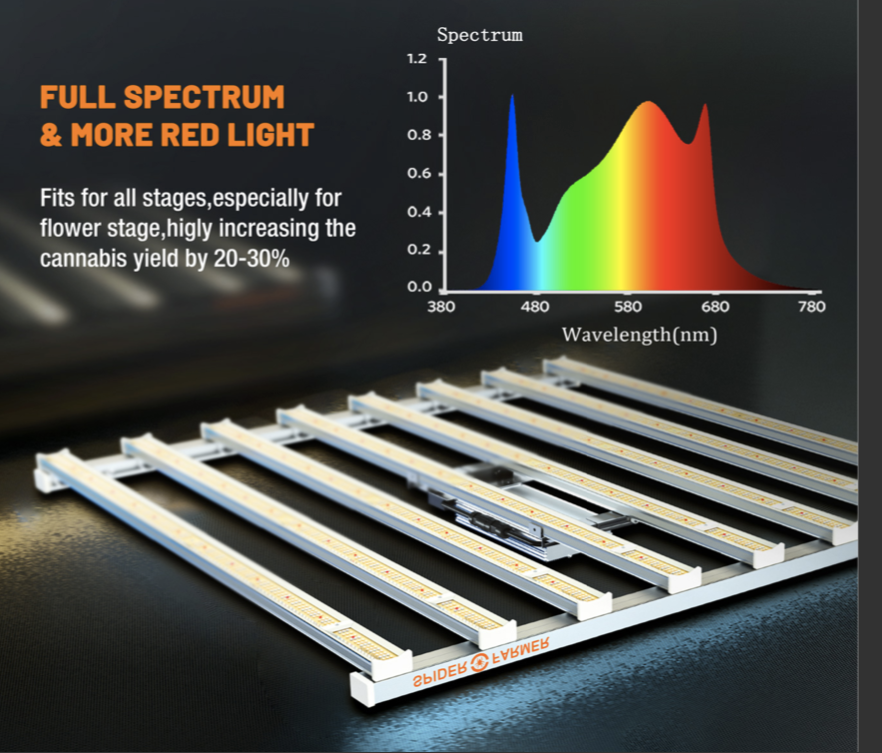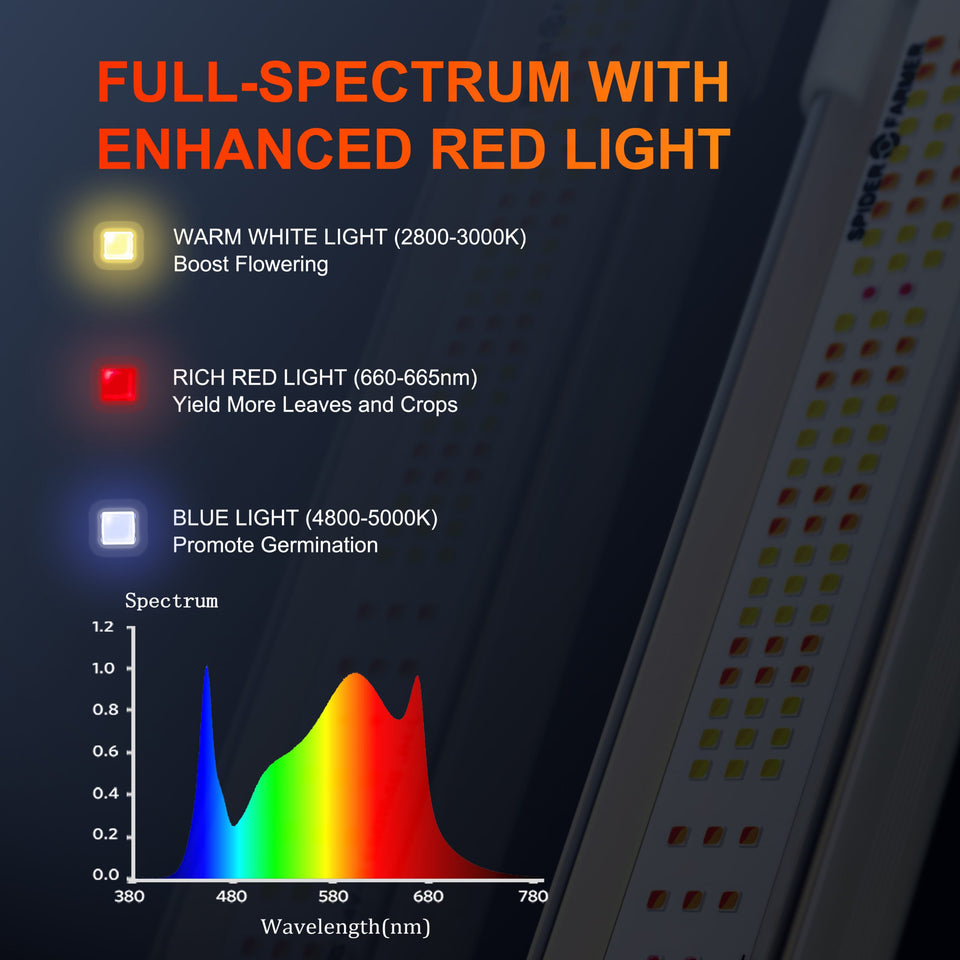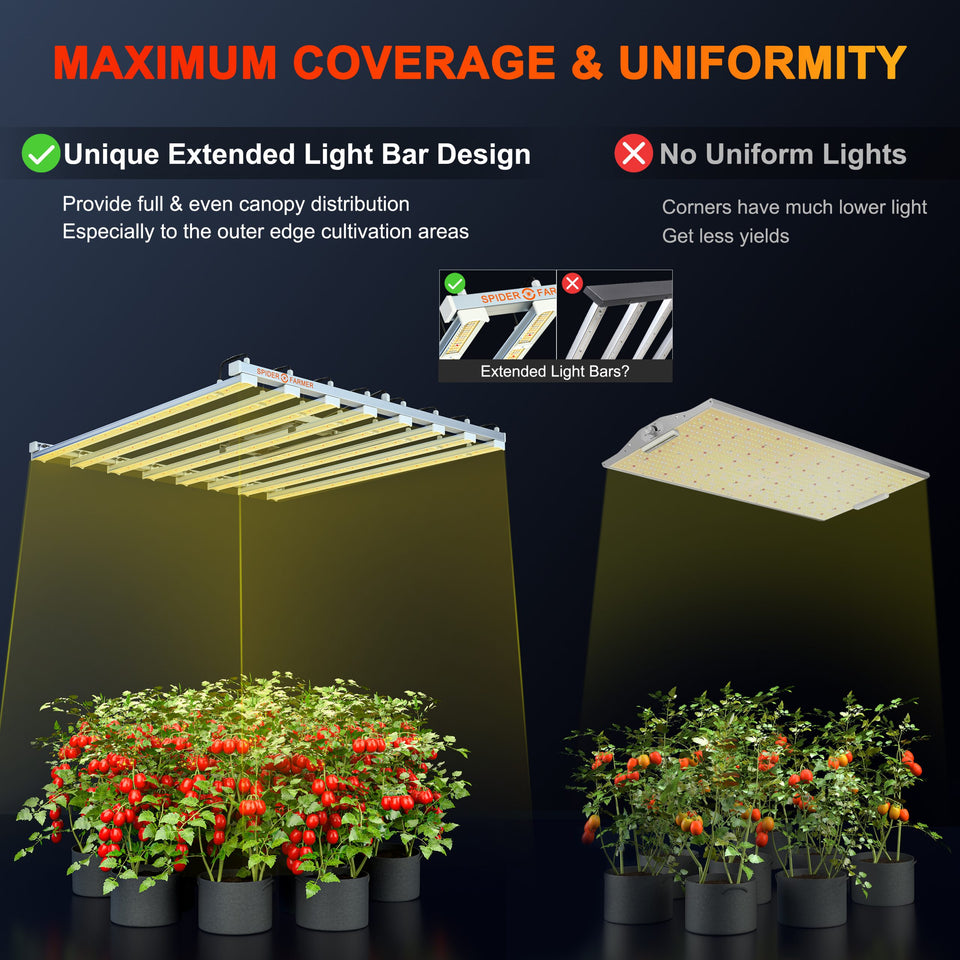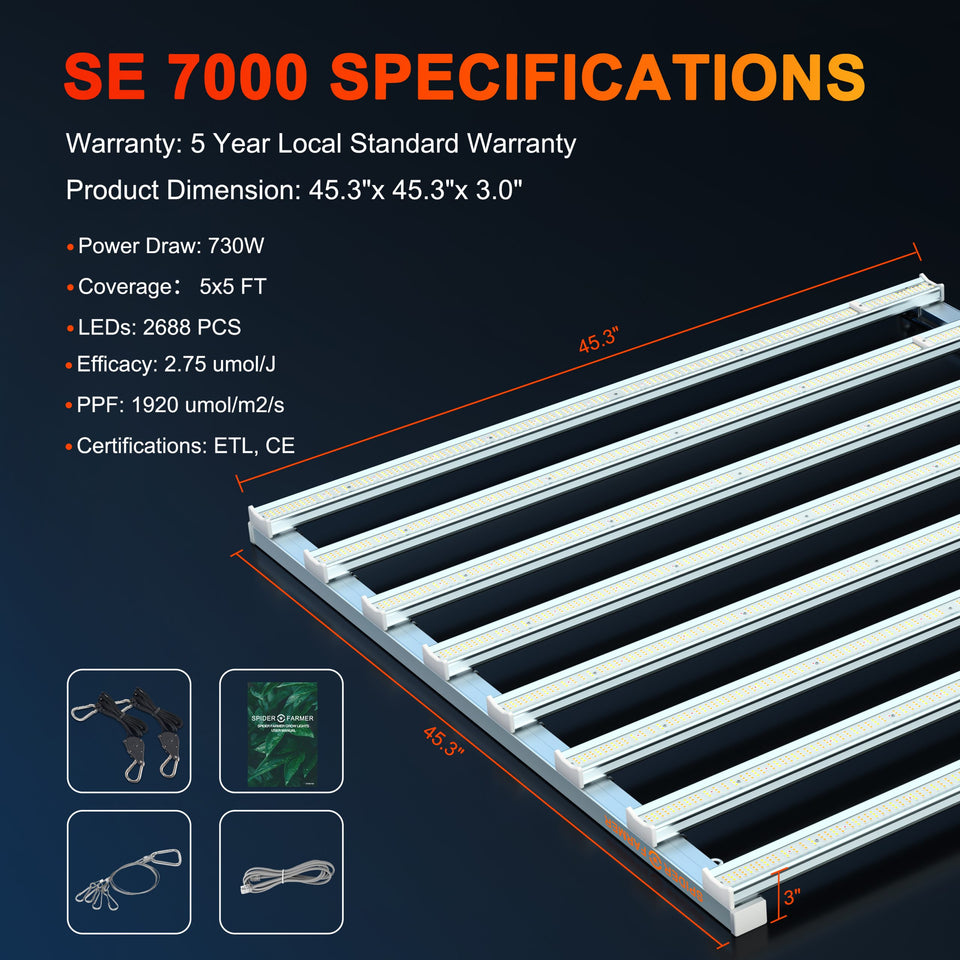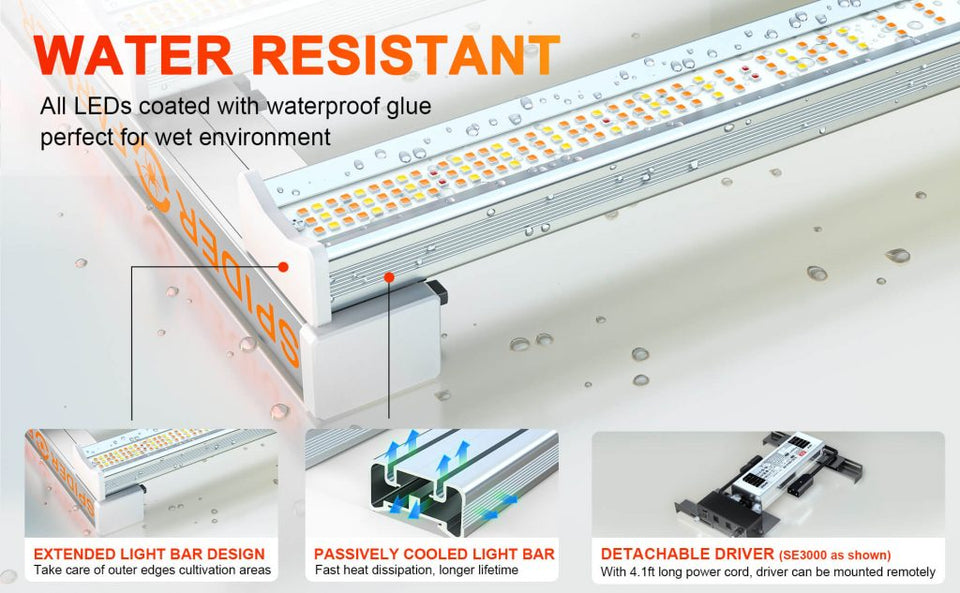 Spider Farmer SE7000 730W LED Grow Light
Fresh from the LED Grow Light experts and n

ow boasting a monstrous 730w over 2600 LEDs, the Spider Farmer SE7000 raises the bar once again. W

ith the SE7000, Spider Farmer truly raise the standards of what can be expected from your plants. 
Top Quality Samsung Diodes
Full Spectrum
New 2023 Version
Super Stealthy
For Dense & Heavy Flowers
Fully Dimmable
Massively Reduced Electricity Costs
IR & Red Diode Upgrades
Zero Noise
Massive 730w Power Output
50000 Hours Life
Free UK Delivery
Pay As You Grow in 3 instalments with Klarna
Daily Electricity Cost £2.23

A uniform distribution of Samsung & Osram diodes create a full spectrum output to bathe your canopy in exactly the light they need. And with a 94% efficient Inventronics Driver - it doesn't waste any power on the spectrums that they don't.

With its pin point accuracy and innovative engineering - this unit leaves all old HPS style lights in the dust. With electricity costs of less than £2.25 per day, this LED Grow Light is an investment for any grow room that pays for itself in a matter of weeks.  

This upgraded version is lighter and brighter than before and now boasts a deep IR diode for improved flavours and enhanced resin production in your plants. 

It has a detachable driver, an improved light spread and its improved efficiency means it runs slightly cooler than before too. So that's great news for small space growers or anyone struggling with high temperatures.

Spider Farmer's innovative design and advancement in LED technology has produced a high powered LED grow light with passive convection cooling. 

These fanless designs have no moving parts which makes the SE range extremely robust and incredibly long lasting.
The Spider Farmer SE7000 has a natural looking light spectrum and zero noise operation, so its super stealthy with no telltale purple glow or HPS glare.

The driver is fully detachable too so it can be stored outside of the tent. This means much lower temperatures and more environmental control for the grower. 

Its fully dimmable and can be daisy chained in rows of up to 15 lights. Say goodbye to burned tips and blistering canopy temperatures.

This amazing light changes the game and gives the grower a level of control like never before. The Spider Farmer SE range is yet another giant leap forward in grow room technology.   

The Spider Farmer SE7000 is waterproof, well engineered and doesn't put out a tremendous amount of heat.


Spider Farmer use high-quality protective cable covers and premium components meaning the light lasts much longer than competitors. 

The SE7000 ships in 100% stealthy plain packaging with high quality hanging kit included. 

Ready to use out of the box in just a few minutes. No trailing wires and no messy ballasts. Just pure performance. 


Spider Farmer SE7000 Technical Specification
| | |
| --- | --- |
| Power | 730W |
| Input Voltage | AC 220-240V |
| Weight | 12.1 kg |
| HPS Equivalent | 1000w |
| Flower Footprint | 1.5m x 1.5m |
| Veg Footprint | 2.0m x 2.0m |
| Diodes | Samsung LM301B & Osram Red |
| Diode Count | 2600 |
| Size | 116cm x 116cm x 8cm |
| Spectrum | 660nm, 3200-4200K, 4800k |
| Efficiency | 2.8 umols/J |
| PPF | 1920 |
| Daily Electricity Cost  | £2.23 |

Product includes:
Spider Farmer SE7000 730w LED Grow light
Power Cord
User Manual
Wire Hangers
Ratchet Hangers
Approximate costs of use based on 75% power for a 12 / 12 flowering cycle. 

*Calculated using the UK: Energy Price Guarantee (October 2022) electricity rate of 34.00 pence per kWh.