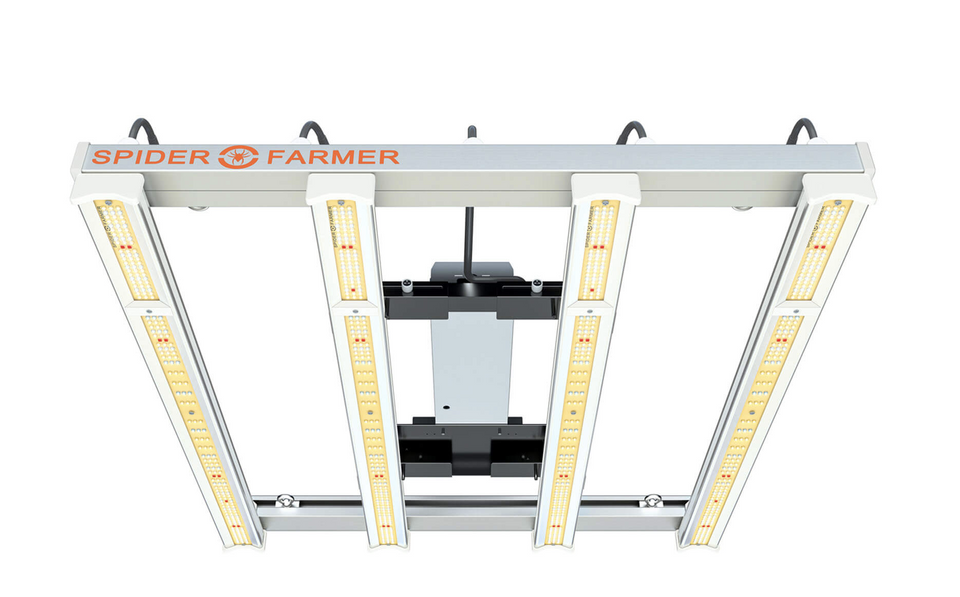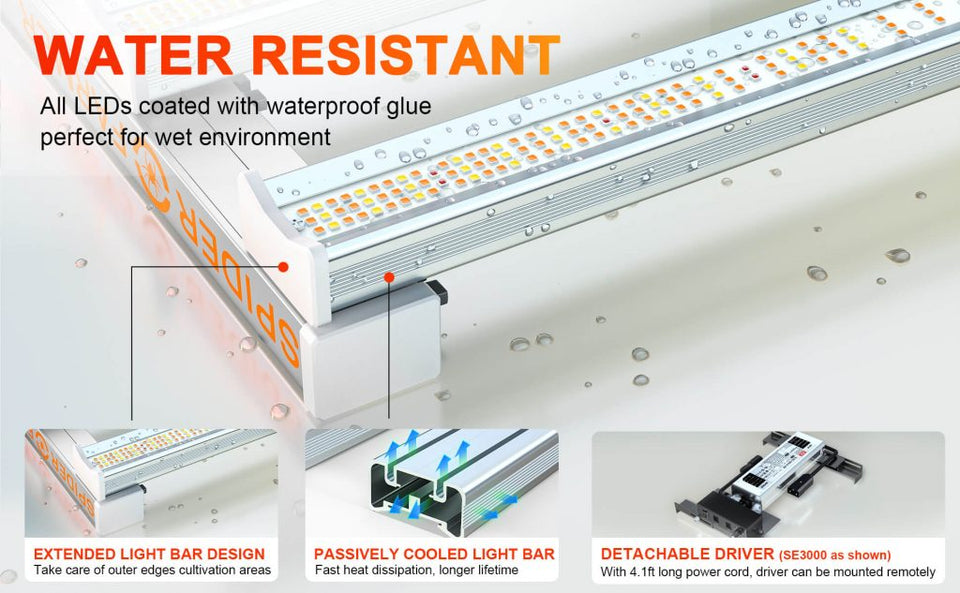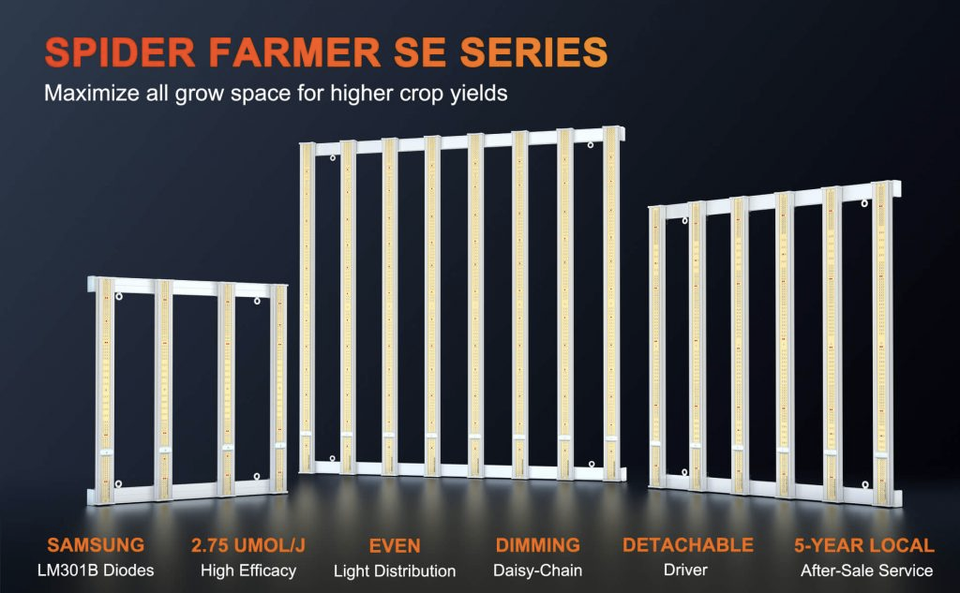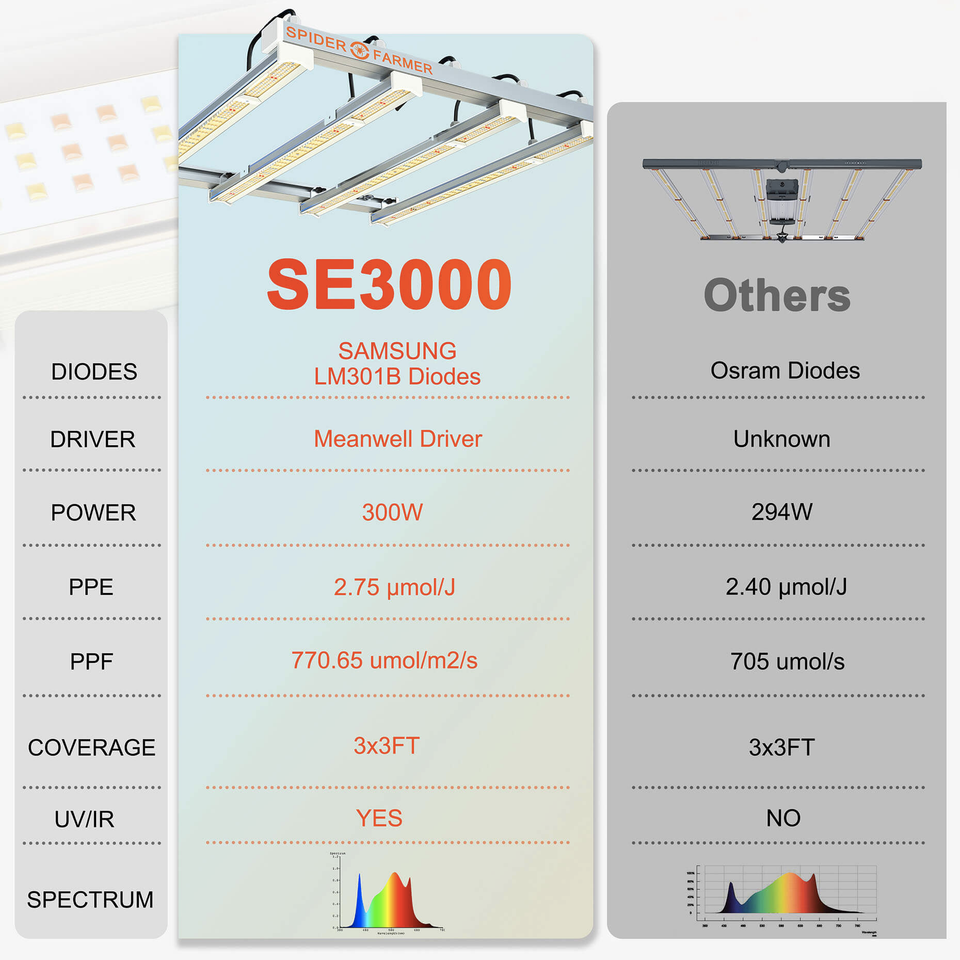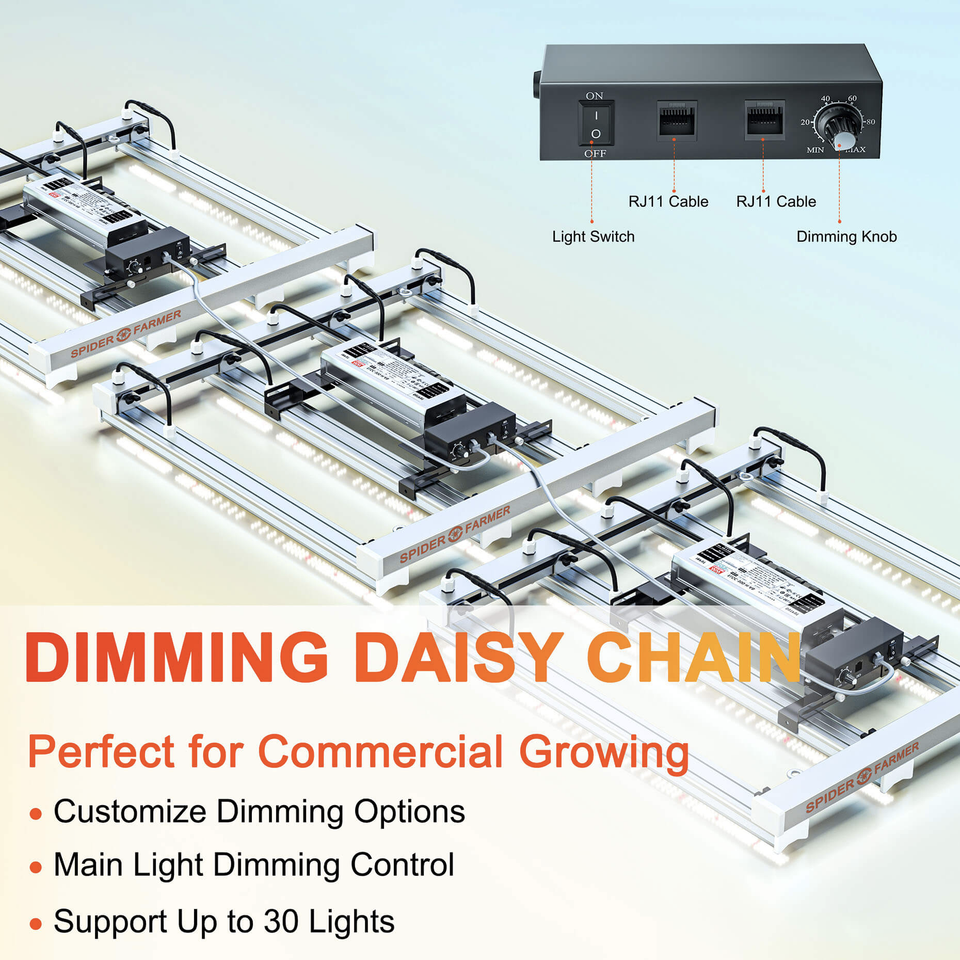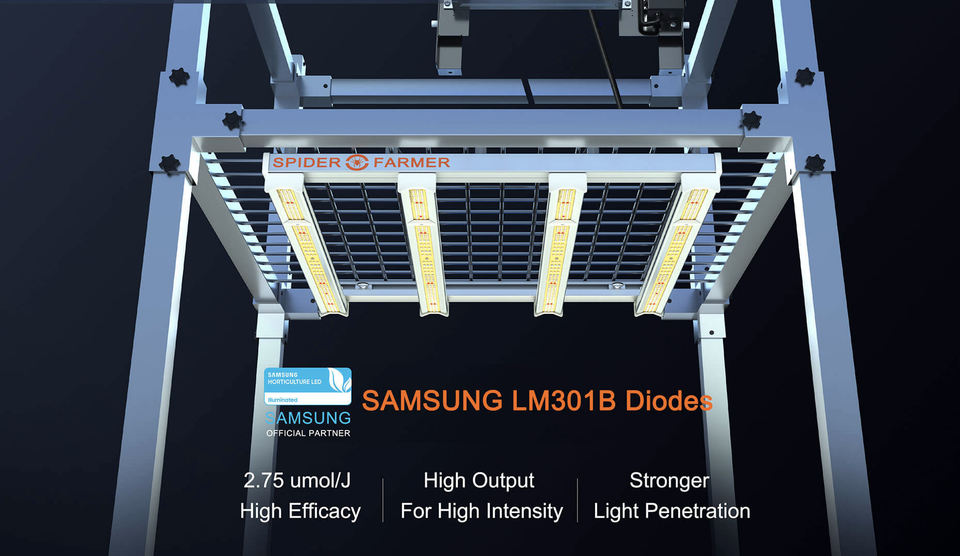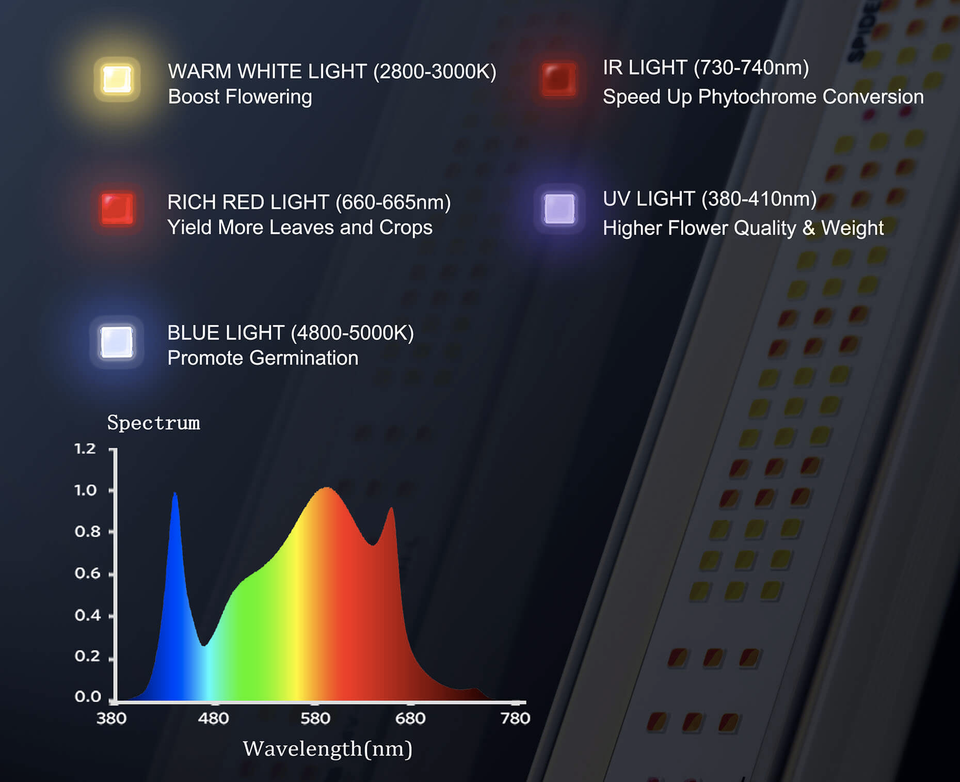 Spider Farmer SE3000 V2 LED Grow Light
Made with the finest components & state of the art engineering, this new upgraded version of the Spider Farmer SE3000 pushes the boundaries even further.  
Top Quality Samsung Diodes
Full Spectrum
New 2022 version
Super Stealthy
Massively Reduced Electricity Costs
Detachable Driver
Fully Dimmable

30 x Daisy Chain
Zero Noise
300w Power Output
50000 Hours Life
Free UK Delivery
Pay As You Grow in 3 instalments with Klarna
Daily Electricity Cost £0.92
A uniform distribution of 896 Samsung diodes create an intense full spectrum output to bathe your canopy in exactly the light they need. And with its 94% efficient Meanwell Driver - it doesn't waste any power on the spectrums that they don't.


With its pin point accuracy and innovative engineering - this unit leaves all old HPS style lights in the dust. 
Spider Farmer's innovative design and advancement in LED technology has produced a high powered LED Grow Light with passive convection cooling. 

This fanless design has no moving parts making the Spider Farmer SE3000 extremely robust and long lasting. This new, upgraded version is lighter, brighter and cooler running than its predecessor.

Costing less than £1 per day in electricity, the Spider Farmer SE3000 is an LED Grow Light that pays for itself within just a single grow cycle making it a worthy investment for any grower. 

The Spider Farmer SE3000 has a natural looking light spectrum and zero noise operation, so its super stealthy to use with no telltale purple glow or HPS glare. 


Its improved array of diodes now boasts an amazing 5 colour types including the UV 380 - 410nm for dank flavour and increased resin production. 

Its fully dimmable for ultimate control and can be daisy chained in rows of up to 15 lights. Say goodbye to burned tips and HPS hotspots. The Spider Farmer SE3000 represents a next generation of grow room technology.   

The Spider Farmer SE3000 is waterproof, well engineered and doesn't put out a lot of heat at all. Spider Farmer use high-quality cables and premium components meaning the light lasts much longer than competitors. 

The Spider Farmer SE3000 ships in stealthy plain packaging with high quality hanging kit included. 


Ready to use out of the box in just a few minutes. No trailing wires and no messy ballasts. Just pure performance. 
Spider Farmer SE3000 Technical Specification
Power

300W

Input Voltage

AC 220-240V

Weight

7.2 kg

HPS Equivalent
480w

Flower Footprint

1.2m x 1.2m

Veg Footprint
1.5m x 1.5m

Diodes

Samsung LM301B & Osram IR 

Diode Count
896

Size

61cm x 61cm x 7cm

Spectrum

380-410nm, 660nm, 730nm,

3000K, 5000K

Efficiency

2.75 umols/J

Daily Electricity Cost
£0.92
Product includes:
Spider Farmer SE3000 LED Grow Light
Power Cord
User Manual
Wire Hangers
Ratchet Hangers

Approximate costs of use based on 75% power for a 12 / 12 flowering cycle. 
*Calculated using the UK: Energy Price Guarantee (October 2022) electricity rate of 34.00 pence per kWh.