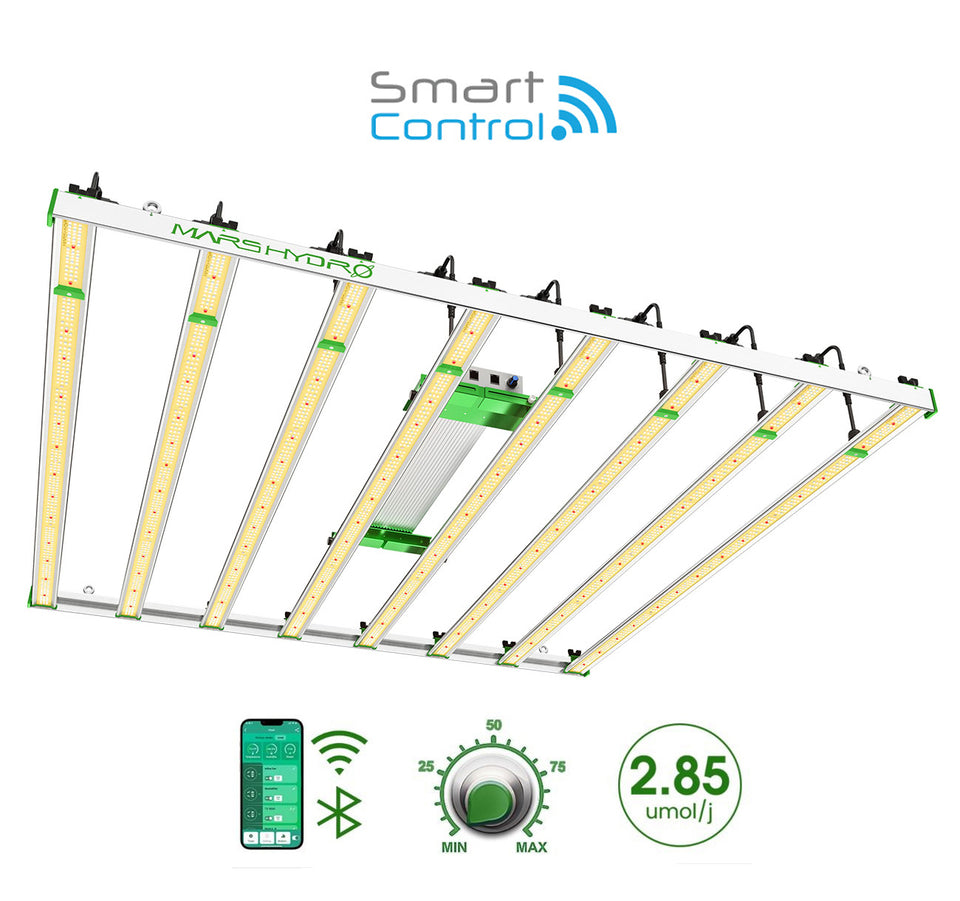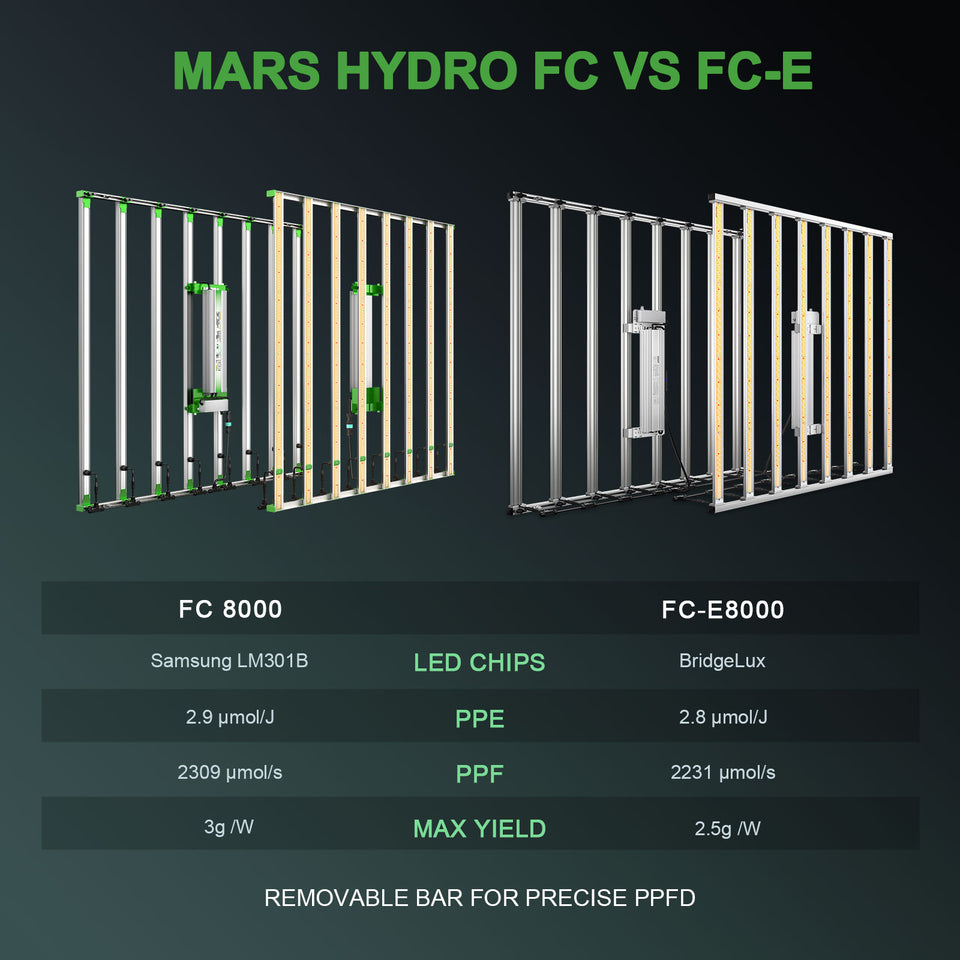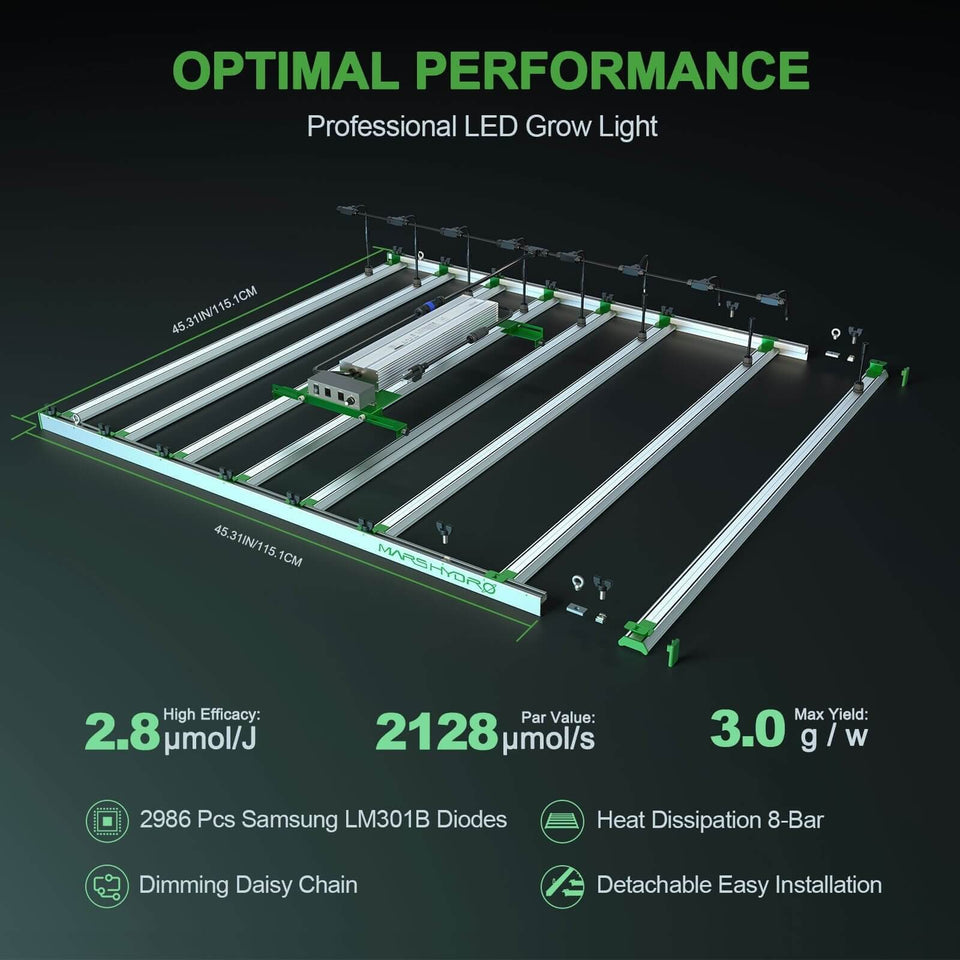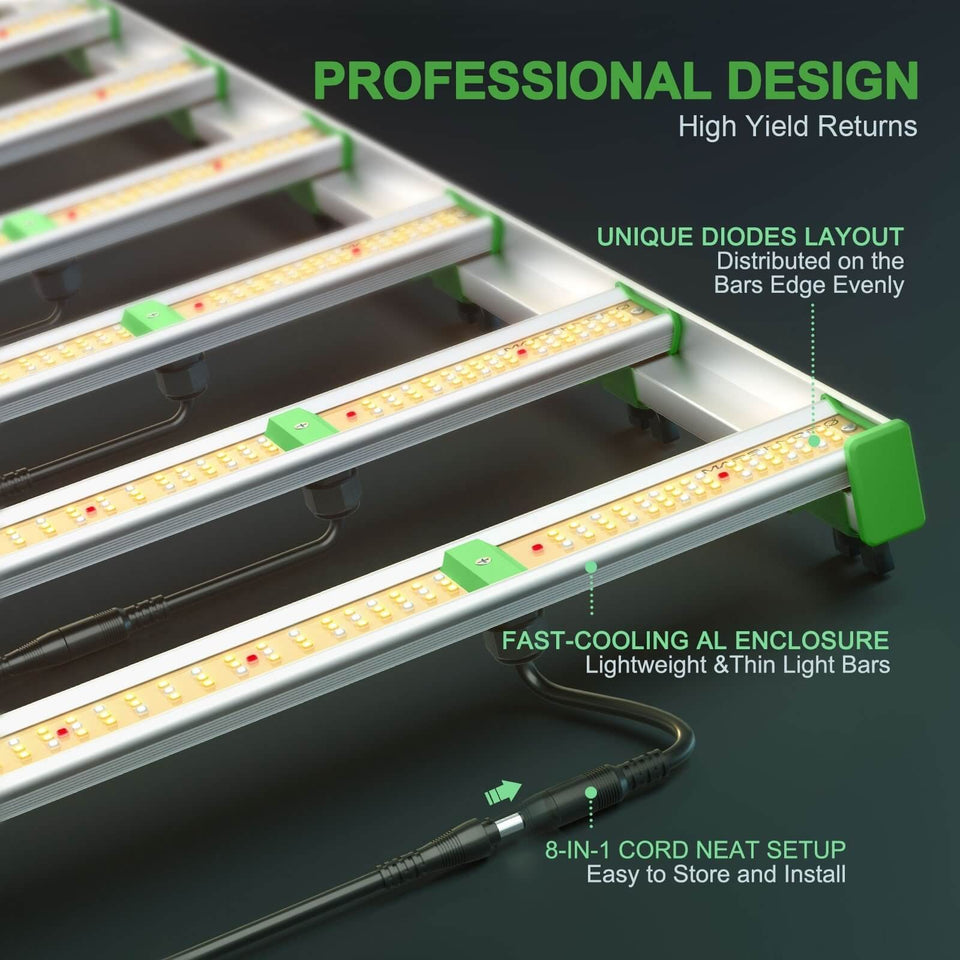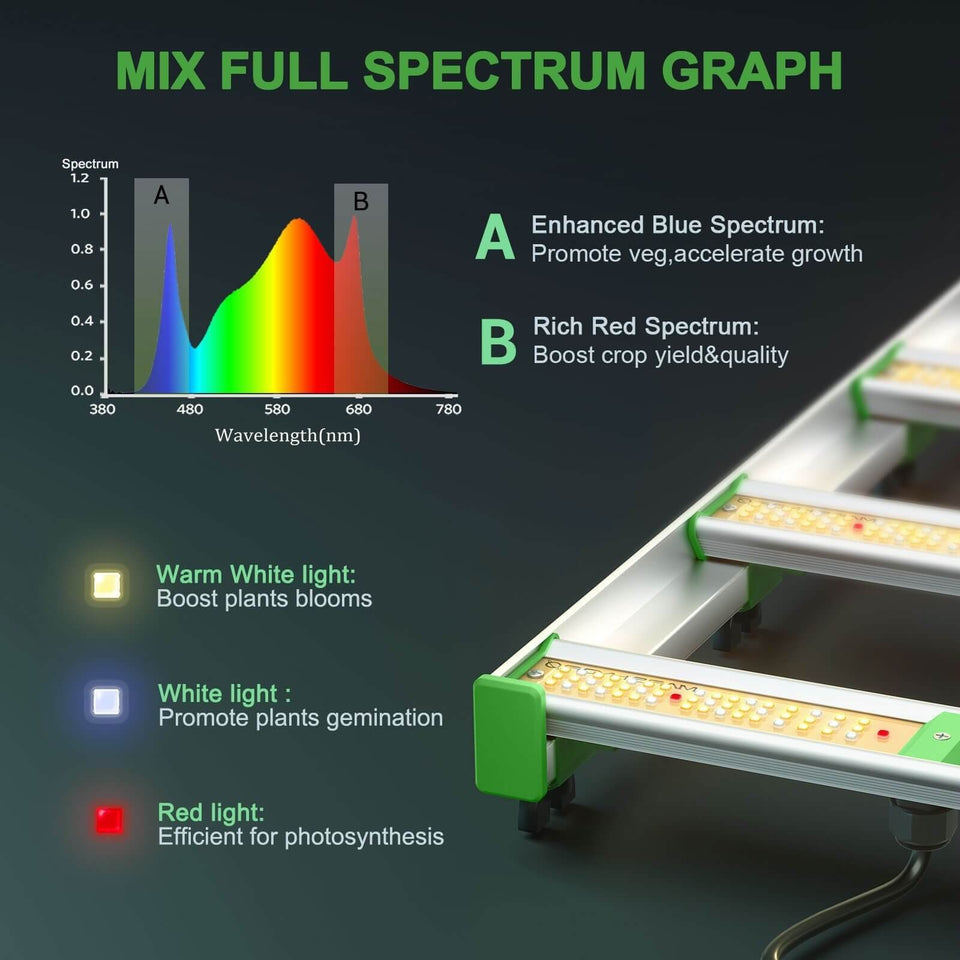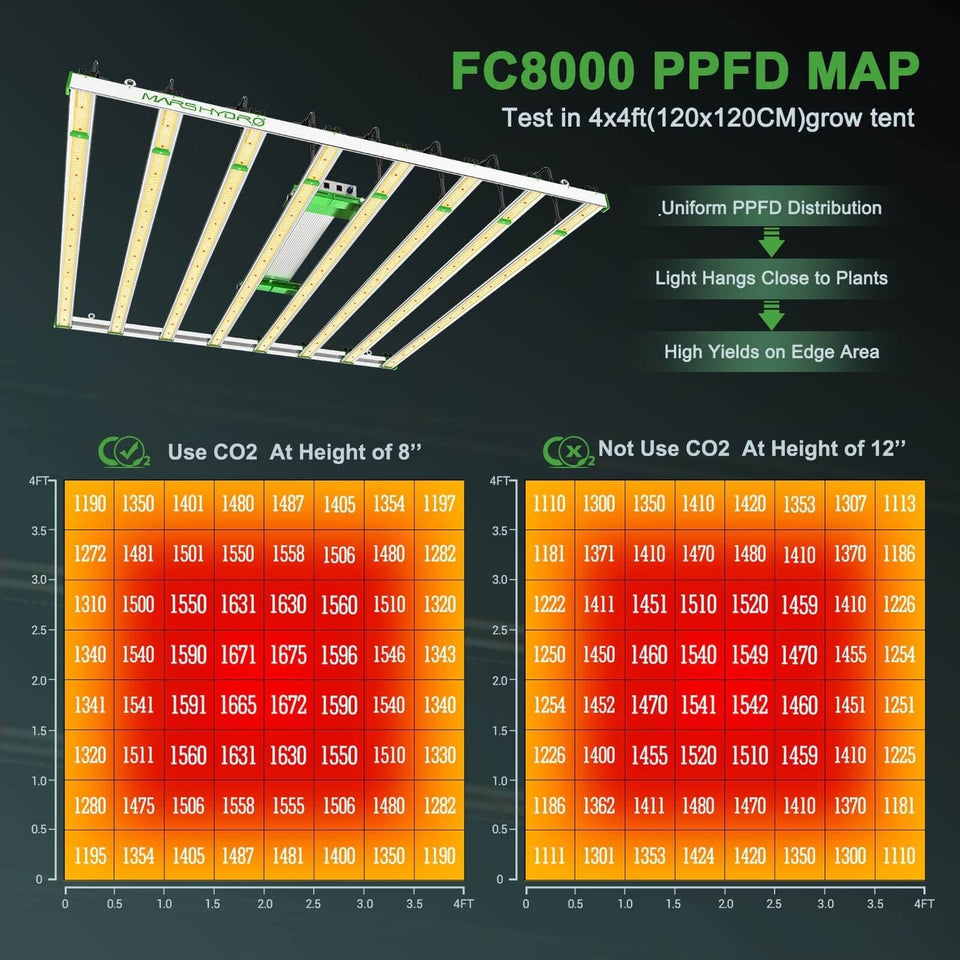 Mars Hydro FC8000 LED Grow Light (Smart Edition)
Featuring a full spectrum array & Smart Control via App, the brand new Mars Hydro FC8000 Smart LED Grow Light represents a new generation of LED Grow Lights. With premium components and highest quality diodes, the FC8000 Smart Edition is a giant leap forward for all you Cali flavour hunters who demand control.
Samsung LM301 & Osram 660nm LED Diodes

Free UK Delivery
Fully Dimmable

3 Year Warranty
Full Spectrum
Daisy Chain Ready
Ultra Stealthy
Huge Output for Dense & Resinous Flowers
Massively Reduced Electricity Costs
Passive Cooling
800w Power Output
Zero Noise
50000 Hours Life
Pay As You Grow in 3 instalments with Klarna
Daily Electricity Cost £2.45

Smart Control via App
The Mars Hydro FC8000 Smart Edition is a professional-grade LED grow light designed for both personal and commercial use. As part of the Mars Hydro Smart Grow System, the FC8000 Smart Edition is controllable via mobile devices and programmable with the Mars Hydro App.
The Mars Hydro FC8000's Smart Control features include remote access through the Mars Hydro App and OTA data transfer, which stores and transfers all data and settings. With precise configuration, the light intensity can be accurate to year / month / day / hour / minute for dynamic light levels that match your grow schedules.
Sunrise & Sunset Simulation
The dimming programs run automatically after configuration, with three default grow plans already prepared for your reference. Additionally, the Sunrise & Sunset Simulation option allows the light to mimic the natural photoperiod of plants, dividing the scheduled time into 12-time segments where light levels rise and fall.
The Mars Hydro FC8000 Smart Light also offers independent control of multiple lights, allowing you to switch and dim up to 100 Mars Hydro FC8000 Smart Lights without additional cables. The Mars Hydro App can divide the LED grow lights into different lighting groups for independent management, making it convenient to monitor and program various ongoing cultivations without interfering with each other's plans.
Enjoy the convenience of smart control with the Mars Hydro FC8000, part of the Mars Hydro Smart Grow System, delivering professional-grade LED grow light performance for all your growing needs.

Huge Output. Tiny Electricity Costs
Even with its massive light output, the Mars Hydro FC8000 doesn't cost a fortune to run.  Its hyper efficiency results in an average daily electricity cost of around £2.45 making the Mars Hydro FC8000 one of the most economical LED Grow Light solutions out there. Even with modern electricity prices, growers can expect to complete an 8 week grow cycle at a cost of around £140. With a potential yield of around 3.0g per watt, this equates to a massive 2400g of resin rich, premium quality produce every single flowing cycle. So it doesn't take a genius to work out that the Mars Hydro FC8000 LED Grow Light pays for itself very quickly indeed. 

A Next Generation LED Grow Light
Featuring top quality components and a host of exclusive features, the Mars Hydro FC8000 has quickly become one of the most popular LED Grow Lights in the world today. Boasting nearly 3000 Samsung & Osram Diodes over its 8 passively cooled light bars, the Mars Hydro FC8000 evenly covers your canopy with uniform and precise luminescence with absolutely no electricity wastage at all. 
With a finely tuned and rock solid 800w driver at its core, the Mars Hydro FC8000 uses all its energy to produce exactly the spectra that your plants require for ultra efficient growing. The Mars Hydro FC8000 gives your garden everything that it needs, and doesn't waste power on wavelengths that is doesn't. This is 100% LED Grow Light efficiency. 
As you'd expect from the experts at Mars Hydro, the FC8000 wraps up years of expertise to result in a market leading LED Grow Light at an amazing price. Measuring in at 115cm x 115cm x 20cm, the Mars Hydro FC8000 is low profile, sleek and as stealthy as a ninja. This makes the Mars Hydro FC8000 a fantastic choice for Grow Tent cultivators who demand extra headroom for leggy and tall plants without the risk of burned tips or photon damaged plants.

Quality Build. Quality Components
The Mars Hydro FC8000 is an LED Grow Light that has been engineered with longevity in mind and it boasts an incredible life span of over 50000 hours. With the new, recently upgraded version of the FC5000, Mars Hydro prove that they are not cutting corners. Its array of 2868 diodes are carefully selected from the experts at Samsung and Osram to enable the grower to produce enormous, dense buds absolutely dripping with oils and botanical resin. 
With a whopping 800w evenly distributed over its 8 LED light bars, the Mars Hydro FC8000 and its Full Spectrum output enables even beginner cultivators to produce a bumper harvest of 2.5g to 3.0g per watt.  

Corner to Corner Lighting. Passively Cooled. 
The Mars Hydro FC8000 is new generation LED Grow Light technology. No more burning hot bulbs in the centre of your room, no more sickly plants in shadowy tent corners. The Mars Hydro FC8000 uses its evenly spaced light bars to ensure corner to corner light cover age with absolutely no wasted light or electricity. Every single watt of power is utilised efficiently, edge to edge, corner to corner.  

Low Electricity Costs & Significantly Lower Noise
The Mars Hydro FC8000 LED Grow Light utilises passive cooling technology to effortlessly vent all excess heat up and away from your growing area. Not only does this enable optimum temperature and humidity, but it also takes the strain of your normal Grow Room cooling equipment such as fans and extraction. With your grow area being cooler, more stable and less dependant on cooling technology, the cultivator can expect notably less electricity costs and significantly lower noise pollution that is often caused by overworked fans and ventilation. Less cost. Less wear & tear. Less noise. Win / Win / Win.   

Full Control. Full Spectrum
Now featuring a high intensity IR output, the Mars Hydro FC8000 provides a deep red array to increase bud density and improve flavour and aroma. From the IR pioneers at Osram, the plentiful 660nm diode output vastly increases photosynthesis to enable the grower to produce bigger, more resinous plants much faster than previously possible. This faster plant metabolism is of special benefit to cultivators of Autoflowering plants as plants require a significantly shorter veg time.  
With a high quality dimmer hard wired into the LED driver, the Mars Hydro FC8000 is fully controllable to meet the needs of the grower with fingertip adjustments. The dimmer provides absolute control from 0% to 100% with no pre sets or click points. This makes the Mars Hydro FC8000 suitable for the entire grow cycle from tiny, delicate seedlings all the way up to juicy, light hungry fruits & flowers. But its not just about light output. This fully adjustable light output also means that the cultivator can have accurate control over their electricity costs too.

Plug & Play Simplicity. Daisy Chain Ready
The Mars Hydro FC8000 and its click and collect technology means that it is Daisy Chain (cable included). It's hard wired junction box enables cultivators to connect up to 30 fixtures together using the first in line as a master controller with no additional equipment needed at all. This is great for cultivators who look to expand their grow space in the future and it clicks together as simple as lego.  Everything you need is included in the box and is ready to go. It is features like this that make this LED Grow Light the premier choice for serious cultivators worldwide. 

DLC Certified LED Grow Lighting
The Mars Hydro FC8000 is produced under the highest quality and safety standards in the LED Grow Light industry. With minimum maintenance required and an expected life of around 50000, the Mars Hydro FC8000 is built to last. It comes fully DLC certified and ships with a full manufacturer's warranty so you know you are in good hands. 



Mars Hydro FC8000 LED Grow Light Smart Edition Technical Specification
| | |
| --- | --- |
| Power | 800W |
| Input Voltage | 120-277V |
| Weight | 18 kg |
| HPS Equivalent | 1400w |
| Flower Footprint | 1.55m x 1.55m  |
| Veg Footprint | 2.0m x 2.0m |
| Diodes | Samsung LM301 & Osram 660 IR & UV |
| Diode Count | 2868 |
| Size | 115cm x 115cm x 10cm |
| Spectrum | 600-660nm, 3000k, 5000k,  |
| Efficiency | 2.9 umols/J |
| Daily Electricity Cost | £2.47 |
Product includes:
Mars Hydro FC8000 Smart Edition LED Grow Light
2m Power Cord
RJ45 Daisy Chain Cable
Wire Hangers
Ratchet Hangers

Approximate costs of use based on 75% power for a 12 / 12 flowering cycle. 

*Calculated using the UK: Energy Price Guarantee (October 2022) electricity rate of 34.00 pence per kWh.