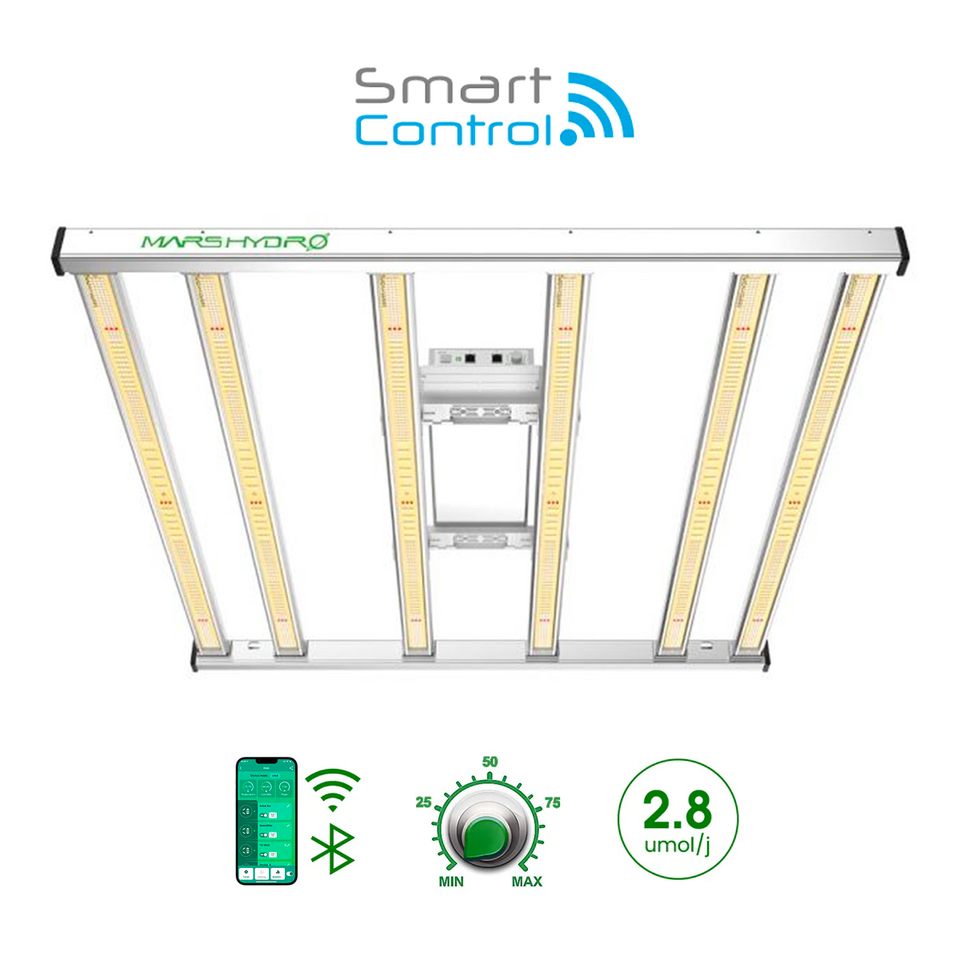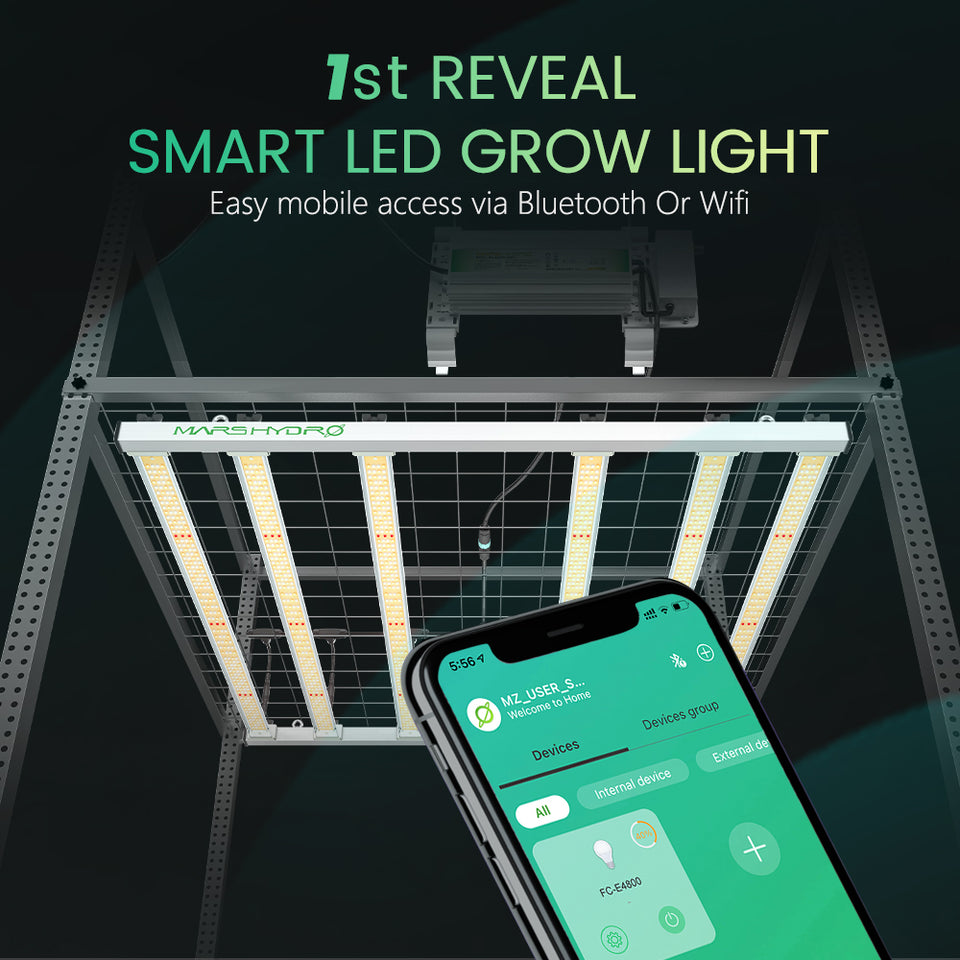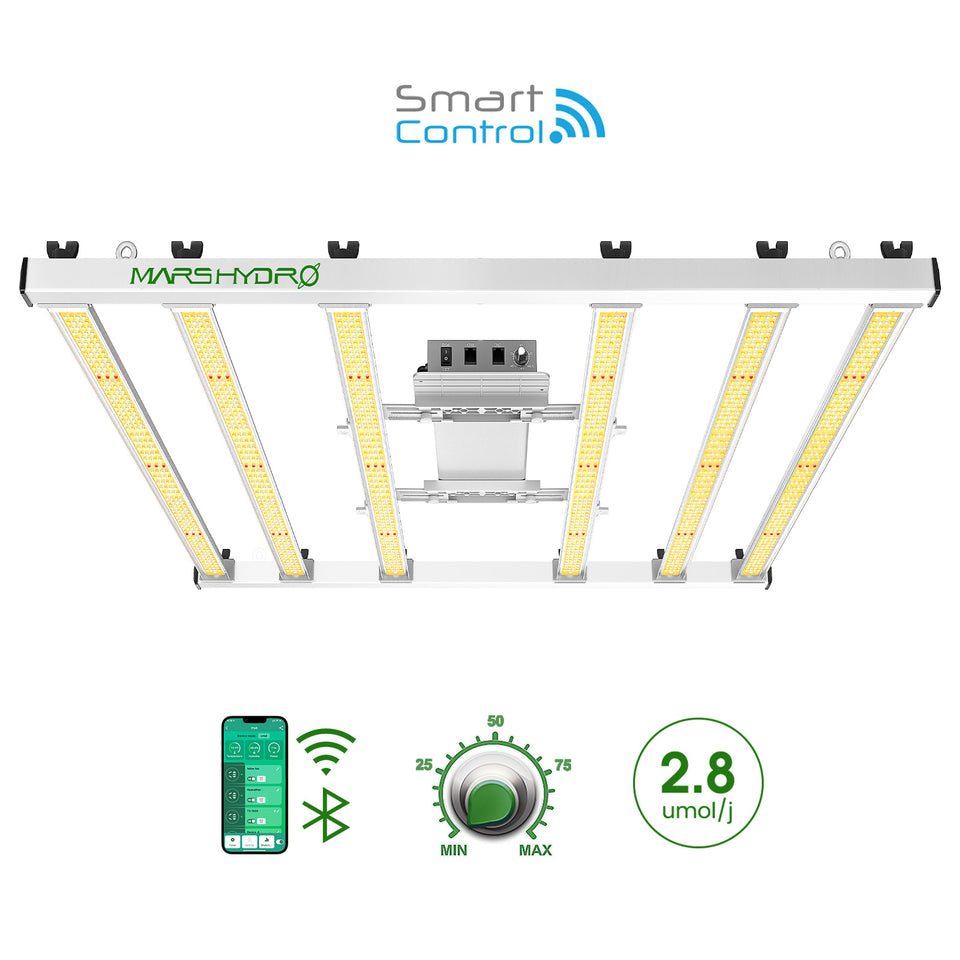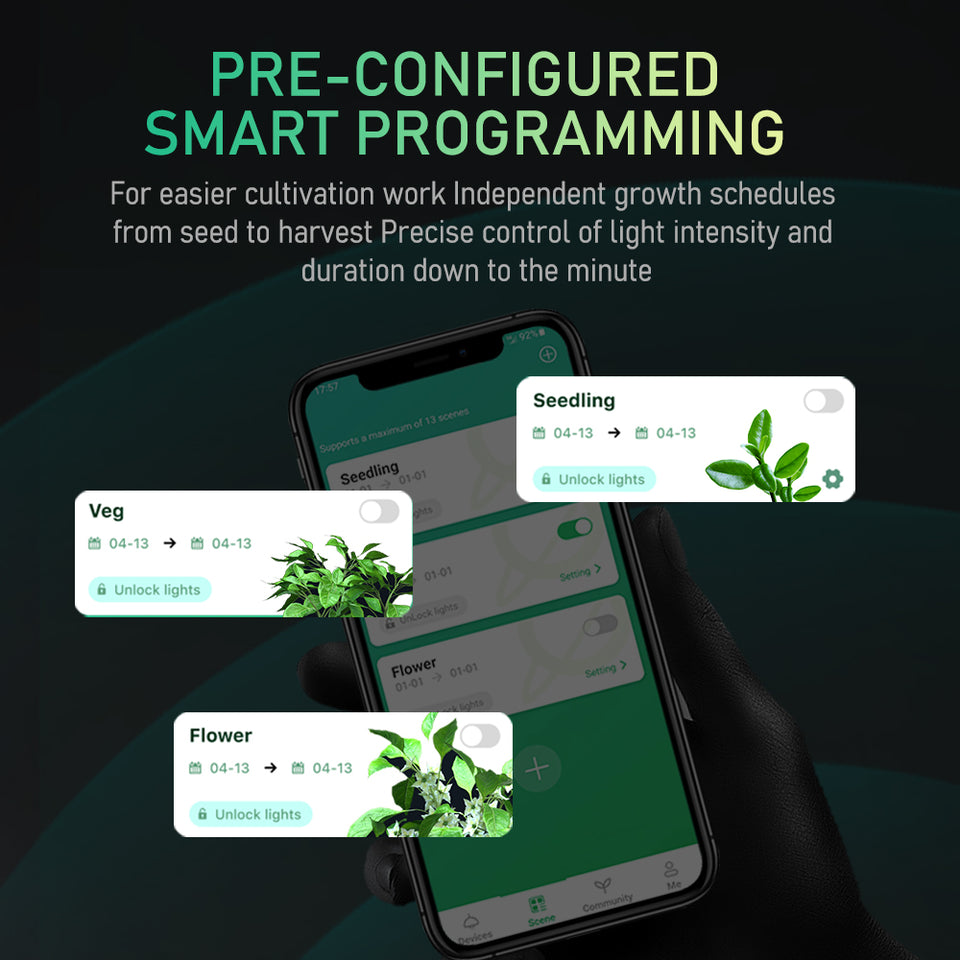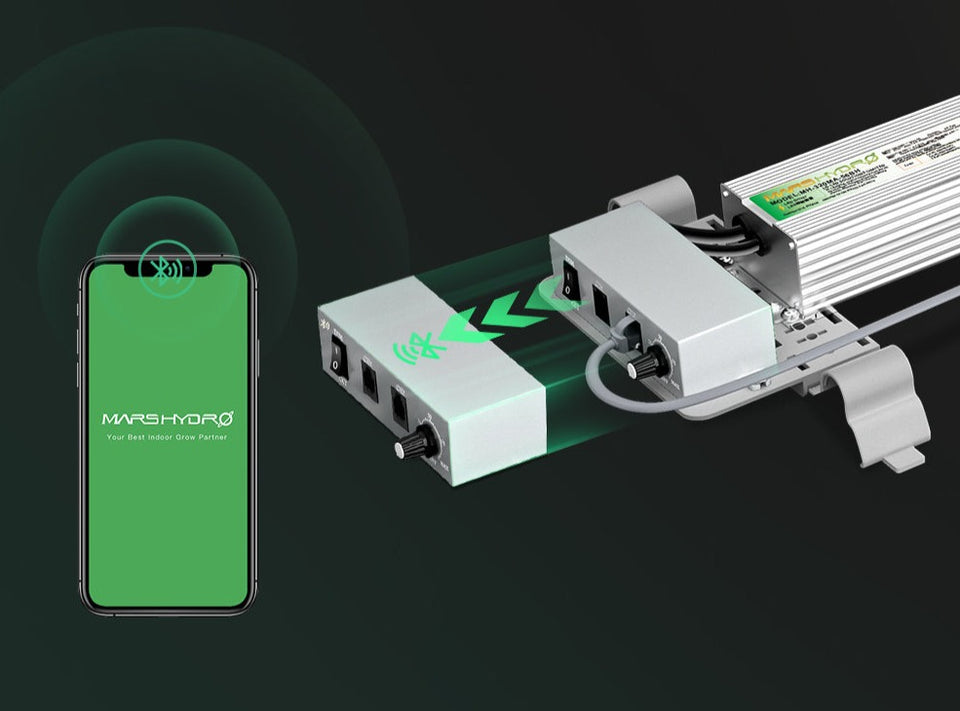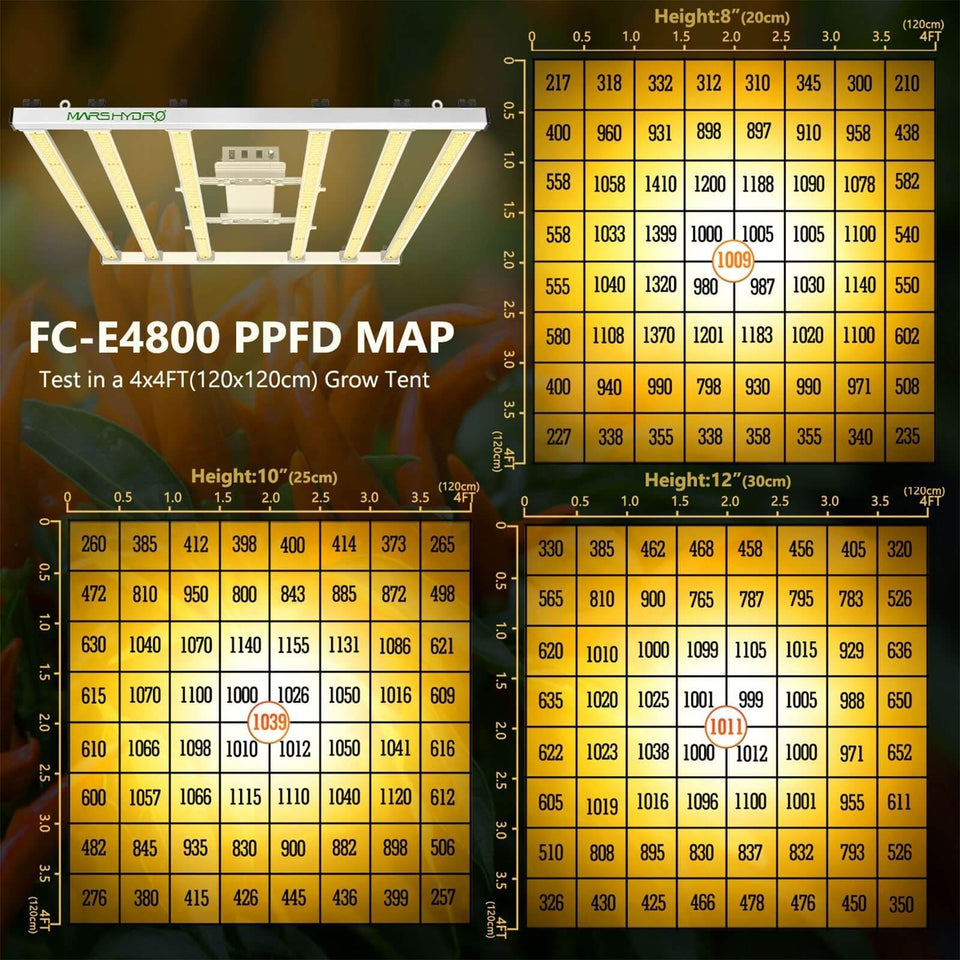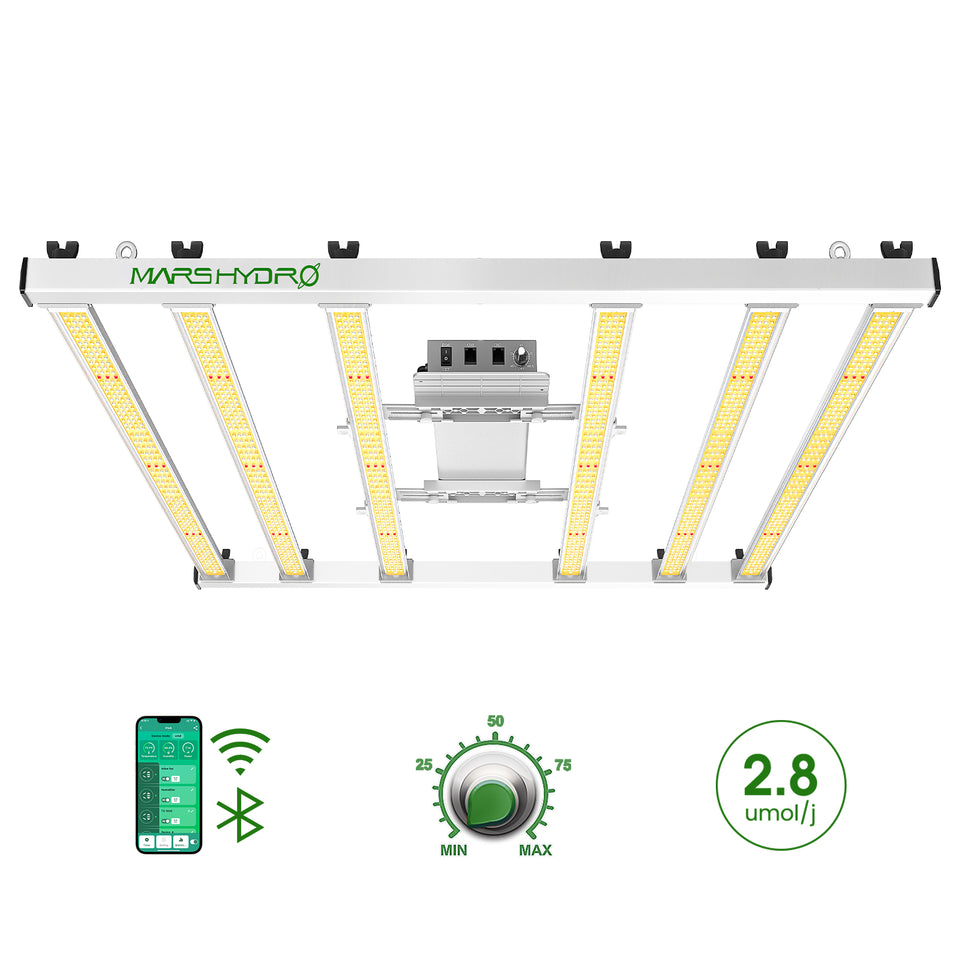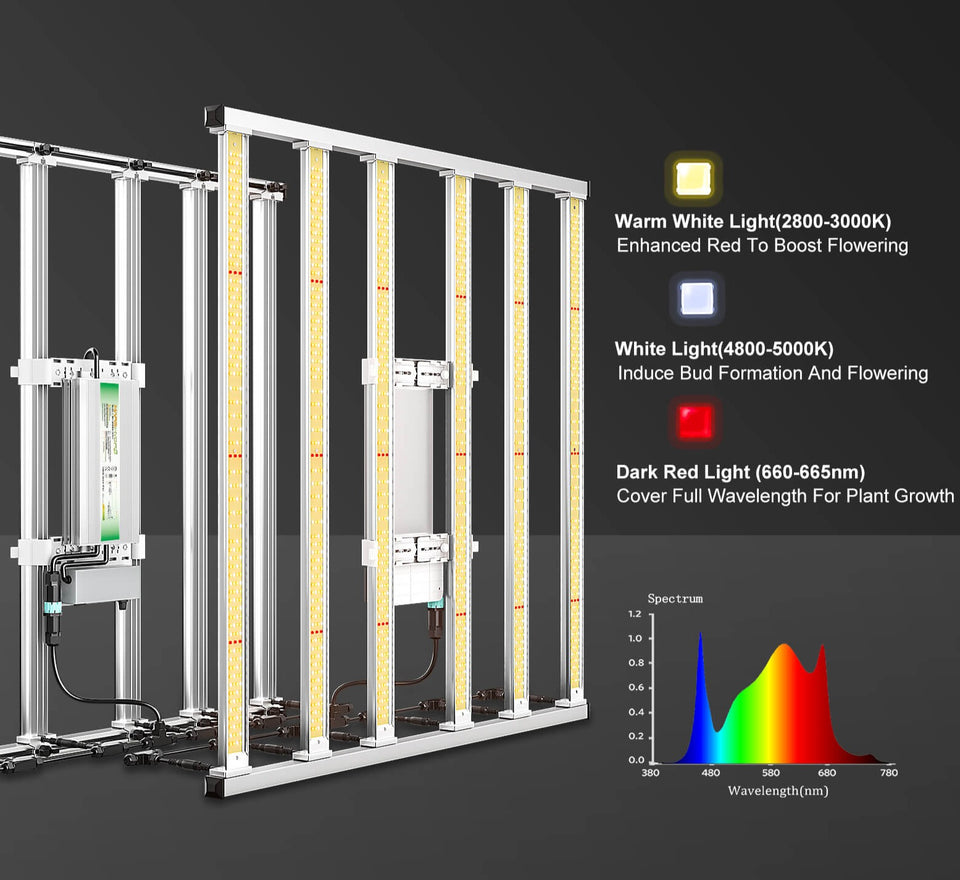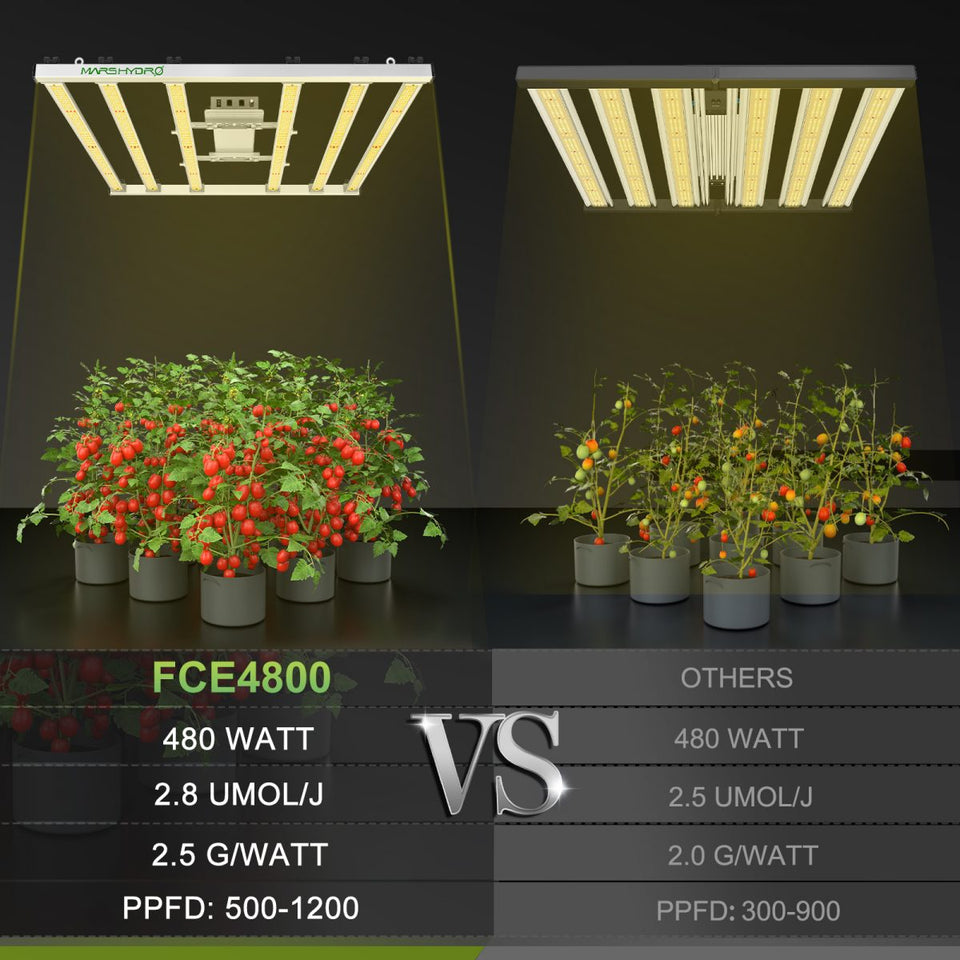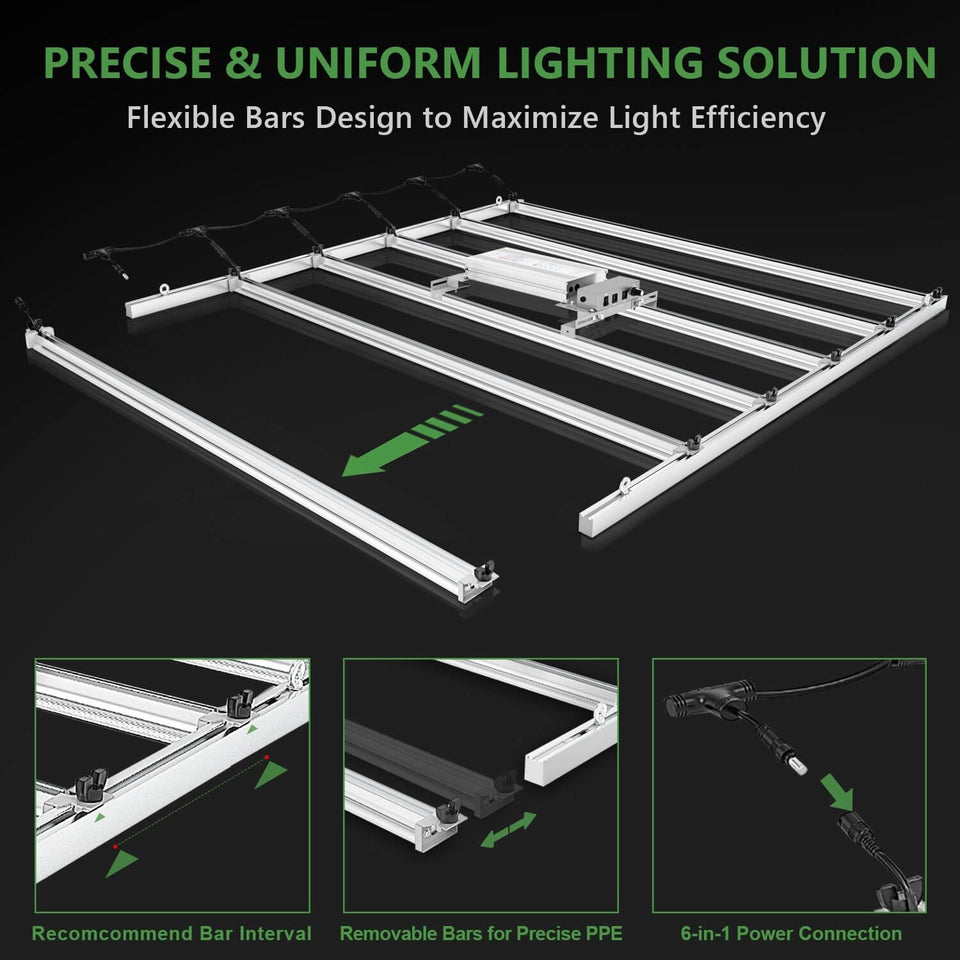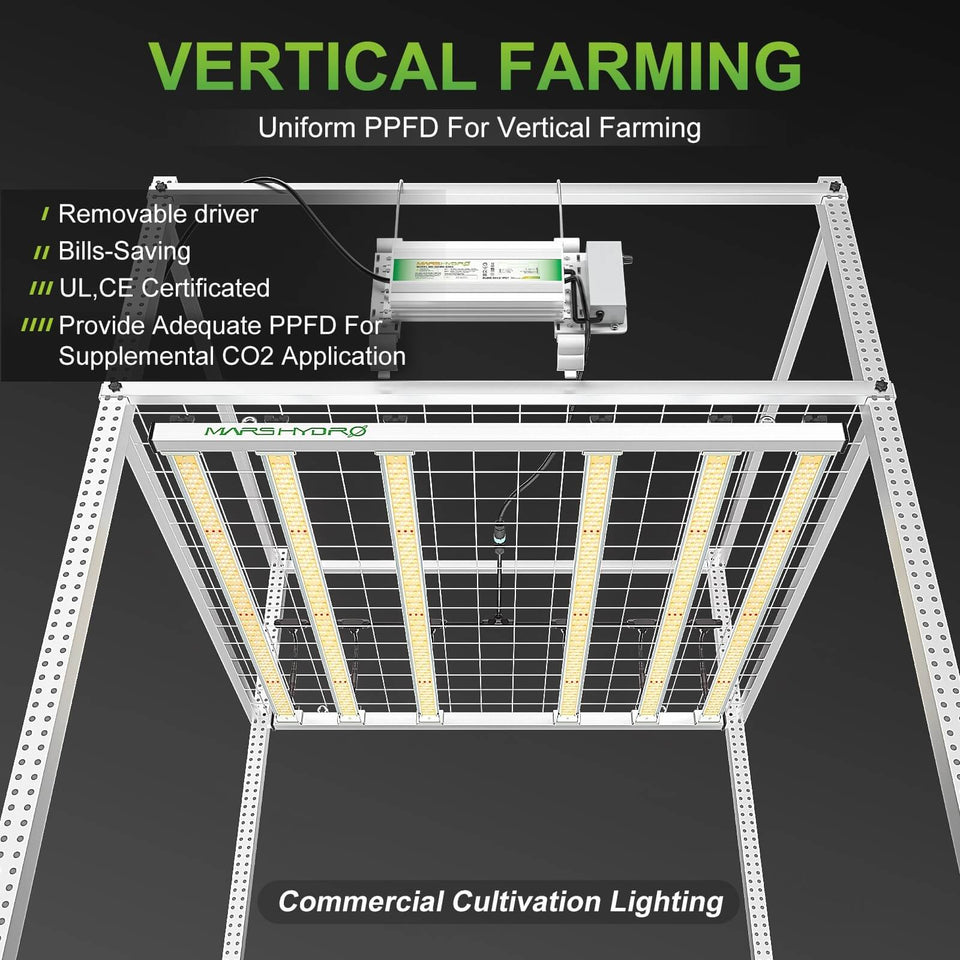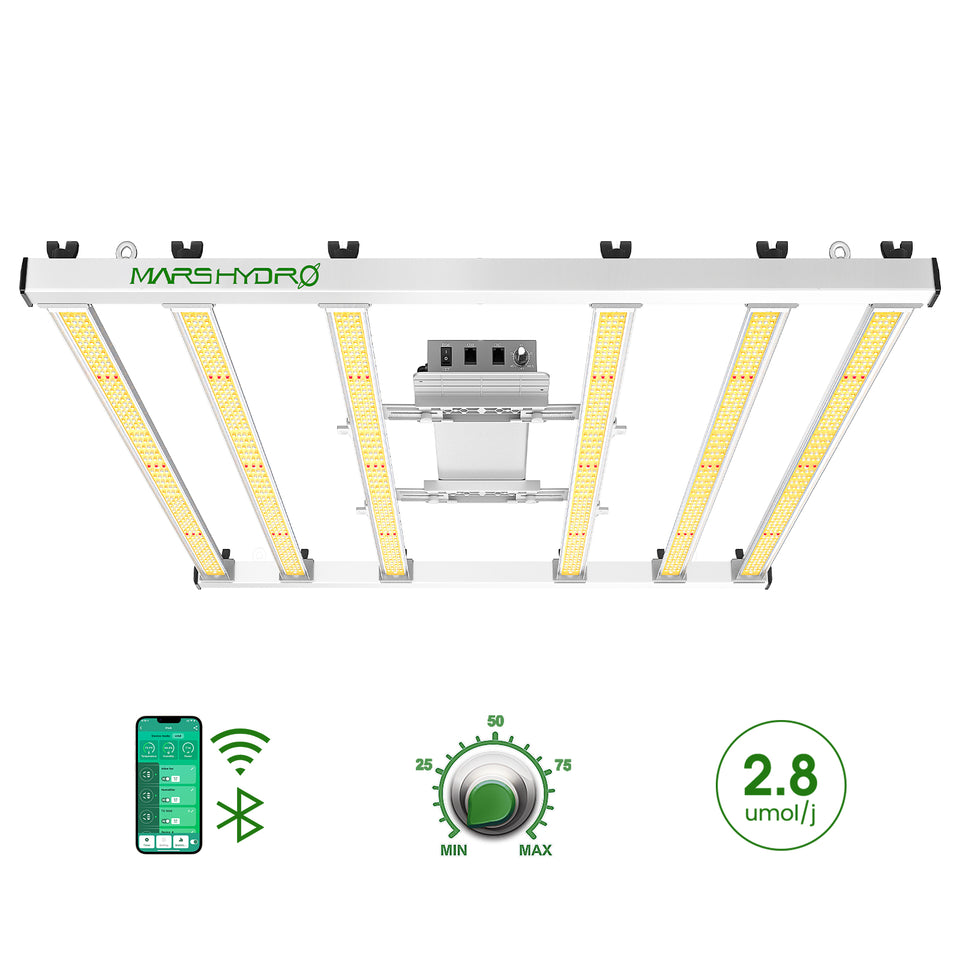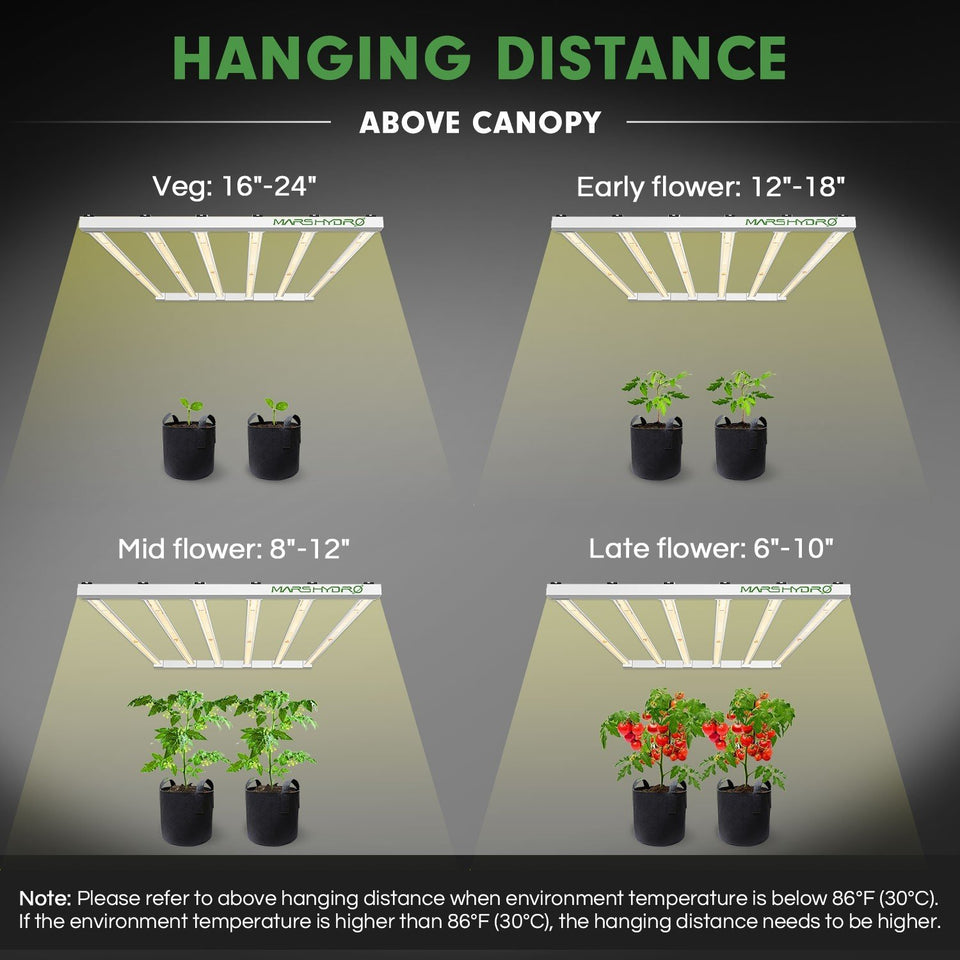 Mars Hydro FC-E4800 LED Grow Light (Smart Edition)
Boasting 2646 high quality Bridgelux Diodes and now Smart Control via Mars Hydro App, the Mars Hydro FC-E4800 Smart Edition represents a new generation of LED Grow Light for Cali flavour hunters worldwide.  
US Made BridgeLux LED Diodes

Free Next Day UK Delivery
Fully Dimmable

3 Year Manufacturers Warranty
Full Spectrum
App Controlled Smart Edition
Super Stealthy
Massively Reduced Electricity Costs
IR Diodes For Huge Buds & Flowers
Passive Cooling
480w Power Output
Zero Noise
50000 Hours Life
Pay As You Grow in 3 instalments with Klarna
Daily Electricity Cost £1.47
A Game Changing LED Grow Light
New from the LED Grow Light pioneers over at Mars Hydro, the FC-E4800 Smart Edition is jam packed full of premium features previously unobtainable from an LED Grow Light in this price range. With its 2646 diodes providing a full spectrum array over its generous footprint, The Mars Hydro FC-E4800 packs a mighty punch. Its made with premium quality US-based BridgeLux LEDs and now, this 2023 model comes with IR diodes included in its output for flavourful, dense and heavy flowers. Gone are the days of having to fork out £1000's of pounds for a professional level LED Grow Light.


Smart Control via App
The Mars Hydro FC-E4800 Smart Edition is a professional-grade LED grow light designed for both personal and commercial use. As part of the Mars Hydro Smart Grow System, the FC-E4800 Smart Edition is controllable via mobile devices and programmable with the Mars Hydro App.
The FC-E4800's smart control features include remote access through the Mars Hydro App and OTA data transfer, which stores and transfers all data and settings. With precise configuration, the light intensity can be accurate to year / month / day / hour / minute for dynamic light levels that match your grow schedules.
The dimming programs run automatically after configuration, with three default grow plans already prepared for your reference. Additionally, the Sunrise & Sunset Simulation option allows the light to mimic the natural photoperiod of plants, dividing the scheduled time into 12-time segments where light levels rise and fall.
The FC-E4800 also offers independent control of multiple lights, allowing you to switch and dim up to 100 FC-E4800 plant lights without additional cables. The Mars Hydro App can divide the LED grow lights into different lighting groups for independent management, making it convenient to monitor and program various ongoing cultivations without interfering with each other's plans.
Enjoy the convenience of smart control with the Mars Hydro FC-E4800, part of the Mars Hydro Smart Grow System, delivering professional-grade LED grow light performance for all your growing needs.


Precise & Even Coverage. No Light Wasted
The Mars Hydro FC-E4800 offers an even & uniform light distribution without the hotspots or light burn so common to other LED Grow Lights in this price range. The nerds over at Mars Hydro have taken their years of expertise to create a game changing LED Grow Light with an incredible efficiency of over 2.8 µmol/j to ensure that every corner of your grow space is evenly served with full spectrum light output with absolutely no wastage at all.


Full spectrum. Maximum Power
With its a patented combination of Full Spectrum & IR light output, the FC-E4800 LED Grow Light ensures a high powered output suitable for the entire growth cycle of your plants. With its a rich & deep IR array, the Mars Hydro FC-E4800 is specially developed for flavour hunters who demand resin producing plants and gigantic flowers bursting with aroma & bag appeal.


Removable Light Bar Design & Adjustable Light Layout
The Mars Hydro FC-E4800 is no cookie cutter LED Grow Light. As with all lights within the Mars Hydro FC-E Series, the FC-E4800 features movable light bars meaning that the user can adjust the positioning of each light bar. This enables the grower to create a variable lighting footprint to meet the individual demands of your plants. Not only does this make the Mars Hydro FC-E4800 hugely versatile, but it also means that the Mars Hydro FC-E4800 is the ideal LED Grow Light for cultivators who like to grow a variety of strains simultaneously.


Fully Dimmable
The Mars Hydro FC-E4800 features a high quality dimmer and control panel. Growers can adjust the power output of the FC-E4800 from a tiny 10% all the way up to a flavour rich 100% power output. With fingertip control like this, the Mars Hydro FC-E4800 LED Grow Light is perfectly matched for full cycle growing all the way from tiny seedlings right up to flavour bursting, resin rich flowers. But its not just about control, this dimmer box also power savvy growers to adjust the electricity use of their LED Grow Light meaning you don't over use electricity. 


Fast Cooling System
Compared to its outdated HPS cousins, the Mars Hydro FC-E4800 puts out a very small amount of heat. And, the heat it does produce is evenly spaced over the full fixture and its clever aluminium heat sinks. This means that burning hot bulbs in the centre of a room, burned buds and crispy leaves are a thing of the past. As soon as you take the Mars Hydro FC-E4800 out of the box, old style HPS lights seem antiquated and just stupid. The future is here - and now professional growing is affordable for all. 
Its passive cooling technology means that excess heat is dispersed easily with much less wear and tear on your equipment and a significant reduction on the noise associated with cooling fans and extraction. This adds another layer to the stealth capabilities of this LED Grow Light and also means less electricity costs too. Win / Win.
Don't let the tiny price tag fool you. The Mars Hydro FC-E4800 is no cheap and cheerful LED Grow Light. At its core is a rock solid driver and branded, high quality diodes from the American leaders in diode technology at Bridgelux. 
California Sunshine with Precision Control

Your plants will simply adore the massive array of over 2600 BridgeLux diodes chips perfectly spread evenly over its ingenious passive cooling bars. The Mars Hydro FC-E4800 really is a summers day at your fingertips.

The next generation technology excellent build quality of the Mars Hydro FC-E8000 make all old HPS systems just seem stupid. Gone are the days of red hot bulbs burnt tips. The game has changed, and now it is affordable for all growers. 

The Mars Hydro FC-E4800 is the ideal LED Grow Light for professional growers who like to push the boundaries flavours & aromas - without breaking the bank. Not only does the Mars Hydro FC-E4800 produce a dramatically higher yield than its HPS forefathers, but it does it using just a fraction of the electricity costs. Amazing.


Ultra Low Electricity Costs
The LED experts Mars Hydro have developed the FC-E4800 to consume just 480w of power from the wall - yet has been proven to easily outperform 800w of old style HPS light in comparison tests. With an average daily electricity cost of around £1.47 per day, this means that an 8 week grow cycle costs around £85 in electricity costs meaning that the FC-E4800 pays for itself very, very quickly indeed.   
No more stupid electricity bills. No more constantly replacing bulbs. No more wasted energy. The Mars Hydro FC-E4800 really is a no brainer. 

Measuring in at 86cm x 86cm, The Mars Hydro FC-E4800 and its array 2646 super bright American made BridgeLux LEDs are at home in Grow Tents of all sizes.

Not only is this an incredible LED Grow Light in terms of functionality, but it really is a beautiful piece of kit too. Its slim, super stealthy and it weighs much less than its competitors making it a doddle to set up and a breeze pack away as quick as a flash should you need to.


Easy Set Up. Built To Last
But, being feather light doesn't mean that the Mars Hydro FC-E4800 is a lightweight in terms of performance. Its strong, robust and it boasts an incredibly long life span of over 50000 hours without any loss in performance. None at all. 

All in all, the Mars Hydro FC-E4800 is an LED Grow light that is almost too good to be true. It really is an incredible fixture at an astonishingly low price. Its comes very highly recommended by our in house grow nerds. 
As with all products from Mars Hydro, the FC-E4800 pro ships in stealthy plain packaging with high quality hanging kit included. No messy ballasts and no trailing cables. This super LED Grow Light is ready to use out of the box in just a few minutes. The Mars Hydro FC-E4800 is finely tuned for botanical, resin producing plants and this thing is built to last a long time. 
The Mars Hydro FC-E4800 is an incredible LED Grow Light for incredible plants. Bravo Mars Hydro!


Mars Hydro FC-E4800 (Smart Edition) Technical Specification
| | |
| --- | --- |
| Power | 480W |
| Input Voltage | 120-277V |
| Weight | 9 kg |
| HPS Equivalent | 650w |
| Flower Footprint | 1.2m x 1.2m  |
| Veg Footprint | 1.5m x 1.5m |
| Diodes | Bridgelux & Osram IR |
| Diode Count | 2646 |
| Size | 86cm x 86cm x 8cm |
| Spectrum | 600-660nm, 3000k, 5000k,  |
| Efficiency | 2.8 umols/J |
| Daily Electricity Cost | £1.47 |
Product includes:
Mars Hydro FC-E4800 LED Grow Light (Smart Edition)
Power Cord
Wire hangers
Ratchet hangers

Approximate costs of use based on 75% power for a 12 / 12 flowering cycle. 

*Calculated using the UK: Energy Price Guarantee (October 2022) electricity rate of 34.00 pence per kWh.