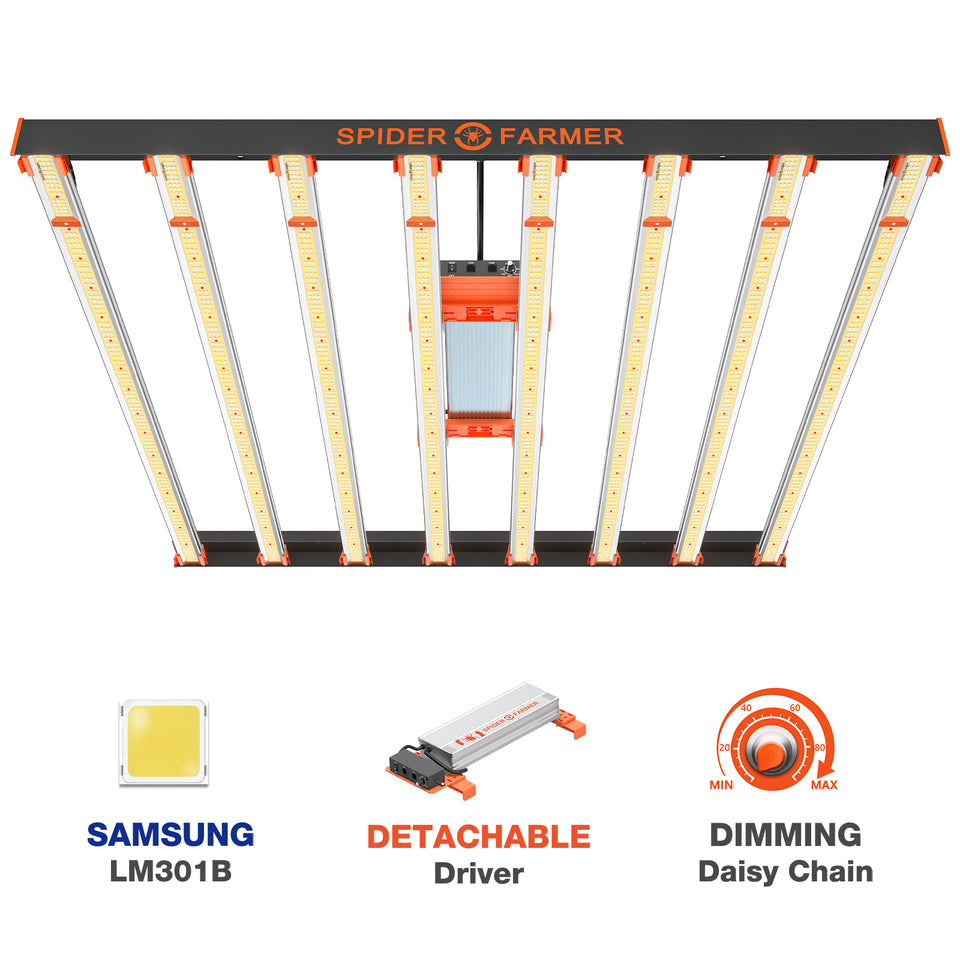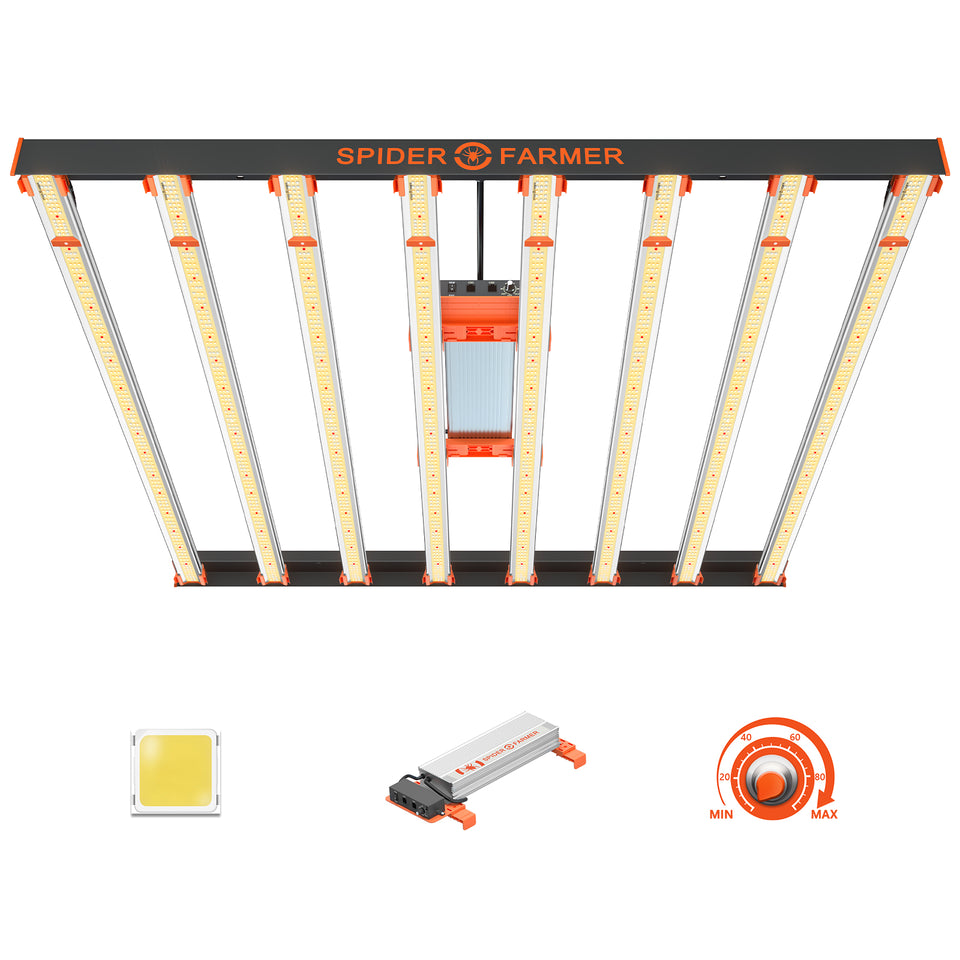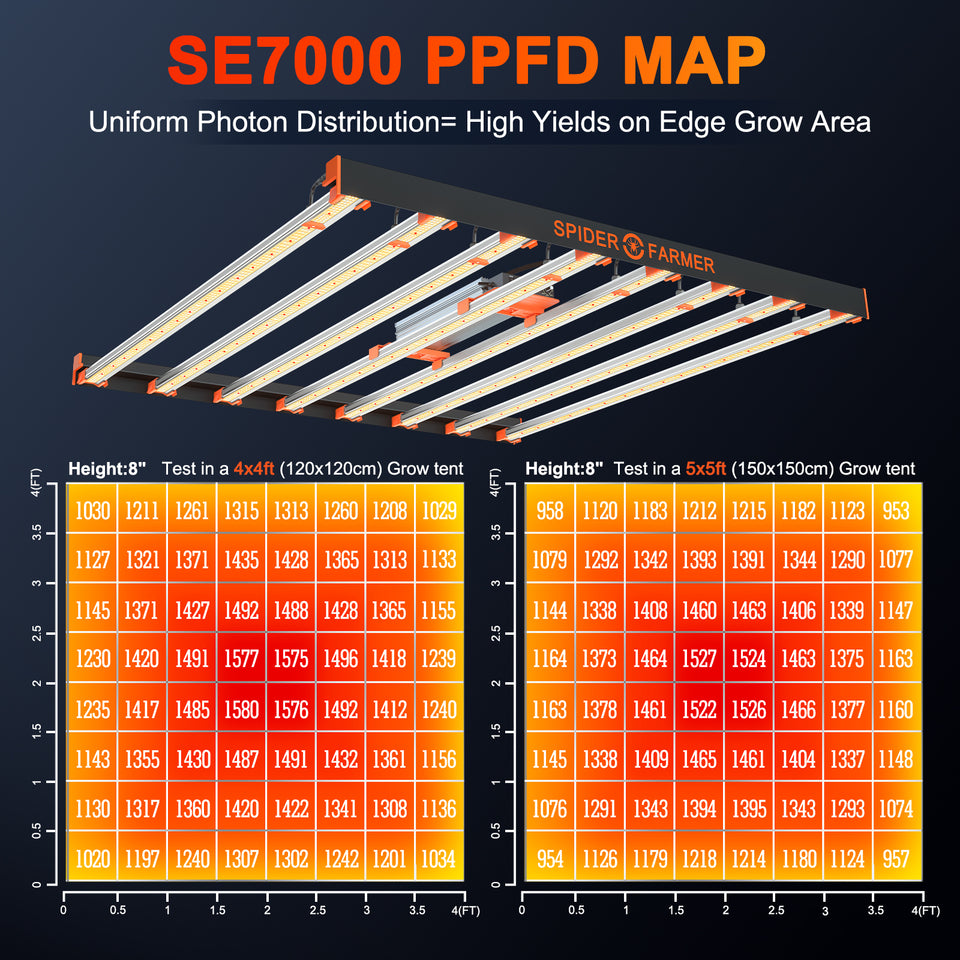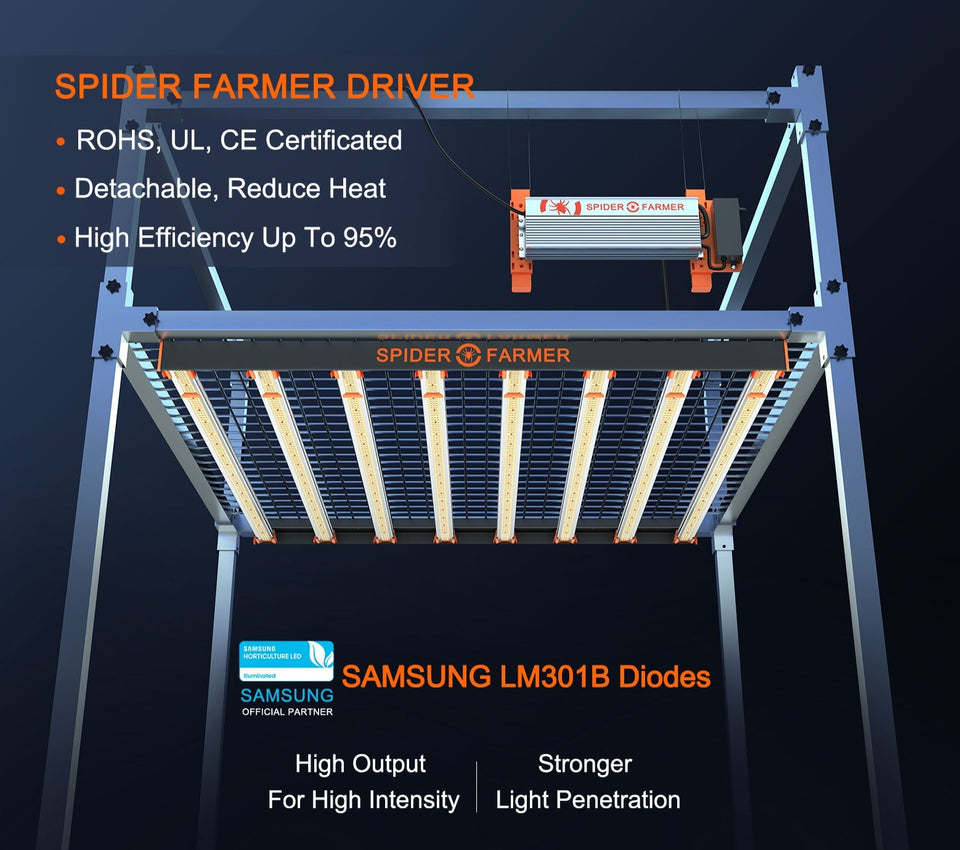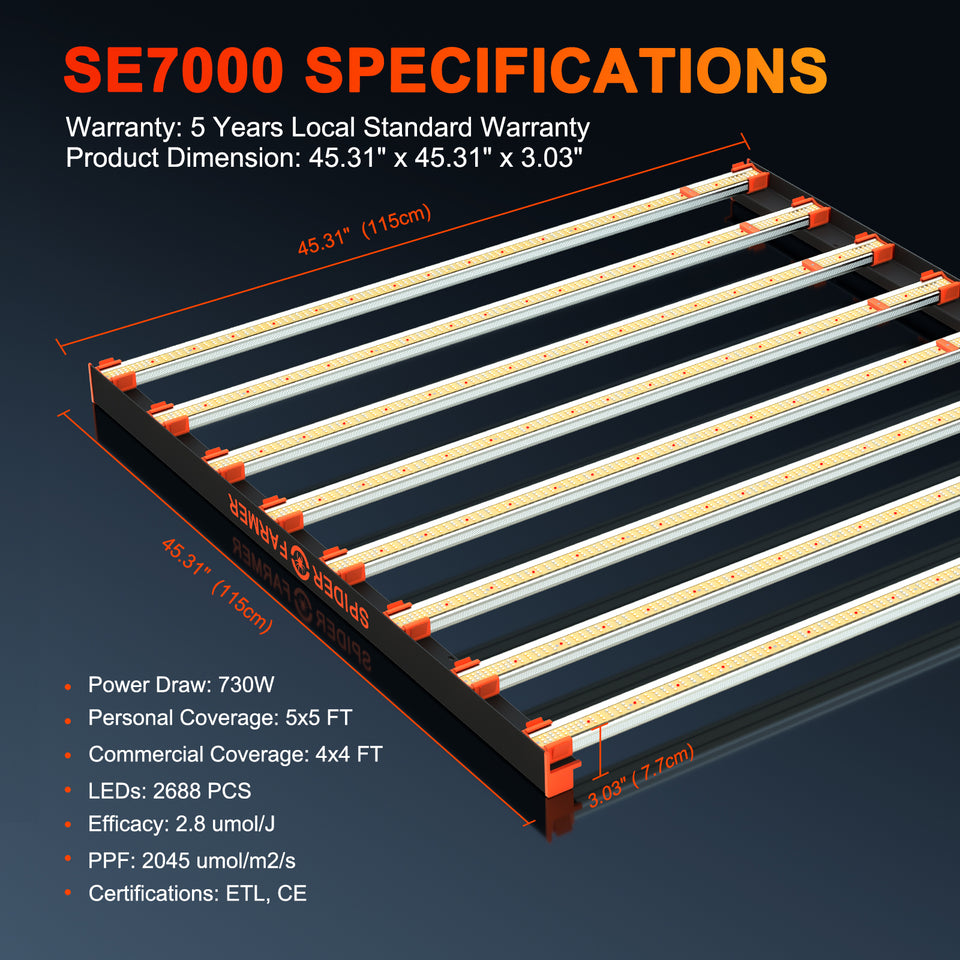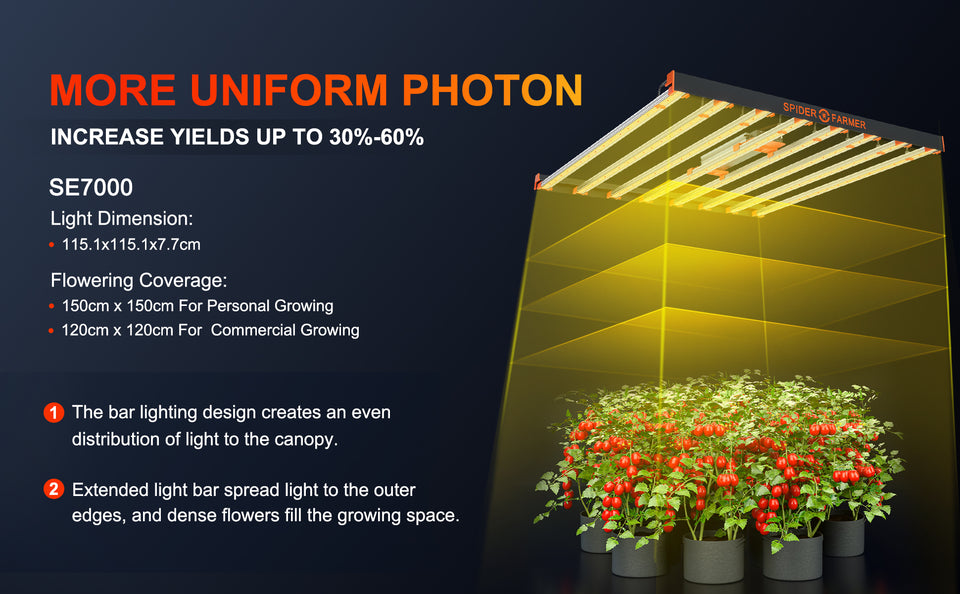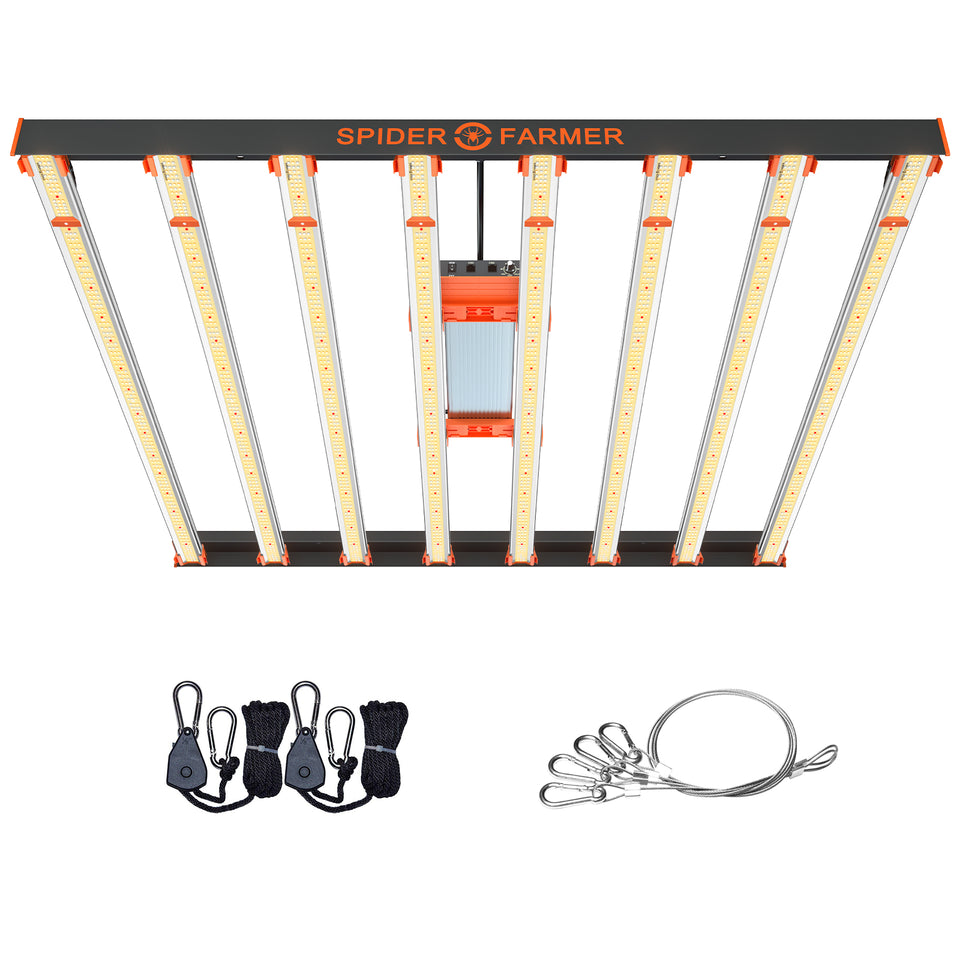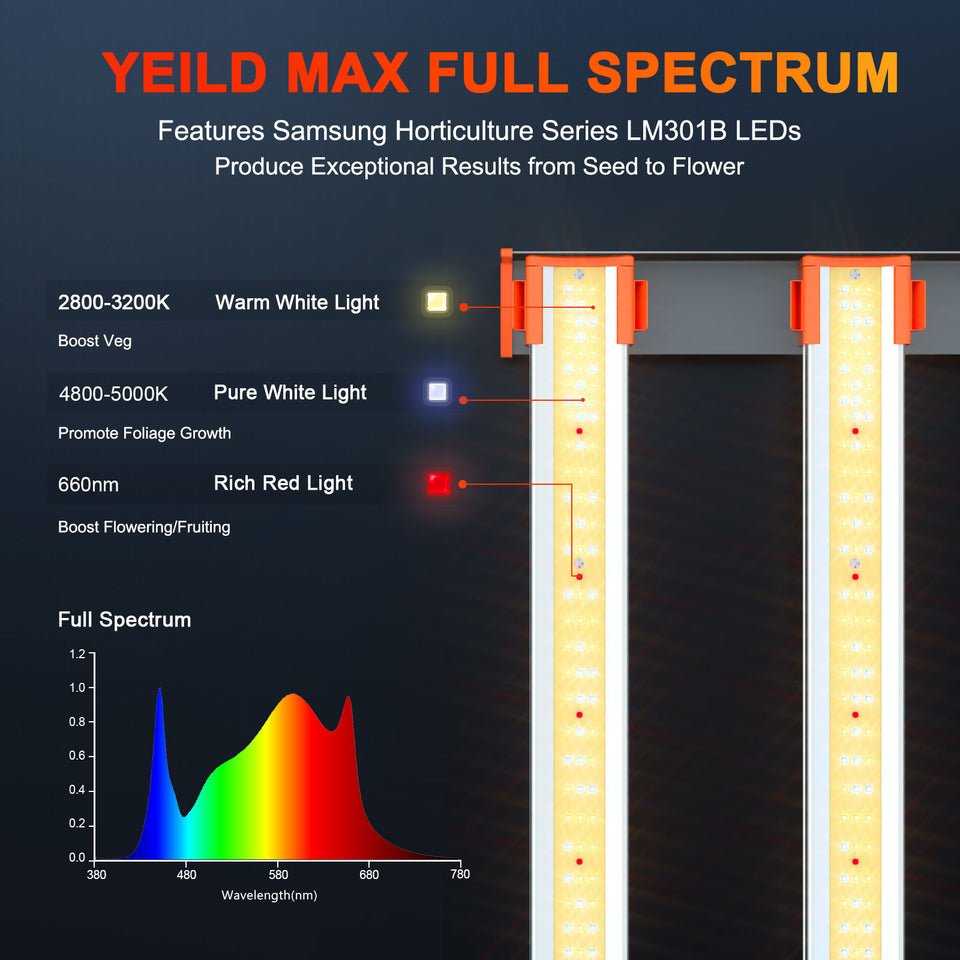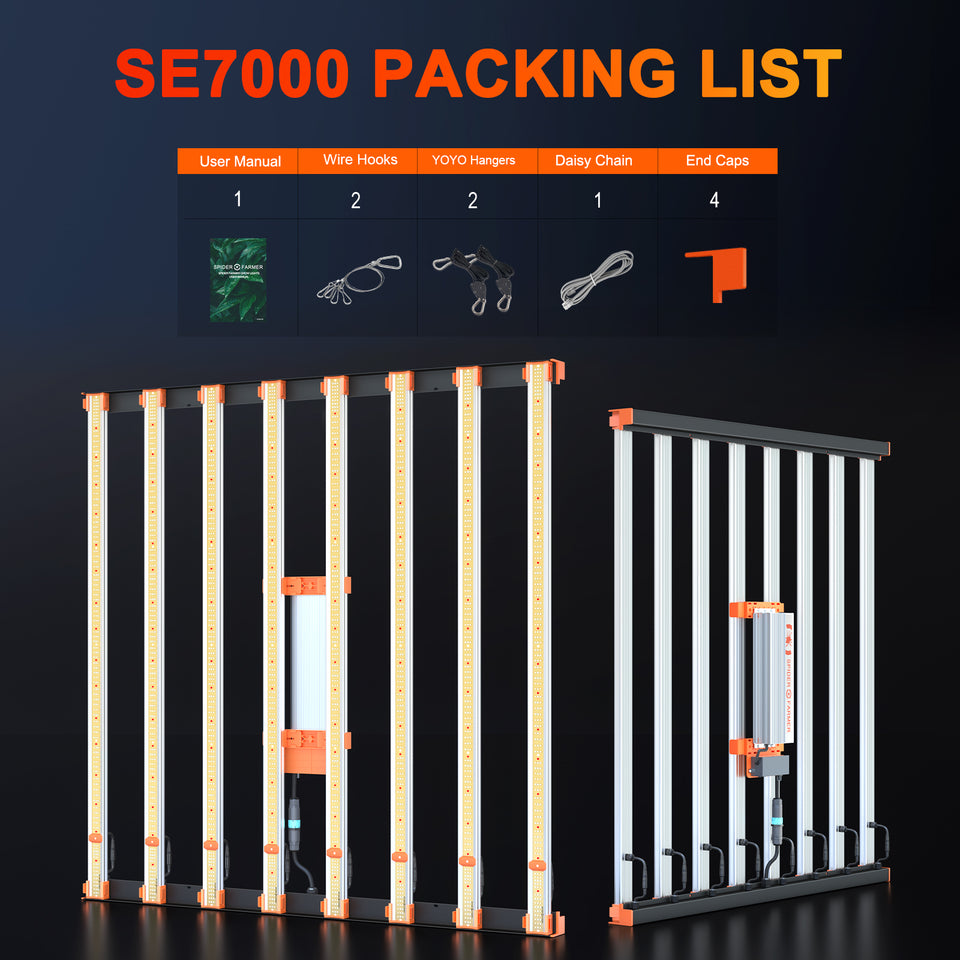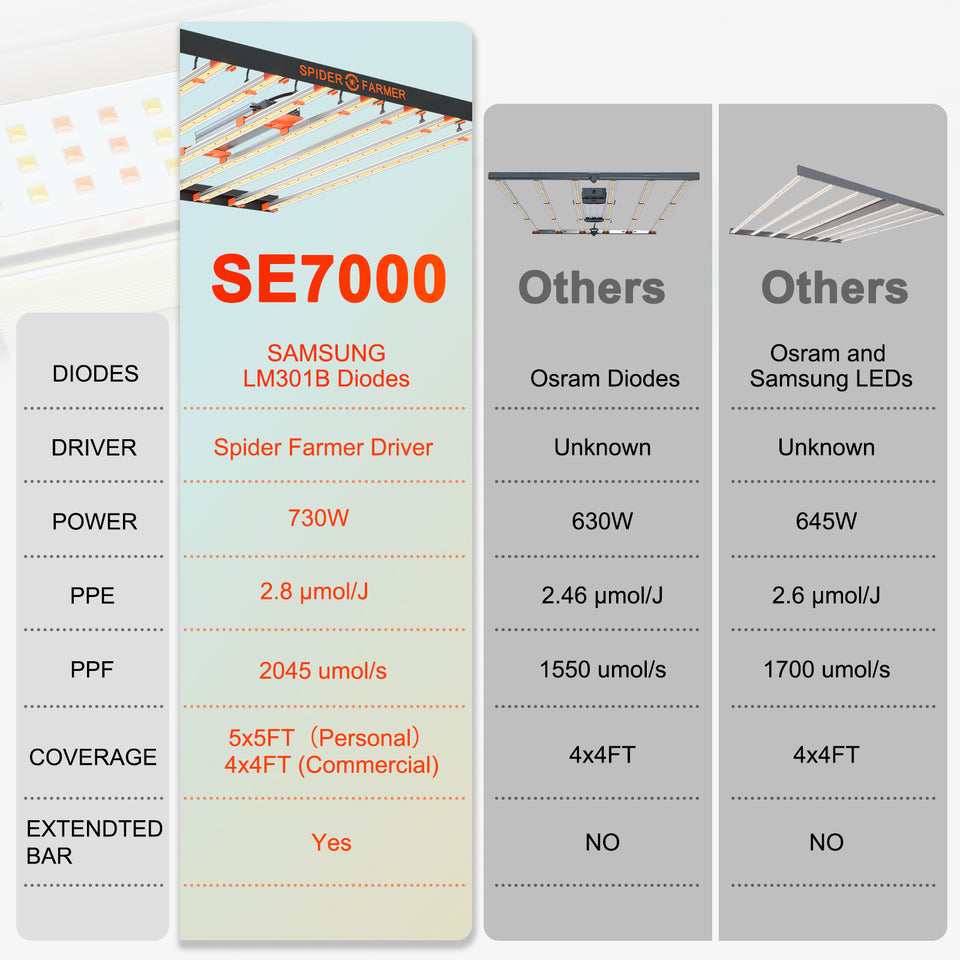 Spider Farmer SE7000 LED Grow Light (Black Edition)
Introducing the 2023 version of the incredible Spider Farmer SE7000. Now with Osram IR diodes added to its breathtaking output, the Spider Farmer SE7000 is a premier choice of LED Grow Light for cultivators who demand enormous yields bursting with flavour & bag appeal.  
Top Quality Samsung Diodes
Full Spectrum
Free UK Delivery
New 2023 version
Super Stealthy
Massively Reduced Electricity Costs
Detachable Driver
IR Diodes for Increased Flower Density
Fully Dimmable

30 x Daisy Chain
Zero Noise
Enhanced Flavour & Aroma
730w Power Output
50000 Hours Life
Pay in 3 instalments with Klarna
New 2023 Version
Fresh from the experts at Spider Farmer HQ comes the newly improved 2023 version of the incredible Spider Farmer SE7000 LED Grow Light. Boasting an incredible 2688 Samsung diodes over is 8 passively cooled light bars, the Spider Farmer SE7000 stands head and shoulders above its competition. 

The new Black Edition of the Spider Farmer SE7000 now comes with an abundance of IR diodes added to its plentiful array to enable the cultivator to develop flavours, aromas and flower size that would have been previously impossible from and LED Grow Lights in this price range. 

Huge Flavour. Massive Yields

With its highly efficient driver, growers can be sure that the Spider Farmer SE7000 and its intense full spectrum output will bathe your canopy in exactly the light wavelengths that plants need - and with its 98% efficient driver, the Spider Farmer SE7000 doesn't waste any power on the spectrums that they don't. 

Unlike its predecessors, The Spider Farmer SE7000 LED Grow Light now comes with an amazing 4 colour diode output over its breathtaking full spectrum array enabling cultivators to produce significantly higher yields than similarly priced LED Grow Lights.     

With current electricity costs, the Spider Farmer SE7000 is an LED Grow Light that has been designed with power efficiency at its core. The Spider Farmer SE7000 evenly distributes its 730w output evenly and precisely over its 8 clever self cooling light bars at a very low cost.


This ensures that every square inch of your grow space is evenly covered with high intensity full spectrum luminescence with no hot spots or shadowed areas.

Gone are the days of weak, sickly plants in tent corners or light scorched plants in the centre. This is new generation LED Grow Light technology.  
The Spider Farmer SE7000 LED Grow Light measures in at an impressive 115cm x 115cm x 8cm making it perfect for grow tent or commercial use and, despite its heavy duty output it weighs in at only 12 kilos meaning it wont bend or buckle your tent at all. Bravo Spider Farmer!  

Premium Components. Premium Performance

This new 2023 version of the Spider Farmer SE7000 isn't cutting corners in terms of performance. The Spider Farmer SE7000 LED Grow Light is made of only premium components. Its massive array of Samsung diodes are the best in the market and Its top quality, high performance driver is hard wired into its detachable premium dimmer and control box.

With its detachable capability, the modern LED Grow Light cultivator can store the driver outside of the grow tent and away from the growing area.
This drastically reduces heat and means that the grower can operate the dimmer or daisy chain without opening the tent and destabilising your temperature and humidity. In addition to reducing wear and tear on delicate tent zips and doors, by storing the driver externally growers can increase the headroom within their tent - a massive plus for growers of tall and leggy plants. 
The heat reduction enabled by externally storing the driver really can't be understated. This, in combination with its passive cooling bars results in an LED Grow Light with significantly lower operating temperatures and stabilised humidity levels. This is a feat that have previously been impossible with other LED Grow Lights.
As well as enabling an optimum growing environment, the reduced temperatures achieved by the Spider Farmer SE7000 also mean that the LED Grow Light cultivator can save money by running cooling equipment such as fans and ventilation at a lower setting.

This saves on electricity costs and also massively reduces the telltale noise often caused by inline fans and cooling equipment.
A genius move from Spider Farmer. They really have thought of everything. 

Lower Heat. Lower Electricity Costs

The dimmer is fully controllable with pinpoint accuracy to enable precise management by the cultivator. It can be adjusted from a tiny 10% all the way up to a retina busting 100% with fingertip control.


This makes the Spider Farmer SE7000 suitable for all stages of growth from delicate seedlings all the way up to chunky, lumen hungry flowers. Unlike many LED Grow Lights, the Spider Farmer SE7000 has no click points or pre sets. Control is yours right down to the last %.
The Spider Farmer SE7000 comes daisy chain ready too. Boasting plug and play simplicity, the Spider Farmer SE7000 can be easily connected to up to 30 units to be controlled simultaneously with no additional equipment needed at all. Everything you need is in the box.    
The Spider Farmer SE7000 LED Grow Light and its array of almost 3000 Samsung Diodes enables even novice growers to produce between 2.5g and 3.0g of delicious, resin rich flowers per watt of light. It doesn't take a mathematician to figure that with its 730w output, that is around 1800g of premium quality produce every single flowering cycle.  
The Spider Farmer doesn't cost a fortune to run either. With an average electricity cost of around £2.23 per day, an 8 week grow cycle can be completed with a cost of roughly £125. This means that the Spider Farmer SE7000 can pay for itself incredibly quickly making it a prime investment opportunity for any professional grower. 

With its pin point accuracy and innovative engineering - the Spider Farmer SE7000 leaves most other LED Grow Lights in the dust. As soon as the Spider Farmer SE7000 is unboxed, all older lights just seem stupid. 
As you'd expect, the Spider Farmer SE7000 ships in stealthy plain packaging with high quality hanging kit included. 


This incredible LED Grow Light is ready to use out of the box in just a few minutes. No trailing wires and no messy ballasts. Just pure performance. 
Spider Farmer SE7000 (Black Edition) Technical Specification
| | |
| --- | --- |
| Power | 730W |
| Input Voltage | AC 220-240V |
| Weight | 13 kg |
| HPS Equivalent | 1100w |
| Flower Footprint | 1.8m x 1.8m |
| Veg Footprint | 2.2m x 2.2m |
| Diodes | Samsung LM301B & Osram IR  |
| Diode Count | 2688 |
| Size | 114cm x 114cm x 8cm |
| Spectrum | 660nm, 3000K, 5000K |
| Efficiency | 2.81 umols/J |
Product includes:
Spider Farmer SE7000 Black Edition LED Grow Light
Power Cord
User Manual
Wire Hangers
Ratchet Hangers