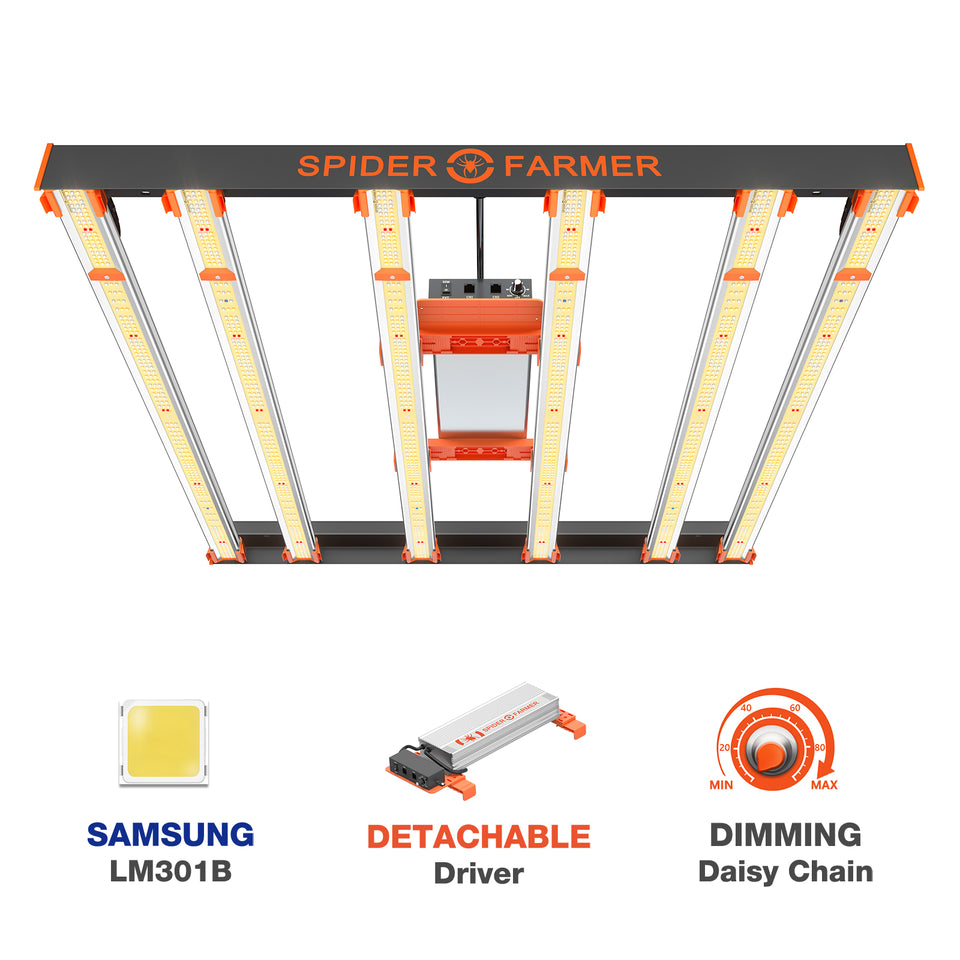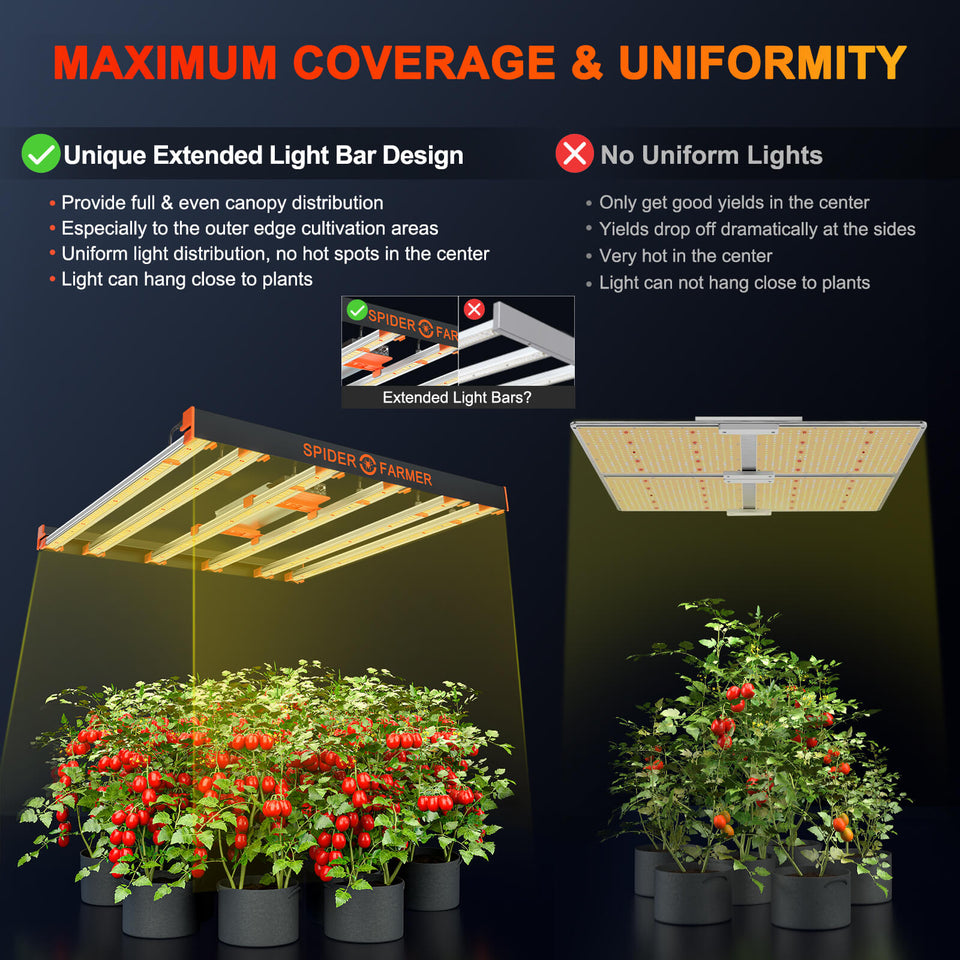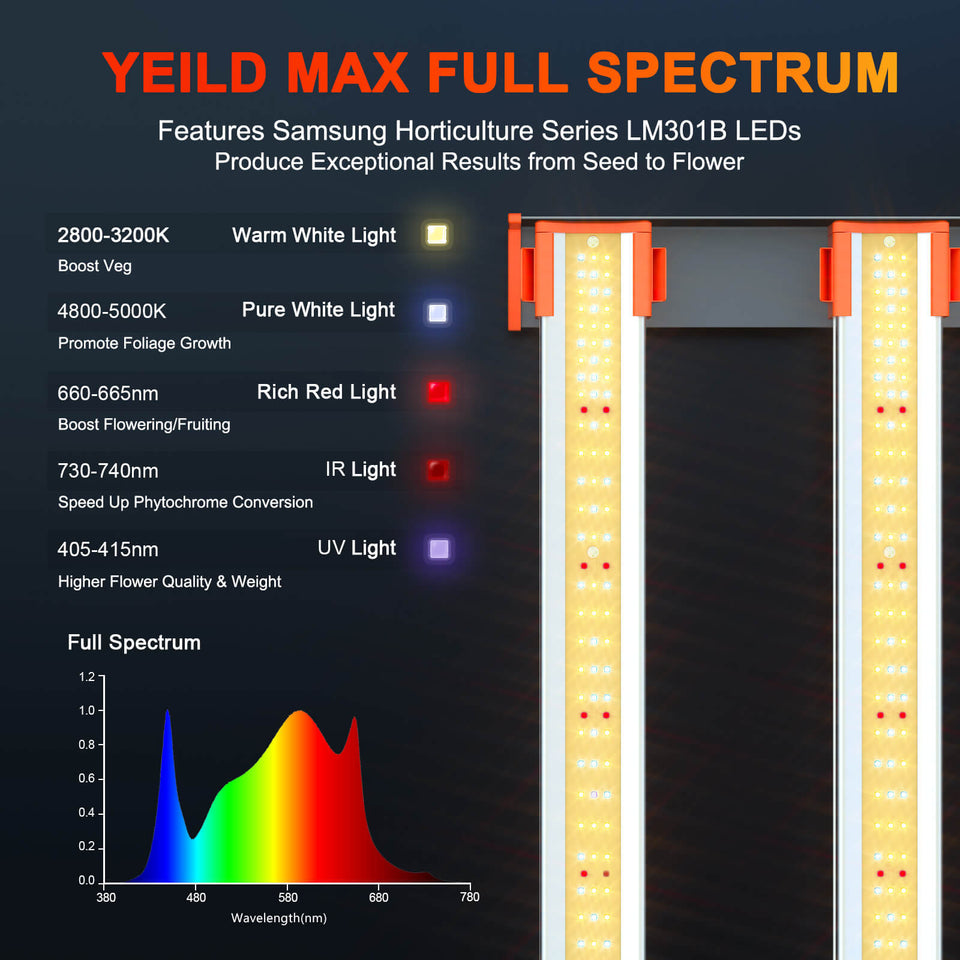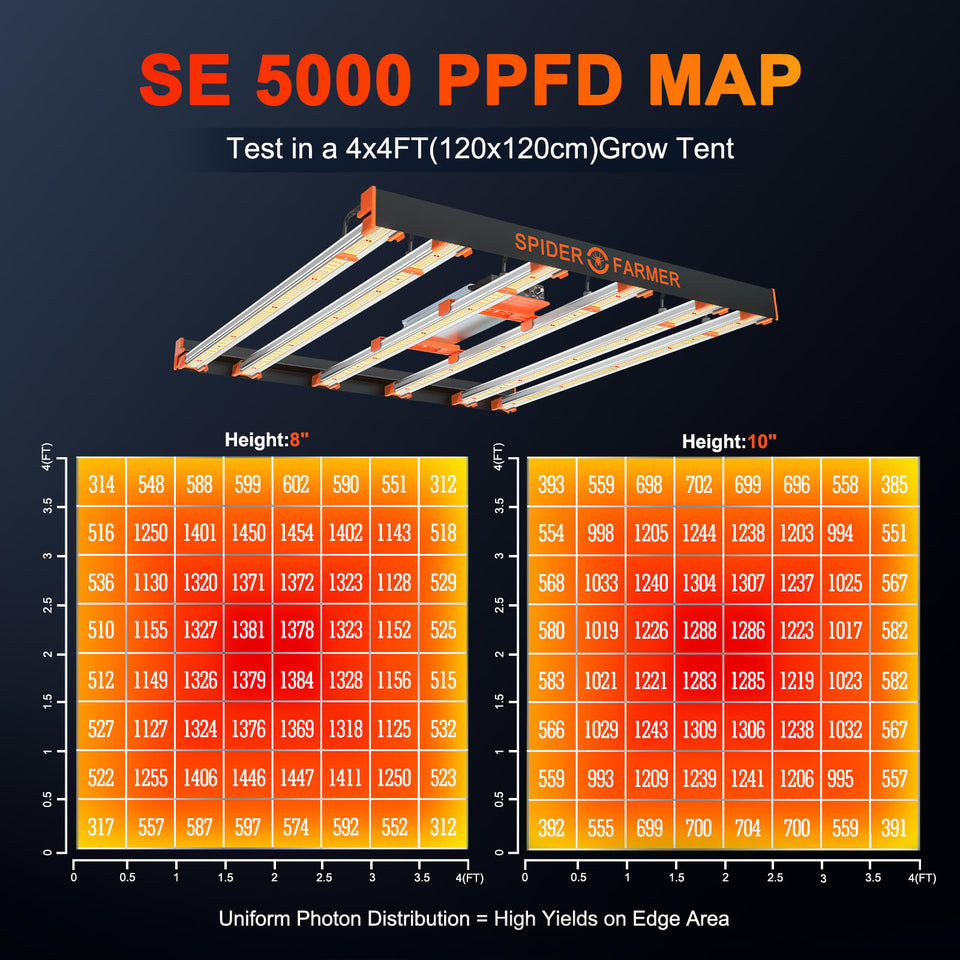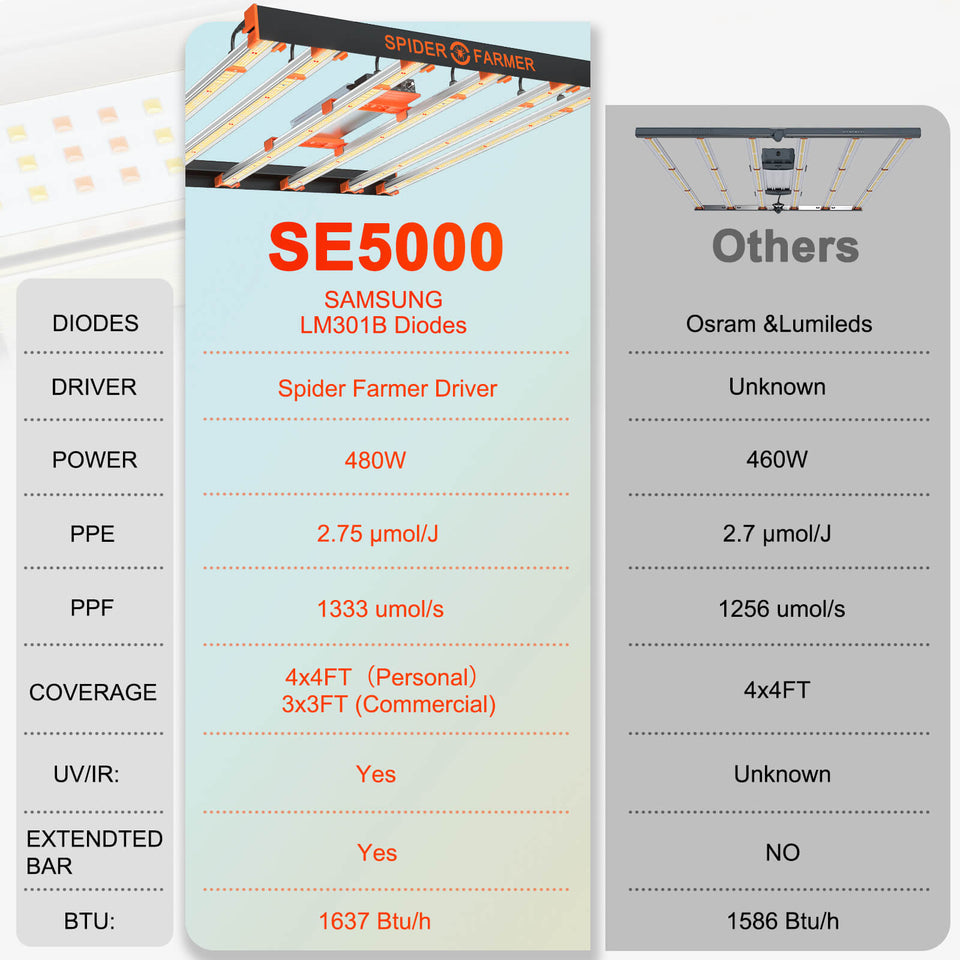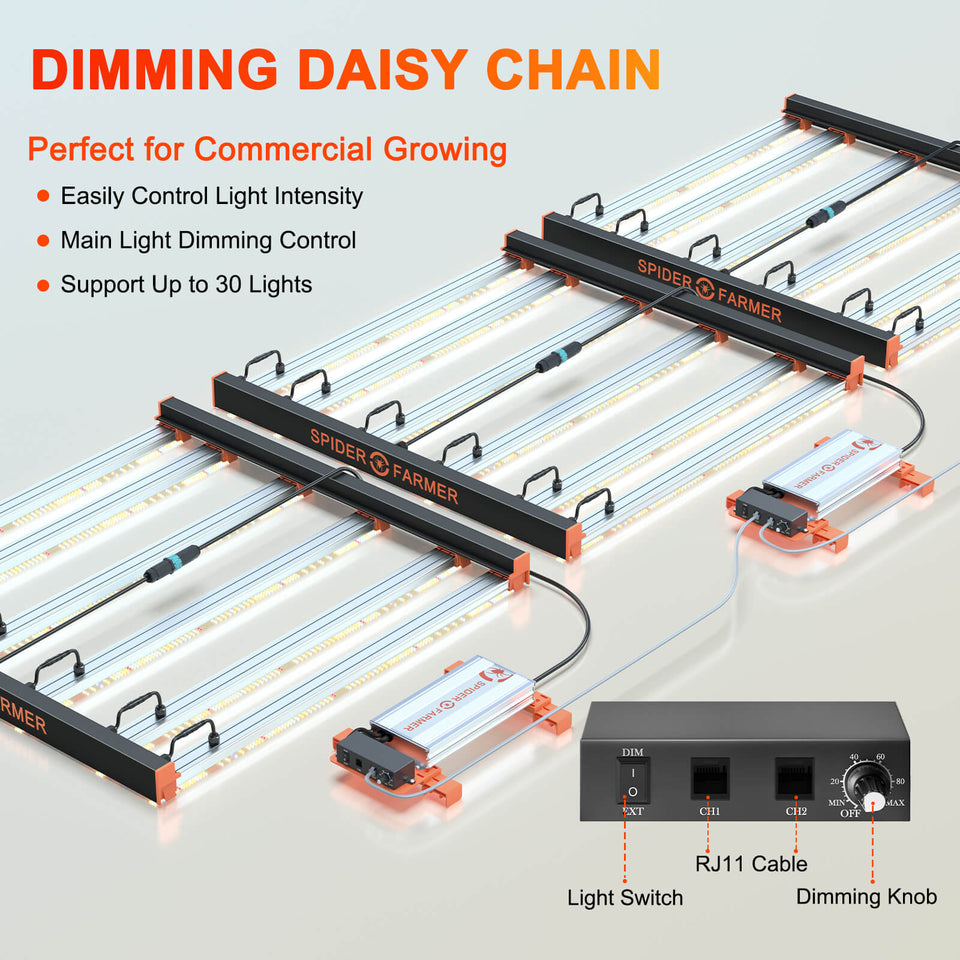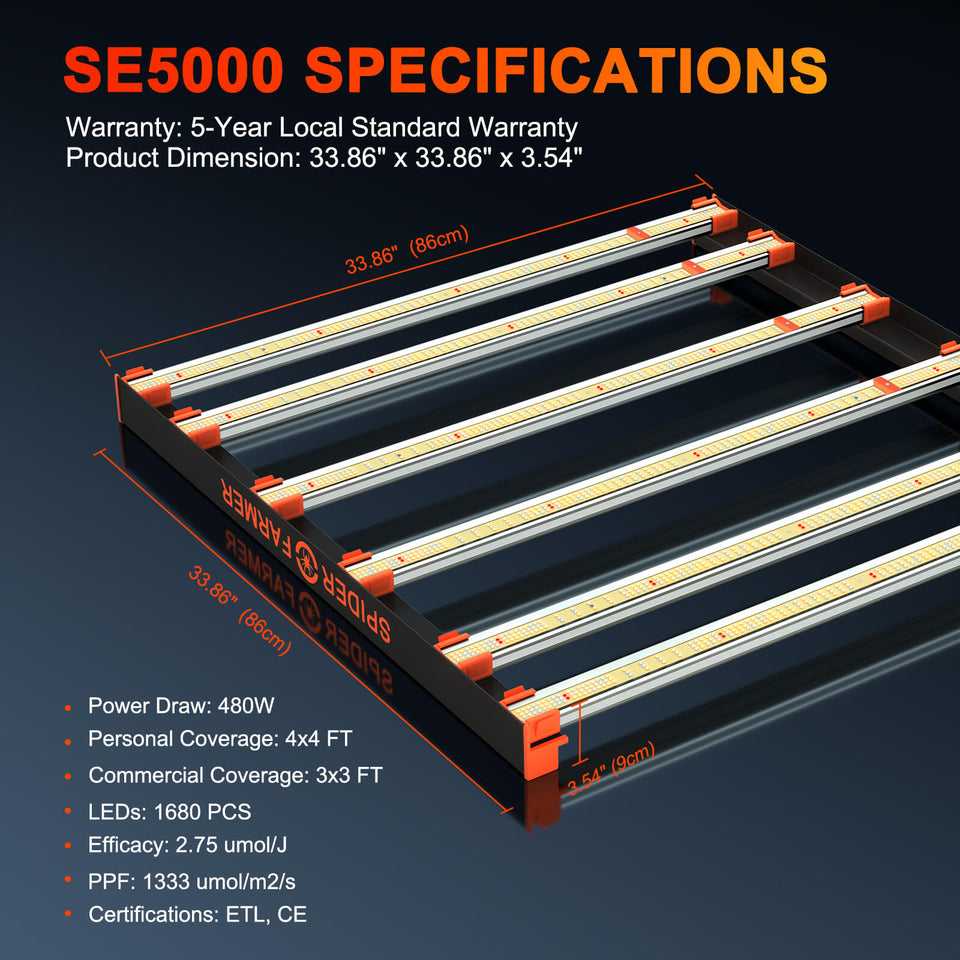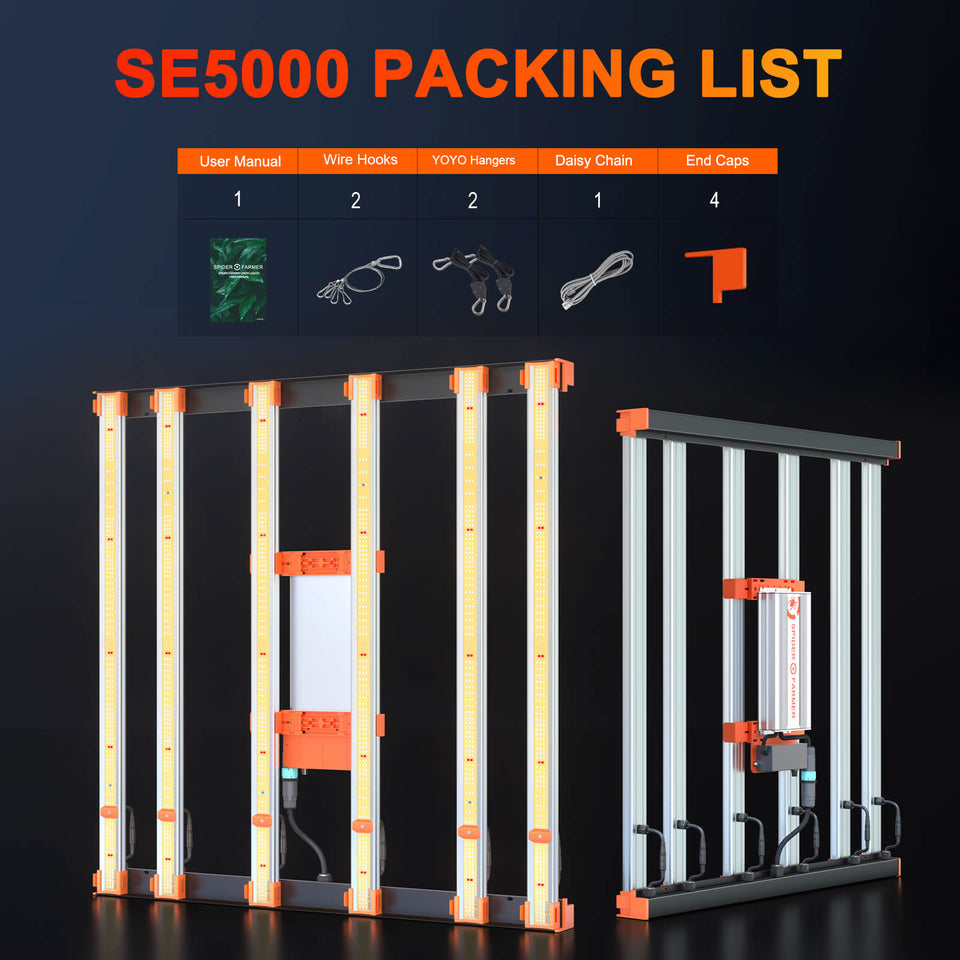 Spider Farmer SE5000 LED Grow Light (Black Edition)
The New 2023 version of The Spider Farmer SE5000 LED Grow Light pushes the boundaries of what can be expected from a plant. With Osram IR diodes added to its array, The Spider Farmer SE5000 is the most popular LED Grow Light for Cali flavour hunters worldwide.   
Top Quality Samsung Diodes
Full Spectrum
Free Next Day UK Delivery
New 2023 version
Super Stealthy
Massively Reduced Electricity Costs
Detachable Driver
Samsung Diodes for Enhanced Flavour & Resin Production
Fully Dimmable

30 x Daisy Chain
Zero Noise
IR Output for Bigger, Chunkier Flowers
480w Power Output
50000 Hours Life
Pay As You Grow in 3 instalments with Klarna
Daily Electricity Cost £1.47



A Game Changing LED Grow Light
Fresh from the world leaders of LED Grow Lighting at Spider Farmer, the Spider Farmer SE5000 boasts an incredible 1680 Samsung & Osram diodes over its plentiful array.
Packed full of exciting features, the new 2023 version of the Spider Farmer SE5000 features a host of new and exclusive features that have previously been simply impossible from an LED Grow Light at this price range. Recently updated with Osram IR diodes added to its output, the Spider Farmer SE5000 represents a new generation of LED Grow Light that provides incredible power efficiency without breaking the bank. 
With accurate & uniform light distribution and a market-leading efficiency of over 2.8µmol/j, the Spider Farmer SE5000 ensures that every centimetre of your space or Grow Tent is evenly served with high-intensity photons that your plants will simply adore.
Gone are the days of lighting hotspots or sickly, limp plants in tent corners. The Spider Farmer SE5000 is an LED Grow Light that changes the game. The Spider Farmer SE5000 is the culmination of years of LED Grow Light know-how resulting in a remarkable full spectrum LED Grow Light with absolutely no light (or electricity) wastage at all. 
Full Spectrum. Maximum Power
Featuring its exclusive distribution of IR diodes, the Spider Farmer SE5000 offers a high-powered and full spectrum output making it suitable for the full grow cycle of your plants. Boasting a deep & powerful IR array, the Spider Farmer SE5000 is specially developed for expert growers and flavour hunters who demand resin-dripping plants with thick flowers with abundant aroma & bag appeal.
Detachable Driver. Ultra Cool Running
The Spider Farmer SE5000 features a high quality driver at its core. Its detachable and comes equipped with a 3 meter cable allowing the cultivator to store it outside of the grow area. Not only does this improve air flow and ventilation, but it also enables the grower to operate the dimmer without opening the tent and destabilising the grow environment.
By placing the driver externally, the grower can significantly reduce the temperature of your grow space while also increasing headroom within your Grow Tent. This is great for growers with limited space and enables the user offer maximum space to your plants and minimum space to hot, bulky equipment.  
Fully Dimmable. Daisy Chain Ready
The Spider Farmer SE5000 features a top of the range dimmer built into its control panel. Cultivators can freely adjust the light output of the Spider Farmer SE5000 from a tiny 10% all the way up to a maximum 100% power output. With easy access fingertip control, the Spider Farmer SE5000 LED Grow Light is suited for full cycle growing all the way from delicate seedlings right up to flavour-bursting, resin rich flowers. 
With modern electricity costs, the Spider Farmer SE5000 is designed with efficiency at the forefront. The new 2023 Spider Farmer SE5000 features an improved dimmer box with no click points or presets found on other models. This enables also power savvy cultivators to adjust the electricity use of their LED Grow Light meaning you don't over use electricity when you don't need to.
Also featured in the Spider Farmer SE5000 control panel is a hard wired Daisy Chain feature enabling the cultivator to connect up to 30 fixtures together with simultaneous control from the first fixture in line. This is fantastic for professional level growers who intend to build their grow room as they go. The cable is included and everything you need is in the box with no additional equipment needed at all. 
Lower Heat Output. Lower Running Costs
Thanks to its clever engineering and premium quality components, the Spider Farmer SE5000 produces very little heat compared to other brands. Thanks to its passive cooling properties and ingenious Light Bar technology, the Spider Farmer SE5000 vents excess heat upwards and away from the plant canopy. Say goodbye to red hot bulbs in the centre of your grow room and say goodbye to burned plants.
The Spider Farmer SE5000 spreads its heat evenly over the canopy taking the pressure off your grow room cooling equipment. Not only does this maintain an optimum in tent environment but it also means that the cultivator will spend less money on overworking fans and ventilation.
But it's not just about saving money, the passive cooling and upwards venting means that your ventilation & cooling systems can run significantly lower power with less noise - adding another layer to the stealth operation of your grow room. 
Premium Components. Premium Performance. 
As you'd expect from Spider Farmer, this is no cheap and cheerful LED Grow Light. The Spider Farmer SE5000 is comprised of only the best parts and components. With an expected life of over 50000 hours with zero maintenance operation, this thing is built to last. 
Your plants will simply love the generous array of 1680 Samsung & Osram diodes chips perfectly spread evenly over its plentiful footprint. The Spider Farmer SE5000 and its 5 diode colours really is a California summers day at your fingertips. 
The Spider Farmer SE5000 is a perfect LED Grow Light for connoisseur growers who demand the best and like to push the boundaries of what is possible from a plant. This is one for those Cali flavour hunters and growers who demand the best. 
The LED Grow Light experts at Spider Farmer have developed the SE5000 to consume just 480w of power from the wall - yet it has been proven to easily outperform 800w of old style HPS light in comparison tests.
With an average daily electricity cost of around £1.47 per day, this means that an 8 week grow cycle costs around £85 in electricity costs meaning that the Spider Farmer SE5000 pays for itself very, very quickly indeed. With Spider Farmer advertising the capabilities of the SE5000 at a massive 2.5g of produce per watt consumed, cultivators can expect to harvest around 1200g of high quality product every single flowering cycle. That is quite an astounding return on investment for any professional cultivator.   
Say goodbye to sky high electricity bills, goodbye to constantly replacing bulbs and goodbye to wasting energy. Upgrading to The Spider Farmer SE5000 really is a no brainer for all modern cultivators. 

Low Profile. Stealth Operation
The Spider Farmer SE5000 LED Grow Light measures in at 86cm x 86cm with a height (including driver) of just under 8cm. This makes the Spider Farmer SE5000 and its array of 1680 super bright Samsung LEDs are at home in Grow Tents of all sizes.
Not only is the Spider Farmer SE5000 an incredible feat of LED Grow Light functionality, but it really is a visually beautiful piece of kit too.
It's slim, super stealthy and it weighs much less than its competitors making it a breeze to set up. No tools are required and no complicated assembly instructions. The Spider Farmer SE5000 is out of the box and ready to go in minutes.
The Spider Farmer SE5000 weighs in at just over 12 Kilos meaning it won't bend or buckle your grow tent. But don't let that fool you. This certainly isn't a lightweight in terms of performance. The Spider Farmer SE5000 is strong, tough and its build like a tank. 
The Spider Farmer SE5000 won't let you down mid grow. This is designed for perpetual harvests grow after grow without any degradation in performance. None at all. 
To summarise, the Spider Farmer SE5000 and its full spectrum diode array represents a huge leap forward in LED Grow Light technology. It really is a fantastic fixture at an almost unbelievable price. Its comes very highly recommended by our in-house grow geeks. 
As you'd expect from Spider Farmer, the SE5000 ships in stealthy plain packaging with high-quality hanging kit included. No messy ballasts and no trailing cables. Clean as a whistle. 
If we could give an LED Grow Light a round of applause without looking like a bunch of goofs, we would. Finely tuned and specifically tuned for botanical, resin producing plants - the Spider Farmer SE5000 is one of the best LED Grow Lights in the world today. 
The Spider Farmer SE5000 is a fantastic LED Grow Light for fantastic plants. Bravo Spider Farmer.
Spider Farmer SE5000 (Black Edition) Technical Specification
| | |
| --- | --- |
| Power | 480W |
| Input Voltage | AC 220-240V |
| Weight | 12 kg |
| HPS Equivalent | 750w |
| Flower Footprint | 1.5m x 1.5m |
| Veg Footprint | 1.8m x 1.8m |
| Diodes | Samsung LM301B & Osram IR  |
| Diode Count | 1680 |
| Size | 86cm x 86cm x 7cm |
| Spectrum | 660nm, 3000K, 5000K |
| Efficiency | 2.75 umols/J |
| Daily Electricity Cost | £1.47 |
Product includes:
Spider Farmer SE5000 Black Edition LED Grow Light
Power Cord
User Manual
Wire Hangers
Ratchet Hangers
Approximate costs of use based on 75% power for a 12 / 12 flowering cycle. 
*Calculated using the UK: Energy Price Guarantee (October 2022) electricity rate of 34.00 pence per kWh.