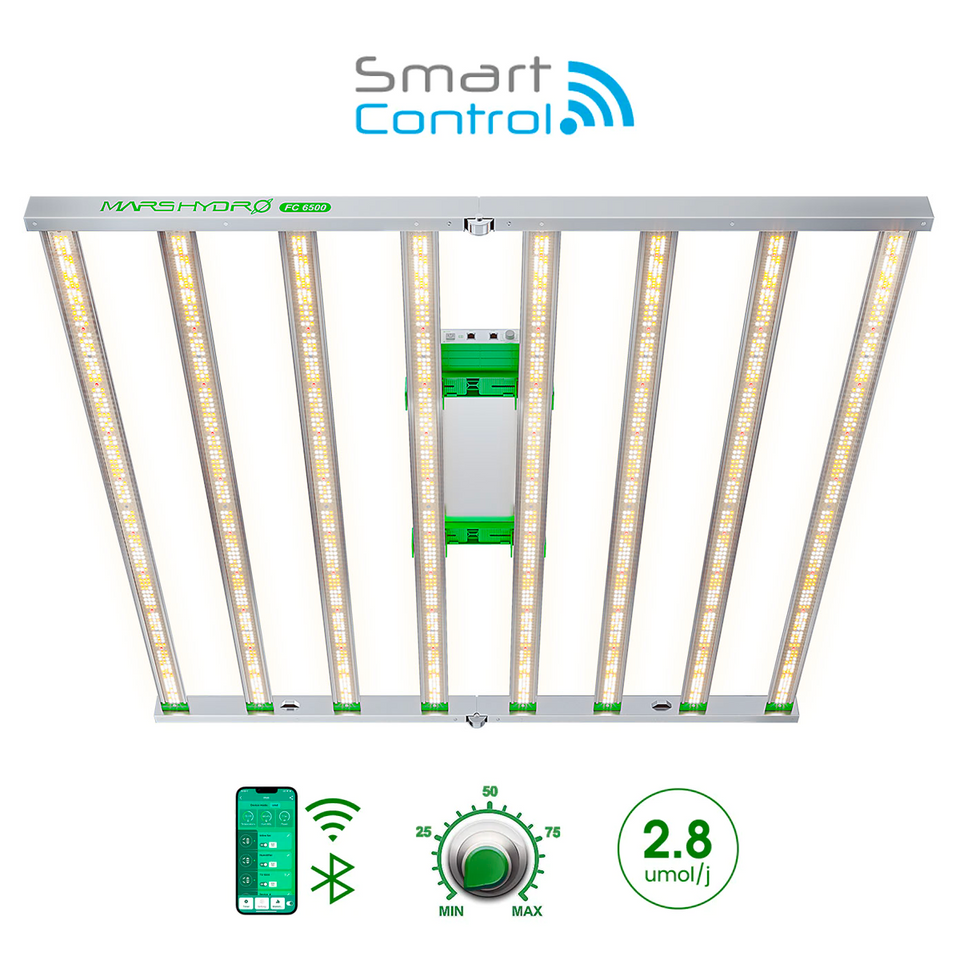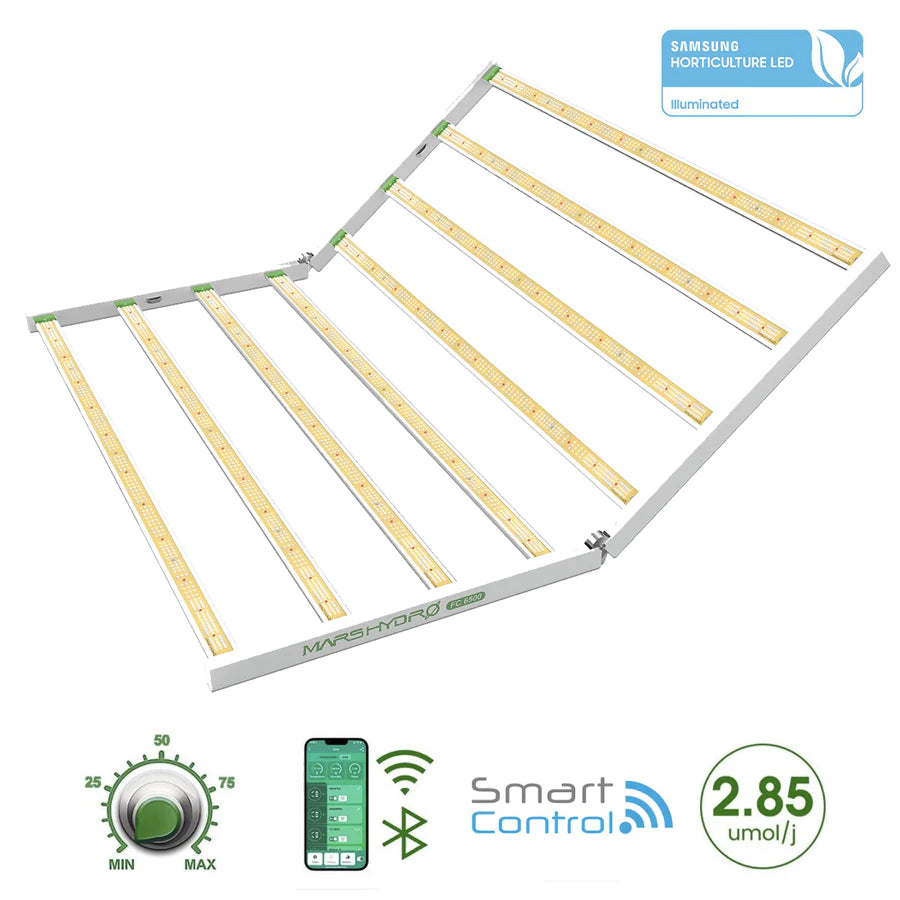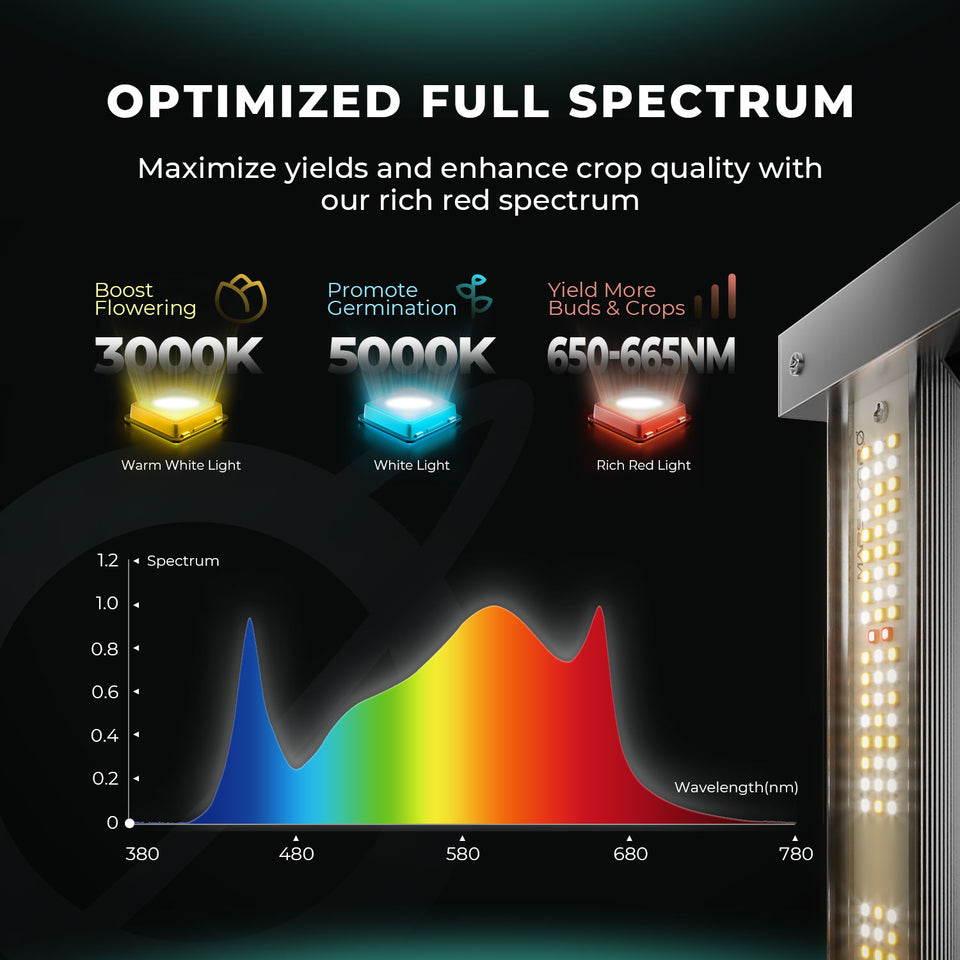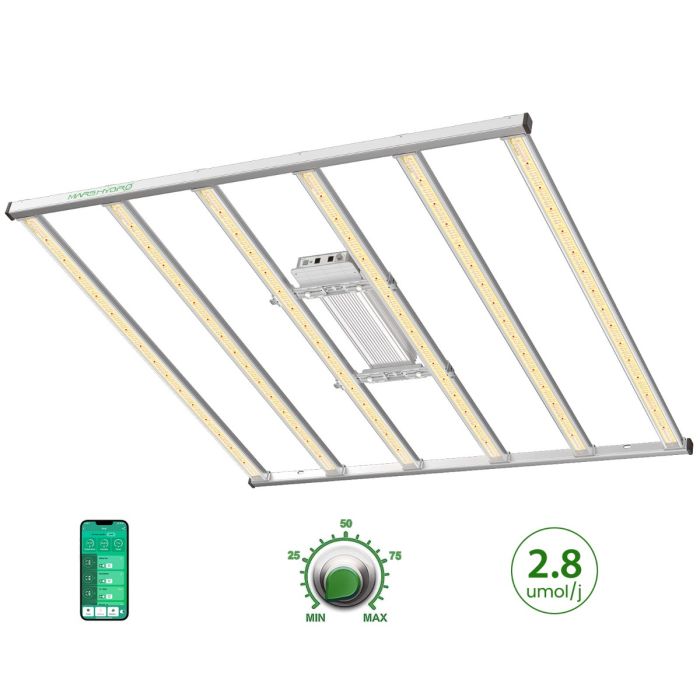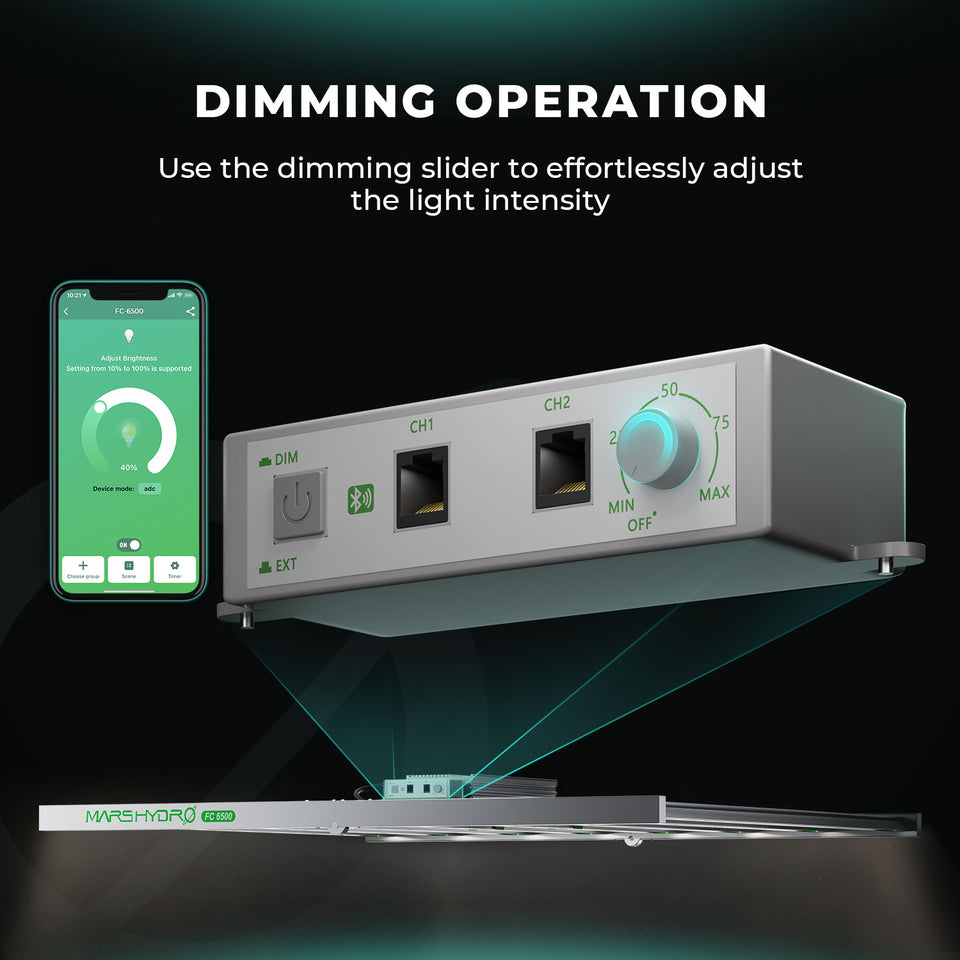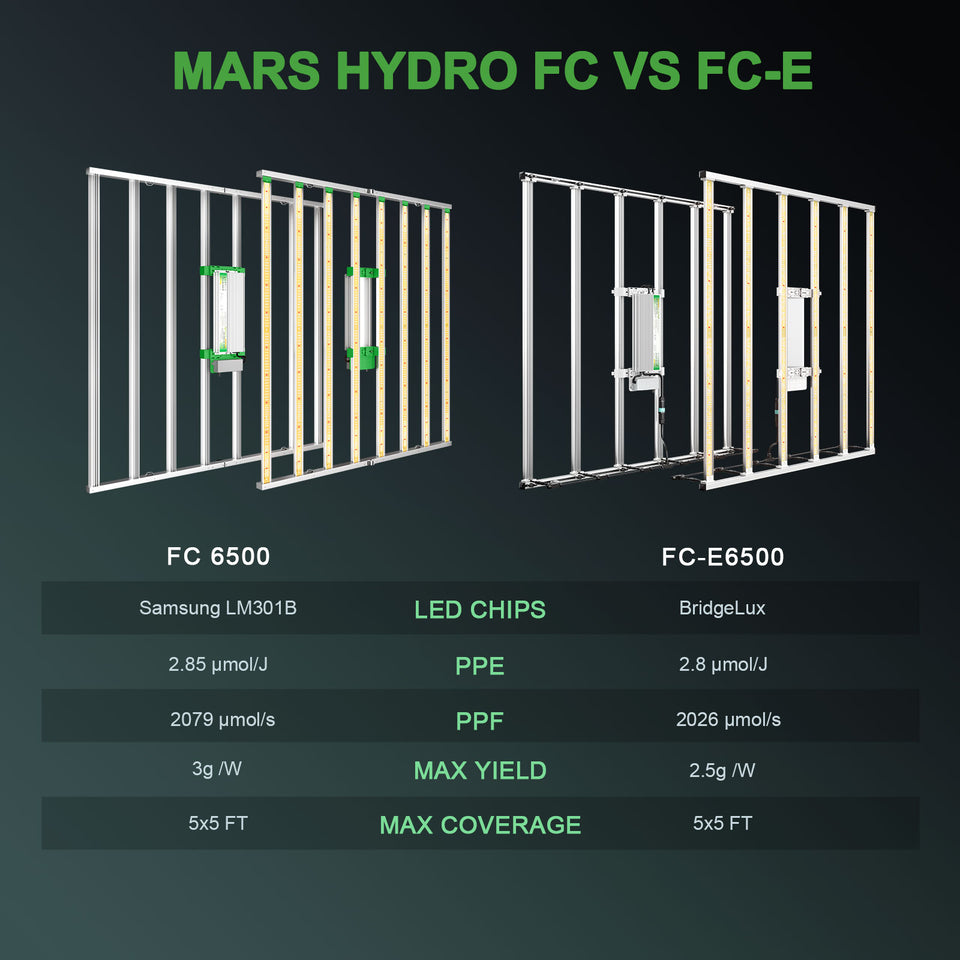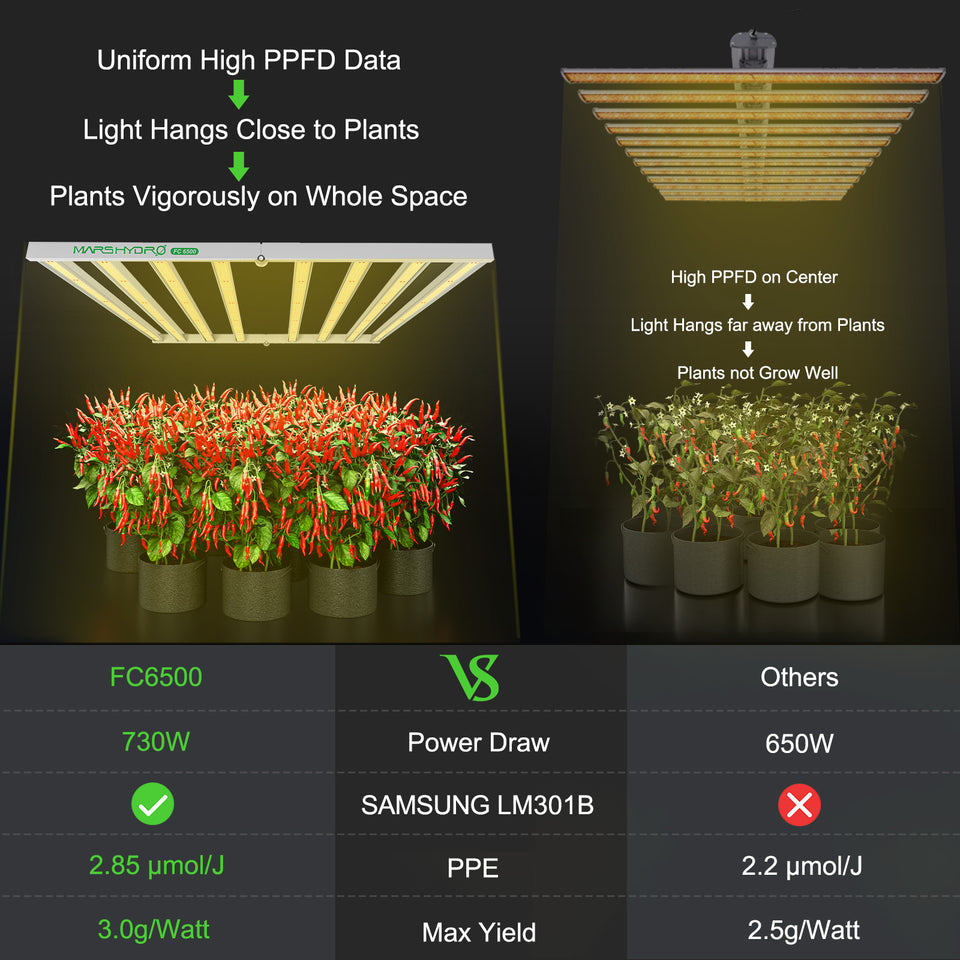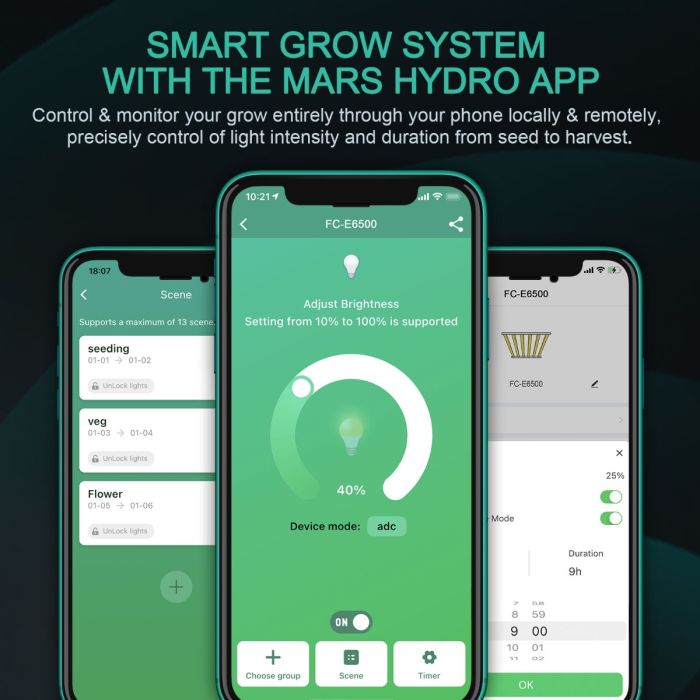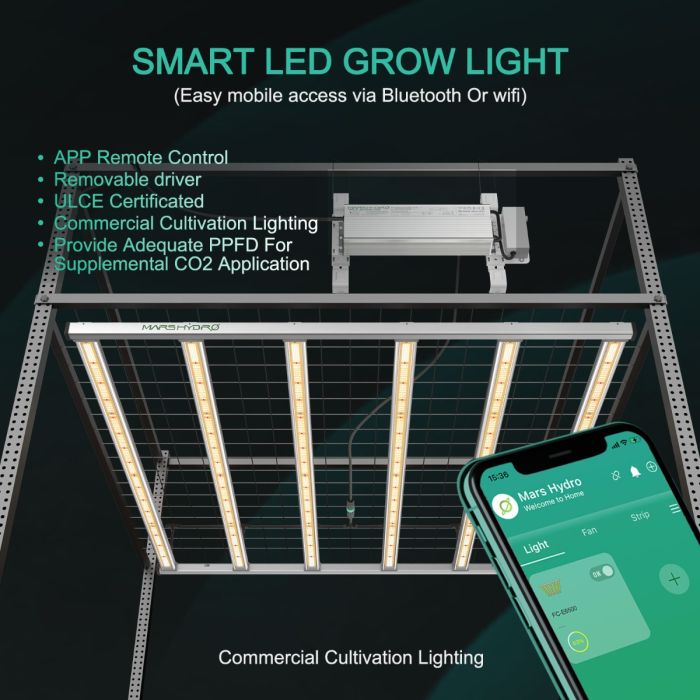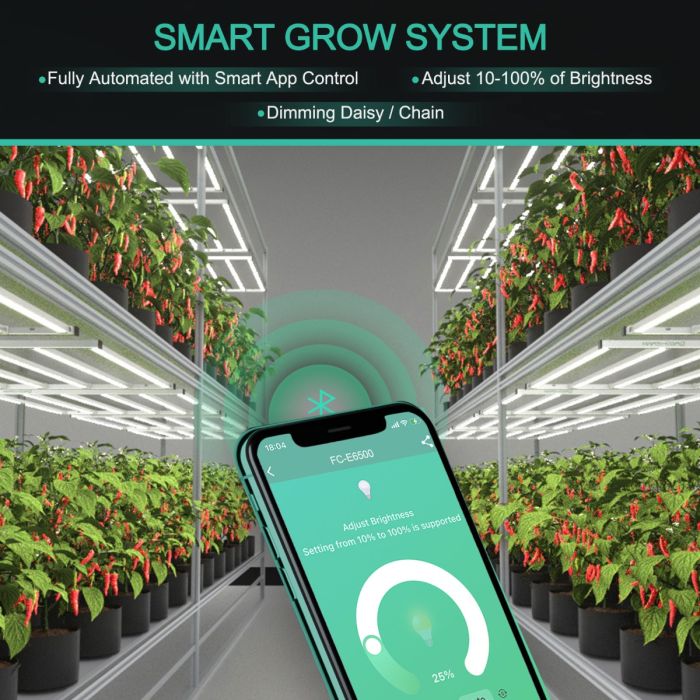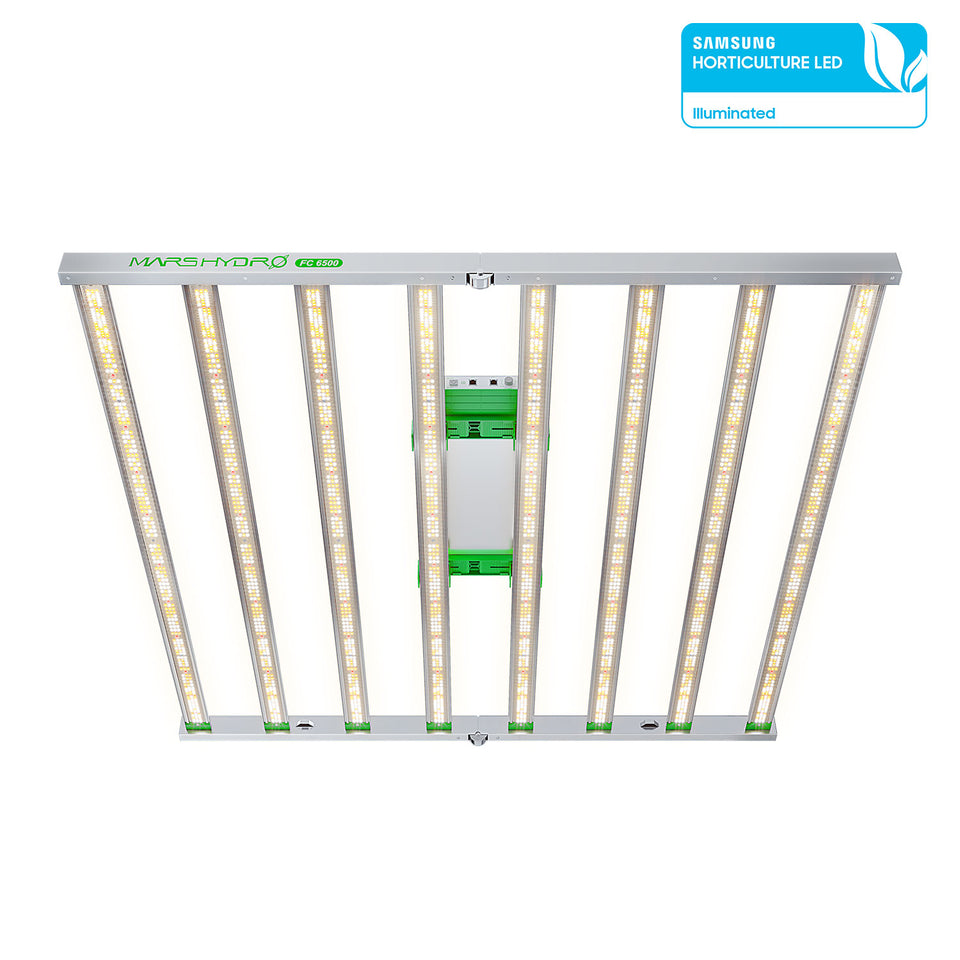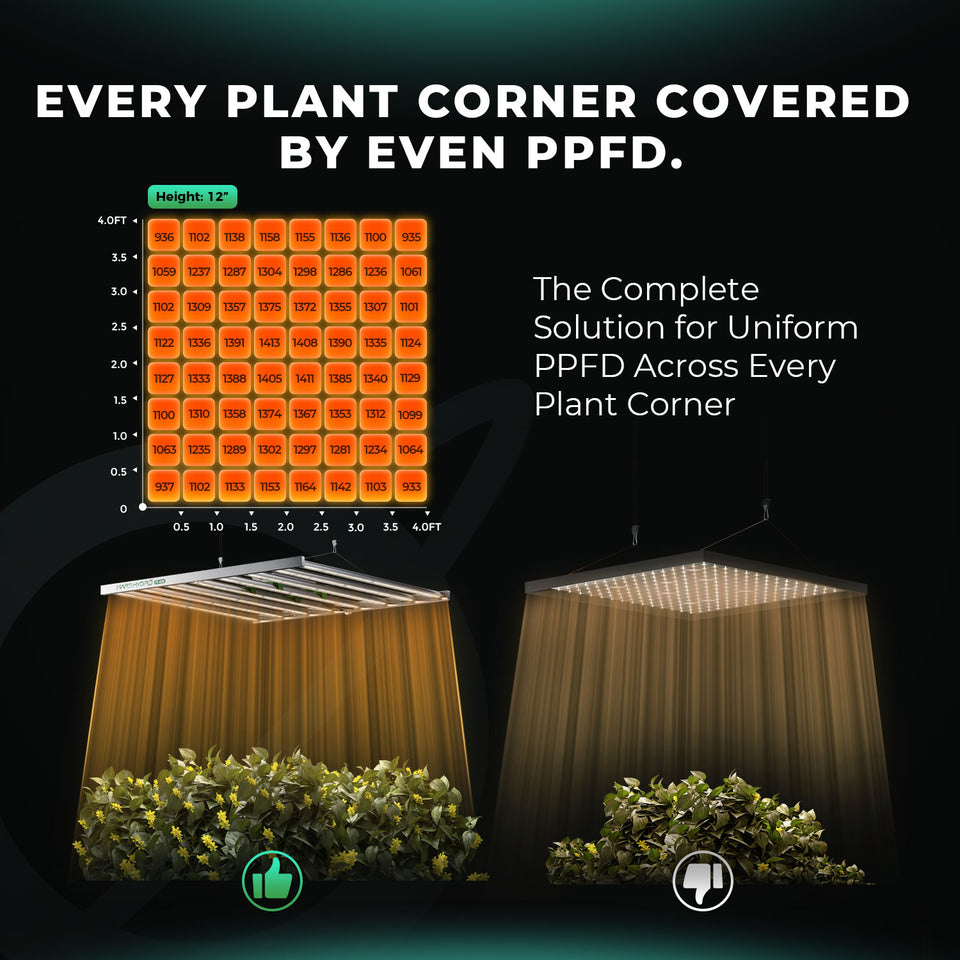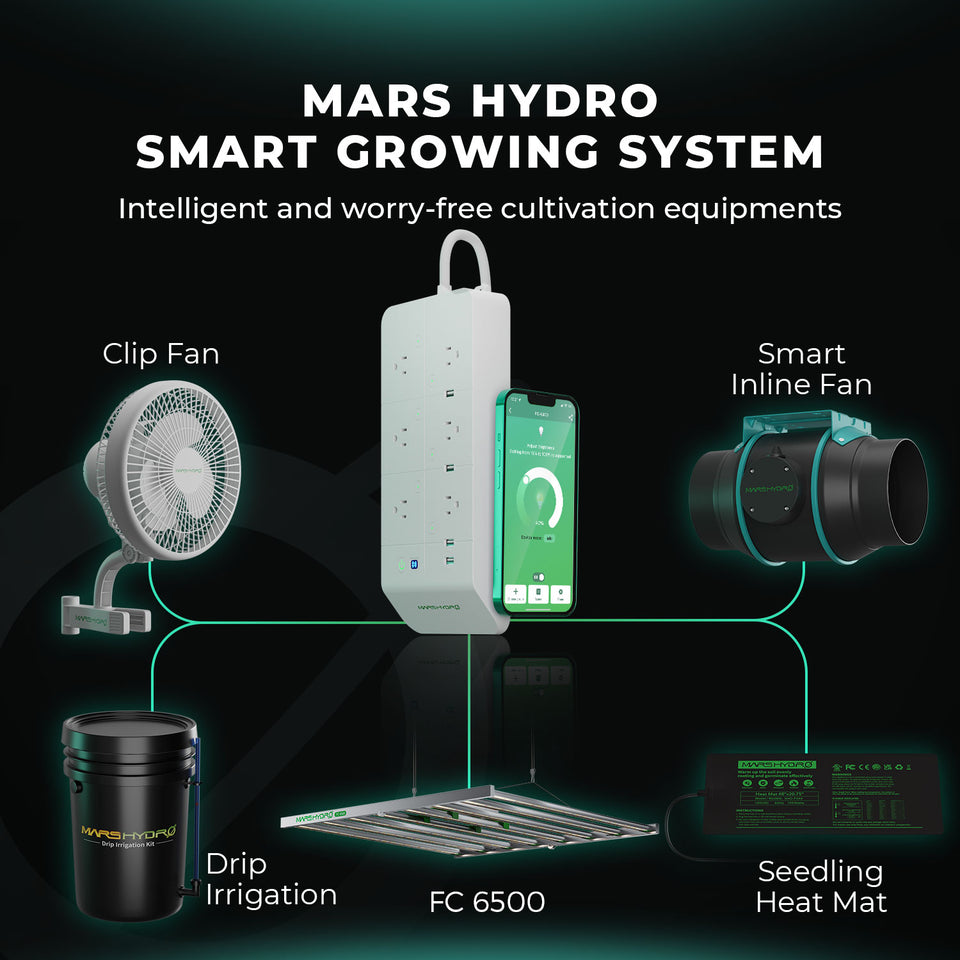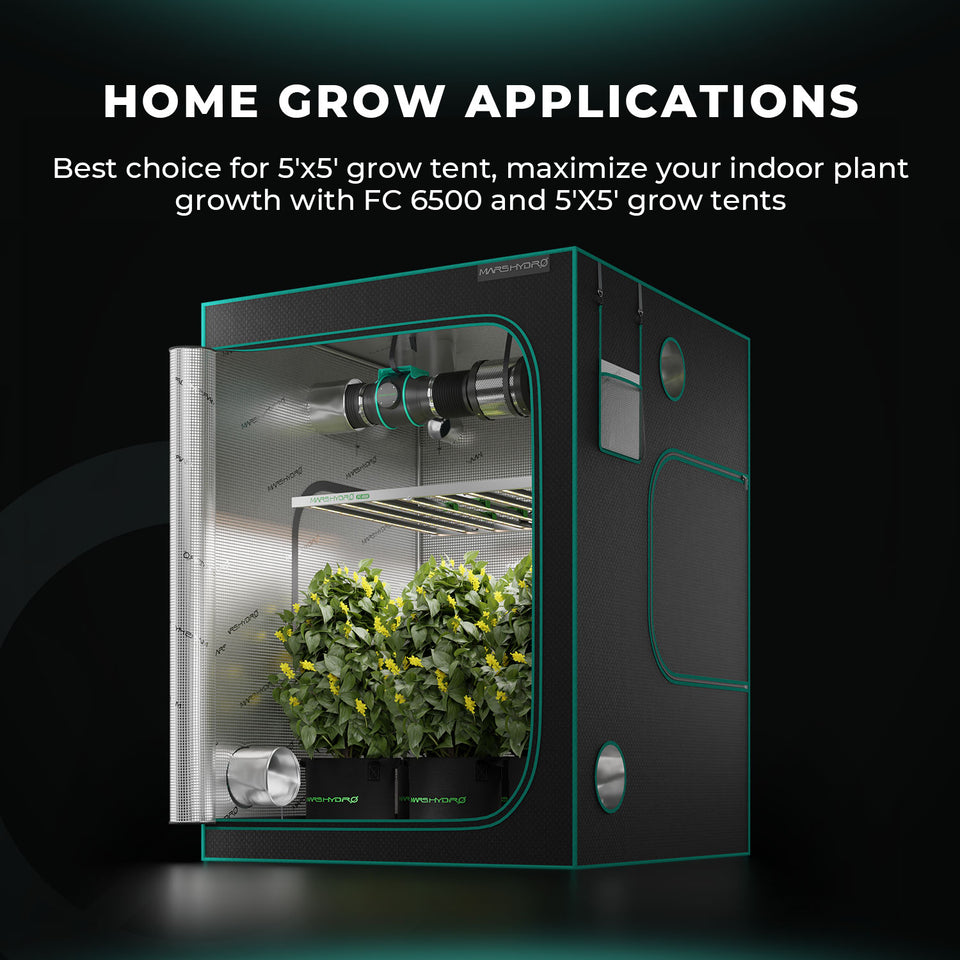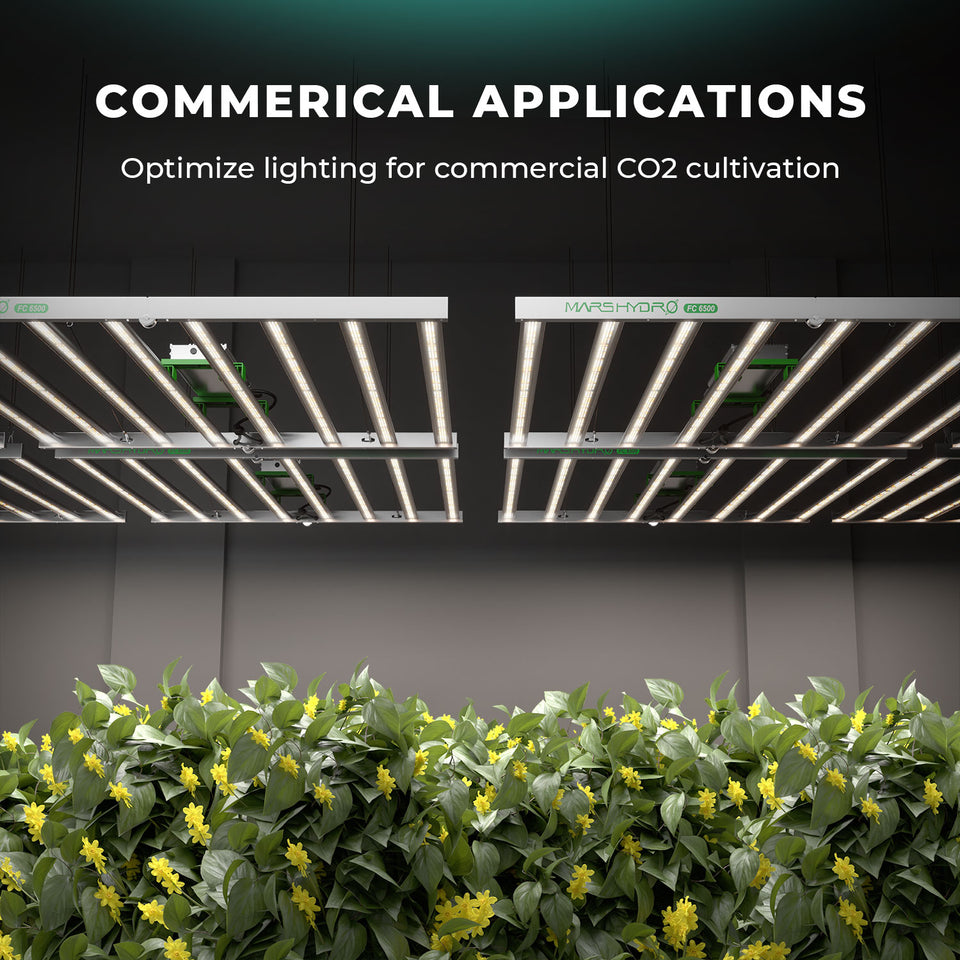 Mars Hydro FC6500 LED Grow Light (Smart Edition)
This recently updated version Mars Hydro FC6500 offers the absolute best for your grow room. Featuring a massive 2688 Samsung & Osram Diodes, The Mars Hydro FC6500 pushes the boundaries of what can be expected from a plant making it the top choice LED Grow Lights for Cali flavour hunters worldwide.

 

 
Samsung LM301 & Osram 660nm LED Diodes

Free & Fast UK Delivery
Fully Dimmable

3 Year Warranty
Full Spectrum
Daisy Chain Ready
Super Stealthy
Tuned Output for Heavy & Resinous Flowers
Massively Reduced Electricity Costs
Passive Cooling
650w Power Output
Zero Noise
50000 Hours Life
Pay As You Grow in 3 instalments with Klarna
Daily Electricity Cost £1.99

Fresh out of the Mars Hydro labs, the Mars Hydro FC6500 is a huge step forward in LED Grow Lighting. This recently updated version of the Mars Hydro FC6500 comes with a Full Spectrum array of nearly 3000 Samsung & Osram diodes over its 8 passively cooled light bars. This evenly bathes your canopy with a precise and uniform photon distribution with absolutely no electricity wastage at all.
The Mars Hydro FC6500 uses every watt of power to supply all the spectra that your plants need and absolutely none that they don't. This makes the Mars Hydro FC6500 one of the most efficient LED Grow Lights available in the world today. 
From the original pioneers of LED Grow Lights, the Mars Hydro FC6500 takes their years grow expertise and wraps it all up in this incredible flagship LED Grow Fixture. Measuring a plentiful 113cm x 112cm x 10cm - the Mars Hydro FC6500 is sleek, low profile and perfect for cultivators who like to maximise their headroom in grow tents, cupboards and closets. 
Premium Components. Quality Build
The Mars Hydro FC6500 is tough, well built and packed with new features and state of the art components. Your garden will simply adore its patented array of Samsung LM301b & Osram IR diodes. At the Mars Hydro FC6500's heart is a rugged, long life driver that will enable the cultivator to produce huge, dense flowers absolutely dripping with resins, oils, flavours and aromas with an unmatched longevity of over 50000 hours. 
The incredible Mars Hydro FC6500 and its 8 light bars offer cultivators a market leading output of  2.85μmol/j to soak your garden in full spectrum luminescence. Its high efficiency, full spectrum array enables even novice growers to easily produce a bumper harvest of between 2.5g and 3.0g per watt. 
Edge to Edge Coverage. Passively Cooled. 
Unlike some LED Grow Lights, the Mars Hydro FC6500 is designed with energy efficiency at the forefront. The clever engineers at Mars Hydro HQ have developed the FC6500 to provide corner to corner light coverage over your entire garden at a minimal electricity cost. Red hot bulbs in the centre of the room and weak plants in tent corners are a thing of the past. The Mars Hydro FC6500 and its evenly spaced array provides edge to edge, even light coverage with no hot spots or shadowed areas. No more scorched buds. No more hot spots and certainly no more wasted electricity. This is new generation LED Grow Light technology. And now its is affordable for everybody. 
The patented cooling technology of the Mars Hydro FC6500 uses passive venting to force heat up and away from your grow area to maintain optimum conditions for your plants. Not only does this enable perfect growing conditions, but the reduced canopy temperatures also means that the cultivator can reduce their dependence on grow room cooling equipment and ventilation. Not only further saving you on grow room electricity costs but also significantly reducing the telltale "whooshing" and noise caused by overworking fans and filtration. This makes the Mars Hydro FC6500 a premium LED Grow Light for growers who value stealth, secretive operation with low noise. 
Full Control. Full Spectrum
The recently upgraded version of the Mars Hydro FC6500 offers more than just a Full Spectrum output. It now boasts a Deep Red array powered by the world leaders in Diode production at Osram. With a corner to corner penetration of 660nm IR output, the Mars Hydro FC6500 enables faster photosynthesis resulting in chunky, full flowers dripping in resin and Cali flavour like never before. This increased photosynthesis and IR output means shorter veg time is needed, making the Mars Hydro FC6500 a premier LED Grow Light solution for growers of Botanical & Flowering plants. 
The Mars Hydro FC6500 is fully controllable with its dimmer hard wired into the driver. This is no cheap and nasty dimmer either. The power output is fully controllable with no presets or click points putting the cultivator in full control. With the easy access, fingertip dimmer providing user controllable dimming from 1% to 100%, the Mars Hydro FC6500 is suitable throughout the entire grow cycle from delicate seedlings all the way up to light hungry, chunky flowers.
The Mars Hydro FC6500 is one of the most energy efficient LED Grow Lights on the market today. With an average daily electricity cost of around £1.97, this makes the Mars Hydro FC6500 is one of the most cost friendly LED grow solutions out there. Even with modern electricity prices, growers can expect to complete an 8 week grow cycle at a cost of around £112.
With a potential yield of around 2.5g per watt, cultivators can expect a massive 1600g of high quality, resin rich produce every flowering cycle. Consumption to yield ratios like this make the Mars Hydro FC6500 a perfect LED Grow Light for cultivators who like to keep their overheads to an absolute minimum.
Plug & Play Simplicity. Daisy Chain Ready
The Mars Hydro FC6500 LED Grow Light is Daisy Chain ready and ships complete with RJ Cable. Its hard wired junction box enables growers to connect up to 30 fixtures together using the first in line as a master controller. This feature is awesome for growers who look to build their grow space as they go with no additional equipment needed at all. Everything you need is included in the box and it all clicks together as simple as Lego. 
DLC Certified LED Grow Lighting
Mars Hydro go to extreme lengths to provide the highest standards in the LED Grow Light industry. The Mars Hydro FC6500 boasts an expected life of around 50000 hours with very little maintenance required at all. As soon the Mars Hydro FC6500 is unboxed, all older HPS lights just seem stupid. No need to constantly replace expensive bulbs every few grows, the Mars Hydro FC6500 is built to last.  As with all LED Grow Lights from Mars Hydro, the FC6500 is fully DLC Certified and comes with a full manufacturers warranty. 

Mars Hydro FC6500 LED Grow Light Technical Specification
| | |
| --- | --- |
| Power | 650W |
| Input Voltage | 120-277V |
| Weight | 16 kg |
| HPS Equivalent | 1100w |
| Flower Footprint | 1.55m x 1.55m  |
| Veg Footprint | 2.0m x 2.0m |
| Diodes | Samsung LM301 & Osram 660 IR & UV |
| Diode Count | 2688 |
| Size | 113cm x 112cm x 10cm |
| Spectrum | 600-660nm, 3000k, 5000k,  |
| Efficiency | 2.8 umols/J |
| Daily Electricity Cost | £1.99 |
Product includes:
Mars Hydro FC6500 LED Grow Light
2m Power Cord
RJ45 Daisy Chain Cable
Wire Hangers
Ratchet Hangers

Approximate costs of use based on 75% power for a 12 / 12 flowering cycle. 

*Calculated using the UK: Energy Price Guarantee (October 2022) electricity rate of 34.00 pence per kWh.