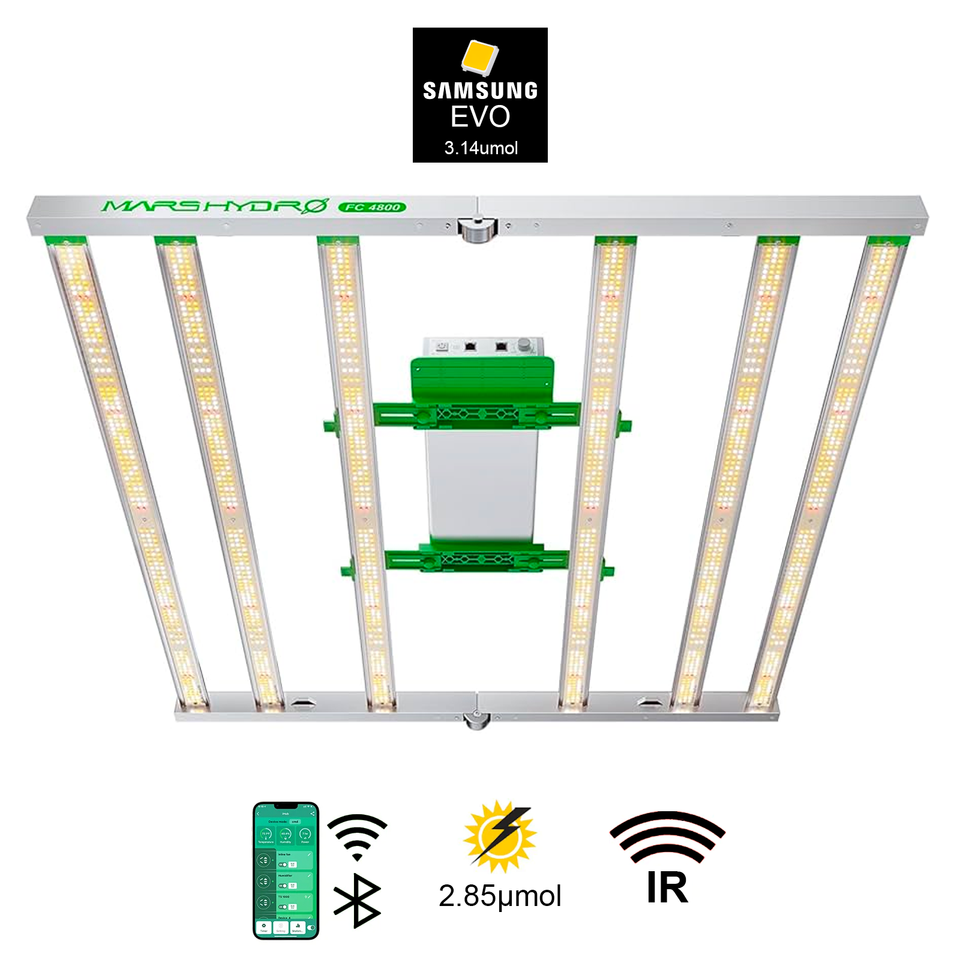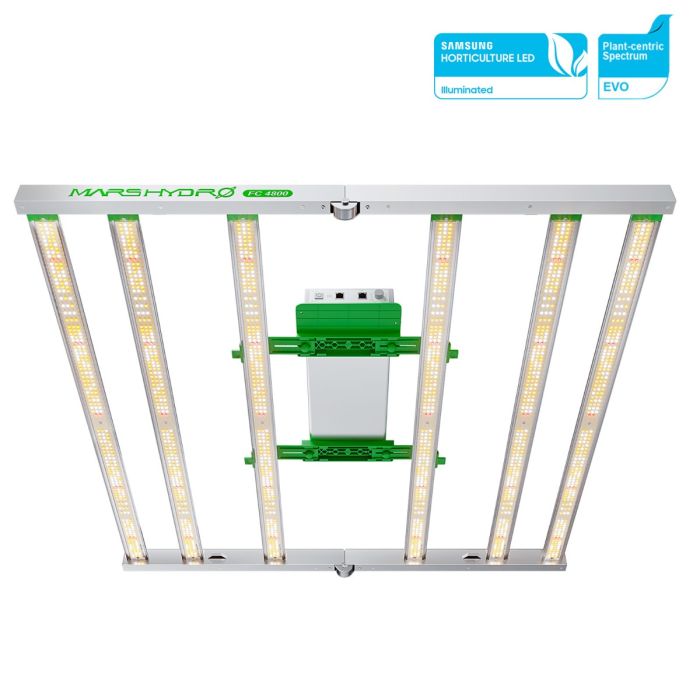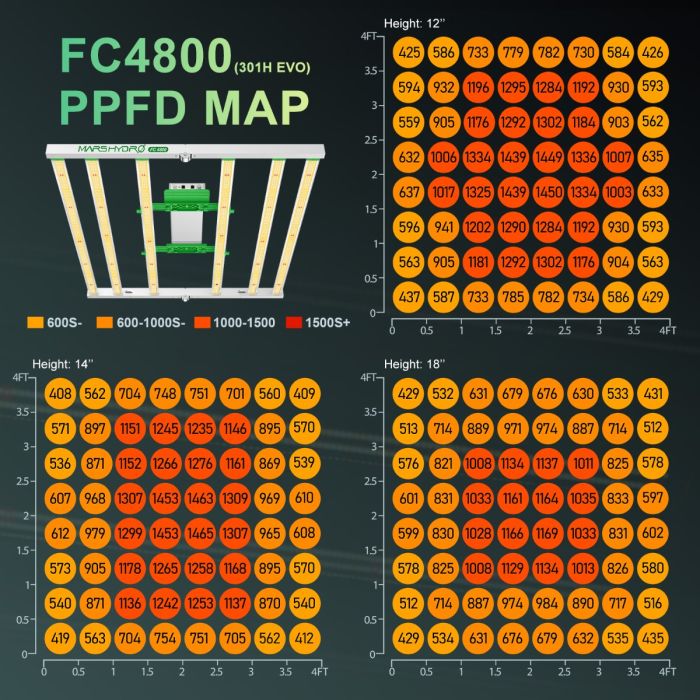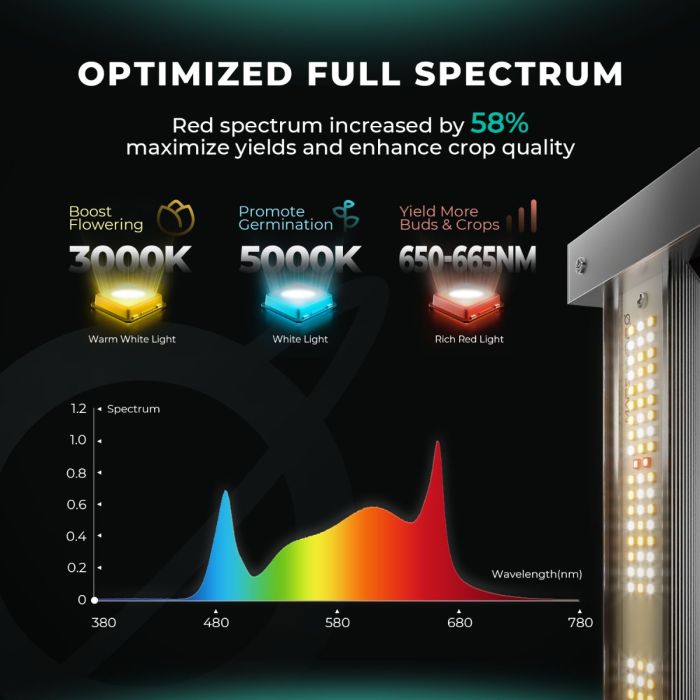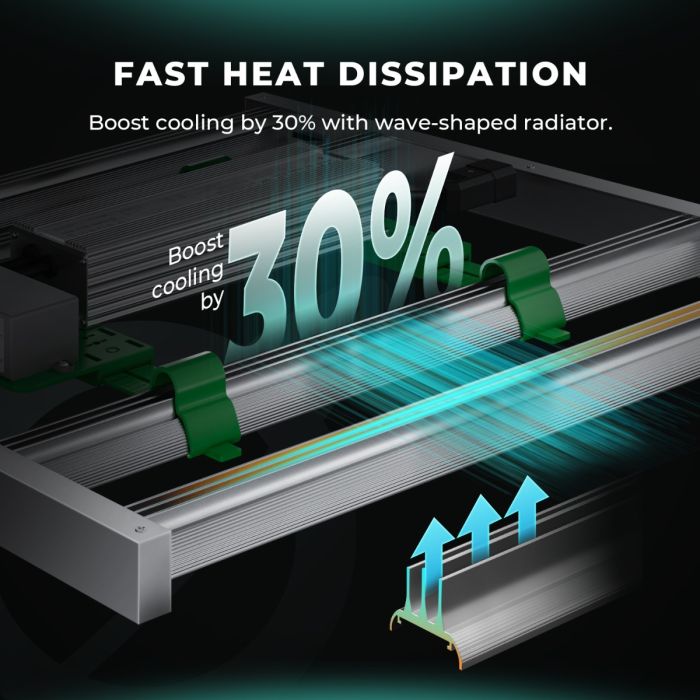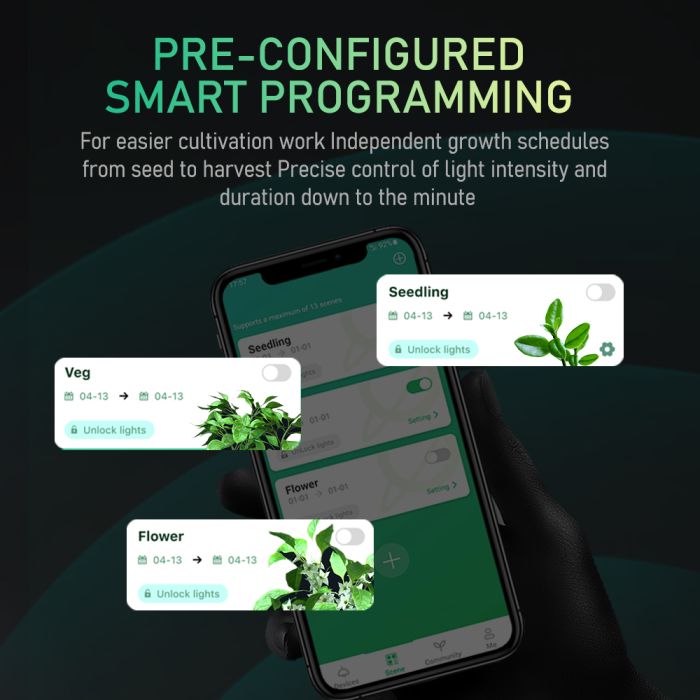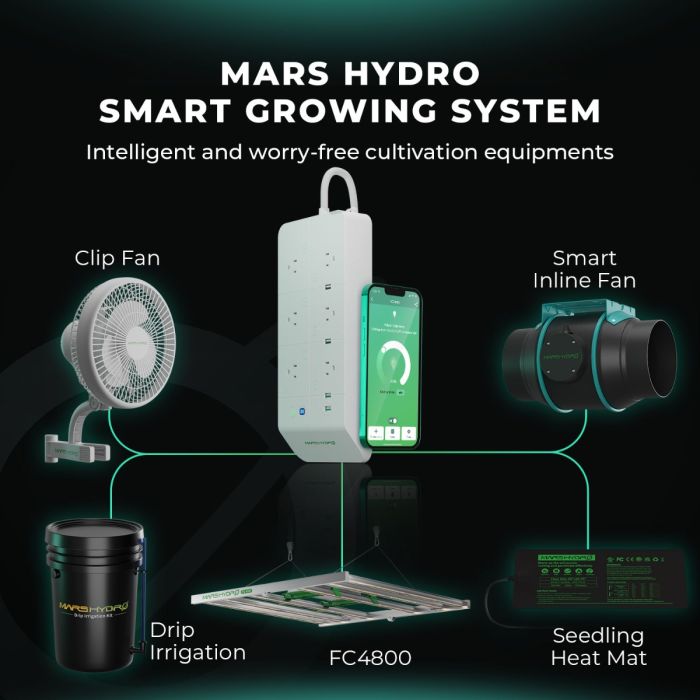 Mars Hydro FC4800 EVO LED Grow Light (LM301h Edition)
The Mars Hydro FC 3000-EVO is a cutting-edge smart LED grow light featuring the latest Samsung LM301H EVO chips, designed to offer an efficient and effective solution for indoor horticulture. With Smart Control and an average daily electricity cost of around £1, the Mars Hydro FC3000 EVO represents a new generation of LED Grow Lights for 2024.
Samsung LM301h & Osram LED chips

Featuring Brand New 3.14umol EVO Chip 

Free & Fast UK Delivery
Fully Dimmable

3 Year Warranty
Massively Reduced Electricity Costs
Super Stealthy
Outperforms 500w HPS
Passive Cooling
Zero Noise
330w Power Output
50000 Hours Life
Pay As You Grow in 3 instalments with Klarna
Daily Electricity Cost £0.98
Samsung LM301h LED Chip
The Mars Hydro FC 3000-EVO incorporates the highly efficient Samsung LM301H EVO chips, which offer an exceptional efficacy of 3.14 μmol/j per diode, contributing to an impressive photosynthetic photon efficacy (PPE) of 2.85 μmol/j across the entire unit. This advanced chip emits a plant-centric spectrum that supports robust physical and nutrient growth, making it an ideal solution for promoting photosynthesis, enhancing plant quality, and conserving energy. This is next level technology for next level flower quality. 
Super High PPFD & Even Light Distribution
With an impressive PPFD of up to 896 μmol/m²/s, the Mars Hydro FC 3000-EVO is a highly capable LED Grow Light suitable for commercial cultivation, ensuring high-quality crop yields and enhanced flowering. Using only premium Samsung LED chips are strategically arranged to provide even light distribution, fostering uniform plant growth while avoiding concentrated heat spots in the centre. The Mars Hydro FC3000 EVO truly is a corner to corner grow light that make use of every last inch of your grow tent to truly maximise productivity. 
Ultra Rich Red & Blue Spectrum. 
The Mars Hydro FC 3000-EVO LED Grow Light delivers a precisely balanced spectrum with ample red and blue light, along with adequate green light to support optimal plant growth. The blue light stimulates vegetative growth and essential phytochemical accumulation, while the red light accelerates maturation and enhances the overall quality of buds and flowers. Green light ensures necessary plant development and improved light penetration..
As with all LED Grow Lights in the Mars Hydro FC Series, the FC3000 features an array of highly efficient Samsung LM301B diodes resulting in an output of 2.85μmol/j in PPE with an ultra long life.  
Smart Grow System & Dimming Control
The Smart FC 3000-EVO connects to the Mars Hydro app, enabling remote control and data transfer for easy management and scheduling from anywhere via a smartphone or tablet. The light also offers auto-dimming features that can be customised to align with your specific grow schedules, providing a professional-level option for personal and commercial cultivation.
The FC3000 smart control features include remote access through the Mars Hydro App and OTA data transfer, which stores and transfers all data and settings. With precise configuration, the light intensity can be accurate to year / month / day / hour / minute for dynamic light levels that match your grow schedules.
The dimming programs run automatically after configuration, with three default grow plans already prepared for your reference. Additionally, the Sunrise & Sunset Simulation option allows the light to mimic the natural photoperiod of plants, dividing the scheduled time into 12-time segments where light levels rise and fall.
The Mars Hydro FC3000 Smart Edition also offers independent control of multiple lights, allowing you to switch and dim up to 100 Mars Hydro FC3000 plant lights without additional cables. The Mars Hydro App can divide the LED grow lights into different lighting groups for independent management, making it convenient to monitor and program various ongoing cultivations without interfering with each other's plans.
Enjoy the convenience of smart control with the Mars Hydro FC3000 Smart Edition, part of the Mars Hydro Smart Grow System, delivering professional-grade LED grow light performance for all your growing needs.
Plug and Play Simplicity & Daisy Chain Ready
The Mars Hydro FC3000 LED Smart Grow Light is packed full of clever & exclusive features. Its dimmable from 0 to 100% with no fixed levels or click points. This allows the grower to select their desired lighting output to suit the individual needs of your plants.

This makes the Mars Hydro FC3000 EVO suitable for the entire growth cycle of your plants from tiny, sensitive seedlings all the way up to juicy, light hungry buds and flowers. Not only that, but also enables the cultivator to control the electricity output too putting the user in complete control with no wasted energy at all.
With a daily electricity cost of around £1 per day - the Mars Hydro FC3000 EVO can complete an 8 week grow cycle at a cost of around £56. With a yield capability of 2.5g to 3.0 grams per watt - this makes the Mars Hydro FC3000 EVO a complete no brainer of an LED Grow Light for cost sensitive growers who like to keep overheads to a minimum.
Passive Cooling & Heat Dissipation
Featuring a wave-shaped heat sink and multi-bar design, the Mars Hydro FC 3000-EVO facilitates rapid heat dissipation, preventing operational disruptions and hot spot issues. This efficient cooling system ensures the consistent and reliable performance of the grow light.
The Mars Hydro FC 3000-EVO represents a state-of-the-art smart lighting solution for both professional cultivators and hobbyists, providing an optimised spectrum and advanced functionalities to improve cultivation productivity and crop quality.
DLC Certified Grow Lighting Solution
The Mars Hydro FC3000 LED Grow Light is fully DLC-certified LED grow lights for high quality premium high efficiency. Going above and beyond the highest standards in the industry, the Mars Hydro FC3000 is capable of operating for at least 36000 hours while maintaining 90% efficiency. In addition, the Mars Hydro FC3000 ships with a 5-year manufacturers warranty and local repair service so you know you are in good hands. 

Mars Hydro FC3000 EVO LED Grow Light Technical Specification
| | |
| --- | --- |
| Power | 330W |
| Input Voltage | 120-277V |
| Weight | 4.4 kg |
| HPS Equivalent | 500w |
| Flower Footprint | 1.0m x 1.0m |
| Veg Footprint | 1.4m x 1.4m |
| Diodes | Samsung LM301h & Osram 660nm Reds  |
| Size | L58cm x W52cm x H8cm |
| Diode Count | 792 |
| PPF | PPFD 1050umols/m2s |
| Efficiency | 2.85 umols/J |
| Daily Electricity Cost | £0.98 |
Package includes:
Mars Hydro FC3000 EVO LED Grow light
Power Cord
Wire Hangers
Ratchet Hangers
Approximate costs of use based on 75% power for a 12 / 12 flowering cycle. 
*Calculated using the UK: Energy Price Guarantee (October 2022) electricity rate of 34.00 pence per kWh.