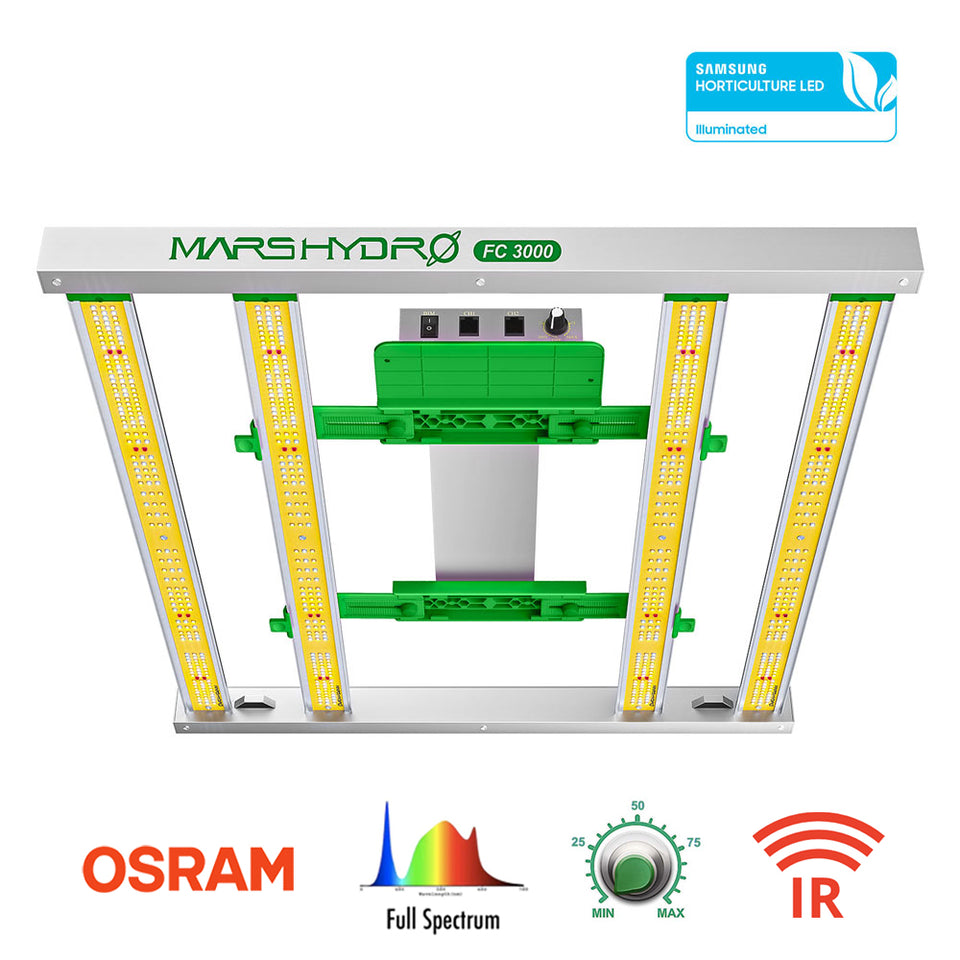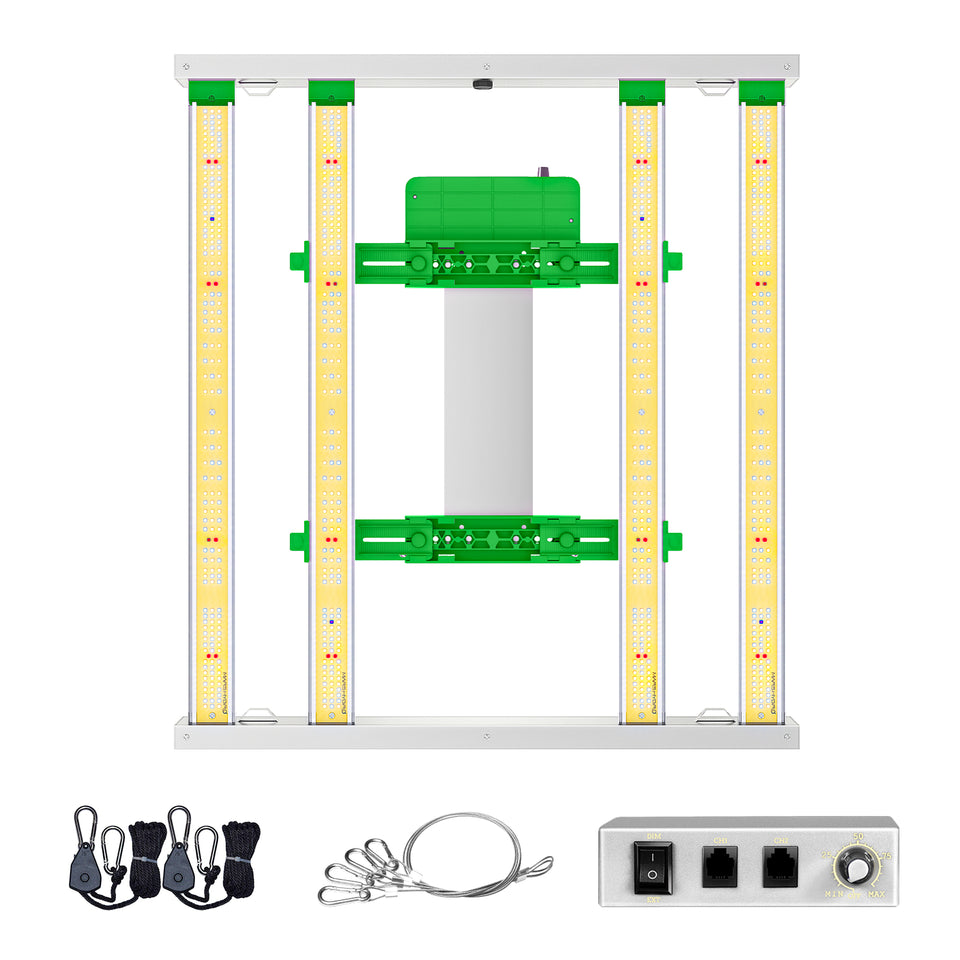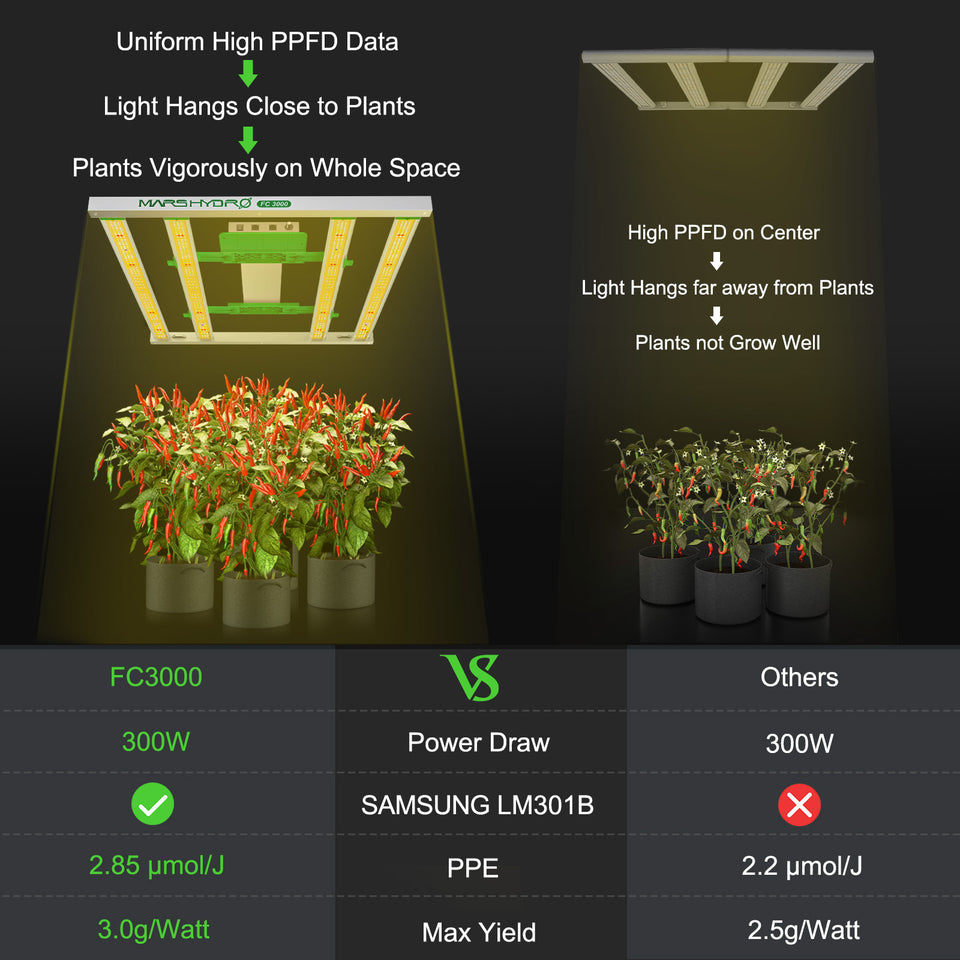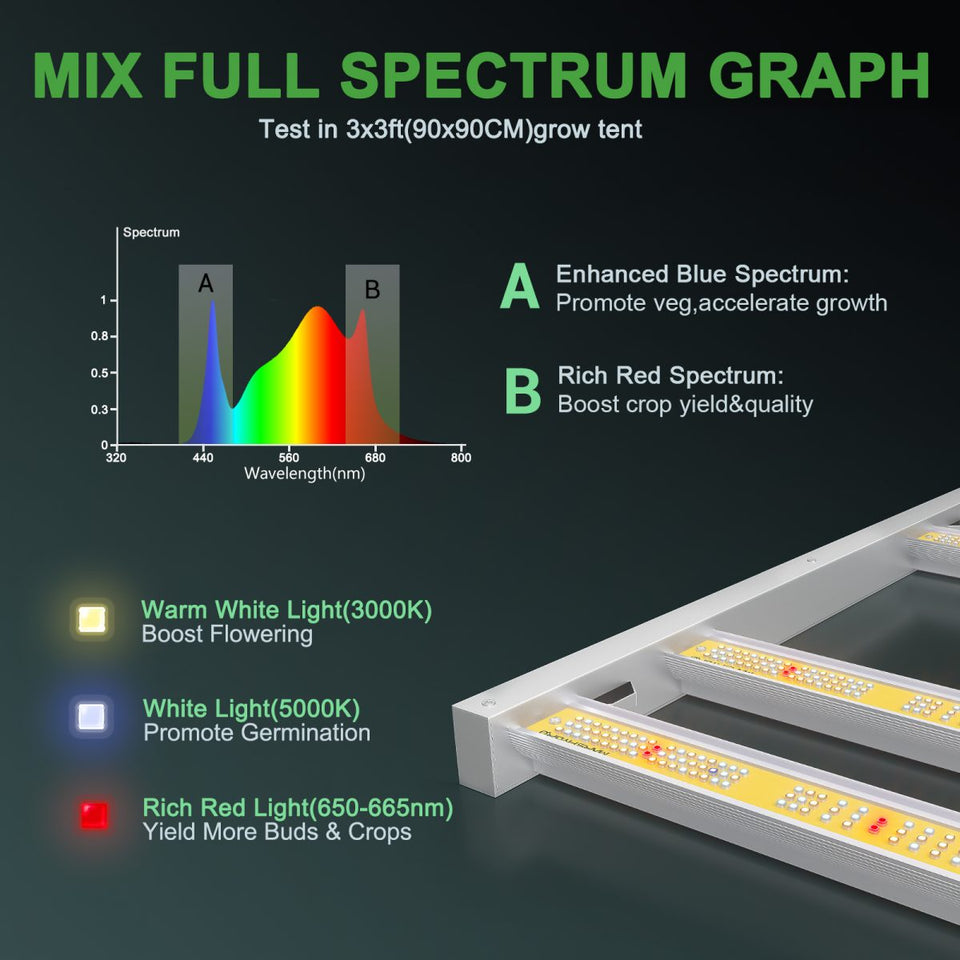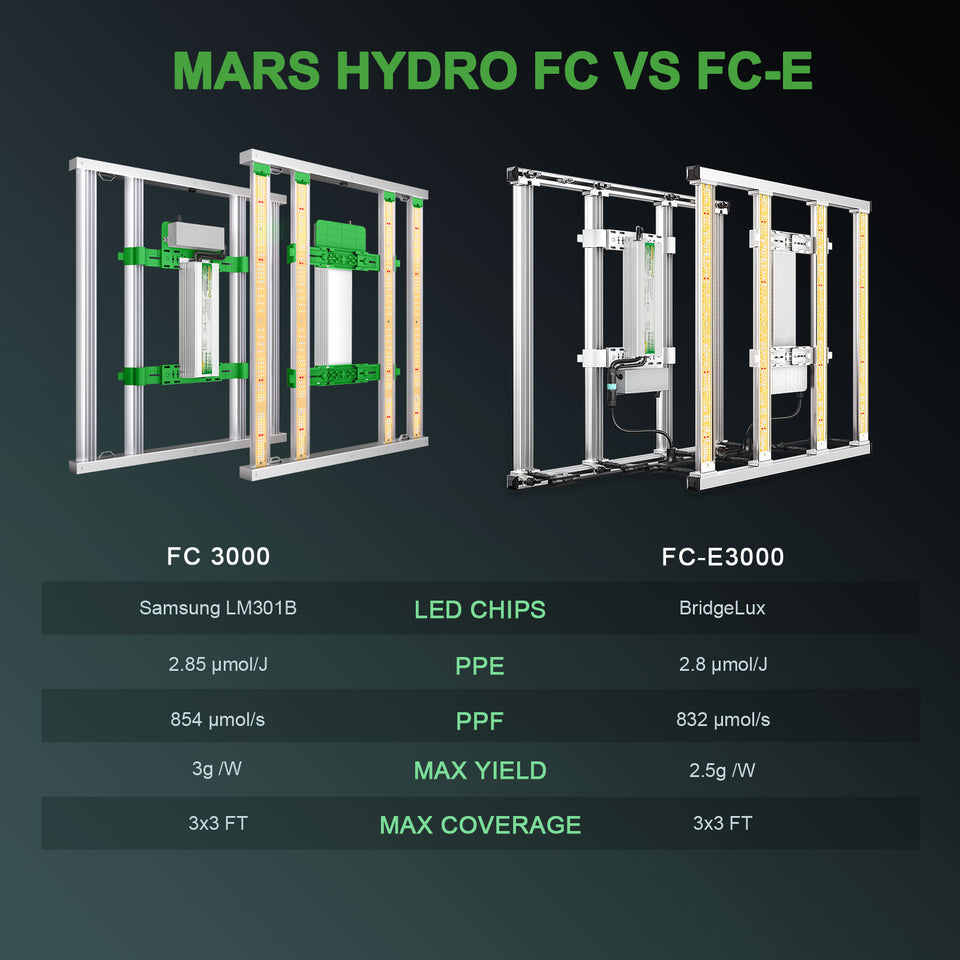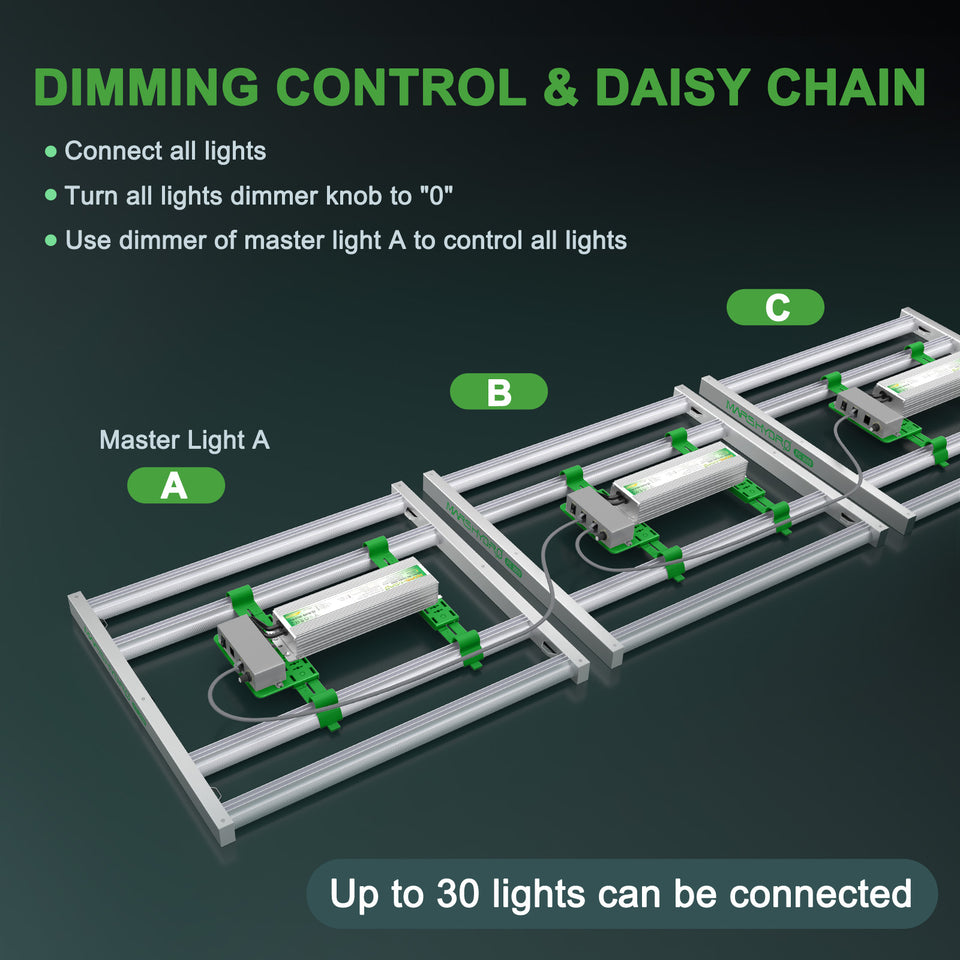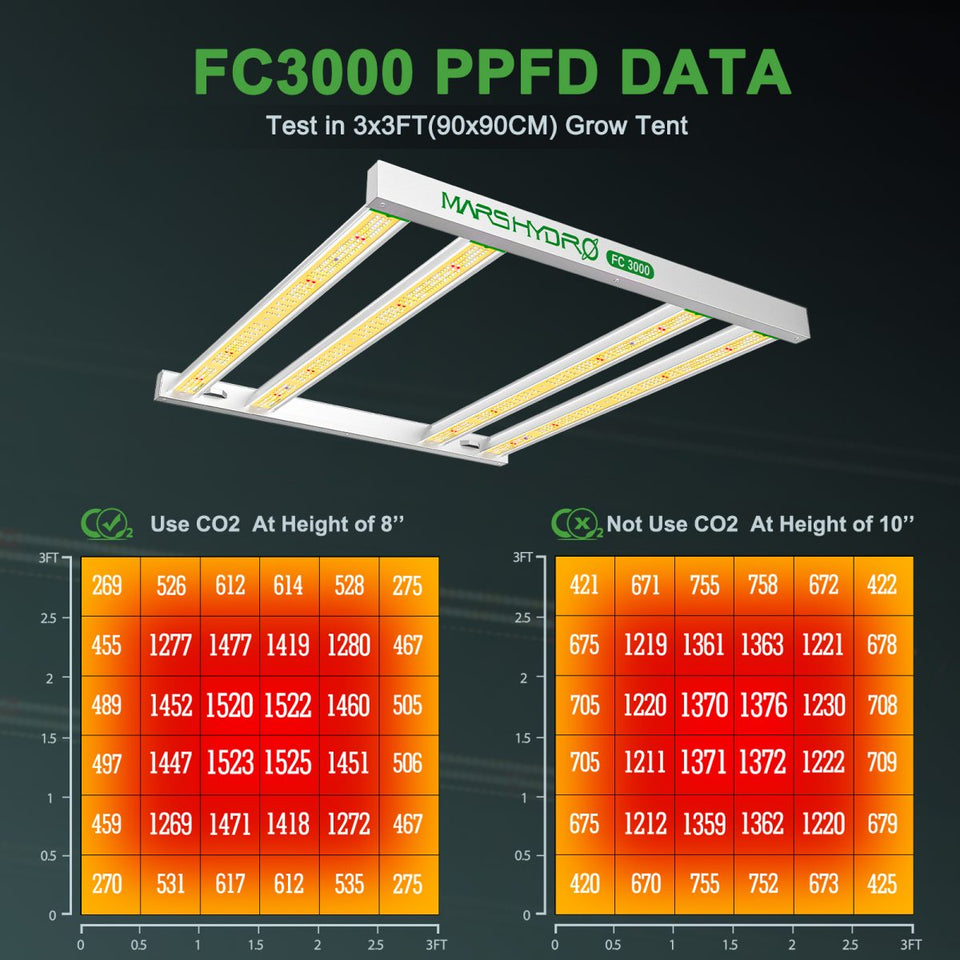 Mars Hydro FC3000 LED Grow Light (Standard)
With its Full Spectrum & IR array, the Mars Hydro FC3000 LED Grow Light offers the absolute best for your grow space with a super low electricity cost less than £1 per day!
Samsung LM301b & Osram LED chips

Free UK Delivery
Fully Dimmable

3 Year Warranty
Massively Reduced Electricity Costs
Super Stealthy
Outperforms 500w HPS
Passive Cooling
Zero Noise
330w Power Output
50000 Hours Life
Pay As You Grow in 3 instalments with Klarna
Daily Electricity Cost £0.98
The Mars Hydro FC3000 boasts a full spectrum array of white, red and blue wavebands with a precise and uniform photon distribution to afford growers an even PPID and premium PPF across the plant canopy with absolutely no light (or electricity) wastage at all.

This makes the Mars Hydro FC3000 one of the most popular LED Grow Lights it the world today. It weighs in at less than 5 kilos and measuring just 58cm x 52cm, its compact size and market leading efficiency makes it a perfect LED Grow Light for low key, stealth growers who require a discreet, silent lighting solution in grow tents, lofts, wardrobes or closets.
Premium Samsung LM301B Diodes. 
The Mars Hydro FC3000 uses just a tiny 300 watt of electricity from the wall. But don't let this fool you. The Mars Hydro FC3000 comes complete with a hugely efficient power driver that makes puts other LED Grow Lights is this price point to shame.
As with all LED Grow Lights from Mars Hydro, the FC3000 features an array of highly efficient Samsung LM301B diodes resulting in an output of 2.85μmol/j in PPE with an ultra long life.  
Corner To Corner Light Distribution
With its multi light bar spread and dense Samsung Diode layout, The Mars Hydro FC3000 results in a super high PPF of 854μmol/s. This means that the FC3000 LED Grow Light is finely tuned to make full use of your entire grow space from corner to corner with absolutely no hot spots or shadowed areas.

Gone are the days are weak plants in the corner of your grow tent, burned tips or light damaged plants.

The Mars Hydro FC3000 is a giant leap forward for professional growers who require optimised photosynthesis across their entire grow area. No wasted light. No wasted electricity. This is new generation LED Grow Light technology - and now it is affordable for all. 
Full Spectrum & IR Output Lighting
The Mars Hydro FC3000 is more than just a full spectrum LED Grow Light. It features an abundance of high impact IR diodes to result in much bigger flowers that are oozing with resin and flavour.

The deep IR array offered by the Mars Hydro FC3000 does much more than just enhance flavours and aromas. It also greatly improves plant health, stem growth and flower density as your plants rapidly metabolise the rich red light. Win / win.  
Plug and Play Simplicity & Daisy Chain Ready
Dont let the price tag fool you. The Mars Hydro FC3000 LED Grow Light is packed full of clever & exclusive features. Its dimmable from 0 to 100% with no fixed levels or click points. This allows the grower to select their desired lighting output to suit the individual needs of your plants.

This makes the Mars Hydro FC3000 suitable for the entire growth cycle of your plants from tiny, sensitive seedlings all the way up to juicy, light hungry buds and flowers. Not only that, but also enables the cultivator to control the electricity output too putting the user in compete control with no wasted energy at all.
With a daily electricity cost of around £1 per day - the Mars Hydro FC3000 can complete an 8 week grow cycle at a cost of around £56. With a yield capability of 2.5g to 3.0 grams per watt - this makes the Mars Hydro FC3000 a complete no brainer of an LED Grow Light for cost sensitive growers who like to keep overheads to a minimum.
With the Mars Hydro FC3000 featuring its click and connect daisy chain function, cultivators can connect up to 30 Mars Hydro FC3000 LED Grow Lights together using the 1st in line as a master controller. This is perfect for professional LED growers who look to build their grow space over time and requires no extra controllers or junction boxes. Everything you need is included in the box. 
Passive Cooling & Heat Dissipation
The patented wave-shaped heat sink featured in the Mars Hydro FC3000 dissipates heat upwards & away from your canopy to maintain a stable growing environment and increased longevity of the fixture. In addition, this clever heat management system takes the pressure off extraction fans & cooling equipment. This further reduces electricity costs and also minimises telltale noise often associated with indoor grows. Super power efficient. Super stealthy. Well done Mars Hydro. 
DLC Certified Grow Lighting Solution
The Mars Hydro FC3000 LED Grow Light is fully DLC-certified LED grow lights for high quality premium high efficiency. Going above and beyond the highest standards in the industry, the Mars Hydro FC3000 is capable of operating for at least 36,000 hours while maintaining 90% efficiency. In addition, the Mars Hydro FC3000 ships with a 5-year manufacturers warranty and local repair service so you know you are in good hands. 

Mars Hydro FC3000 LED Grow Light Technical Specification
| | |
| --- | --- |
| Power | 330W |
| Input Voltage | 120-277V |
| Weight | 4.4 kg |
| HPS Equivalent | 500w |
| Flower Footprint | 1.0m x 1.0m |
| Veg Footprint | 1.4m x 1.4m |
| Diodes | Samsung LM301 & Osram 660nm, IR 720nm Reds  |
| Size | L58cm x W52cm x H8cm |
| Diode Count | 792 |
| PPF | PPFD 1050umols/m2s |
| Efficiency | 2.75 umols/J |
| Daily Electricity Cost | £0.98 |
Package includes:
Mars Hydro FC3000 LED Grow light
Power cord
Daisy chain cable
Wire hangers
Ratchet hangers
Approximate costs of use based on 75% power for a 12 / 12 flowering cycle. 
*Calculated using the UK: Energy Price Guarantee (October 2022) electricity rate of 34.00 pence per kWh.