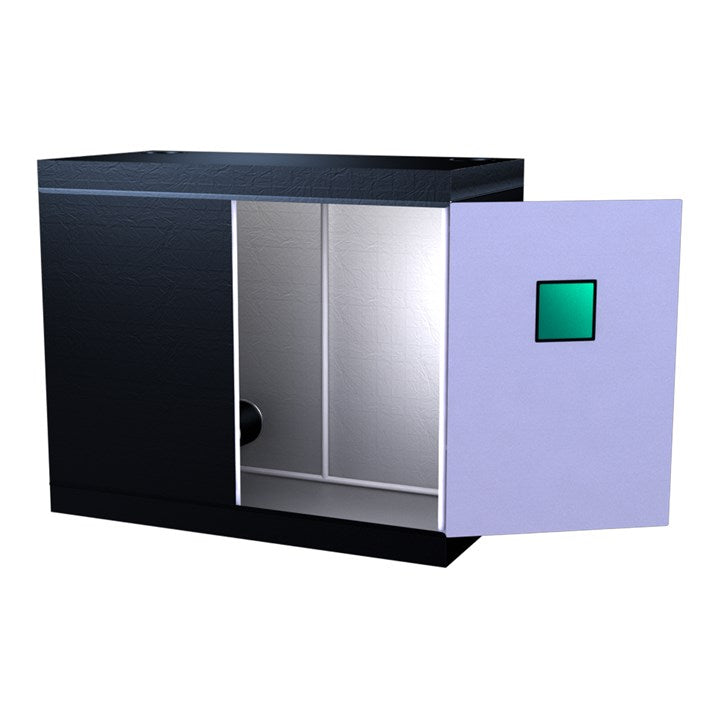 LUXX LED Grow Tent - 240cm x 120cm x 200cm
LUXX Grow Tents are especially designed for super stealthy, high output LED Growers. Feature packed & with premium construction, but without the premium price tag, LUXX LED Grow Tents are a premium choice for LED Growers who demand quality. Suitable for 2 large LED Grow Lights, this tent will be more than enough for the most enthusiastic of hobbyists.  
600D non-toxic highly-reflective white lining fabric
Green Viewing Window
White Coated Strong Steel Poles & Corners
Perfect Reflectivity for LED Grow Lights
Packed with an additional floor tray.
Tough Zipper Sewed with a 3.2mm flap.
Ground irrigation ports.
LUXX LED Grow Tents are all super easy to build and require no tools at all, so they can be put up or taken down in just minutes with no fuss at all. All LUXX LED Grow Tents feature a removable drip tray thats super easy to remove and clean in seconds. 
Easy to Use
All LUXX LED Grow Tents Feature a clever inspection window, so growers view plants and study without opening the tent. This means less wear and tear on your zips and less disruption to the internal temperature and humidity of your grow space. The LUXX viewing window features plant friendly green plastic so growers can view without disrupting your plants day / night cycle.
Light-proof
The door zips on LUXX Ultra LED Grow Tents all feature a 3.2mm self closing flap, this is another step to making the LUXX LED Grow Tents as light efficient as possible.
Increased reflectivity
As you'd expect, LUXX Ultra LED Grow Tents include super strong steel poles & extra tough corners which are white powder coated to increase reflectivity and light efficiency. This results is an uber strong frame is easily able to cope with the weight of the equipment required. These are excellent tents for especially designed for growers who are serious about their hobby.