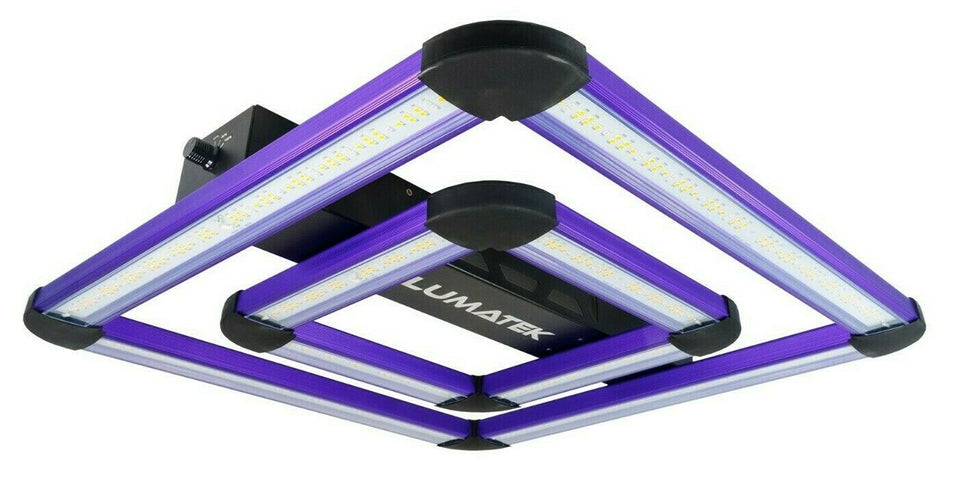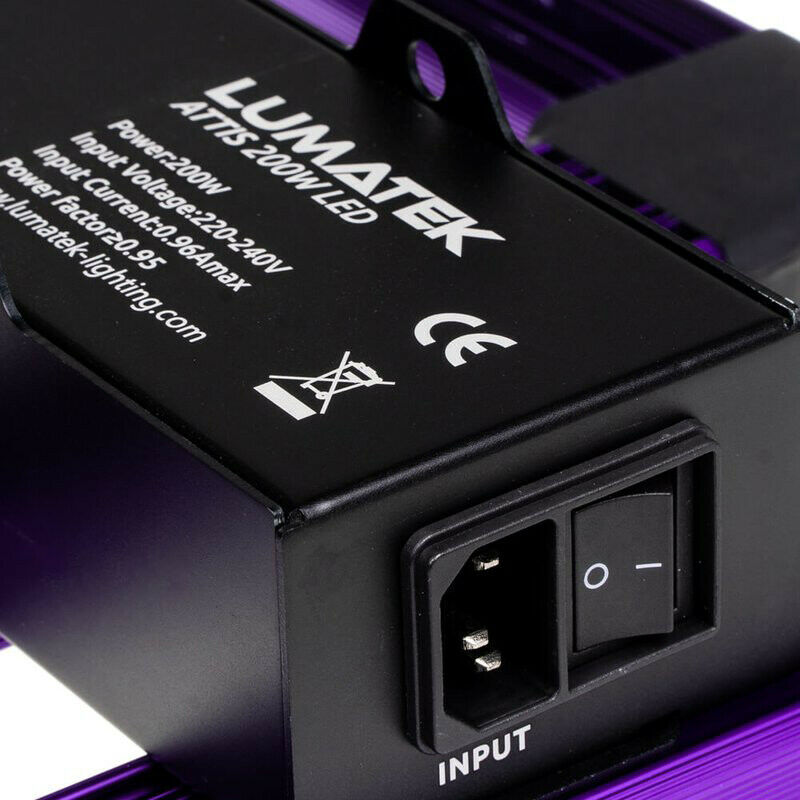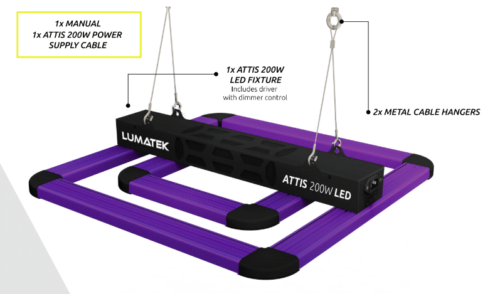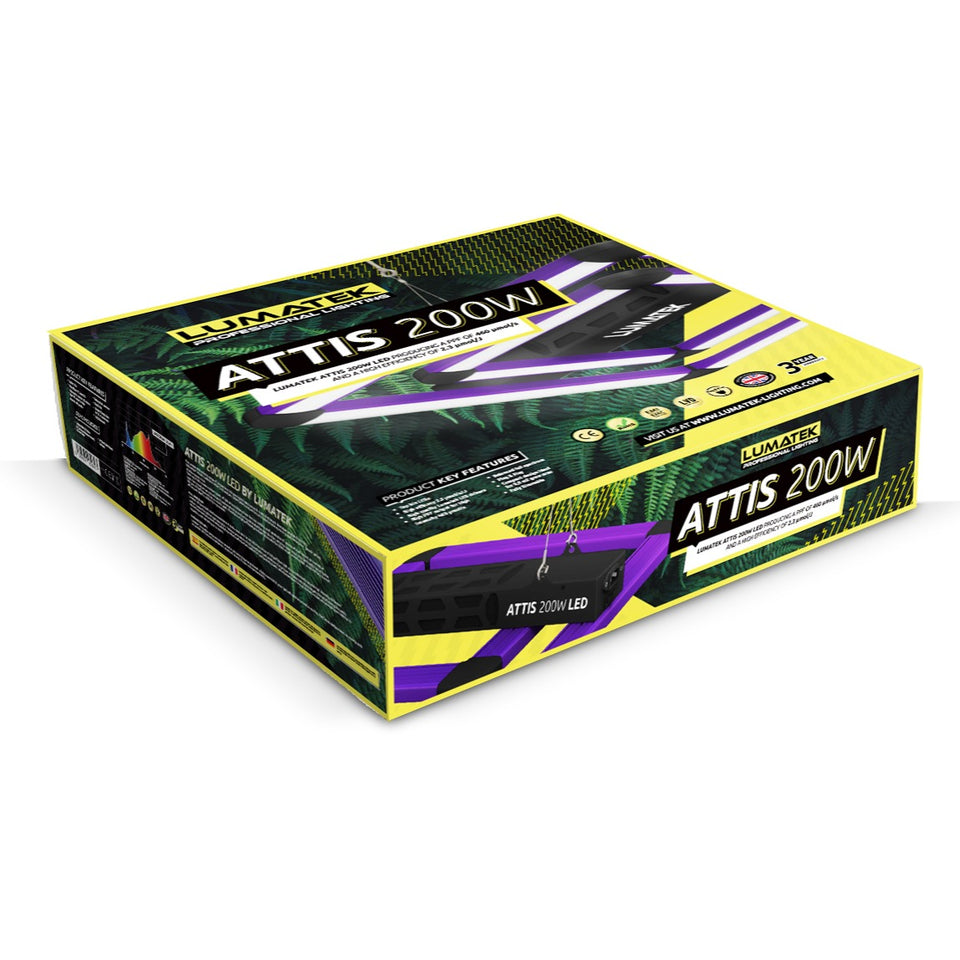 Lumatek ATS 200w LED Grow Light
Featuring premium quality LUMLED diodes & dimmable Lumatek drivers. The Lumatek ATS is the gold standard in compact LED Grow Lights.

 
High Efficacy 2.3 µmol/J

High PPF output for high intensity 460 µmol/s
High quality Lumatek LED drivers
UK Company with 3 Year Warranty
Fully Dimmable
Low Heat Output

Massively Reduced Electricity Costs

Balanced full spectrum

Free Next Day UK Delivery

Pay As You Grow in 3 instalments with Klarna

Daily Electricity Costs of £0.75

With its compact size, light weight design and beautiful design, you could be forgiven for underestimating the Lumatek ATS 200w LED Grow Light.
But don't let its looks fool you. This very powerful LED Grow Light will outperform other units twice its size.
Featuring a finely tuned a full spectrum output, the Lumatek ATS 200 boasts 460 µmol/s PPF at 2.3 µmol/J efficacy.
Comprised of LUMLED bright white, red and far red diodes - the Attis is suitable for the whole grow process from tiny seedlings to big chunky flowers. 
Its genius design is naturally cooled without the need for fans or any moving parts at all.
This combined with Lumatek's ultra premium parts result in a high end grow light that will go on to last for many years.
Dont just take our word for it. Lumatek are so confident in this LED Grow Light that it comes with a 3 year warranty too. 
This highly efficient LED Grow Light is the gold standard for stealth growers and with an operating cost of just £0.75 it's a grow light that pays for itself very quickly.

Confidently covering a 1m x 1m area, this light is perfect for cultivators in tents, closets or cupboards. 
Maximize your indoor gardening potential with the Lumatek ATS 200w LED Grow Light.
This powerful LED grow light is designed to provide your plants with the ideal spectrum and intensity for optimal growth and yield.
The advanced LED Grow Light technology and high-quality components make it a reliable and long-lasting investment for serious gardeners and growers.
Get the best results for your indoor garden with the Lumatek ATS 200w LED Grow Light.


Lumatek ATS 200w Grow Light
Power

205W

HPS Equivalence

400w

Weight

5 kg

Lifetime Hours

60,000

Diodes

Lumiled White, Osram

Red & IR 

Size

51cm x 51cm x 8.5cm

Flower Footprint
0.8m x 0.8m
Veg Footprint
1.1m x 1.1m

Spectrum

Full Spectrum

Efficiency

2.3 umols/J

Daily Electricity Cost
£0.72
Lumatek Attis 200 Items Included:

ATS 200W LED Grow Light Fixture 
LED Driver & Dimmer 
Power Cable
Metal Cable Hangers
Manual
Product Code: LUMLED200
PPF: 460 µmol/s
Input Voltage: 220-240V, 50-60Hz
Light Distribution: 110°
Light Source: LUMLED Diodes
Dimmable: 20%-40%-60%-80%-100%
Weight: 3.9 Kg
Dimensions: 508 x 508 x 86 mm
Spectrum: Full Spectrum + 

Approximate costs of use based on 75% power for a 12 / 12 flowering cycle. 


*Calculated using the UK: Energy Price Guarantee (October 2022) electricity rate of 34.00 pence per kWh.