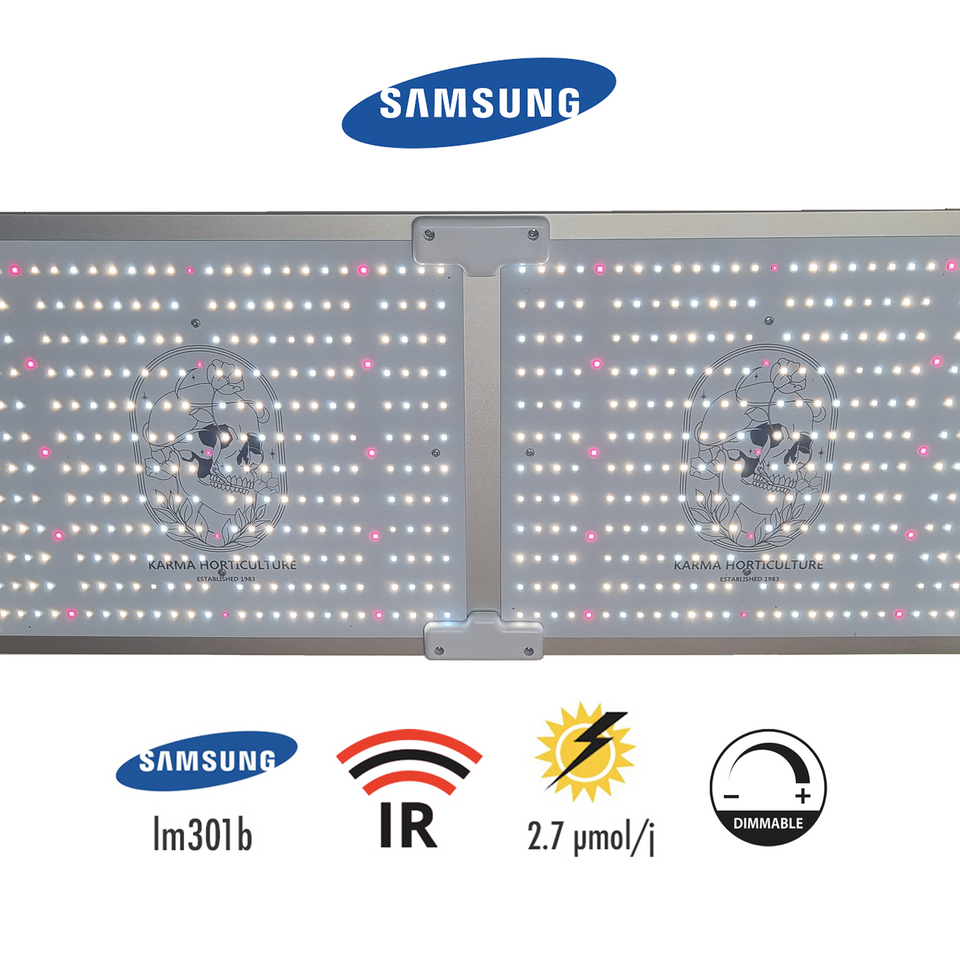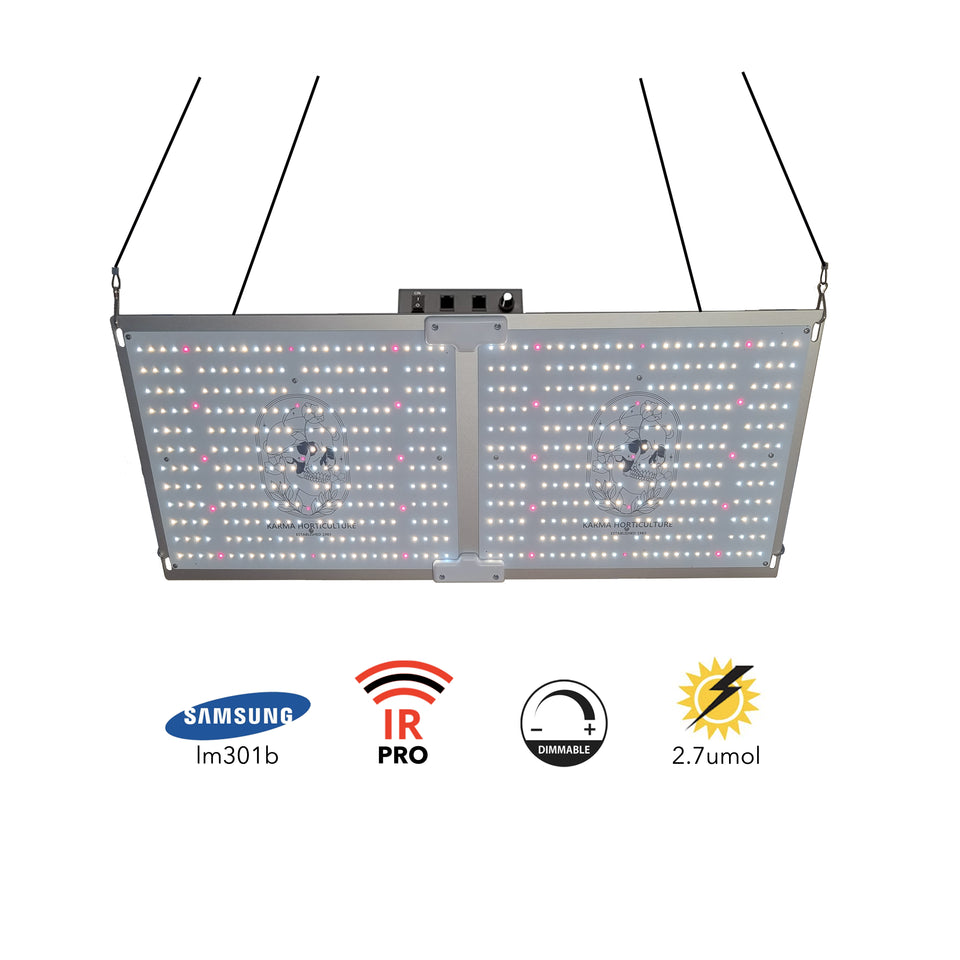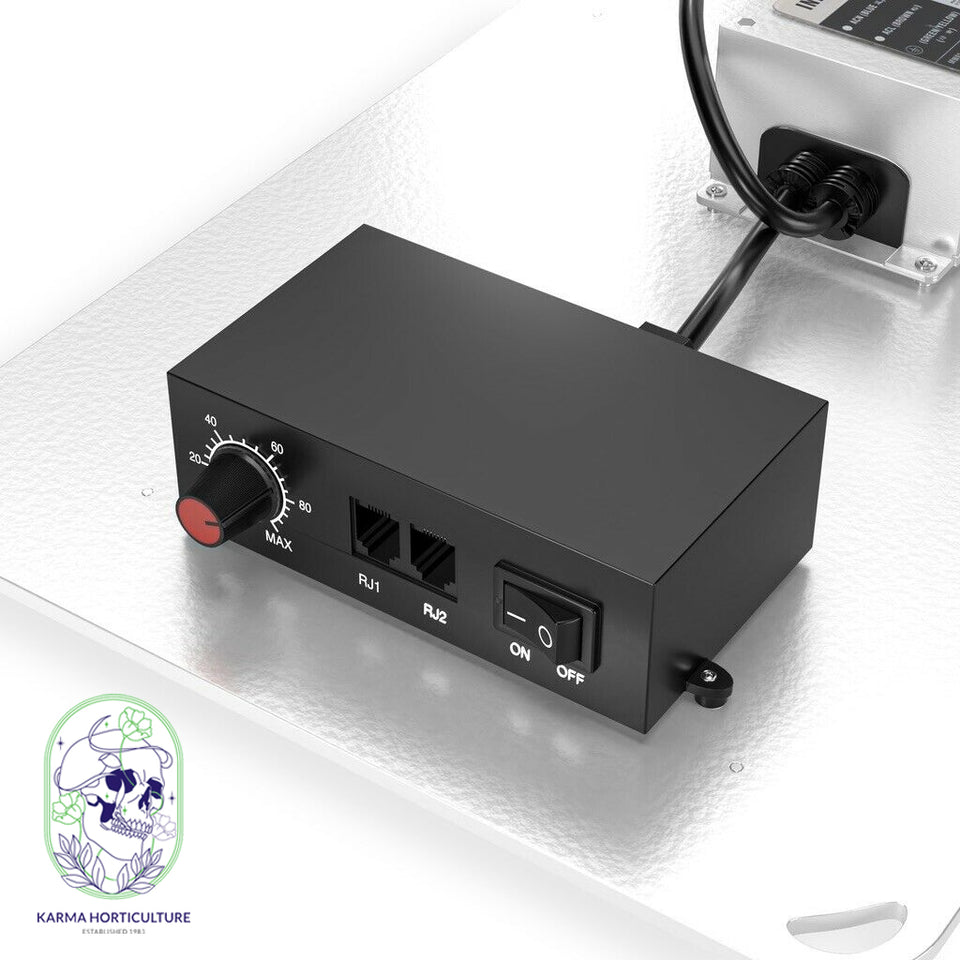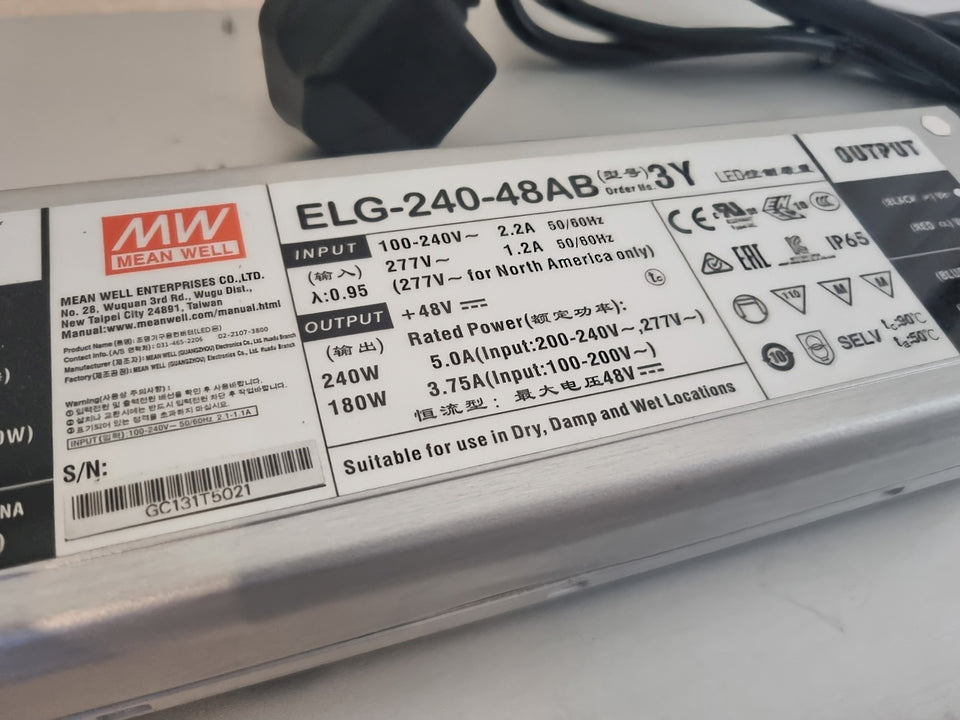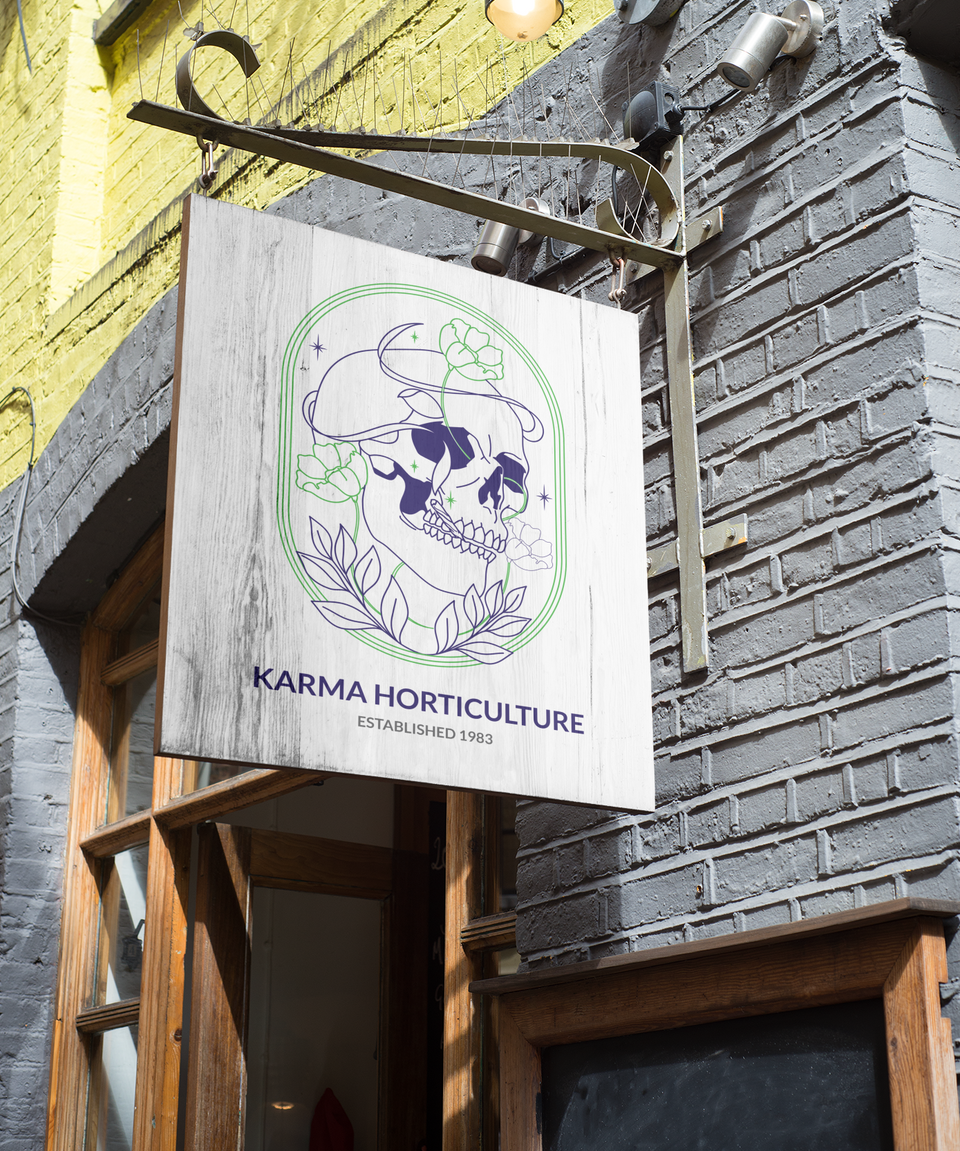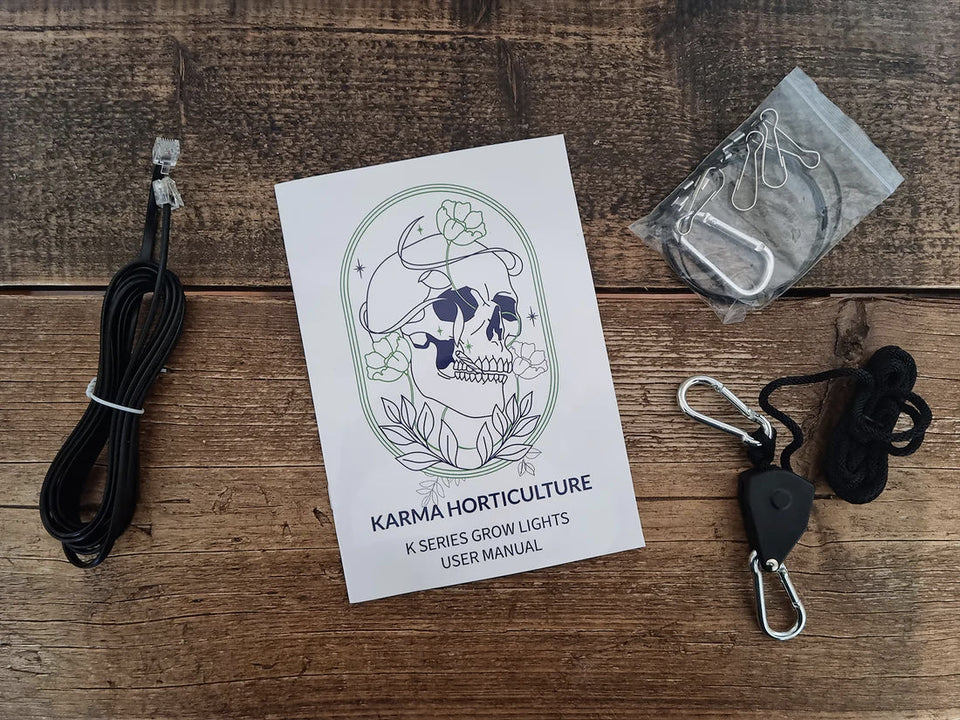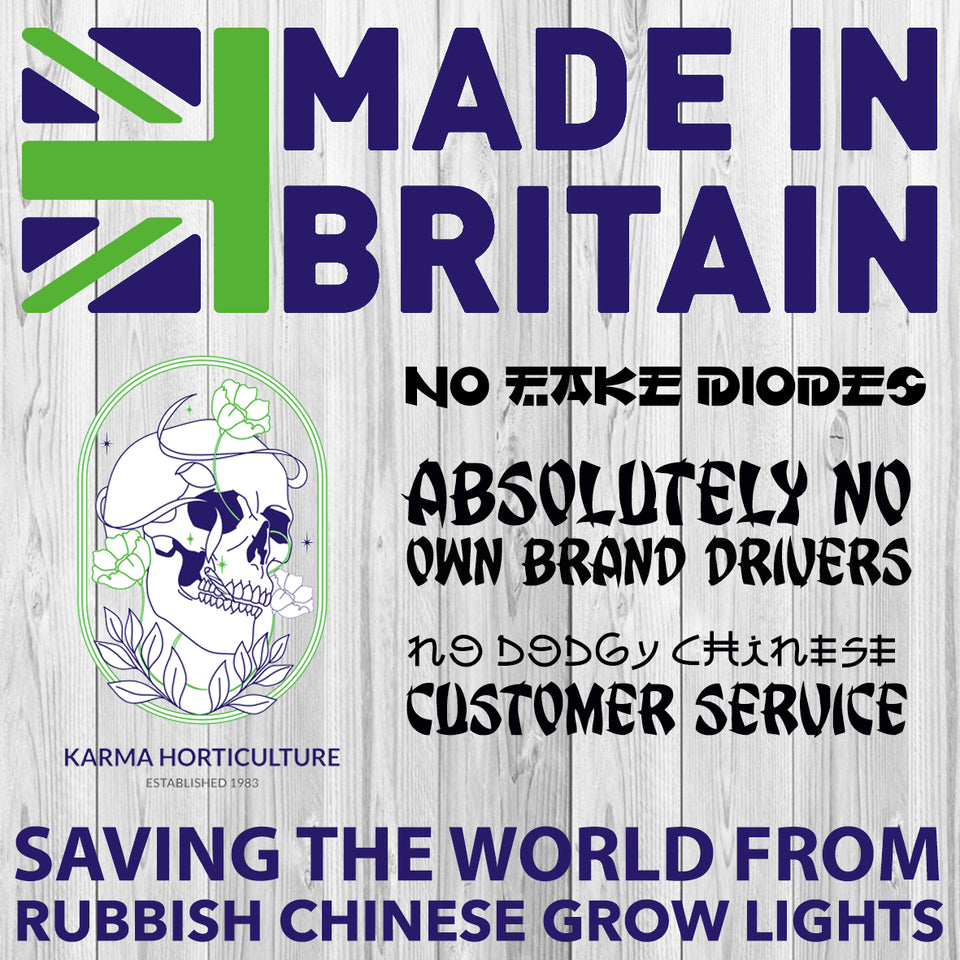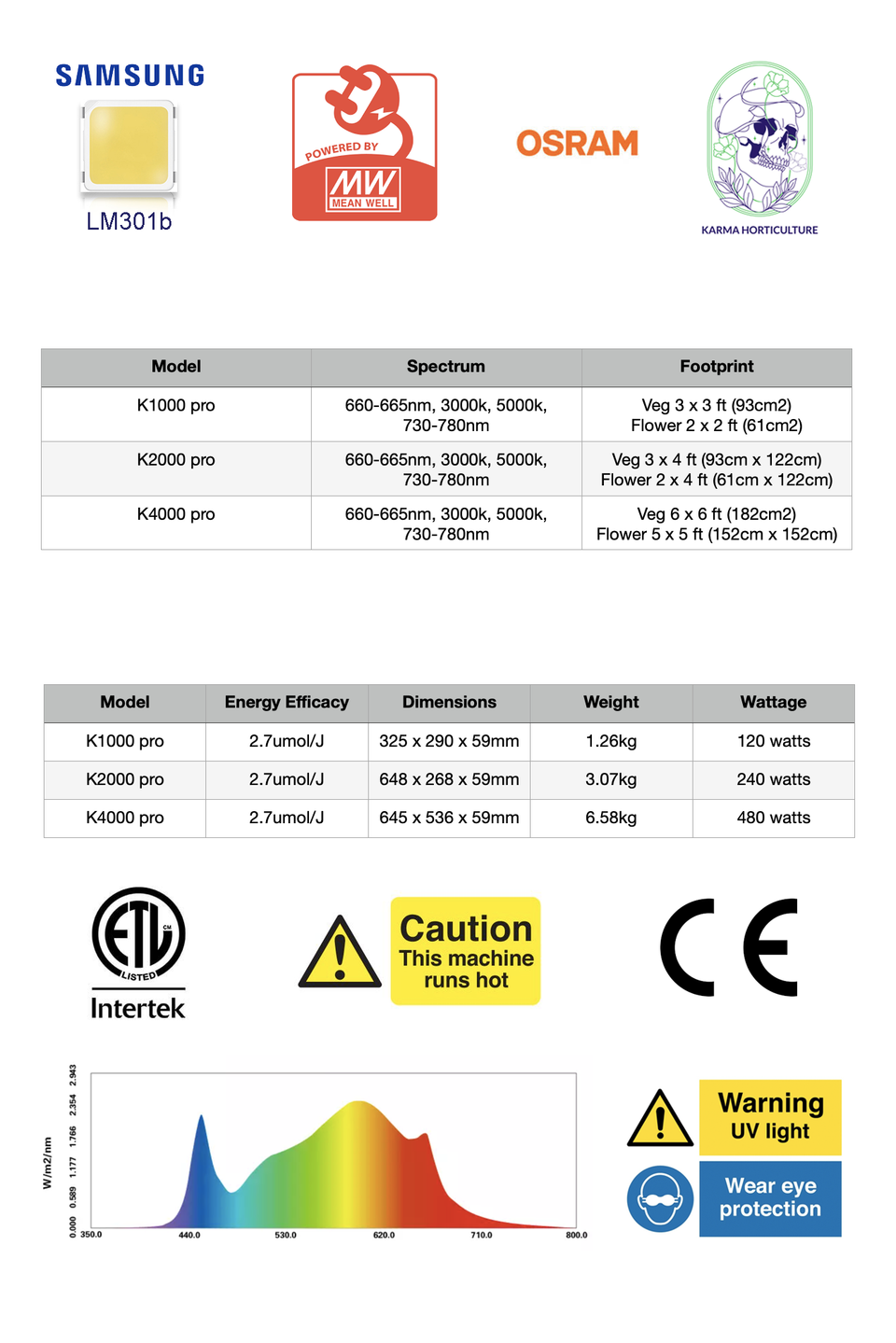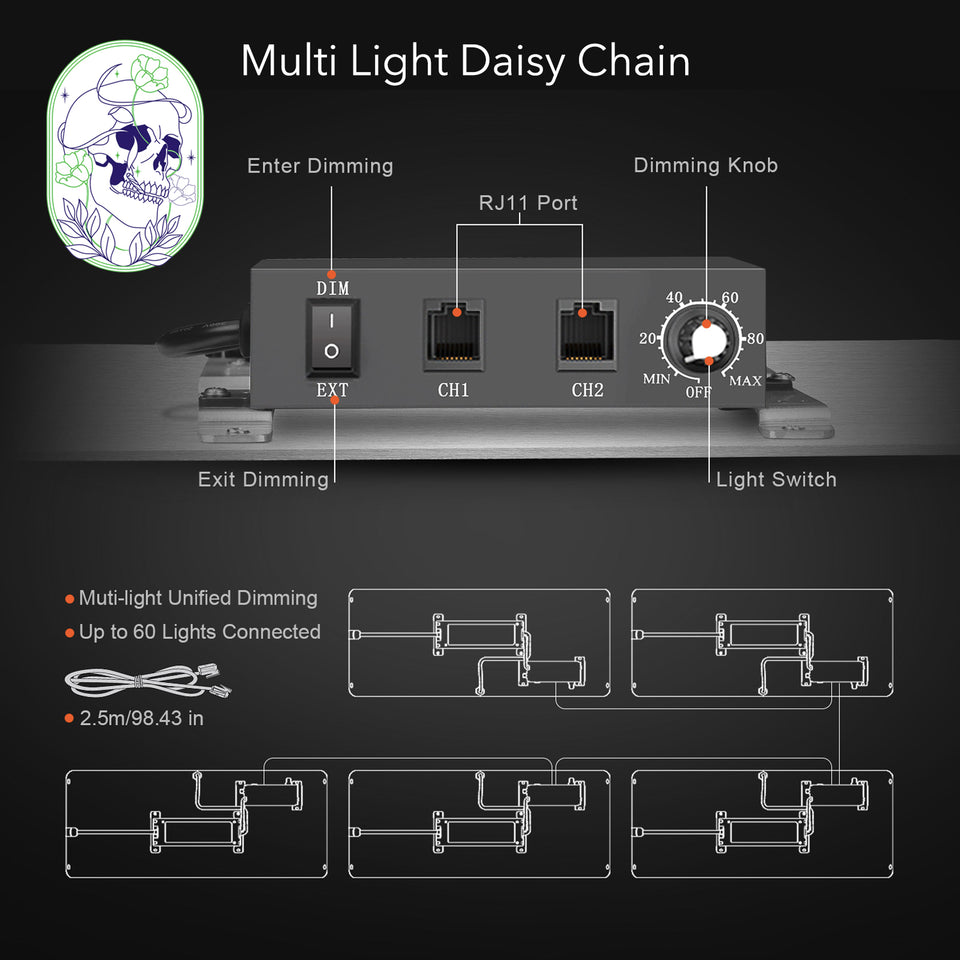 Karma Horticulture K2000 IR Pro LED Grow Light
Karma Horticulture present a stunning range of LED Grow Lights for expert growers. With its duel IR spectrum & more diodes than any other brand, the K2000 IR Pro really is one for the professionals.  

 
Samsung & Osram & LED chips

Free & Fast

UK Delivery
Fully Dimmable

UK Brand with 3 Year Warranty
Duel IR Spectrum
Enhance your Flavours  
Zero Noise
Mean Well Driver
240w Power Output
IR Spectrum for Enhanced Botanical Production
50000 Hours Life
More IR Diodes Than Any Other Brand
Pay As You Grow in 3 instalments with Klarna
Daily Electricity Cost of £0.75
As some of you grow nerds may remember, Karma Horticulture blew our tiny minds last year with the amazing K2000uv. Well, now they've gone and done it again with this little stunner. Introducing the amazing K2000 IR Pro.

As with all LED Grow Lights from Karma Horticulture, the K2000 IR Pro is beautifully designed, super well built & packed full with awesome features. It packs a massive 2.8μmol output so it is astonishingly powerful and puts most other LED grow lights to shame. 
Karma Horticulture have once again smashed the boundaries of what can be expected from a grow light resulting in this very special LED Grow Lighting fixture. 
It's the first LED Grow Light in its class to offer such a rich IR spectrum with users reporting deeply enhanced resins & a notable improvement in quality, density and final yield. 

When plants are exposed to IR light, they create natural sunscreen compounds in the form of oils and botanicals. This results in a tastier, heavier and more medicinal herbs dripping in resin and oozing in flavour. 
It is features like this that make Karma Horticulture LED Grow Lights special & it is features like this that make growing fun again. 
The Karma Horticulture 2000 IR Pro uses just a tiny trickle of electricity from the wall yet it has been proven to easily outperform a 500w HPS in like for like tests. It really is a huge step forward in LED Grow Light technology and with a daily running cost of around £0.70 it's an absolute no brainer!

With an average electricity cost of just a few pennies per day, cultivators can expect to complete an 8 week grow cycle at less that £65. That makes the K2000 IR Pro a fantastic choice for fans of flowering plants who want to keep their overheads to an absolute minimum. 
In spite of rising costs, Karma Horticulture LED Grow Lights continue to use only the highest quality Mean Well ELG drivers & super bright Samsung & Osram LEDs.
Unlike some of the other brands, Karma Horticulture will never use cheap "own brand" drivers and "in house" diodes. Only the very best components will do. With this remarkable commitment to quality, it is easy to see why Karma Horticulture are building such a loyal legion of fans. 

Boasting a massive array of over 600 Samsung & Osram diodes, the K2000 IR Pro LED Grow Light achieves a massive 2.8umol/j over its generous footprint - so this light really makes a statement that Karma Horticulture are here to stay. 
Weighing under 5 kilos, its feather-light, sleek and as stealthy as a ninja - making it a fantastic option for all small spaces, cupboards & grow tents. 
Karma Horticulture's innovative design team have produced a super high-powered LED Grow Light with naturally passive convection cooling resulting in a fanless design with zero moving parts.
The K2000 IR Pro is extremely robust with totally zero noise operation & an incredibly long life span of over 50000 hours without any degradation in performance. Constant maintenance and replacing bulbs every couple of grows is a thing of the past. This is new level LED Grow Light technology.

As with all products from Karma Horticulture - this is strong, ultra well built & it doesn't put out much heat at all so its great for anyone struggling with high temperatures.
The Karma Horticulture K2000 IR Pro is fully dimmable too enabling full control to the cultivator. Its high quality dimmer is fully adjustable without any click points or presets. Control is at your fingertips. 

This makes the Karma Horticulture K2000 IR Pro suitable for the entire grow cycle all the way from delicate cuttings or seedlings all the way up to thick, heavy and light hungry flowers. 

But its not just about control. The fingertip dimmer allows growers to manage each and every lumen of light offered to the plant with no wasted power and no wasted electricity at all. 
The Karma Horticulture K2000 IR Pro is fully daisy chain ready too. With its built in control box, users can add up to 20 units together using the first in line as a master control.
This plug & p
lay daisy chain capability makes the K2000 IR Pro a perfect LED Grow Light for cultivators who look to build their grow room as they go without the need for external controllers or complicated cabling. Everything you need is in the box and it clicks together as simple as lego. 
This isn't a mass produced or cheap & cheerful LED Grow Light, this is one for the experts. There aren't many of these around, so you'll be part of a very exclusive growers club. 
And best of all Karma Horticulture are from the UK so no dodgy Chinese customer service and you can be sure that their 3-year warranty is rock solid.
The K Series from Karma Horticulture ships in stealthy plain packaging with high-quality hanging kit included. Ready to use out of the box in just a few minutes.
The Karma Horticulture K2000 IR Pro is available at this amazing price for a limited time only. Get yours now. Join the movement.

Karma Horticulture K2000 IR Pro Technical Specification
Power

240W

Voltage

120-277V

Weight

4.5 kg

HPS Equivalent
550w

Flower Footprint

1.0m x 1.2m

Veg Footprint

1.25m x 1.5m

Diodes

Samsung LM301b, Osram IR

Diode Count
606

Size

L69cm x W30cm x H6cm

Spectrum

3000k, 5000k, 660nm,

780nm, 

Efficiency

2.71umols/J

Daily Electricity Cost
£0.75
Product includes:
Karma Horticulture K2000 IR Pro LED Grow Light

Power Cord
RJ14 Daisy Chain Cable
Wire Hangers
Ratchet Hangers
Approximate costs of use based on 75% power for a 12 / 12 flowering cycle. 
*Calculated using the UK: Energy Price Guarantee (October 2022) electricity rate of 34.00 pence per kWh.