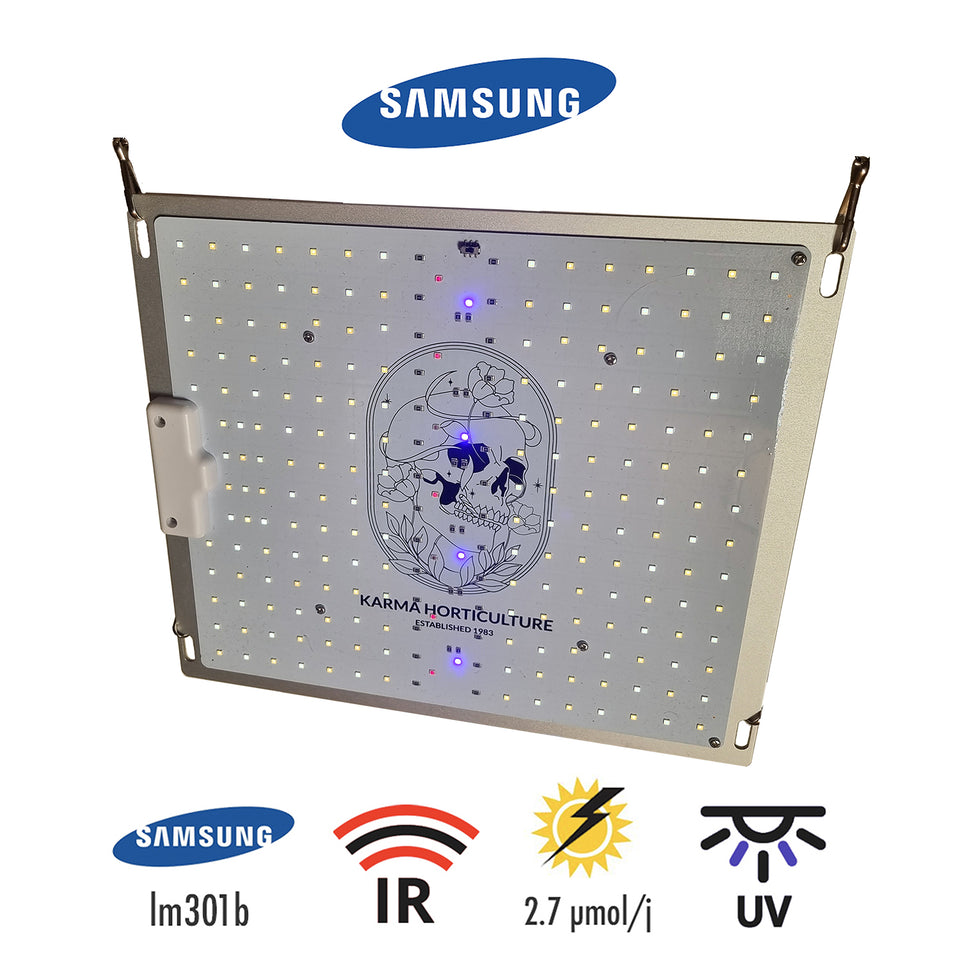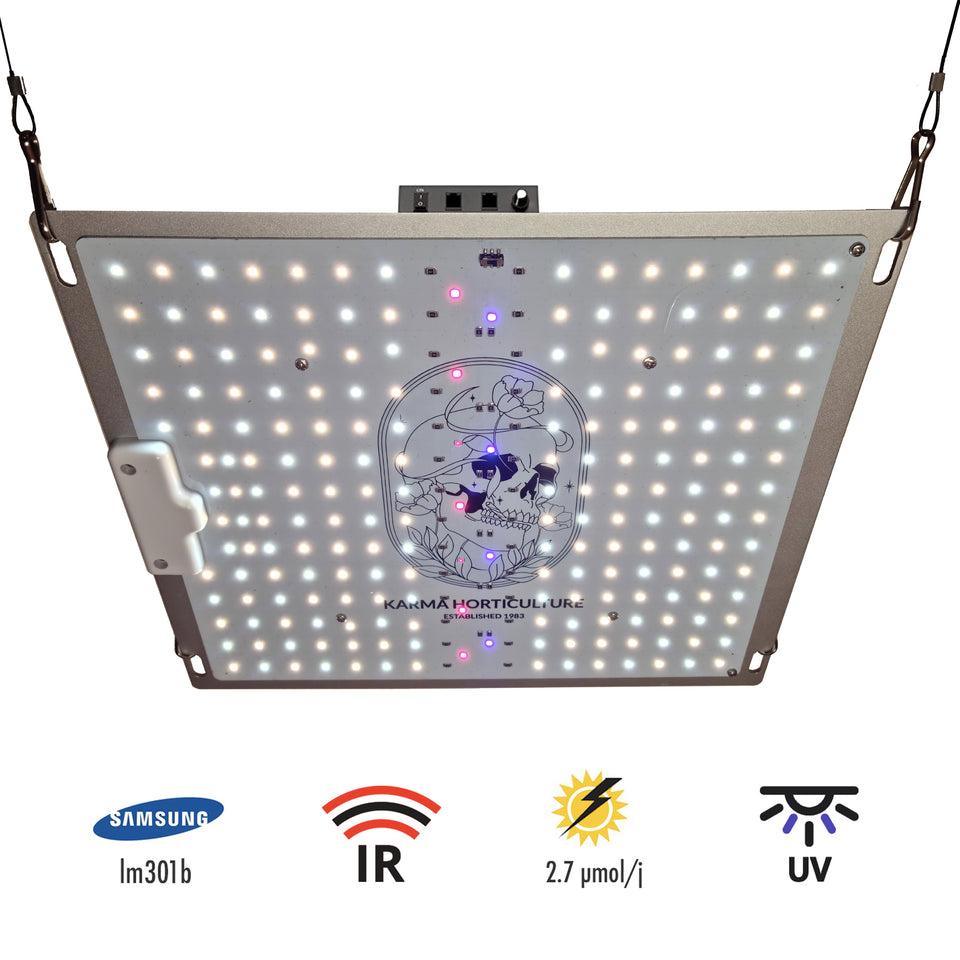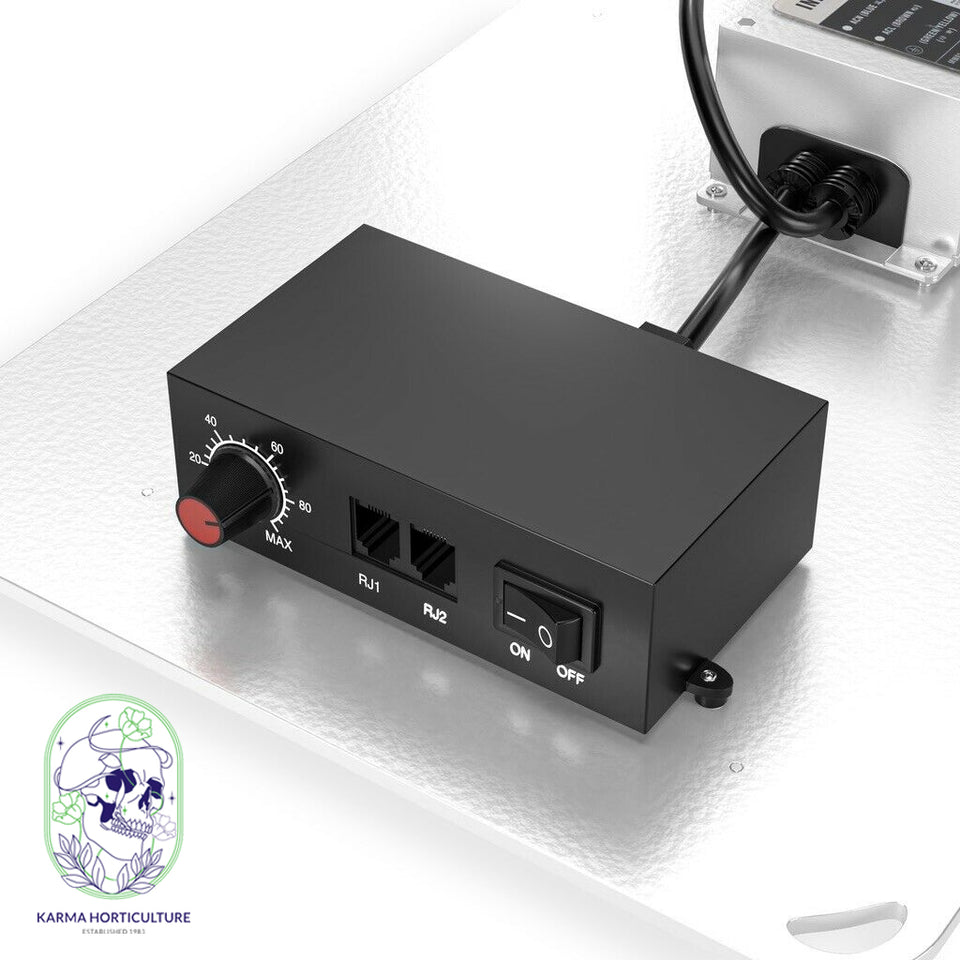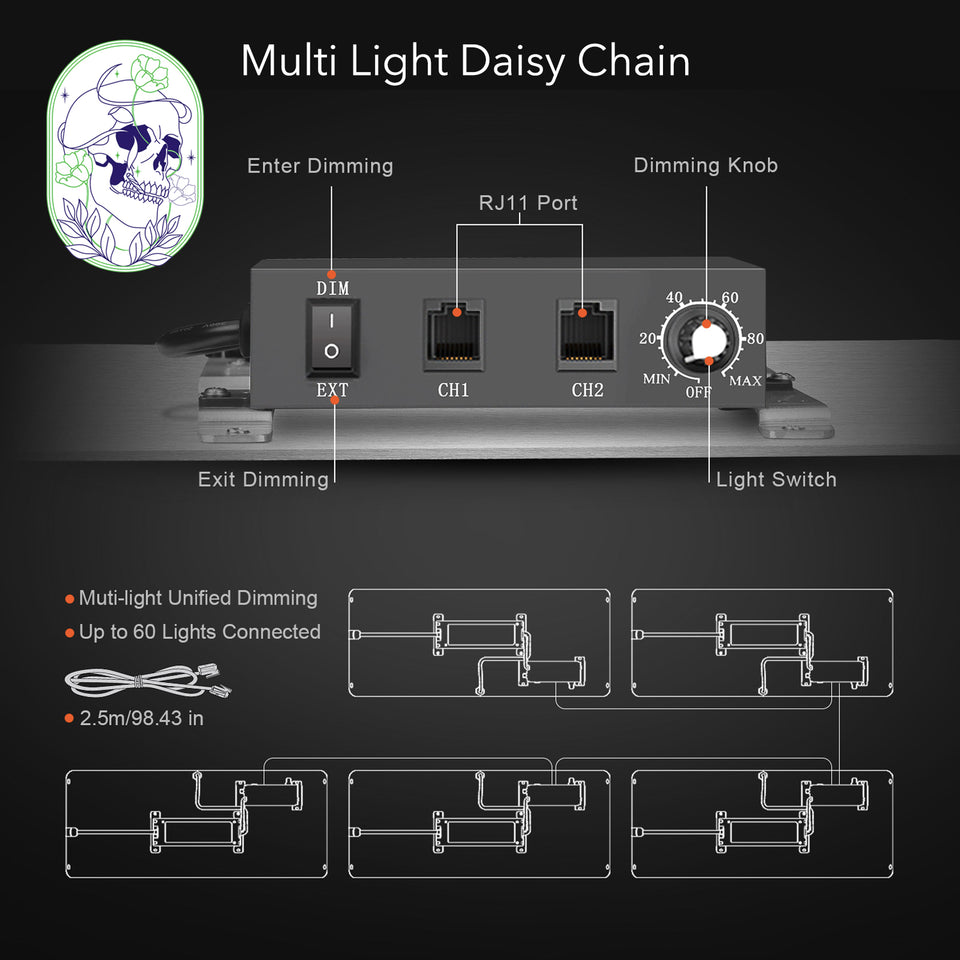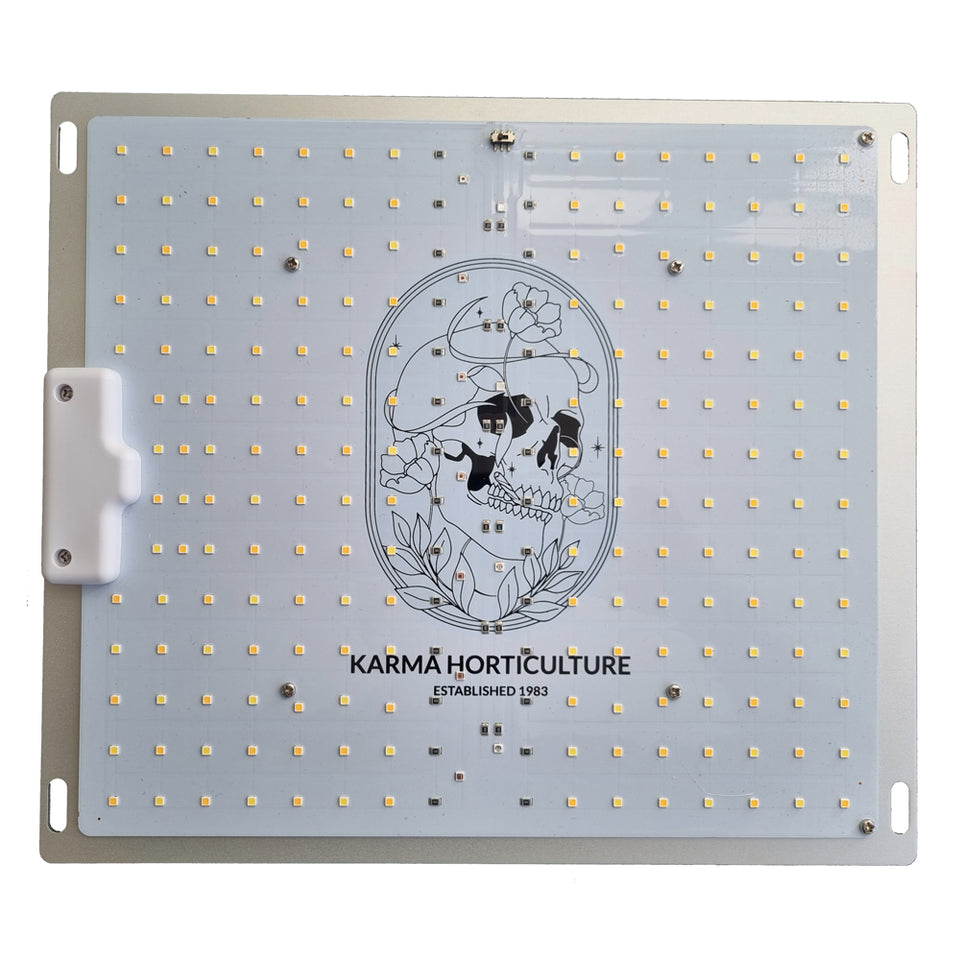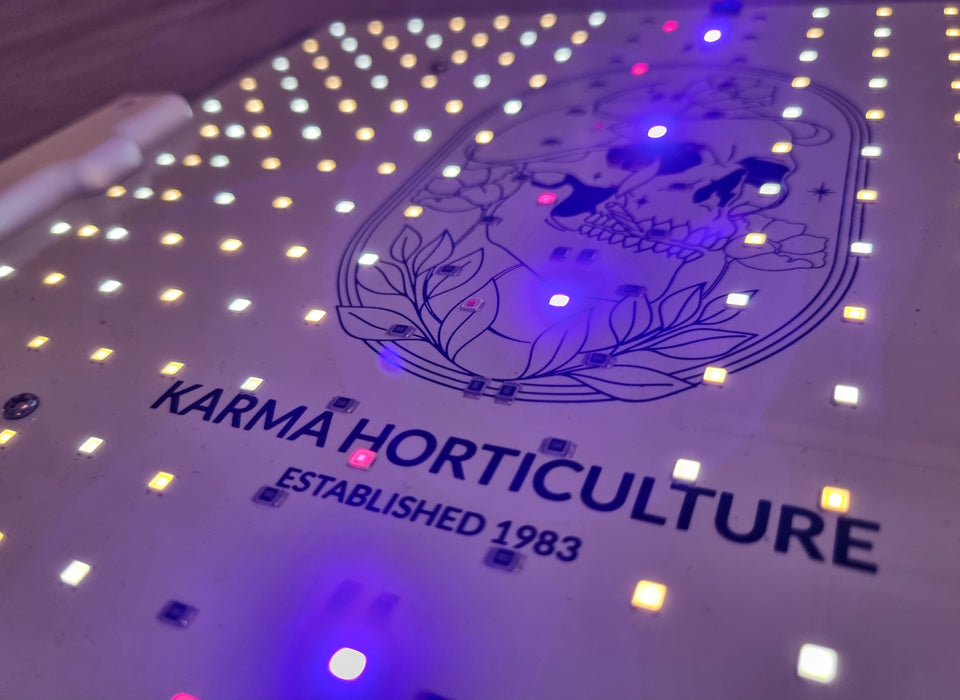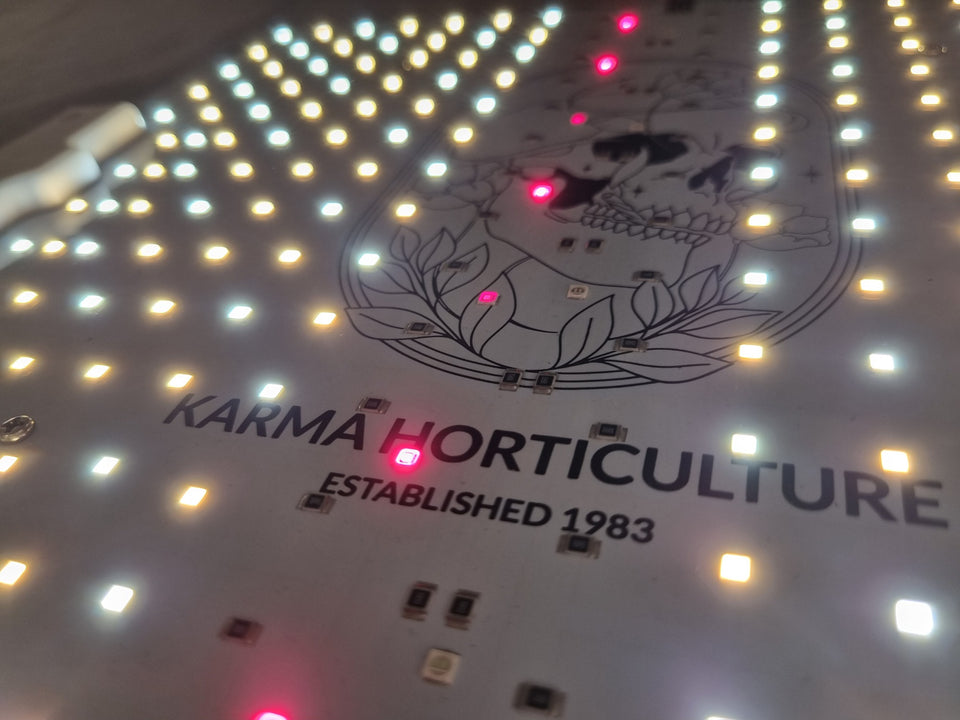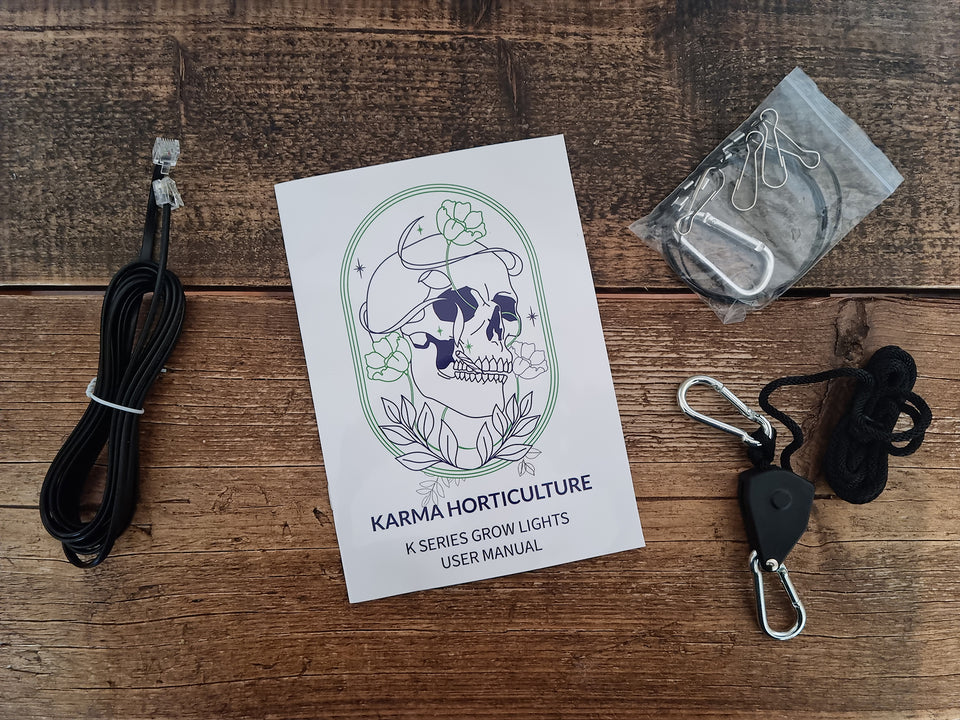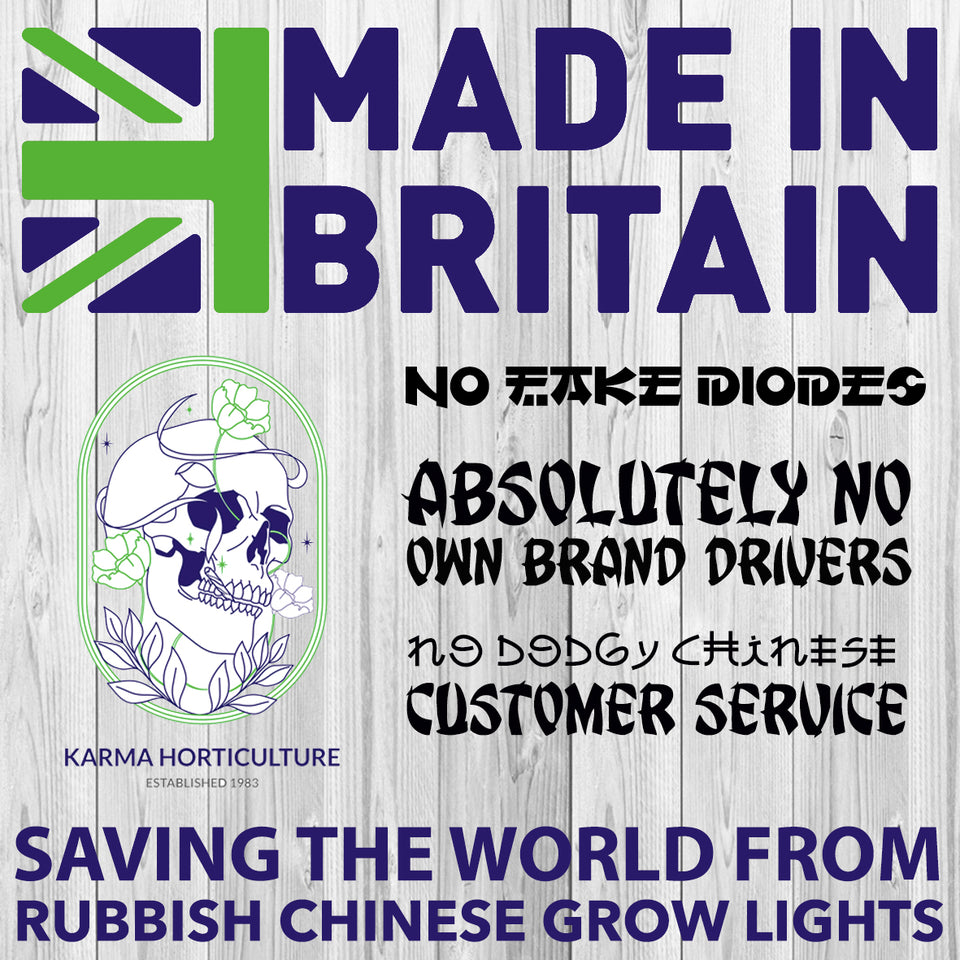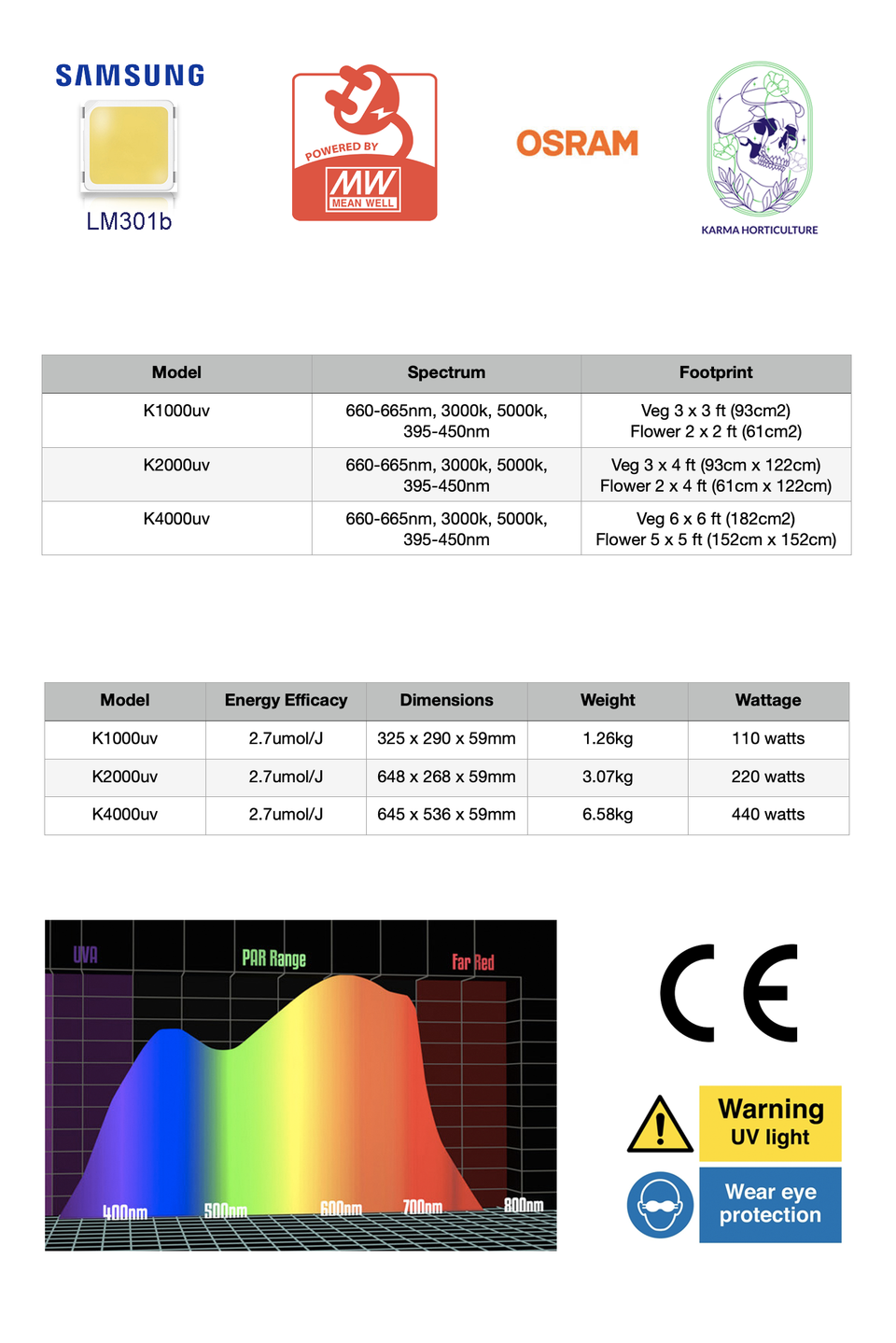 Karma Horticulture K1000uv LED Grow Light
Karma Horticulture present a stunning range of LED Grow Lights for growers who look to perfect their flavour & botanical profiles. With 5 diode colours & switchable UV / IR spectrum, the Karma Horticulture K1000uv really is one for the flavour hunters.  

 
Samsung, Osram & Seoul LED chips

Free & Fast

UK Delivery
Fully Dimmable

UK Brand with 3 Year Warranty
Switch for UV Spectrum
Enhance your Botanicals & Oils  
Zero Noise
IR Output for Thick & Heavy Flowers
Mean Well Driver
110w Power Output
UV Spectrum for Enhanced Flavour Production
50000 Hours Life
Pay As You Grow in 3 instalments with Klarna
Daily Electricity Cost of just £0.35

New Generation Grow Technology

With the abundance of new developments in LED Grow Light technology, its an exciting time to be a grower. Well, it just got a lot more exciting as the clever folks over at Karma Horticulture have got us all giddy by dropping this little beauty. 

Fresh from the Cali flavour crew at Karma Horticulture, the K1000uv represents a new generation of LED Grow Lights. Its the first LED Grow Light of its kind to boast a 5 coloured array with a switchable spectrum.


This enables the cultivator to select between a Full Spectrum + IR or a Full Spectrum + UV array at the touch of a button. This fantastic feature simply isn't available from any other brand, full stop.

The Karma Horticulture K1000uv is beautifully designed, built like a tank & packed with exclusive features. It boasts a huge 2.7μmol output so it is incredibly powerful and it puts similarly priced LED Grow Lights to shame. 

Maximum Output. Minimum Electricity Costs

Designed with energy efficiency at its core, the Karma Horticulture K1000uv uses just a tiny trickle of electricity from the wall yet it has been shown to easily outperform a 250w HPS in like for like tests. 

With the Karma Horticulture K1000uv, cultivators can expect a perpetual harvest of up to 2.5g per watt of light produced. Its 110 watt output enables even beginner growers to produce a crop of up to 275g per grow cycle. 

Even with today's electricity costs, the Karma Horticulture K1000uv costs just pennies to run. At a cost of around £0.35 per day, cultivators can expect to complete an 8 week grow cycle with a cost of less than £30. Amazing.  

Where as many of the bigger LED Grow Light companies are making a killing by selling supplemental UV bars, Karma Horticulture do it differently. The UV is built in and ready to go making the incredible Karma Horticulture K1000uv two lights in one.

UV light is toxic to humans and plants. When plants are exposed to UV light, they create natural sunscreen compounds in the form of oils and botanicals. Have you ever wondered how only some growers get those flavours? This is how. 

Its features like this that make Karma Horticulture LED Grow Lights special & its features like this that make growing fun again. 

High Quality Build. Premium Components

Featuring a high quality MeanWell ELG driver at its heart and its array of Samsung & Osram diodes, the Karma Horticulture is made of only the very best parts and components resulting in a premium quality LED Grow Light with an incredibly long lifespan of over 50000 maintenance free hours. 

Karma Horticulture and its generous array of 207 diodes offer the cultivator an incredible efficiency of over 2.7umol/J making it the top performing LED Grow Light in its class.  

Measuring in at a compact 32cm x 29cm x 6cm, the Karma Horticulture K1000uv is sleek, slender and as stealthy as a ninja - making it a fantastic option for all small spaces, cupboards & grow tents. And, with a quantum board layout weighing less than 2 Kilos, it can be hanged just about anywhere with zero risk of buckling your tent. 

It runs absolutely silently with no moving parts and it produces very little heat. The Karma Horticulture K1000uv is self cooling and it is designed to cleverly vent all excess heat upwards and away from your grow area.

This means that the cultivator can save money by running cooling fans and extraction at a lower power. In addition, less cooling equipment means less noise, so the Karma Horticulture K1000uv further positions itself as the number #1 LED Grow Light for growers who demand secretive operation and stealth growing. 
Fully Dimmable. Daisy Chain Ready

This isn't a mass produced or cheap & cheerful LED Grow Light, this is one for the professionals. With its switchable output and duel full spectrum array technology, the Karma Horticulture K1000uv is an LED Grow Light for cultivators who like to get a little more involved with their plants, not just pouring nutrients and hoping for the best.

There aren't many of these around either, so you'll be part of a very exclusive growers club. These LED Grow Lights are craft, not corporate. 

The Karma Horticulture K1000uv is full dimmable with a high quality dimmer enabling the grower to adjust light output with fingertip precision. This is no basic dimmer either, its 100% user controlled with no pre sets or click points at all.

The accurate dimming function makes the Karma Horticulture K1000uv LED Grow Light suitable throughout the entire grow cycle from tiny seedlings all the way up to big chunky flowers with absolutely zero electricity wasted or needlessly overused. 

The Karma Horticulture K1000uv is daisy chain ready with everything you need included in the box. This daisy chain technology means that users can connect up to 20 fixtures together using the first one in line as a master control.

This makes the Karma Horticulture K1000uv a perfect LED Grow Light for cultivators who look to build their grow room as they go - with no additional equipment needed at all. The Daisy Chain function is built into the onboard control panel and the cables are included. Its ready to go. 

And best of all Karma Horticulture are based in the UK so no dodgy Chinese customer service and you can be sure that their 3-year warranty is rock solid.
The K Series LED Grow Lights from Karma Horticulture ship in stealthy plain packaging with high-quality hanging kit included. Ready to use out of the box in just a few minutes.

The Karma Horticulture K1000uv is available at this amazing price for a very limited time only. Get yours now. Join the movement.  
Power

110W

Voltage

120-277V

Weight

1.26 kg

HPS Equivalent
250w

Flower Footprint

0.8m x 0.8m

Veg Footprint

1.1m x 1.1m

Diodes

Samsung LM301, Osram IR

& Seoul UV

Diode Count
207

Size

L32cm x W29cm x H6cm

Spectrum

3000k, 5000k, 660nm,

780nm, 430nm

Efficiency

2.71umols/J

Daily Running Cost
£0.35
Product includes:
Karma Horticulture K1000uv Grow Light

Power Cord
RJ11 Daisy Chain Cable
Wire Hangers
Ratchet Hangers
Approximate costs of use based on 75% power for a 12 / 12 flowering cycle. 
*Calculated using the UK: Energy Price Guarantee (October 2022) electricity rate of 34.00 pence per kWh.